Prologue:
Hello and welcome to my first flying experience during Covid19.

Earlier in the year before the health crisis lockdown I was supposed to fly to London and meet a friend to go to Warsaw and Barcelona. Needless to say when everything started to shut down we had to cancel our plans and I ended up with flight credits for both UA and AA.

As an avgeek it was hard to remain grounded for almost 8 months. When flights started to resume and the flying public regained some confidence stepping into an airplane I decided to use some of my credits and apply them to a premium transcontinental route like SFO-JFK to see how things have changed. I will compare the products on two competing airlines - AA and UA.

We will start with AA with their recent move from T2 to T1 at SFO. Let's go for the ride.

My ride dropped me off in front of the AA counter and when I walked in I was surprised to see that it was somewhat busy.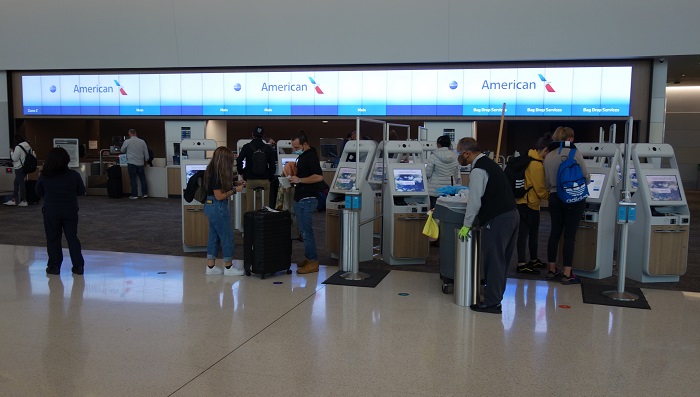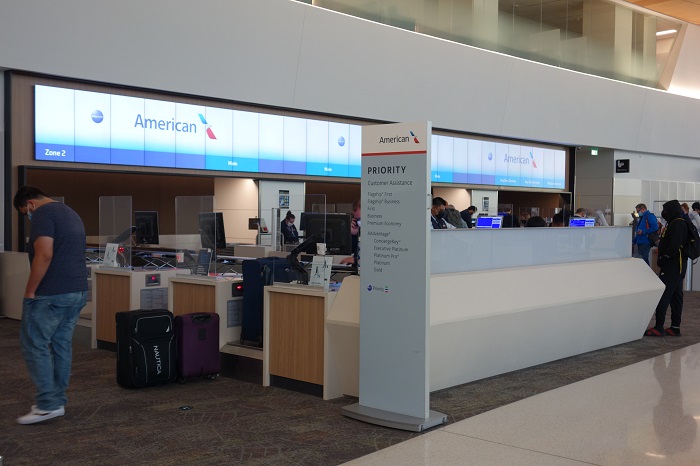 I checked in online and only had carry on so I bypassed the counter and headed straight to security.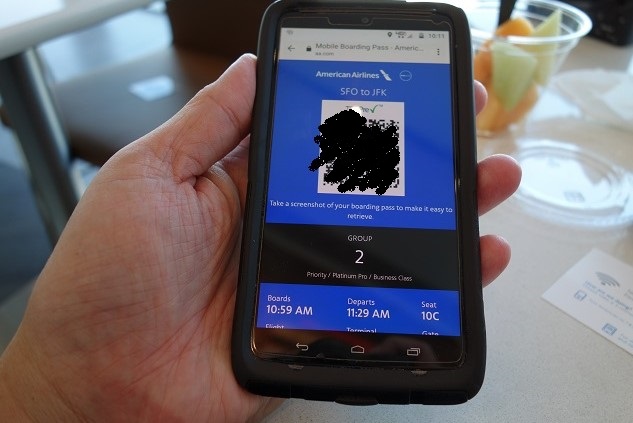 Creative design.
The regular line was not too bad but I had "TSA Pre-Check" so I was the first one in the line and went through almost immediately. I had to insert my ID through the machine and scan the boarding code in front of the friendly agent. Pretty smooth experience.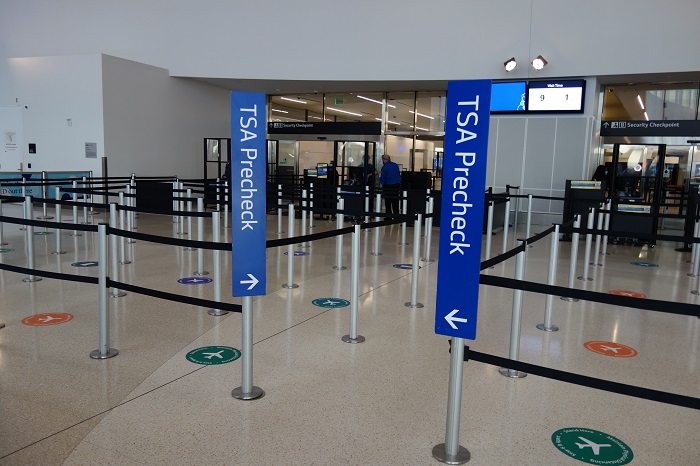 They are still finalizing some construction at this terminal.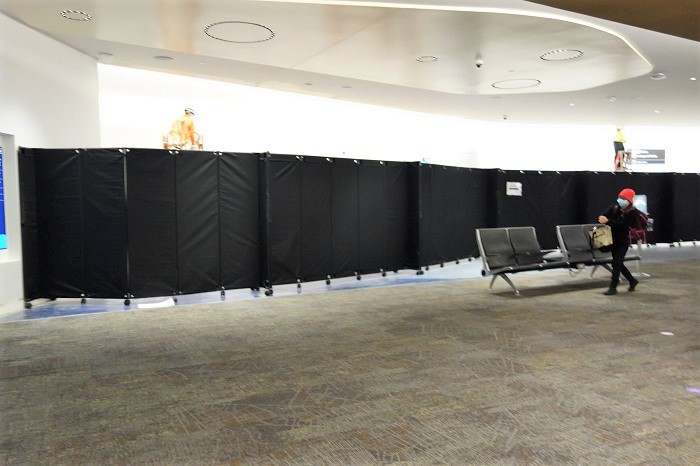 The new T1 terminal named after Harvey Milk is spacious and bright.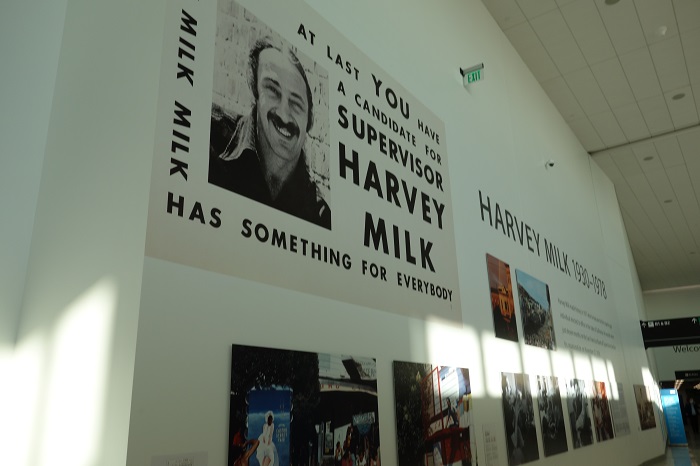 It's busier than I expected. Lots of people flying.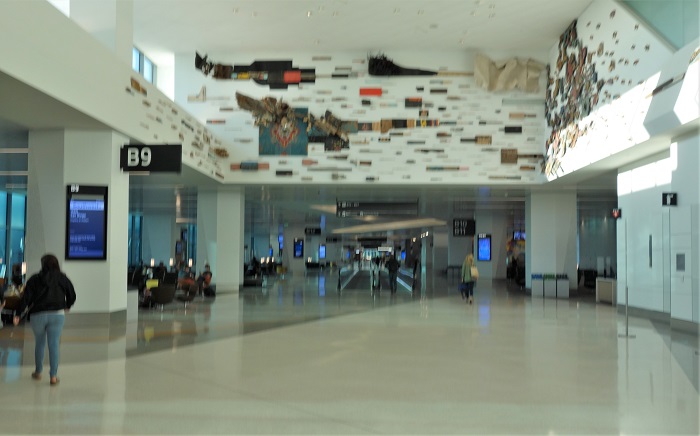 I think we need a Lavazzo counter at SFO. ;)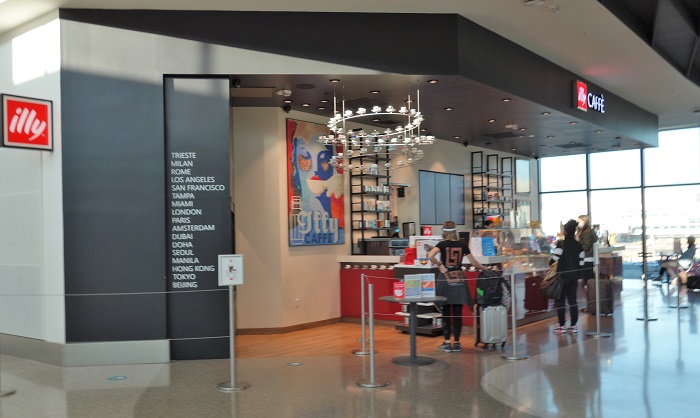 On my way to the AA lounge.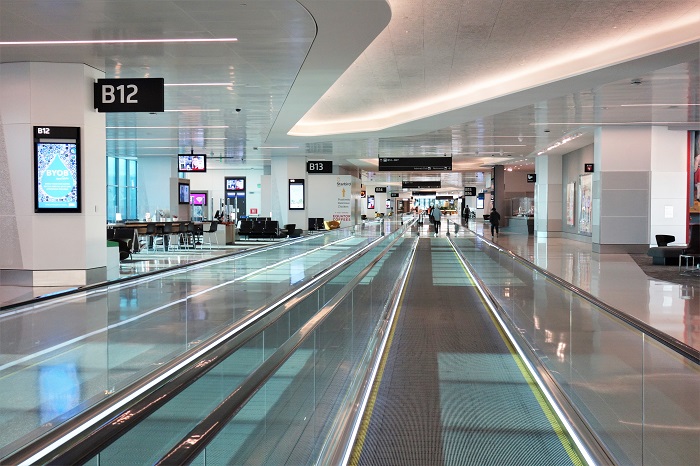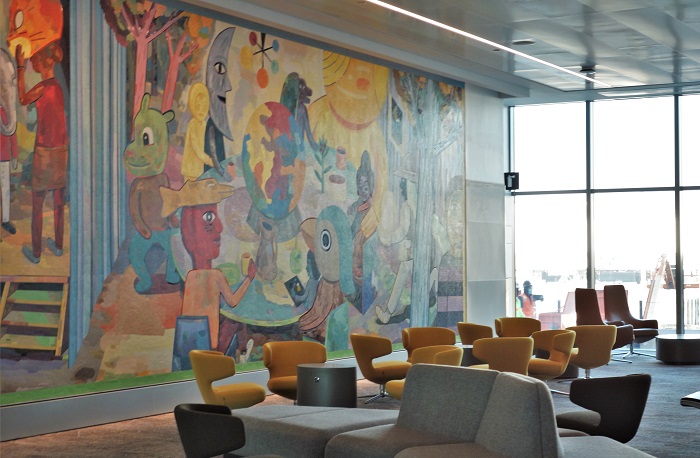 Entrance of lounge.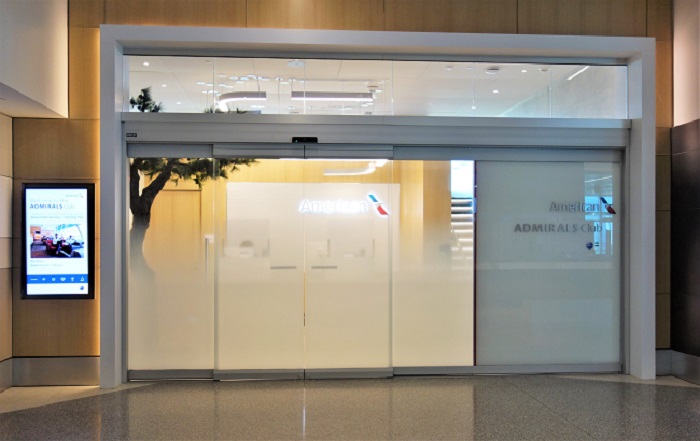 Once you are checked in you can either take the stairs or the elevator to the second floor where the lounge is located. Agents were friendly and smiling.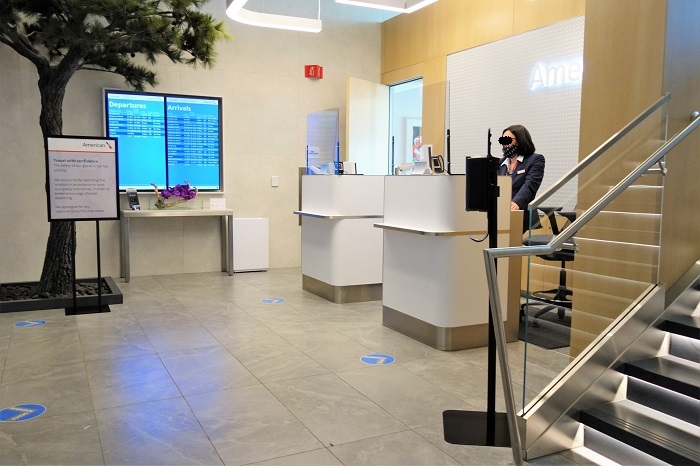 I was provided with a code to access wifi.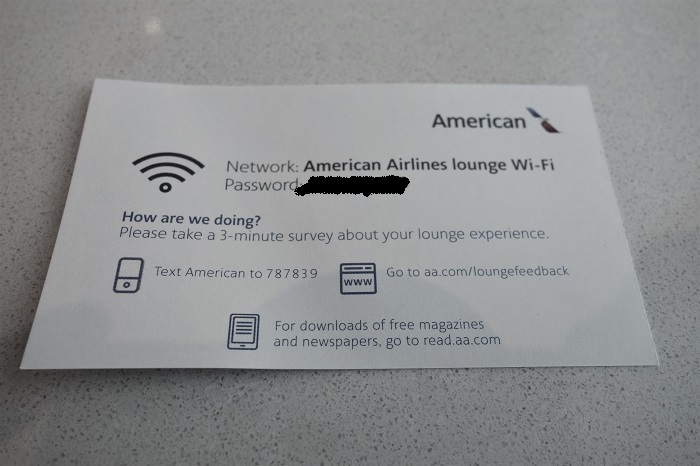 Upon arriving on the second floor you are greeted by agents again and asked if you need a tour of the facility. I declined since I have been here previously.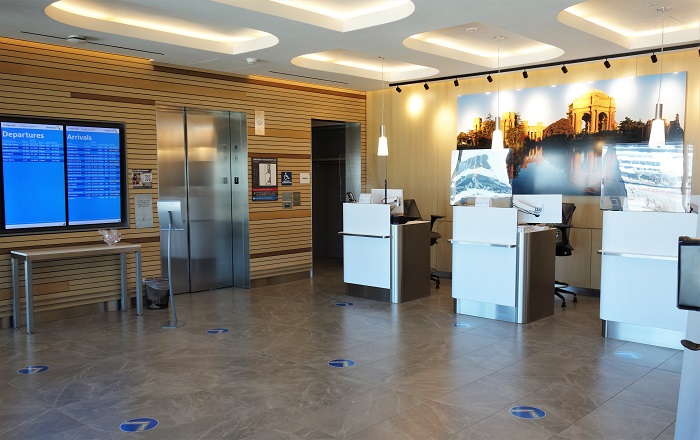 The trees from the old lounge made it to their new home. However the fireplace stayed behind. That was a charming touch. :(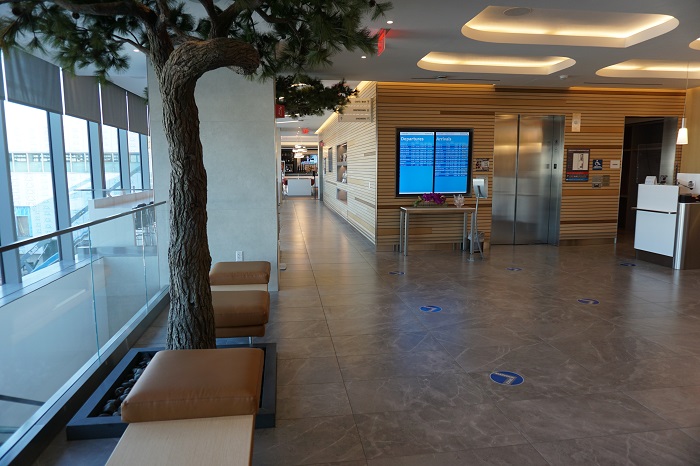 You turn right and you step into the buffet area bar WC's and showers (these were inoperative due to Covid19 restrictions).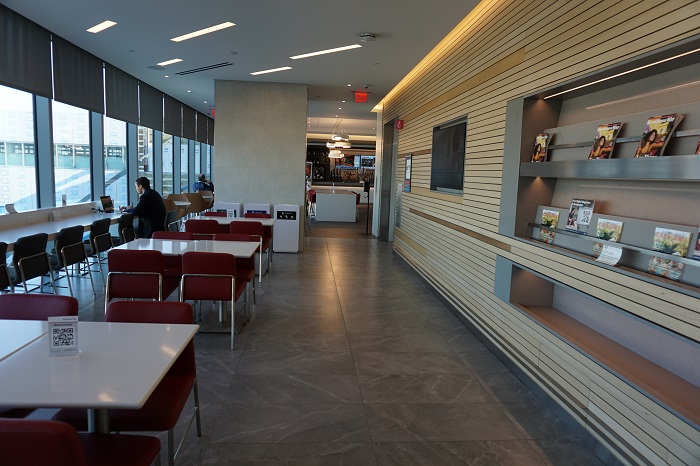 Few publications on the wall.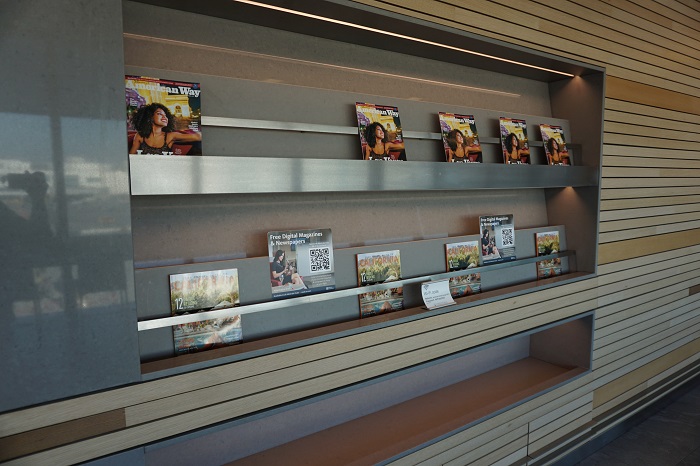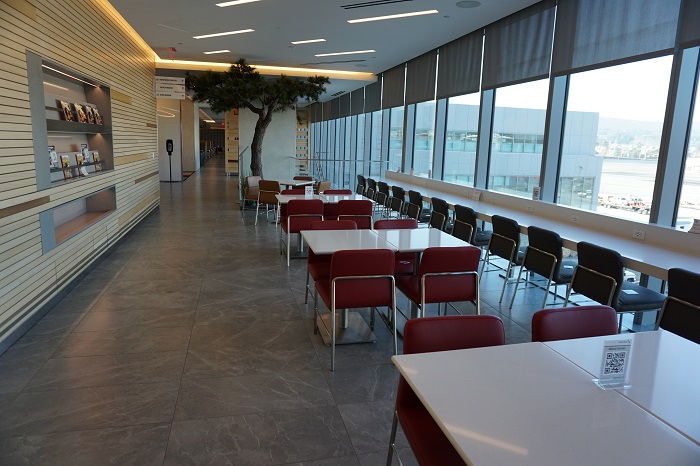 Bar.
Not much of a view. This terminal still has parts under construction.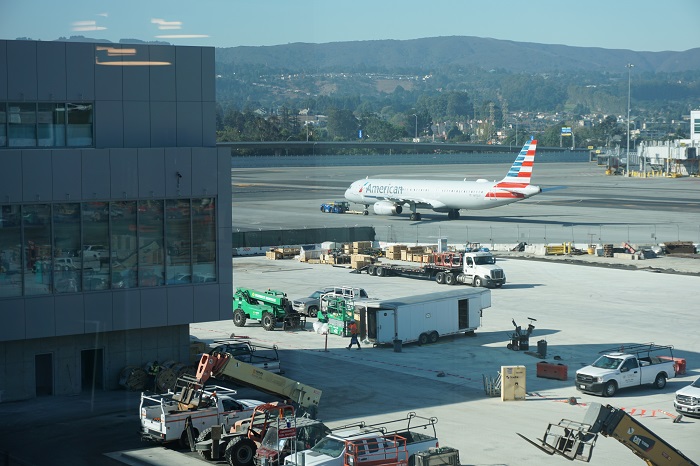 Buffet area. One change is that silverware and chinaware are no longer available. Everything is disposable.
Everything was individually wrapped but there was a decent variety of items to choose from. In the afternoon the bartender can serve you hot soup upon request. Hot water for beverages and oatmeal has to be requested from the bar.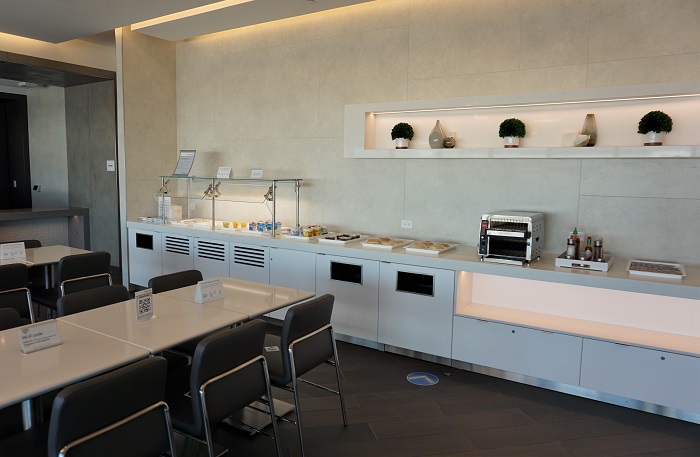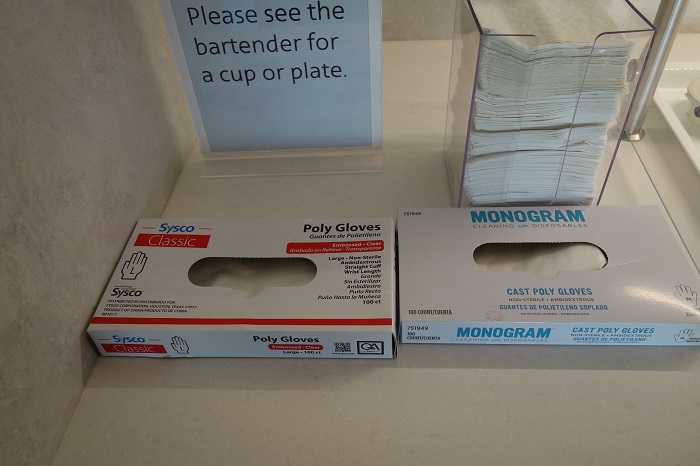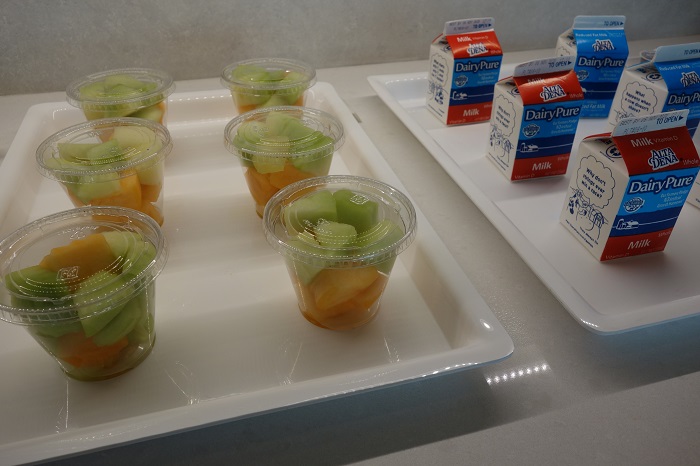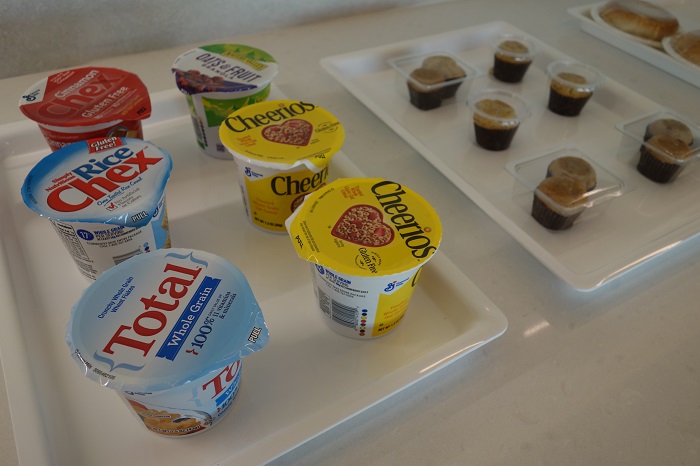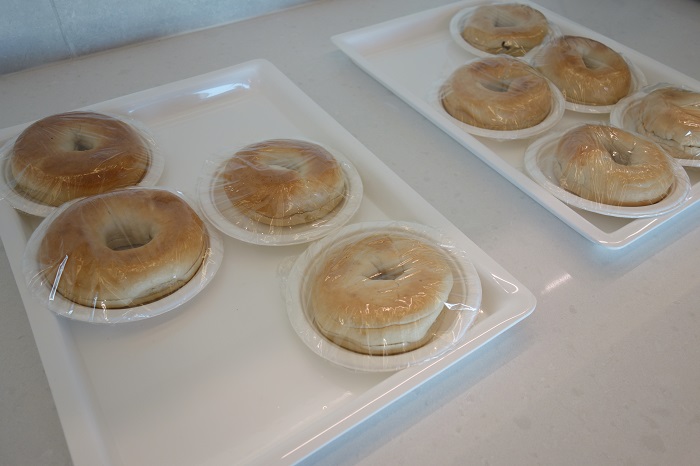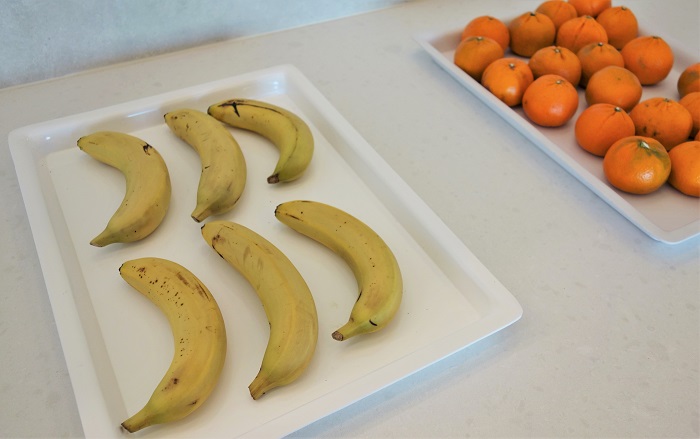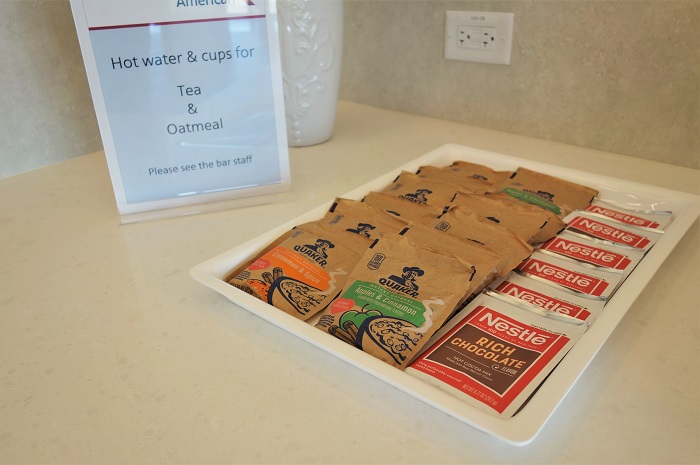 Machine was working. You had to request cups from the bar.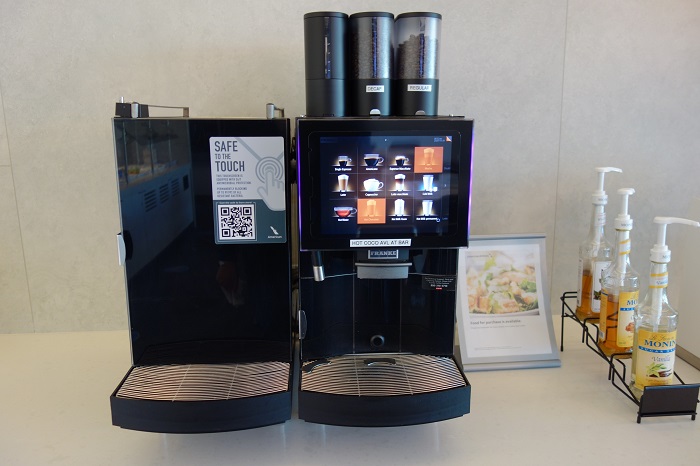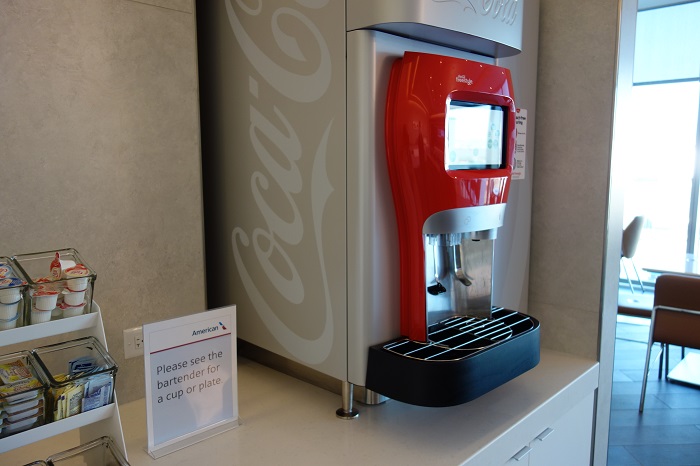 A great feature is the "guacamole bar" where you can customize your toast to your liking.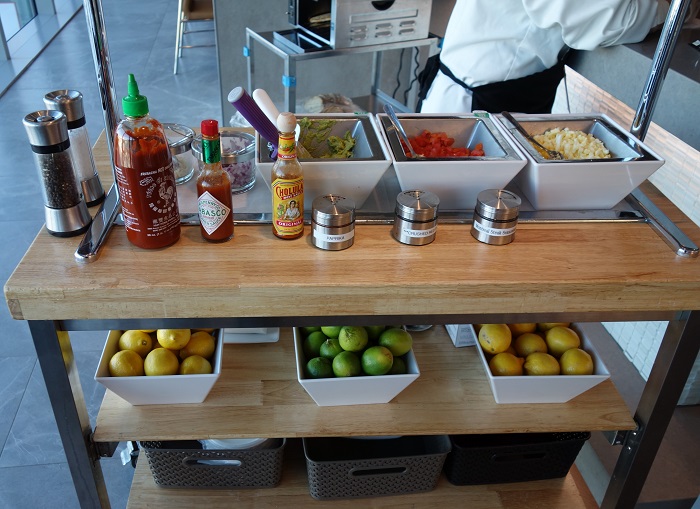 I ordered a smoked salmon toast with all the toppings. They say breakfast is the most important meal of the day after all. :P
Right past the guacamole station there is a hallway that leads to the WC's with a small seating area.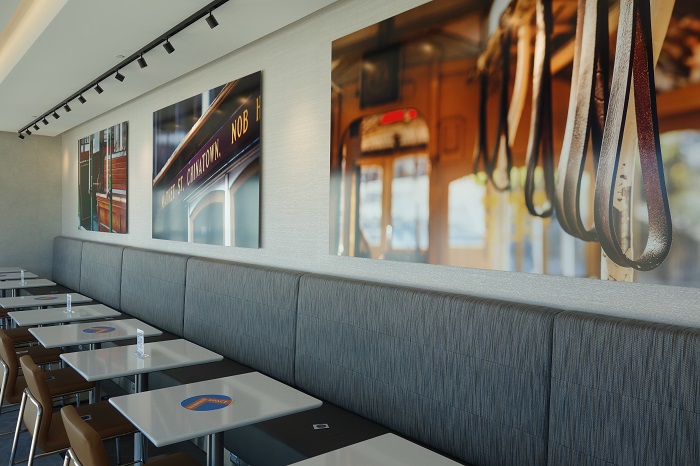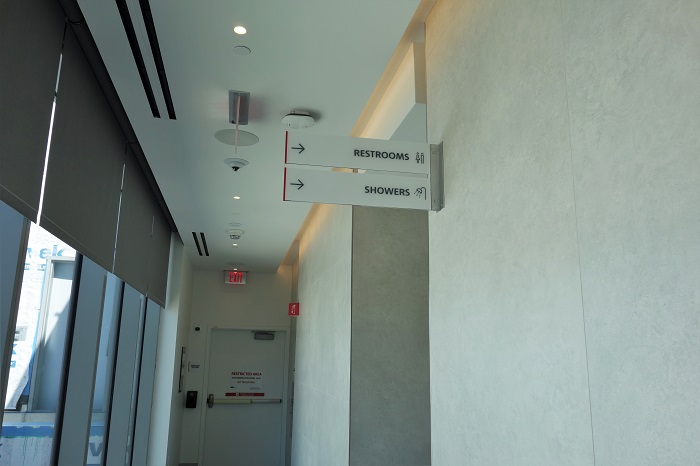 There are 2 showers at this club but they were closed.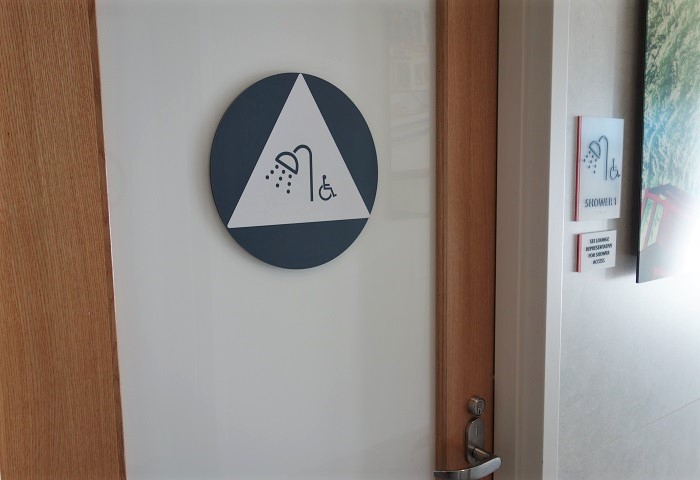 Men WC.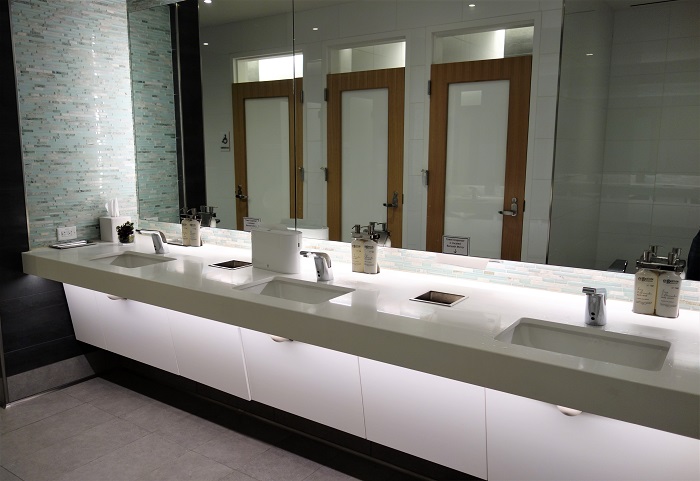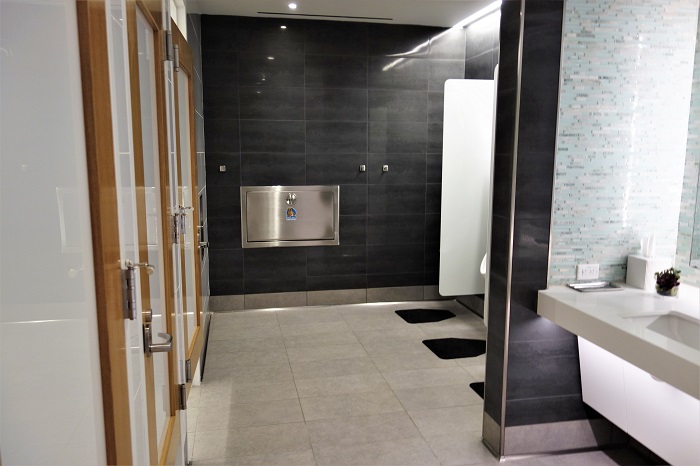 On the left side of the lounge there are more seats an area with a printer sleeping quarters conference room and a children's playroom that was closed..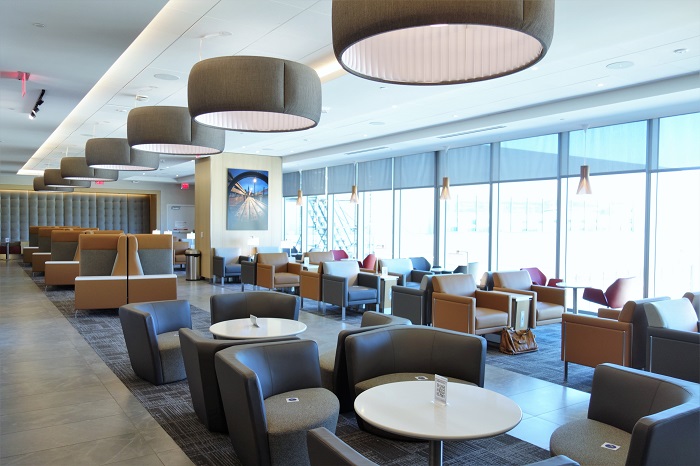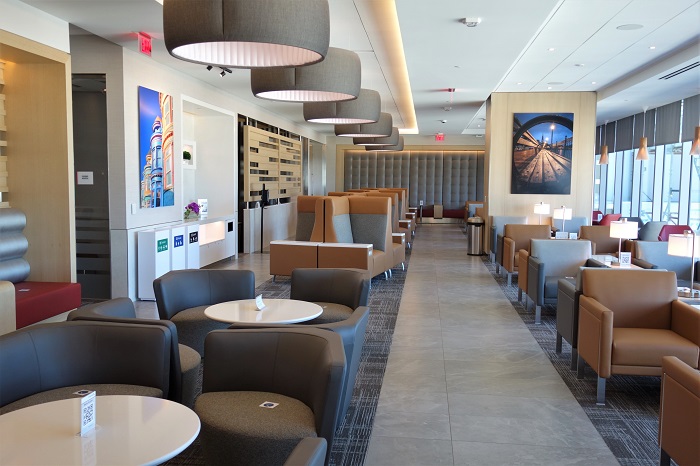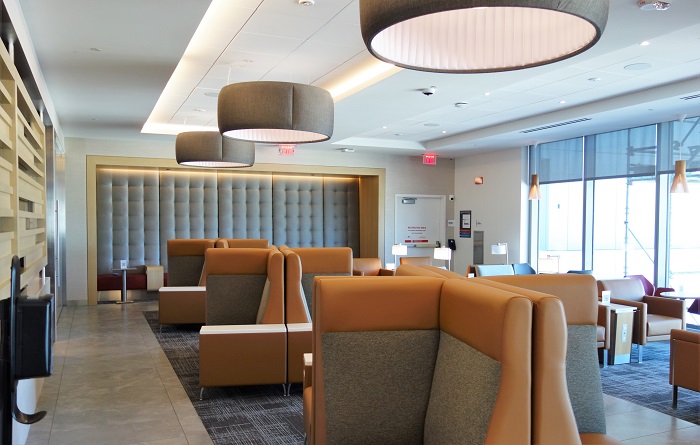 All the way in the back.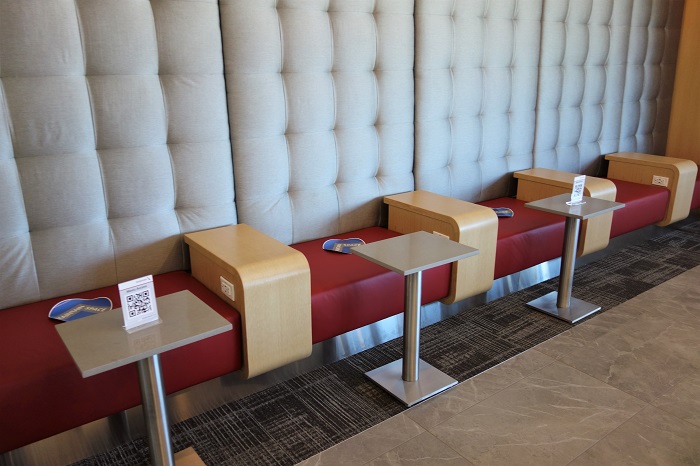 Conference room.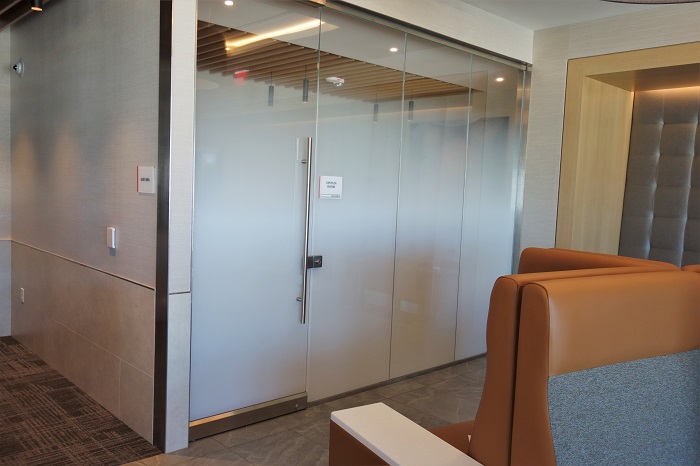 Sleeping area.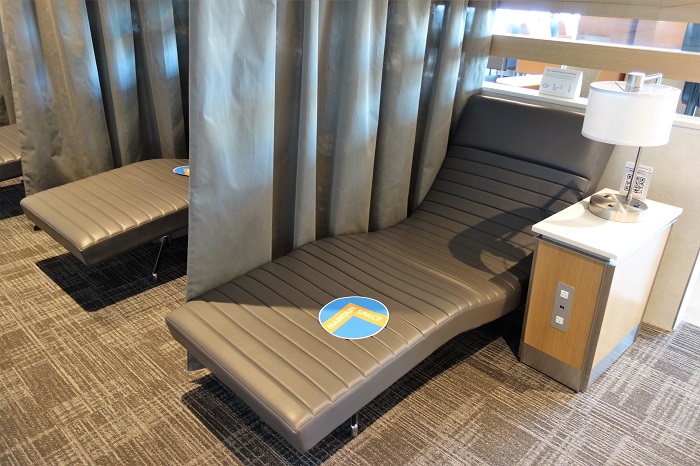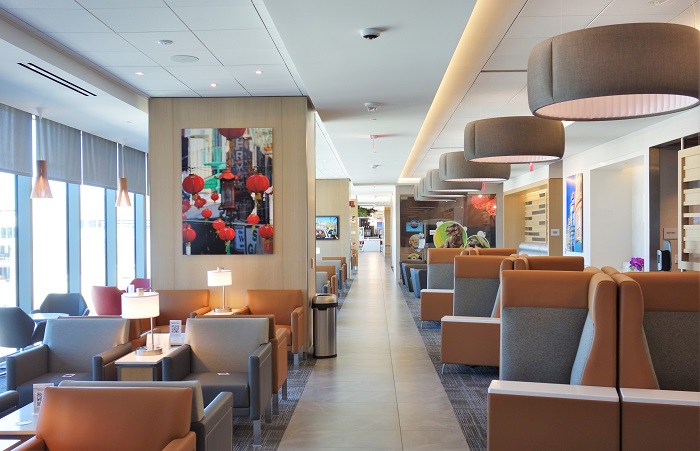 Children's playroom.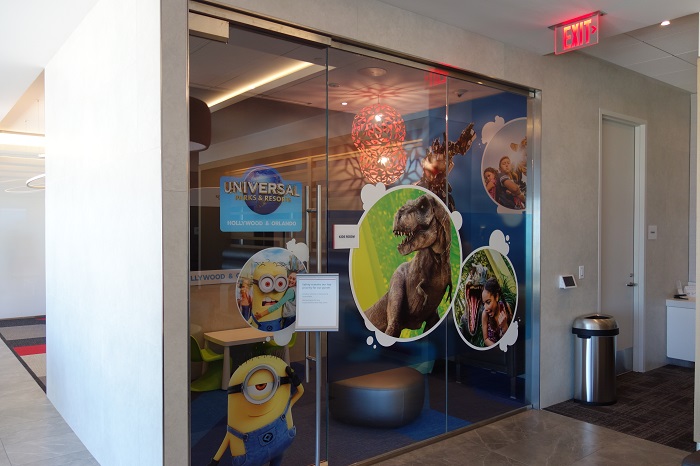 I left the lounge at about 20 min. before flight dept. This is really a nice terminal.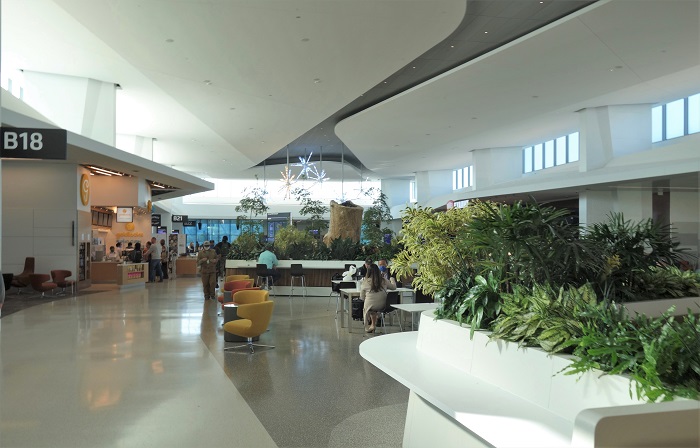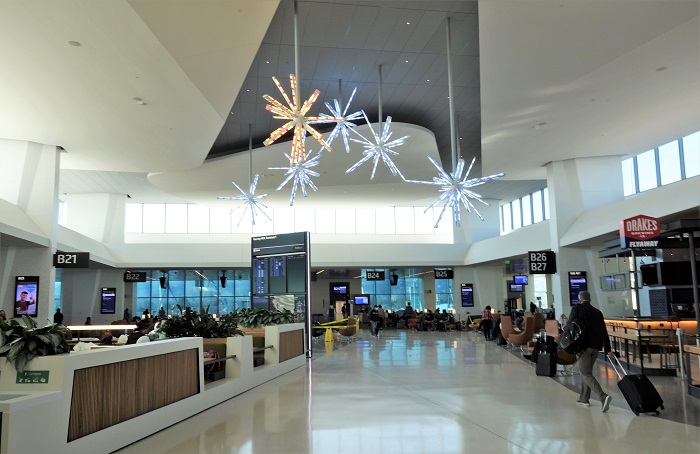 I was one of the last ones to board.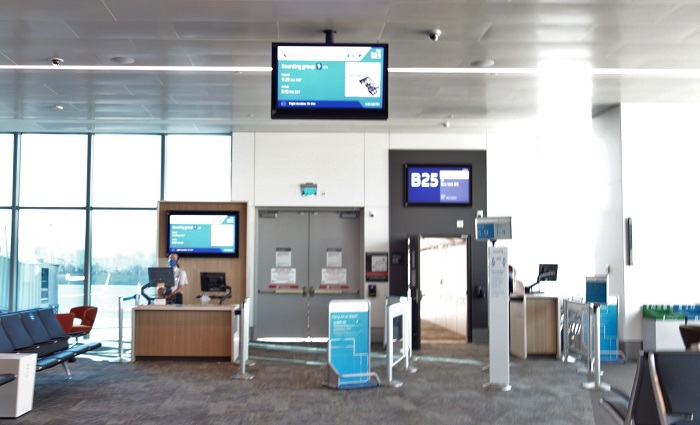 Perfect social distancing.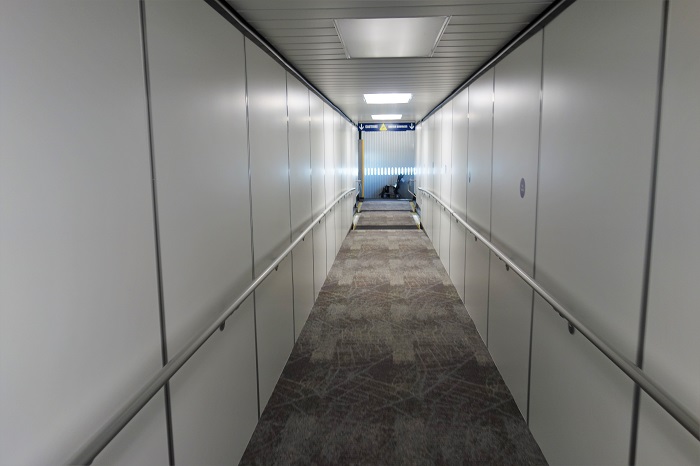 Good morning madam.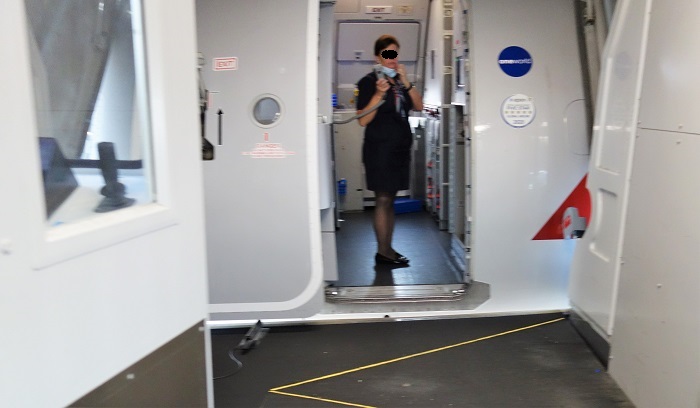 I had the aisle but took the window.
Business cabin was about 50% full.
No more pre-dept. drinks but there is a bottle of water and an amenity kit. by your seat.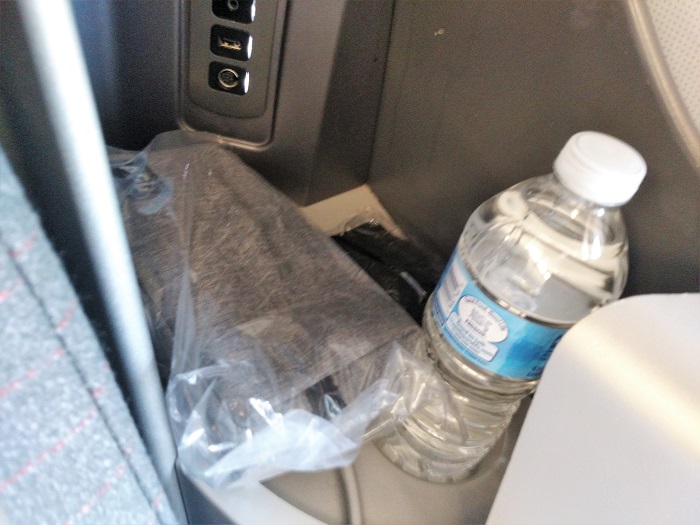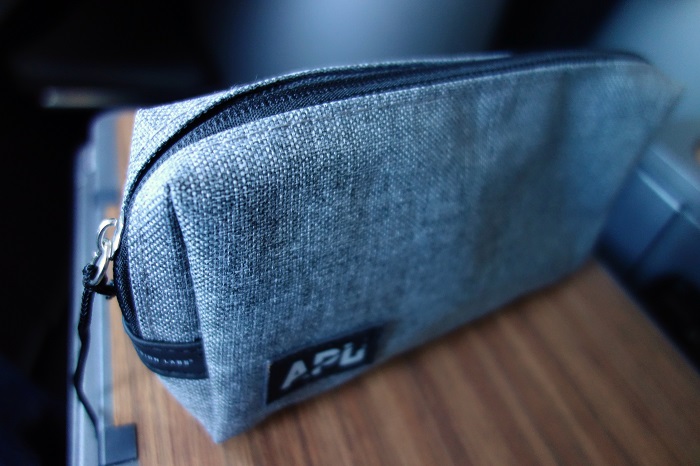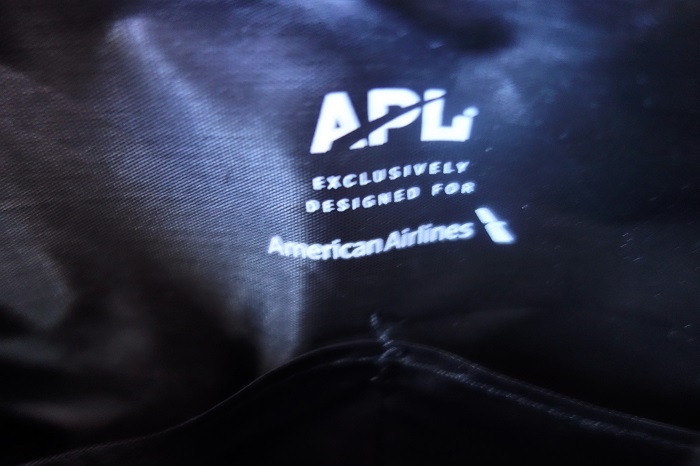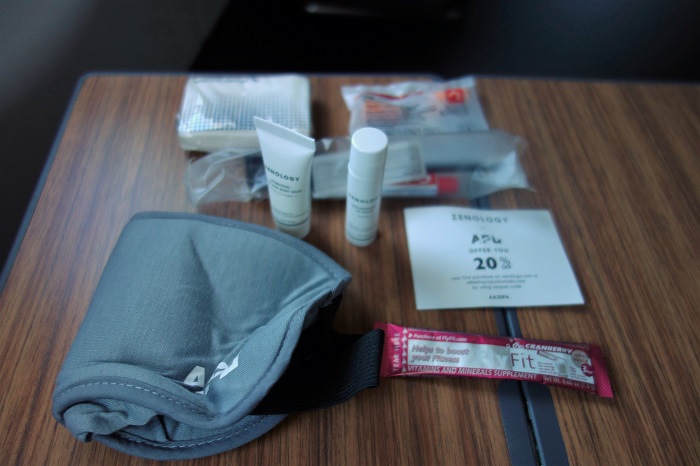 Duvet and pillow by Casper. ;)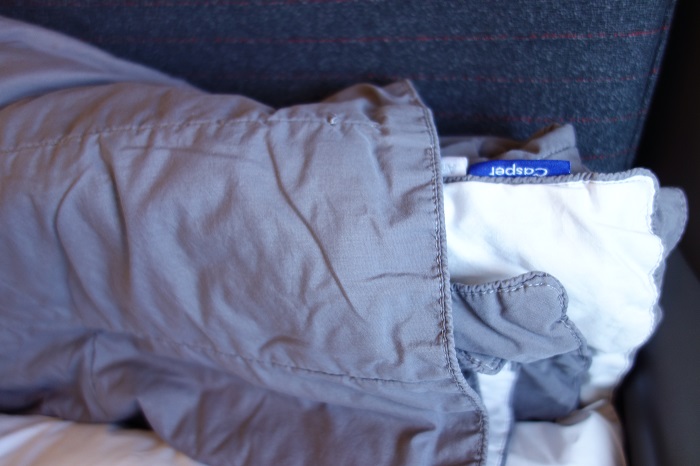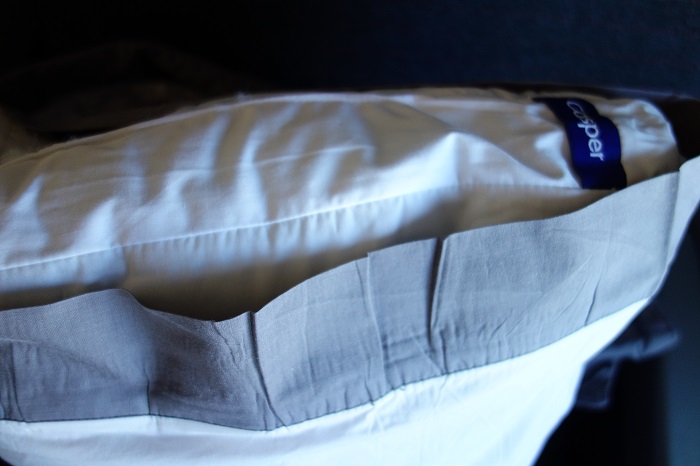 The friendly FA came by and offered me a set of headphones and a menu. Surprised to see a paper menu offered for a domestic flight these days.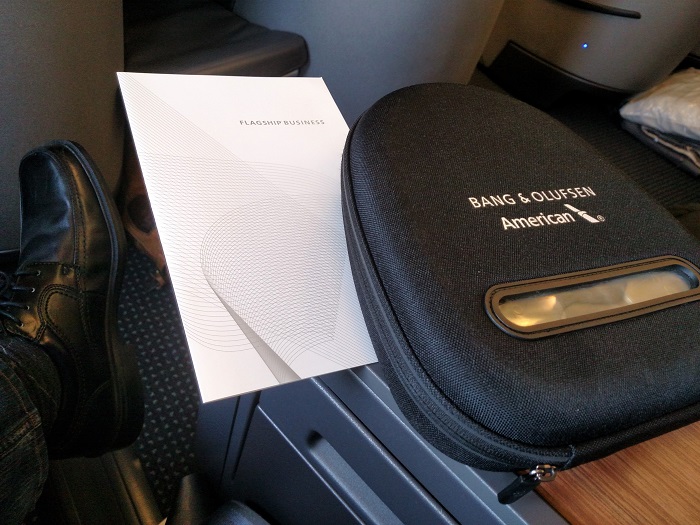 Taxiing out.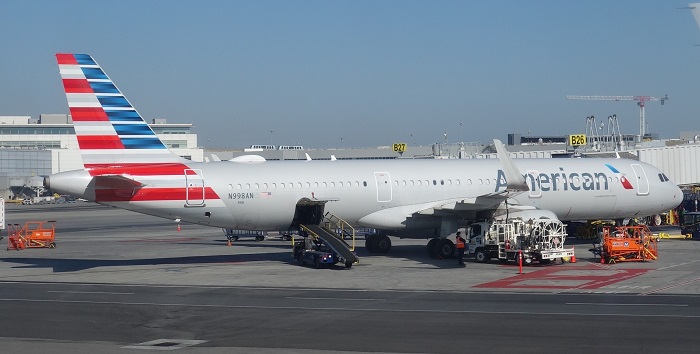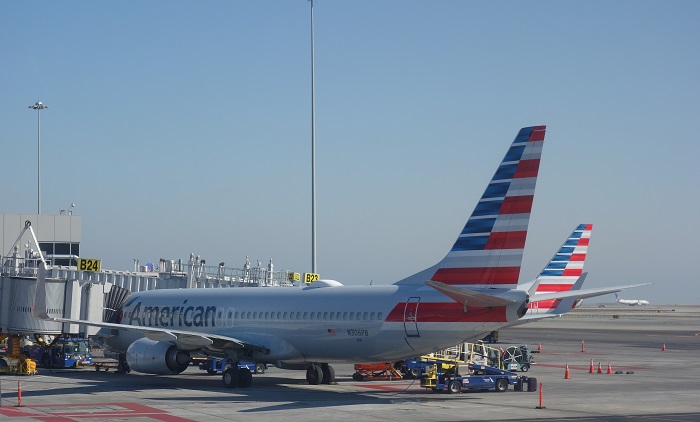 Take off.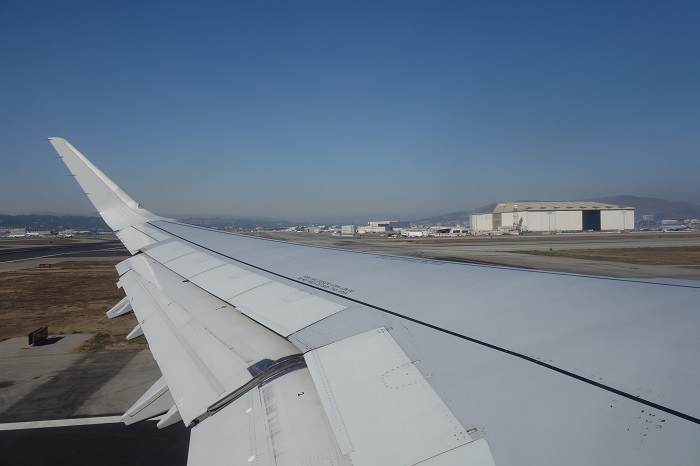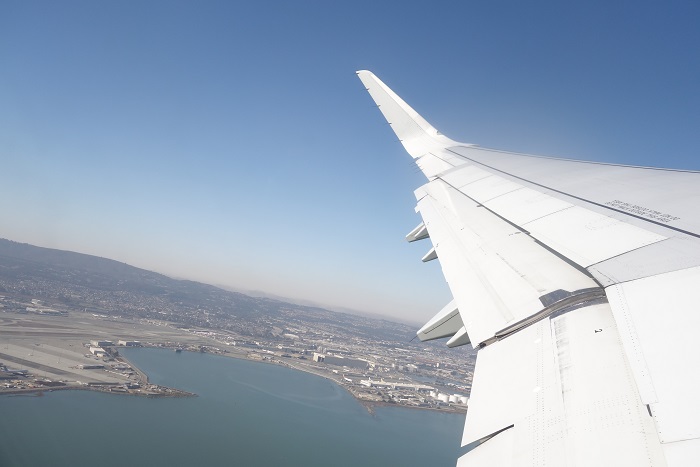 Such a great feeling. Bye Bay area.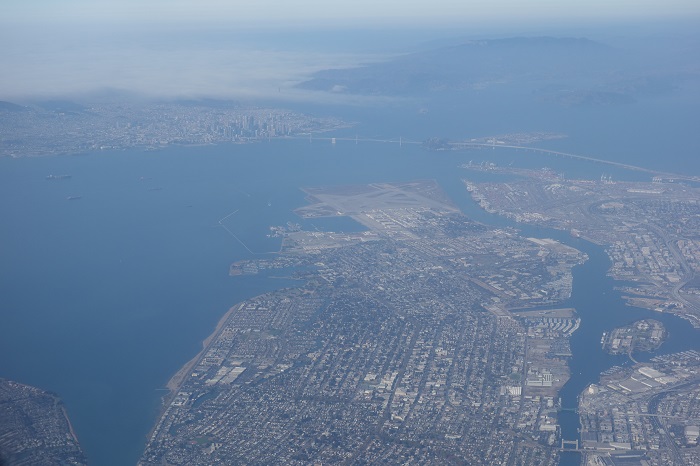 The space for your feet on this type of J seat can be narrow.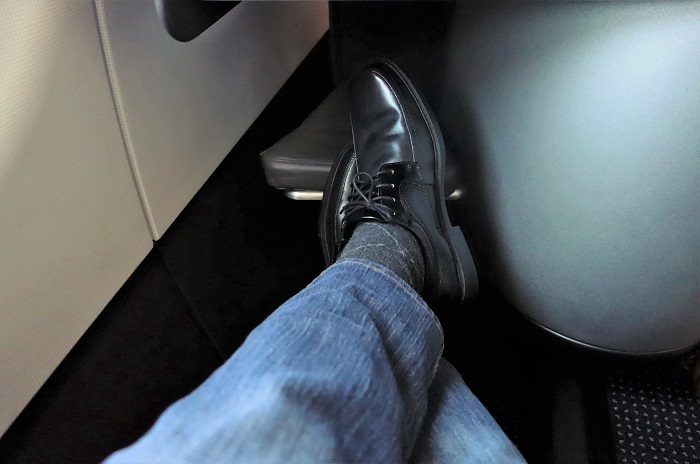 No more hot towels so we are offered a sanitizing wipe instead.
Menu.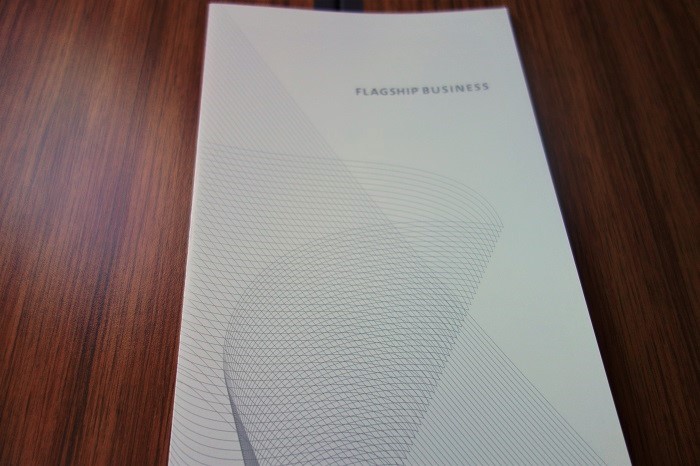 Having 4 choices for main dish is pretty good. Well done AA.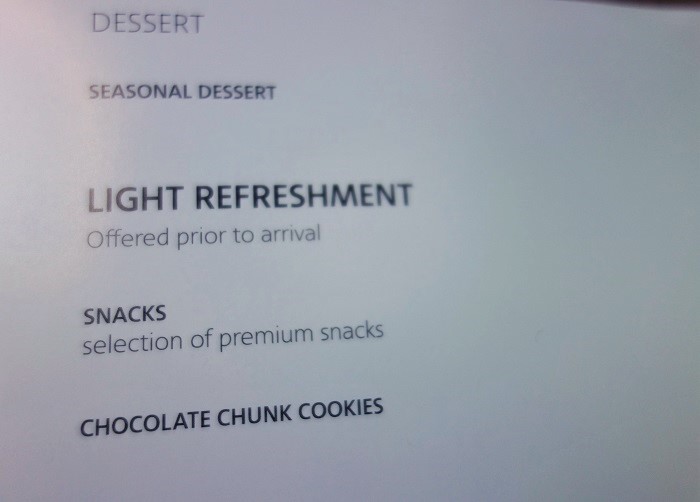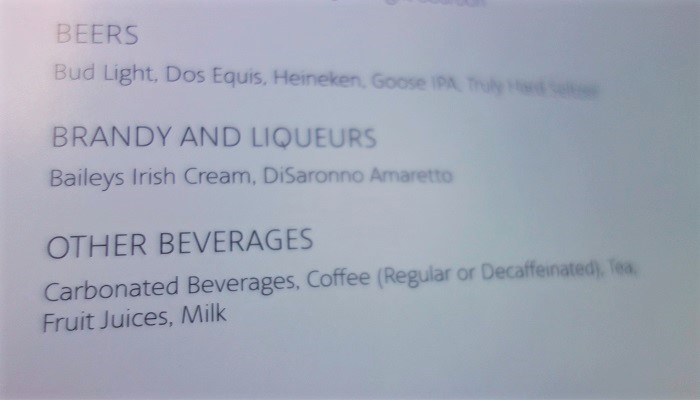 FA placed a linen on my tray table and took drink orders. No glasses so now we use plastic cups. Warm nuts have disappeared too. I ordered a half orange juice and half cranberry.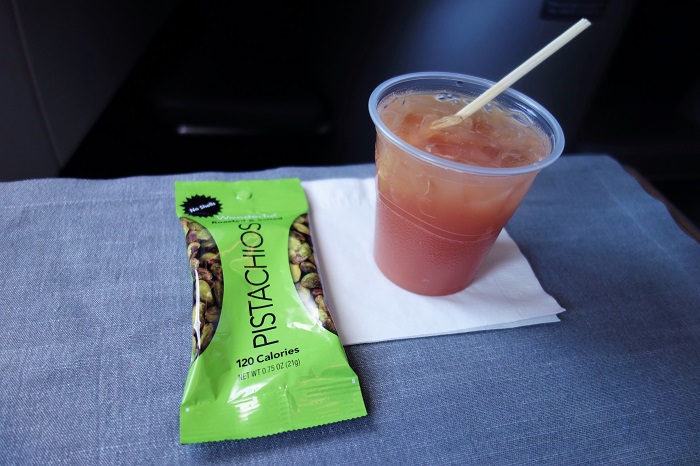 I ordered the grilled halibut and the meal was presented with all components covered.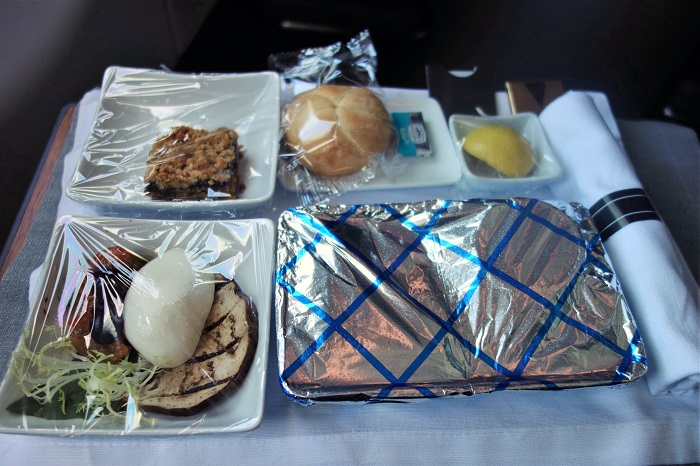 Covers off.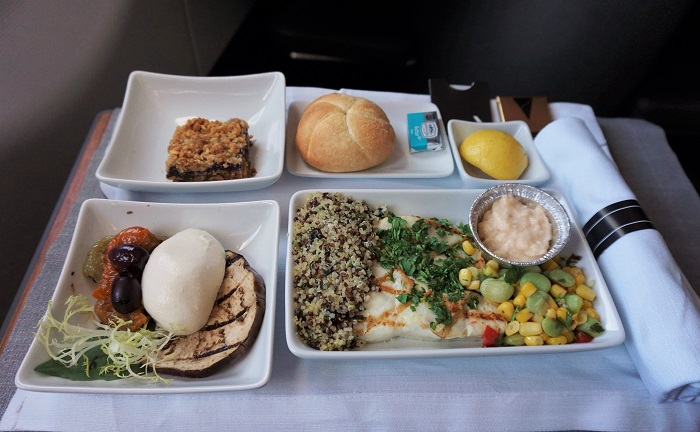 Silverware!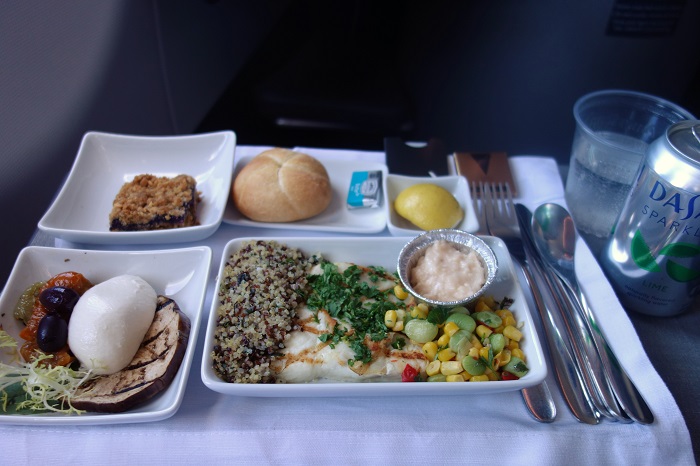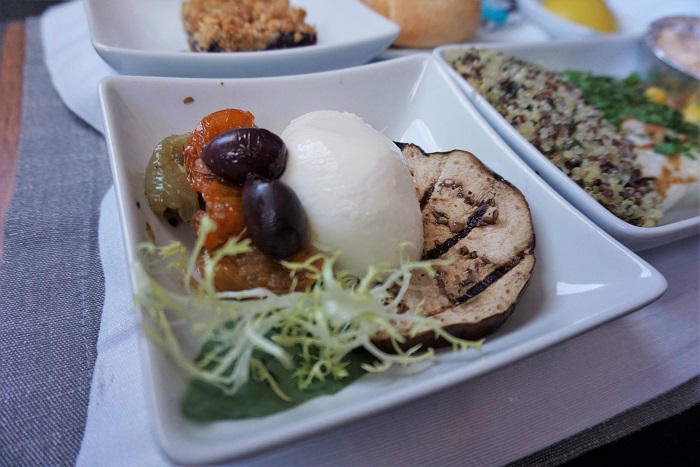 Fish was a bit bland.
Not very inspiring dessert.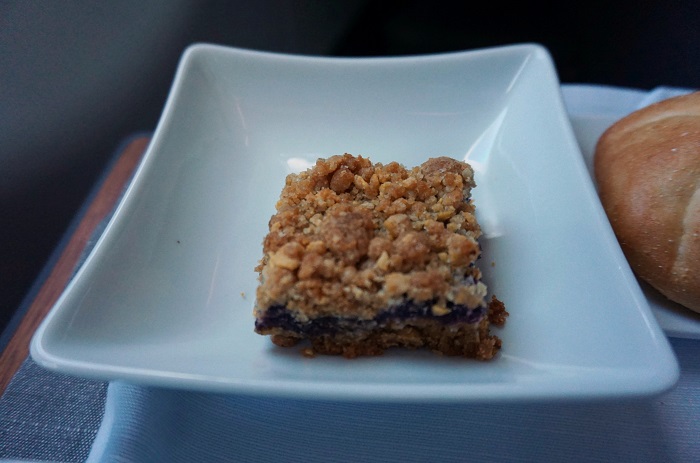 Nice touch to include a chocolate.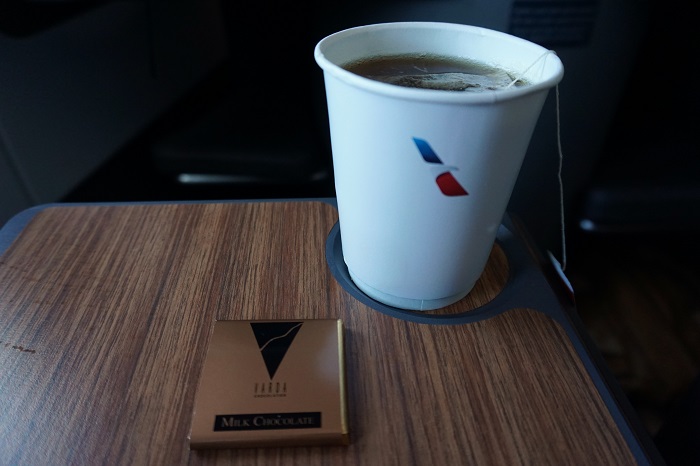 WC was clean and there were more sanitizing wipes on the counter.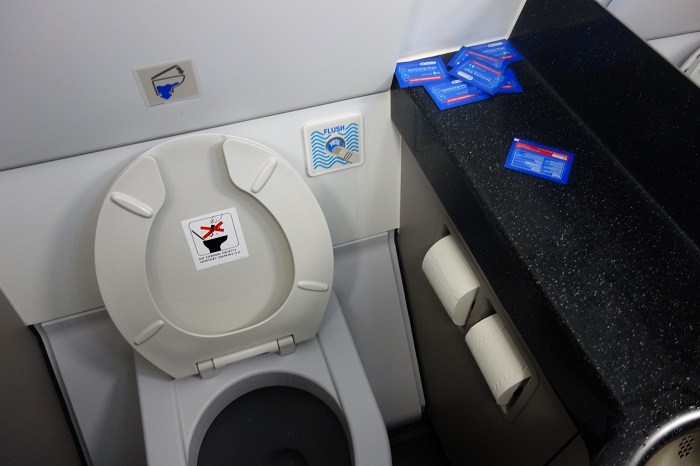 Cruising.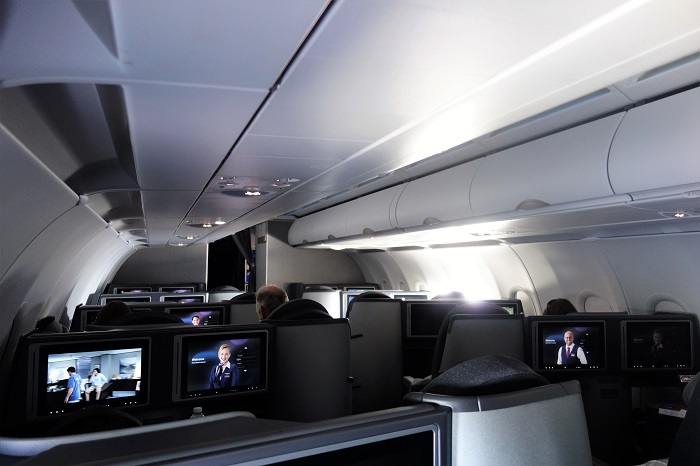 No more freshly baked cookies. We were offered wrapped ones instead.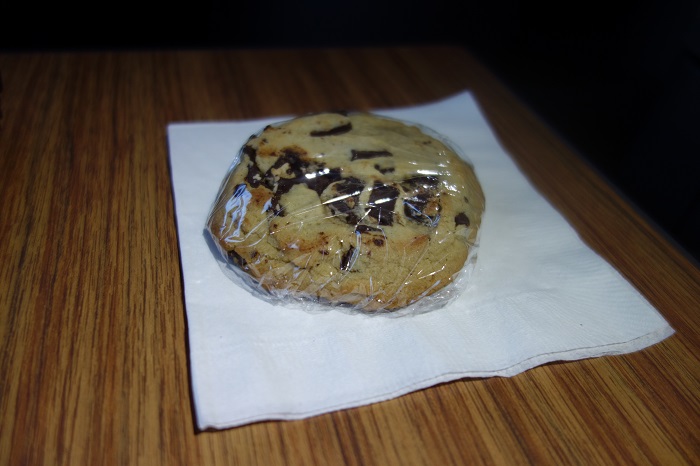 Before arrival a snack basket was offered to all pax.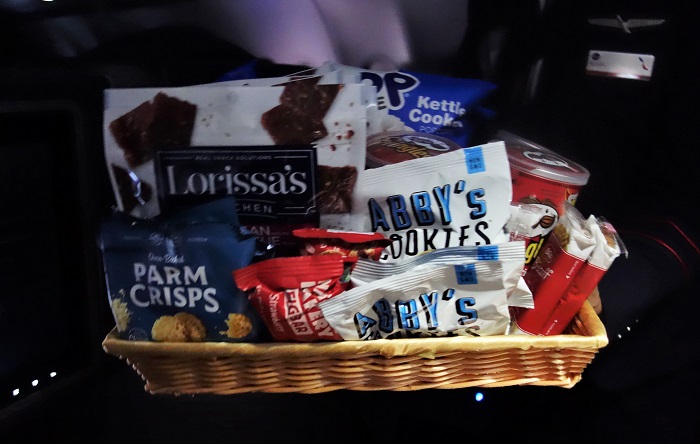 Arriving at JFK.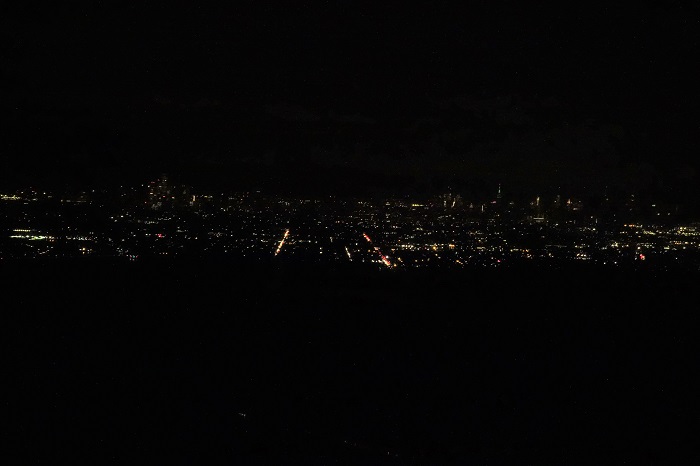 ========== San Francisco Intl Arpt (SFO) - ==========
Security/Immigration efficiency:
10/10
Services and activities:
9/10
General cleanliness:
10/10
========== American Airlines Admirals Club ==========
========== American Airlines - Airline ==========
On-time performance:
10/10
Breakfast or light meal before arrival:
0/10
========== John F Kennedy Intl (JFK) - ==========
Security/Immigration efficiency:
9/10
Services and activities:
8/10
General cleanliness:
9/10
Summary:
This was my first flight experience during Covid19 and I was glad to be able to return to the skies. It's in our DNA as my friend Thomas says.

AA was a great experience and it was a very smooth process made even better by very friendly and professional staff from the ground agents at the lounge to the excellent crew aboard.

The new AA lounge at T1 is very spacious and contemporary in design. I can't say enough about the fantastic personnel at the lounge. Everyone that I dealt with was so friendly and willing to help. I appreciate that AA makes an effort to offer something similar to what they used to have pre-Covid19 and that they still make hot items like soup available. The guacamole station is a great touch that sets it apart from other competitors. The only disappointment is not being able to use the showers but that is perfectly understood giving the current crisis.

This route is a premium transcon one and therefore is treated as a special category. It is the only domestic route that gets a "normal" in the premium cabins while on other domestic flights pax in F only get a sandwich or fruit plate. The printed menu and 4 choices for meal is exceptional in this case.

Crew was a joy and they were always attentive and friendly. They made a big differnce in making the trip more enjoyable.