Prologue:
Hello to you all and welcome on board of this pretty much expected report by some of you, it will present you a fabulous experience of a luxurious offer that can not be beaten in the aerial world!
To be able to realise a dream once in a lifetime is just unbelievable, but to have a second chance round it is just magical and i am so grateful for it.
I am not keeping your breath on hold any longer so please come on board with me throught the Air France La première cabin and enjoy the experience through my report.
For those who are interested, the vid is available here:
https://www.youtube.com/watch?v=XMWlgn5a-do&t=106s
There is a lot of traffic on this Friday the 13th in the Parisian's suburb and it's diificult for us to get to CDG airport.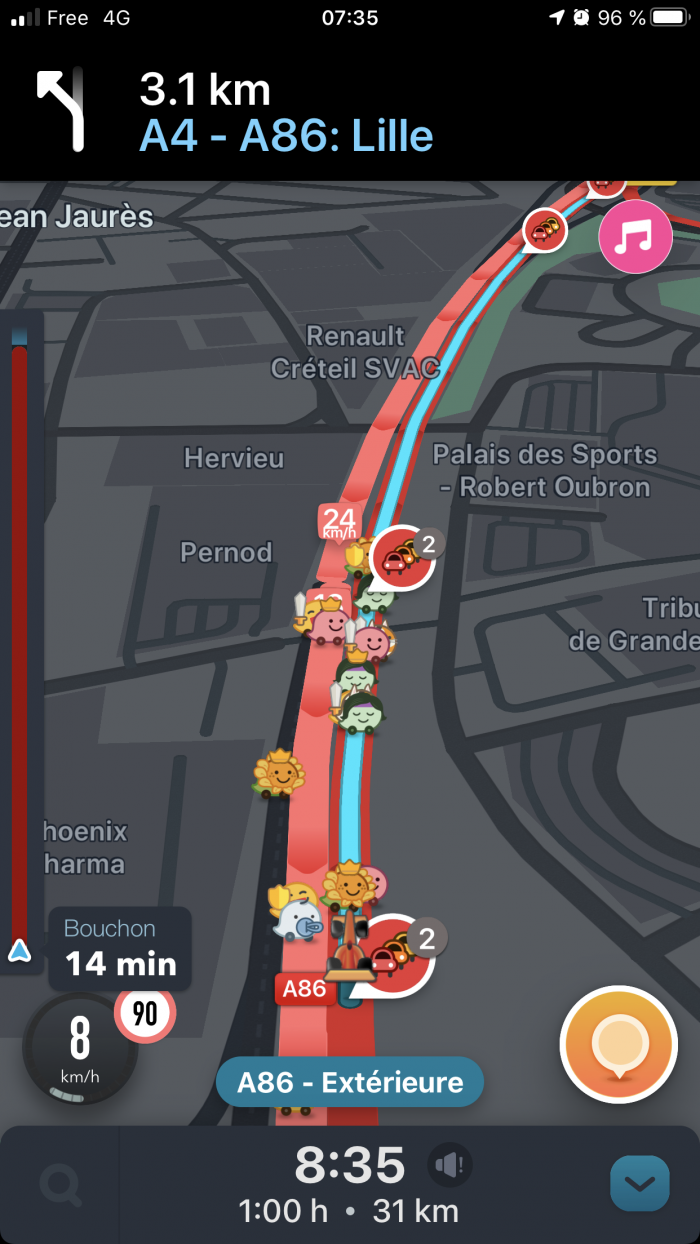 Miracle lol!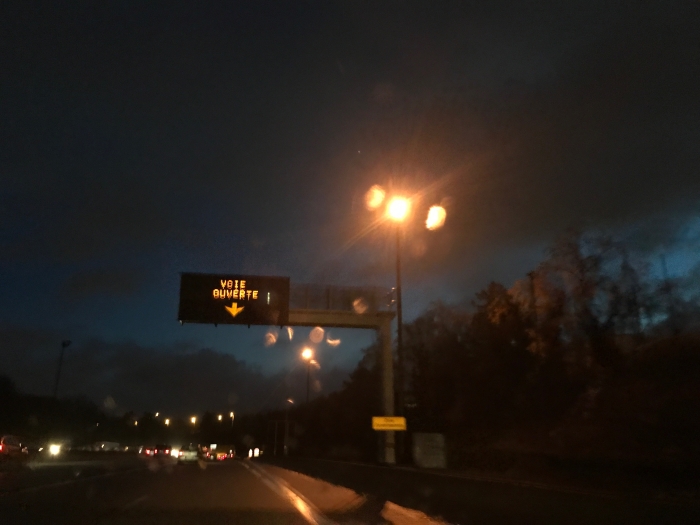 But I'm not the only one on my way to CDG.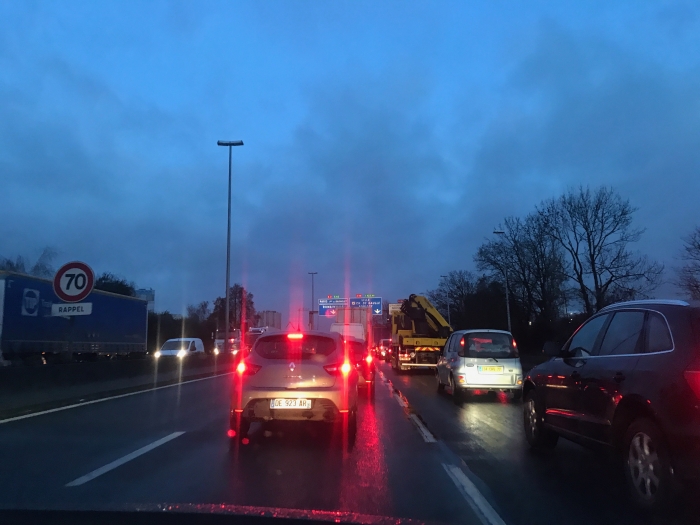 After one hour drive I can finally see the light at the end of the tunnel.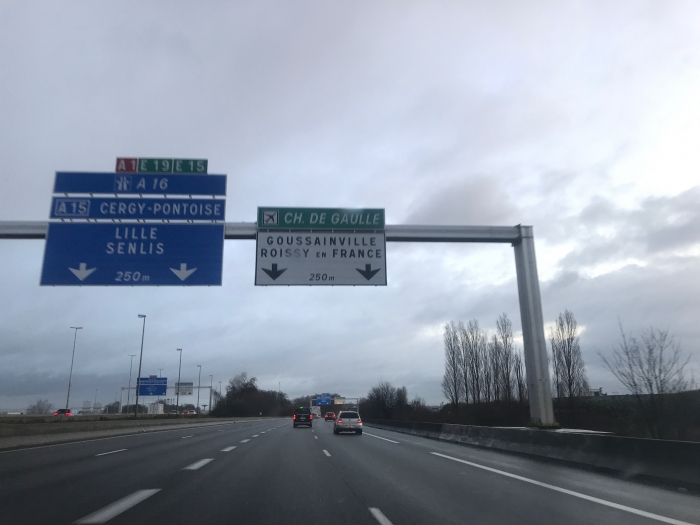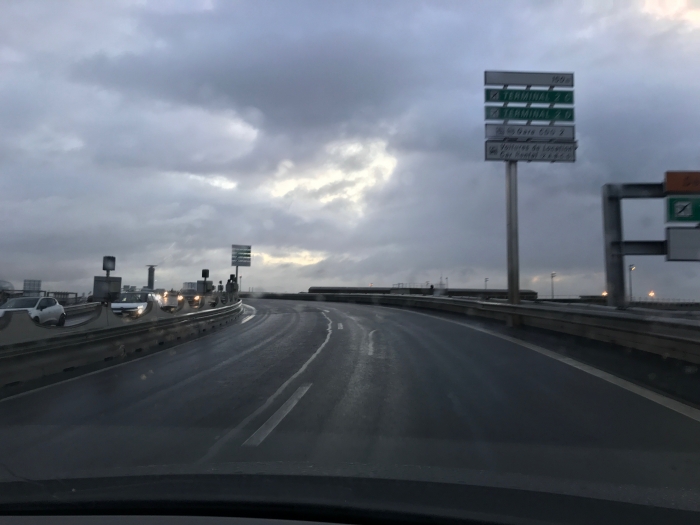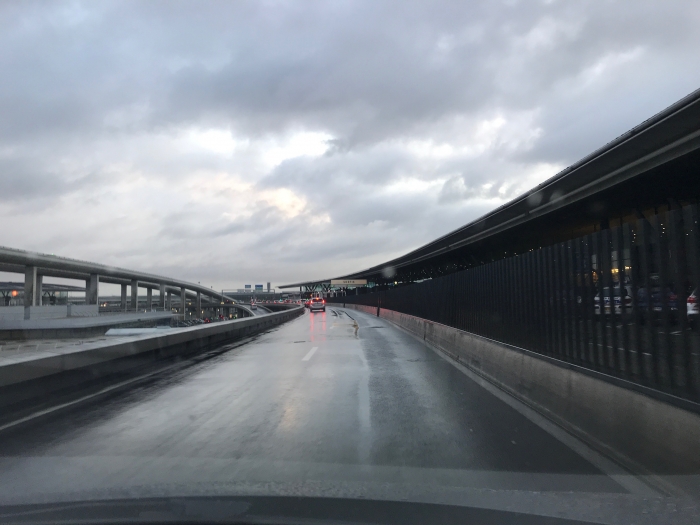 Only few metres left….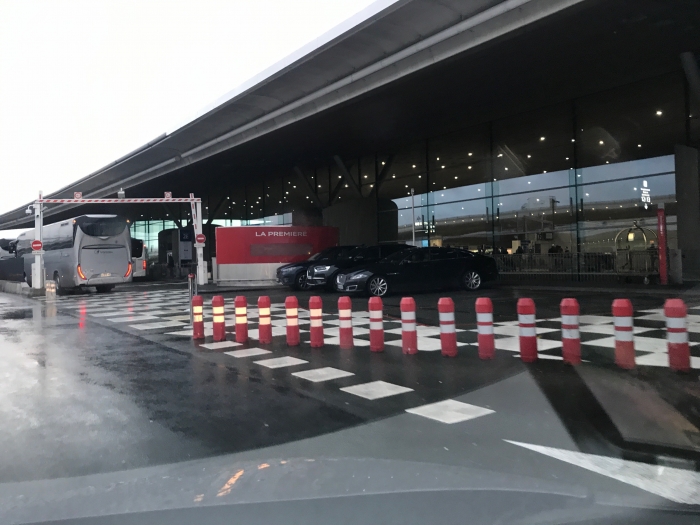 Here we are! Not a soul is outside due to the cold weather as he staff is waiting nicely indoors but comes out immediatly as soon as I arrive to greet me. The Première's magic is now starting.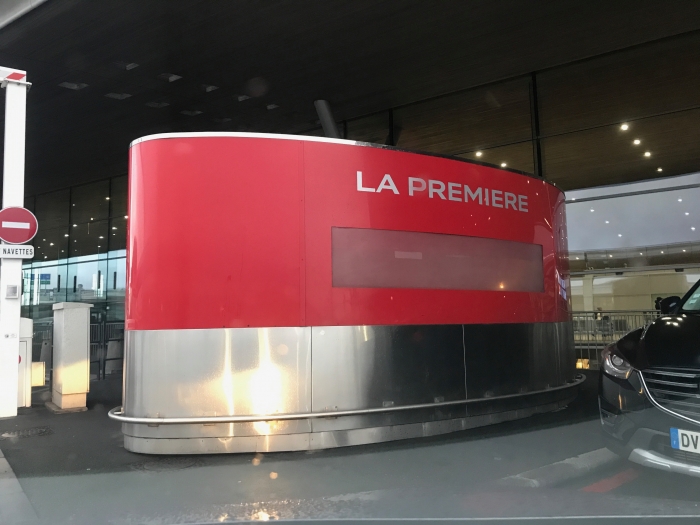 They take all my belonging and carry evrything to help me out and take me through to the check-in lounge.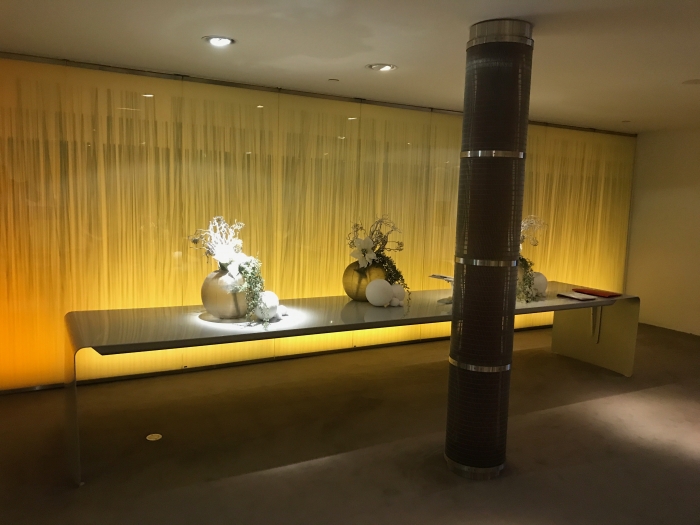 This is not looking like a regular airport desks I must say.
Quick visit to the toilets.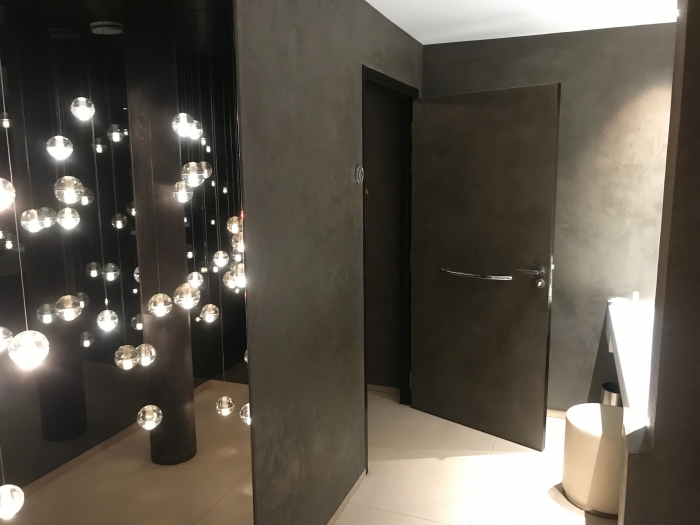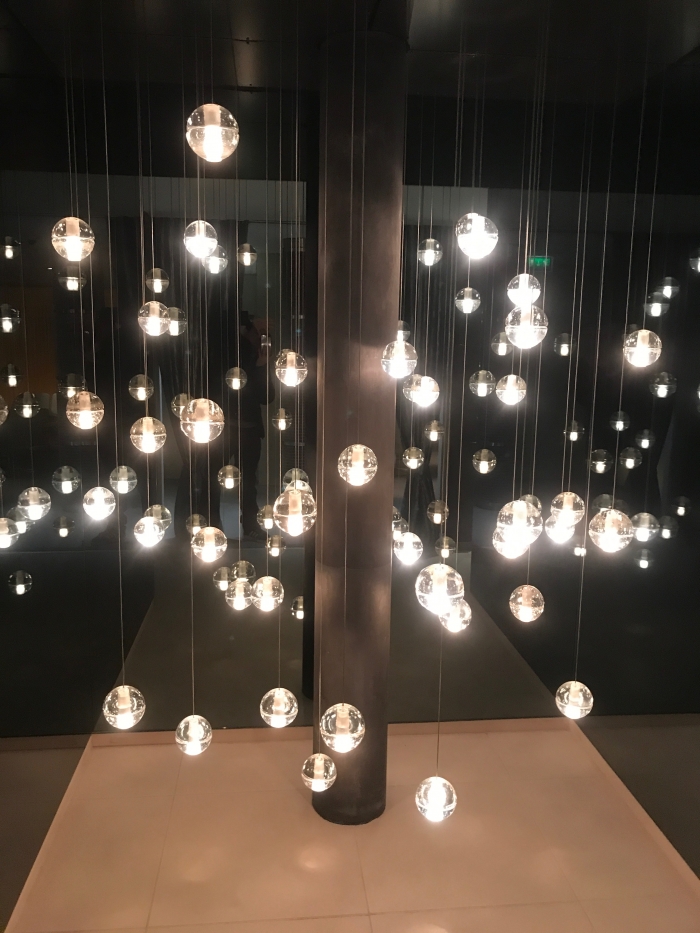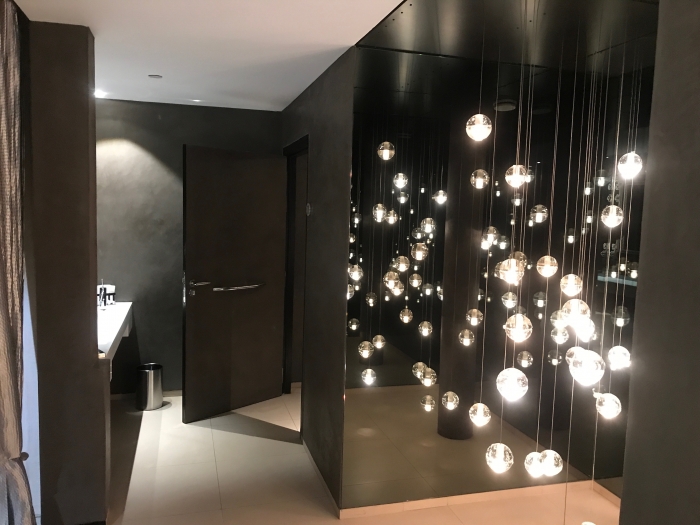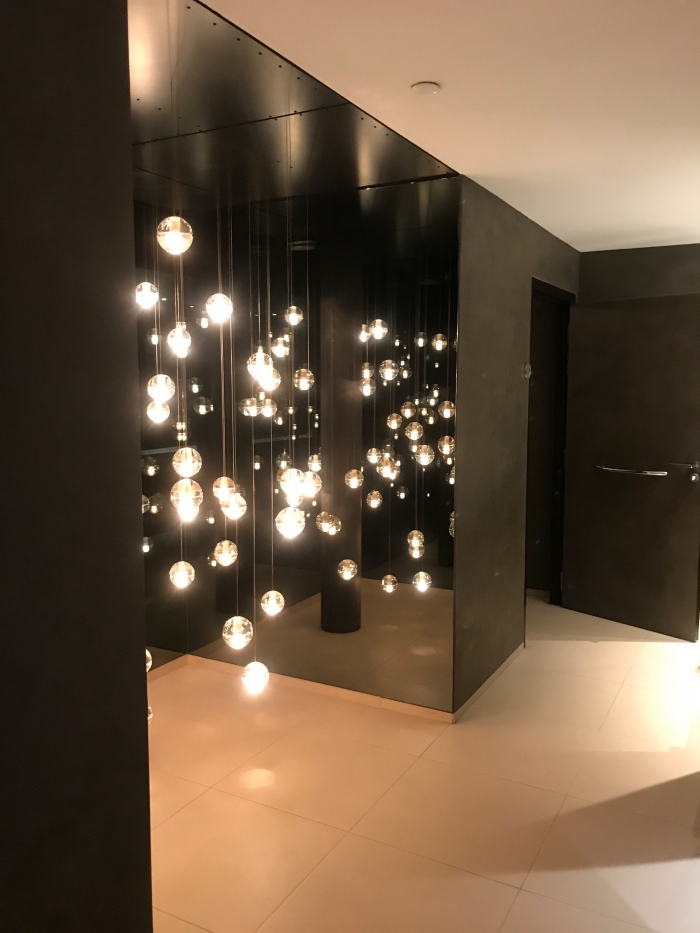 Some views of this lounge where I'm alone.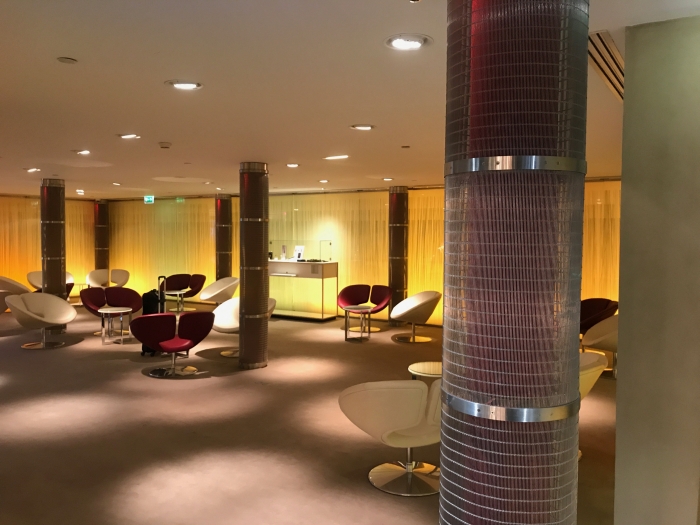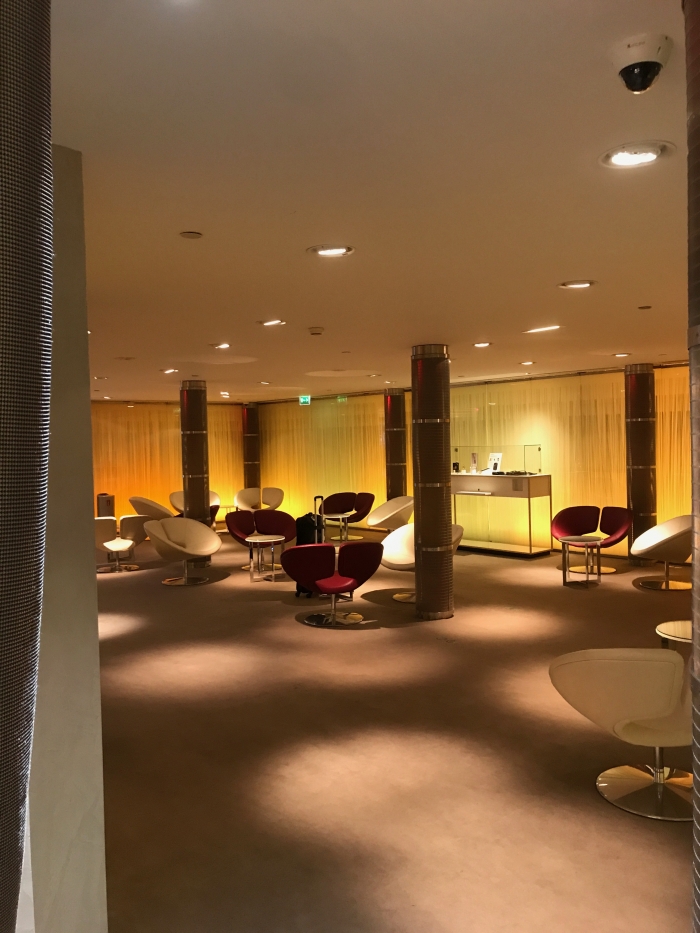 Very nice model.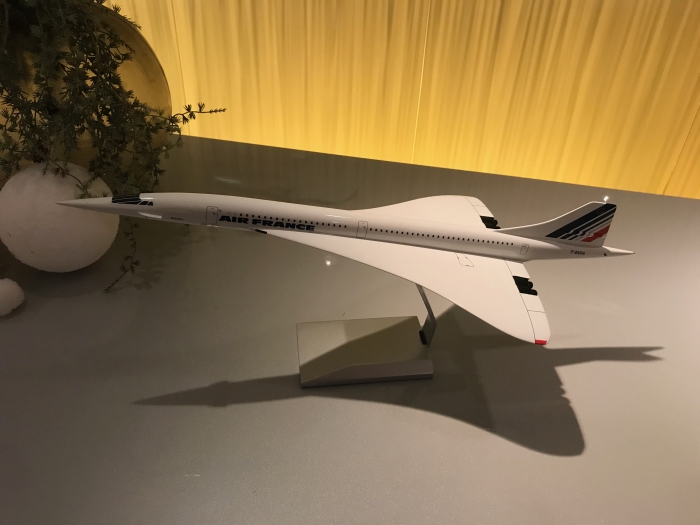 In my world apart I can still have sight of the real life outisde.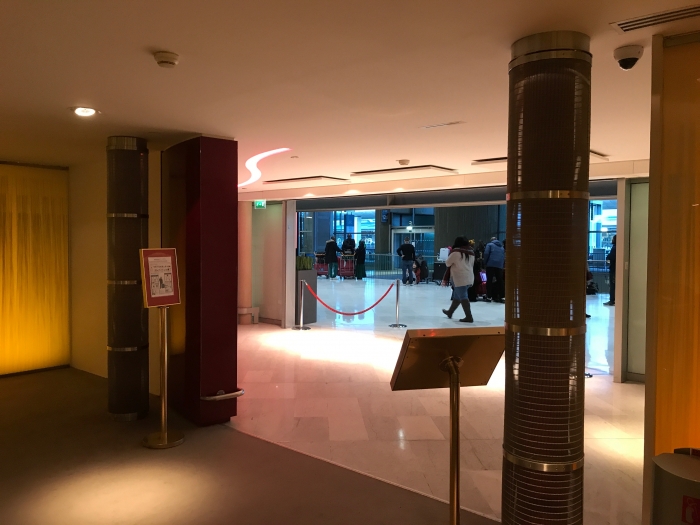 I set myself in this magical world and appreciate the moment.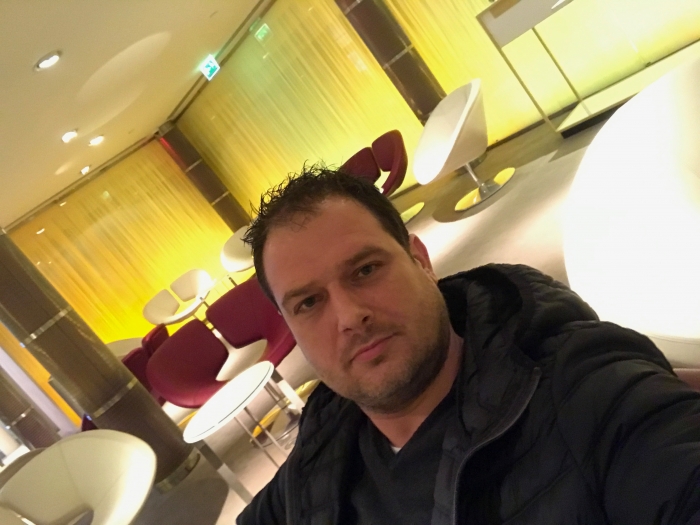 I get offered a drink which I decline quicly as I do not what is expecting me in a very near future ! We leave the lounge and go to the immigration and security check.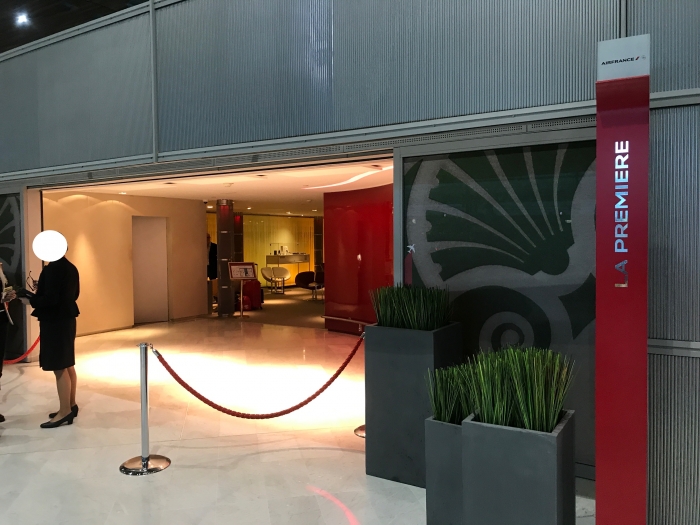 My hostess is extremely friendly and takes me trought everything in less than 5 minutes very efficient nothing to say about that !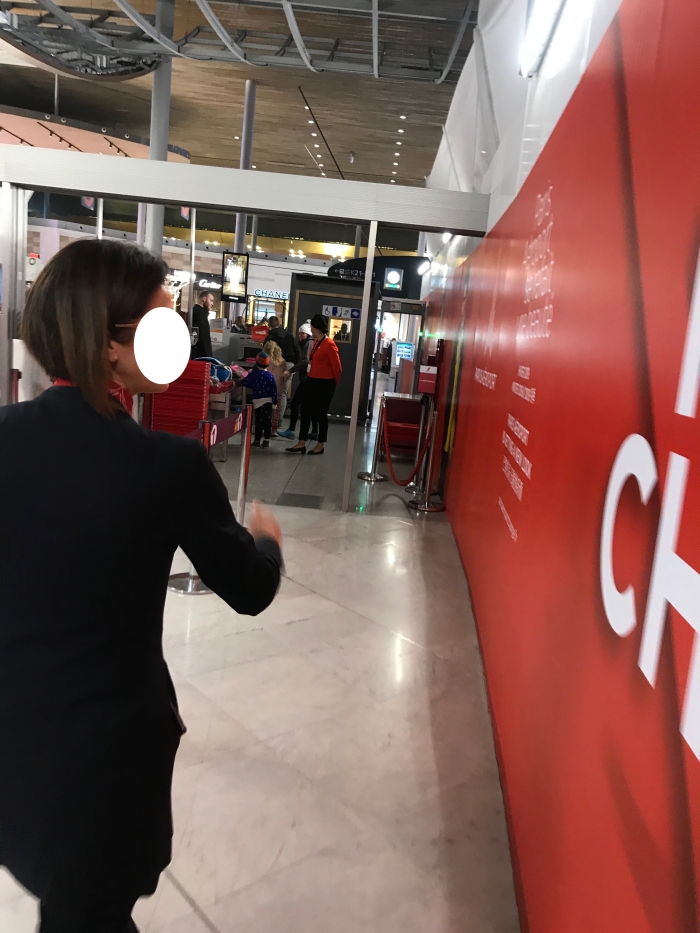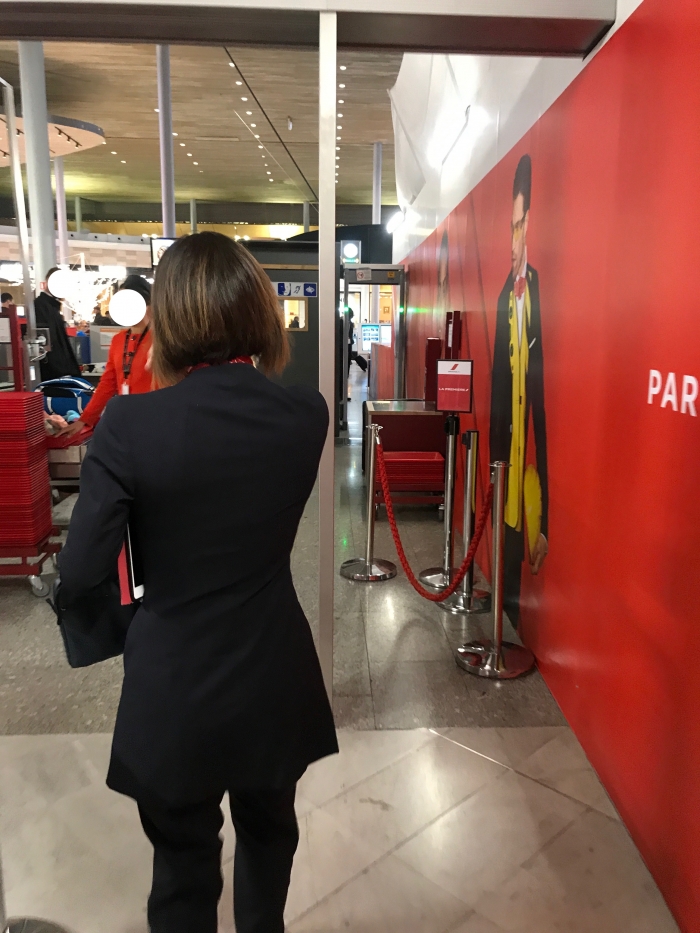 A quick stroll round the shops where the sight of this gorgeous red envelope gives me the right to be treated like I have never been before ! LOL
Here we are.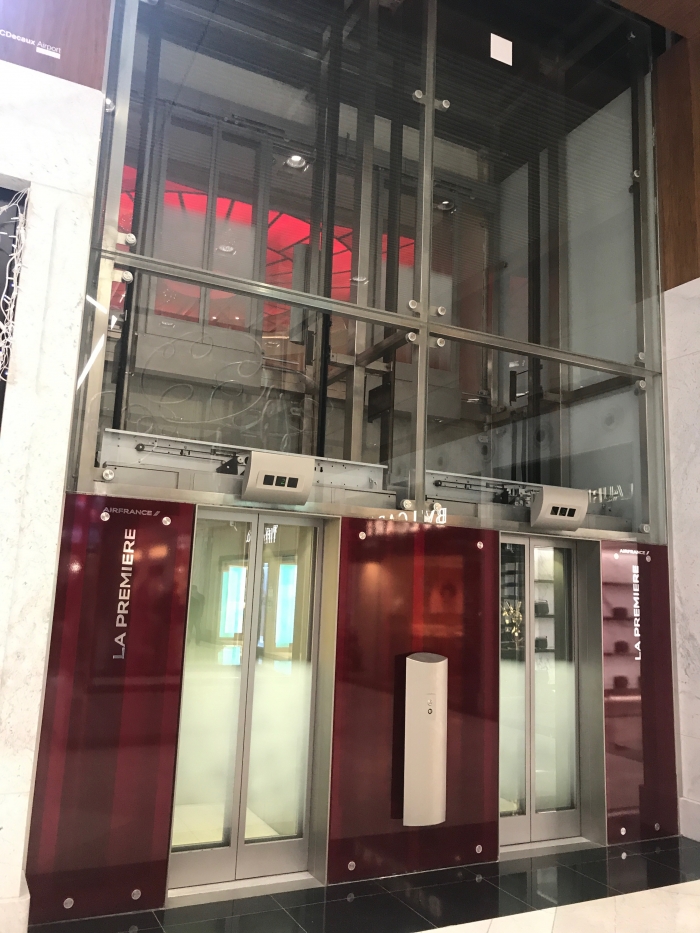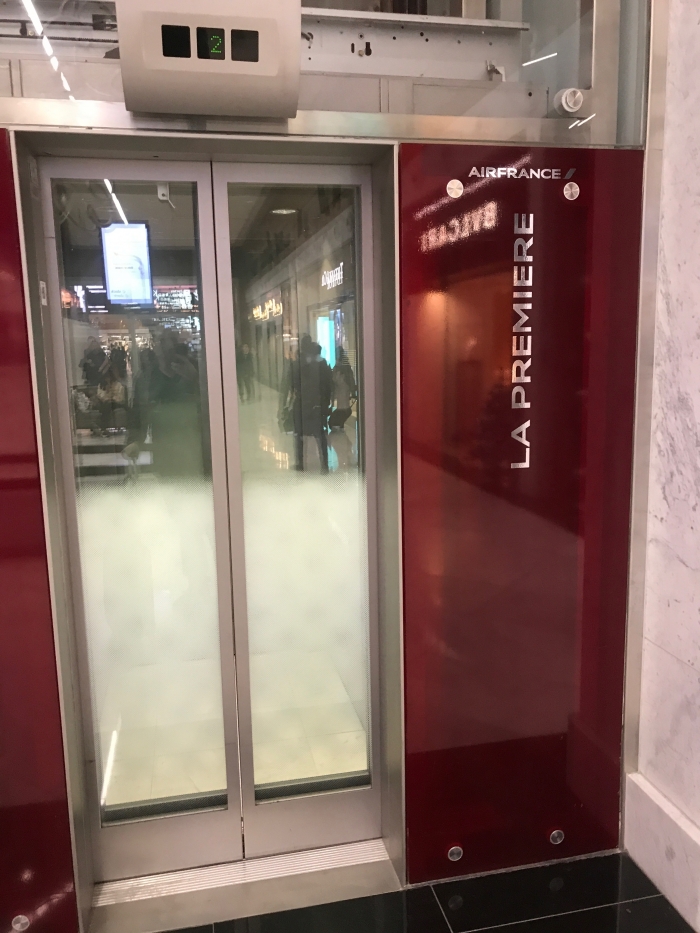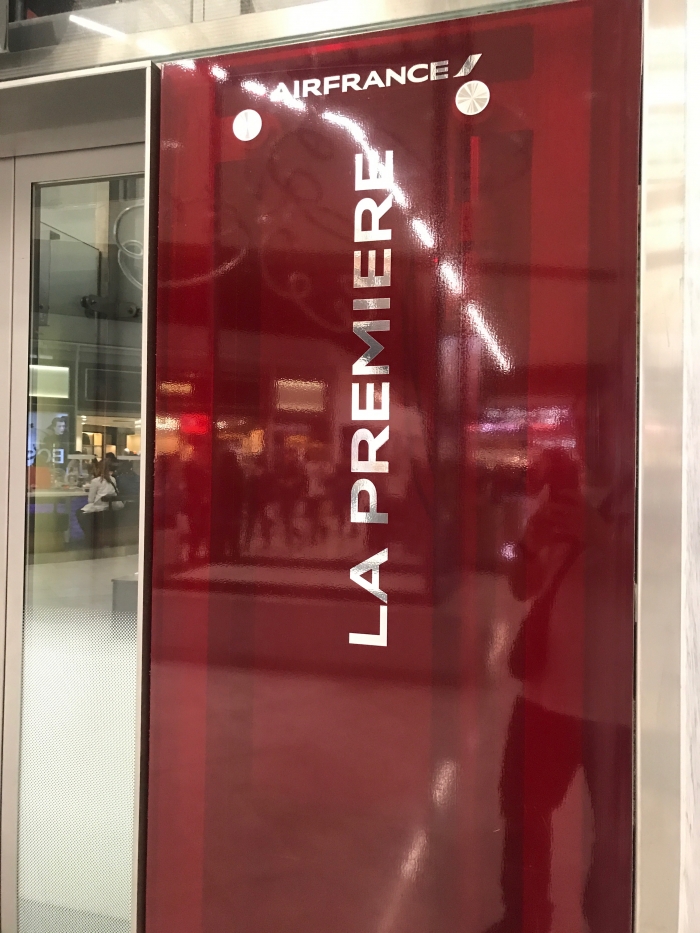 View from the elevator.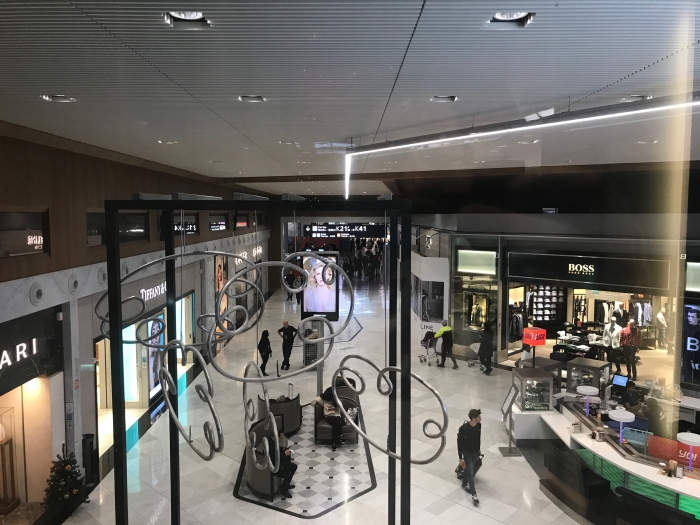 The door opens and magic happens right away.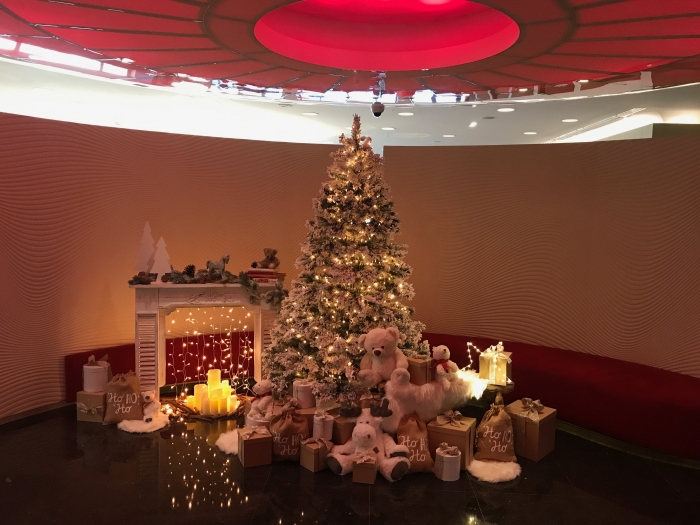 The lobby of this exceptional lounge.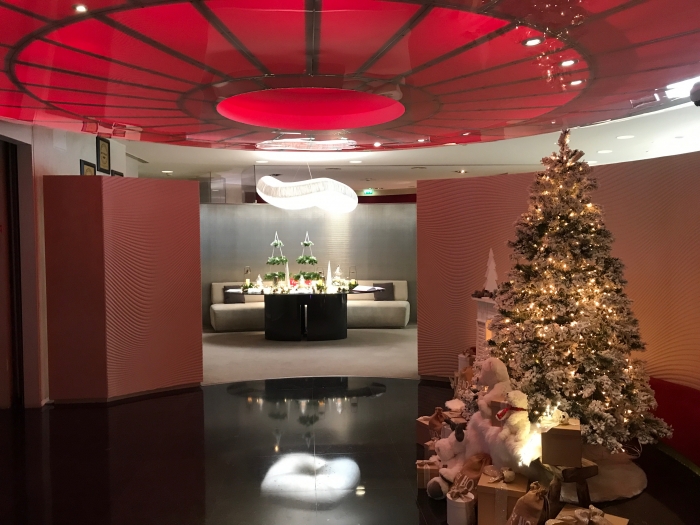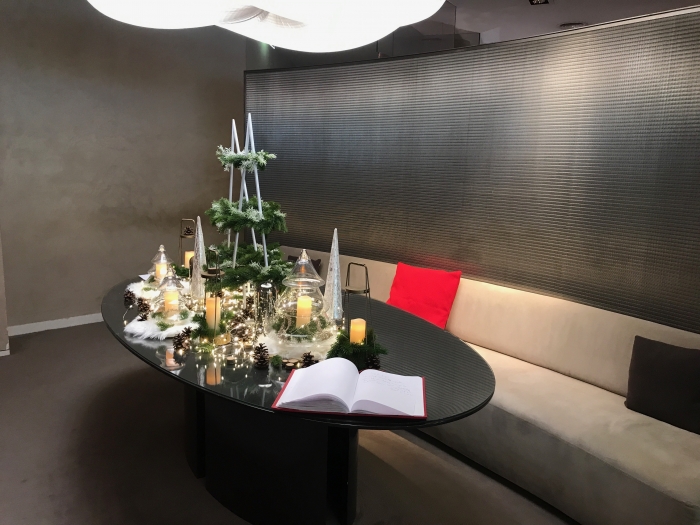 Quickly I am led to the inside lounge and I get asked if I wish to seat at the same spot on my last stay which I accepte with pleasure what a gorgeous view.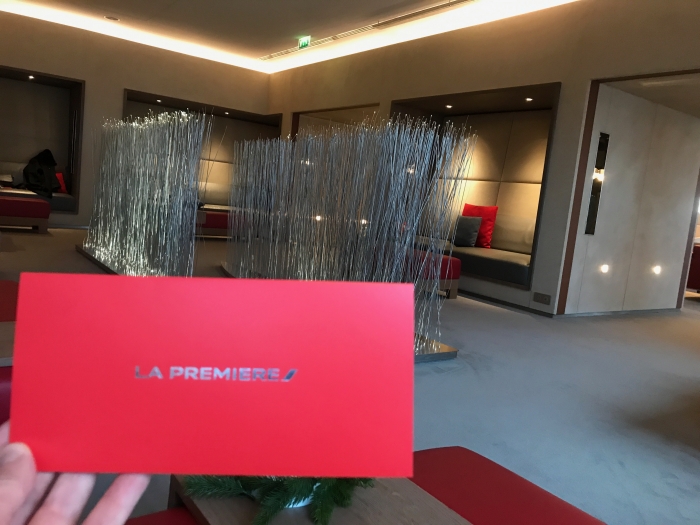 All Avgeek's dream.
I get asked what I wish to drink and I get started lighlty with a coffee.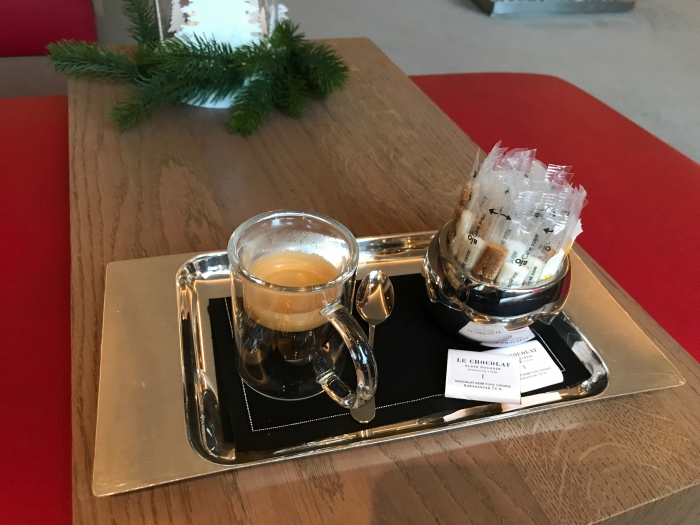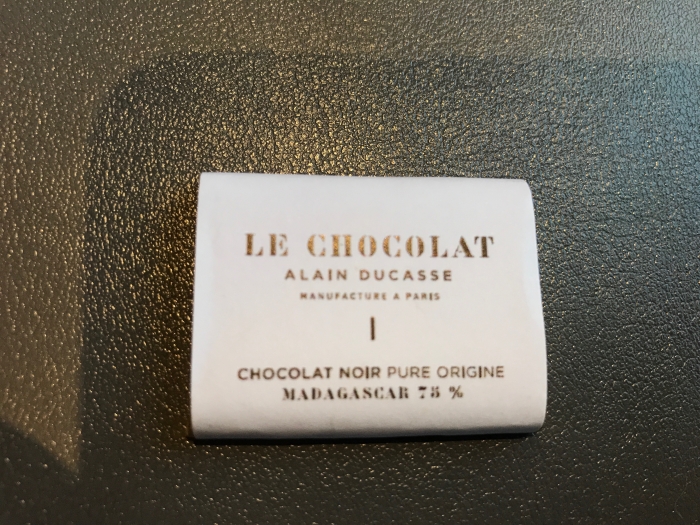 I also take a bottle of water from my home with a tought for Sam.
I will use this evacuation plan to allow me to present you this lounge remaining the most logical and structured way as possible.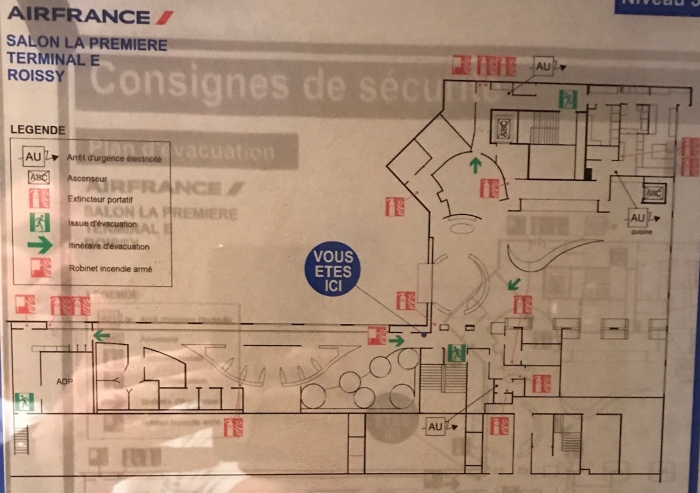 I start with the reception desk area.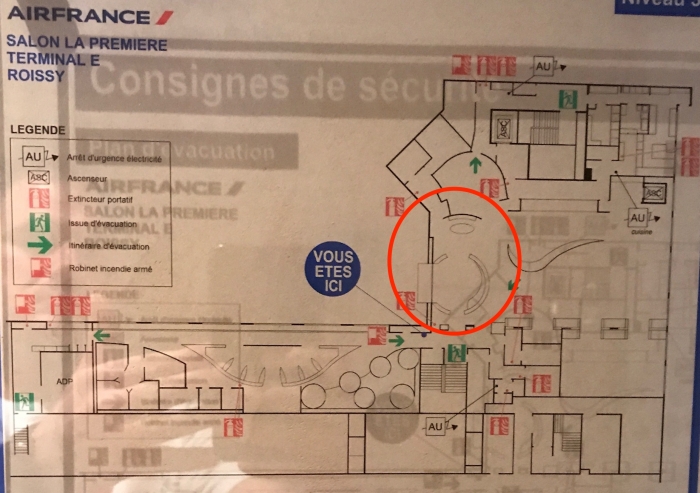 This is where those famous lifts arrive.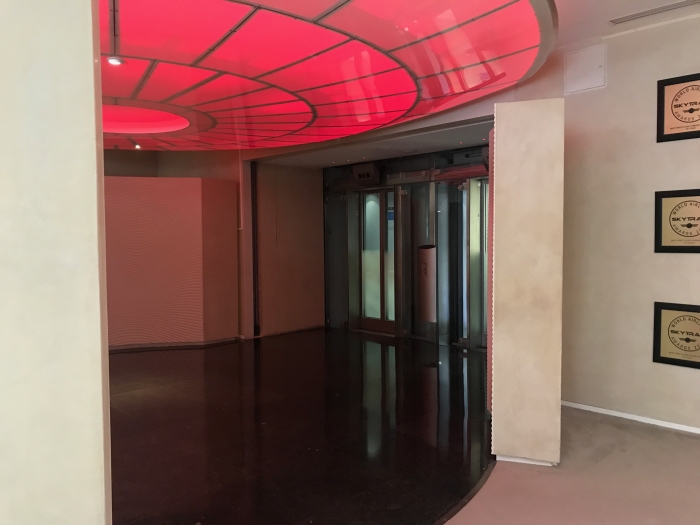 On the other side there is all the newspapers and magazines area with a large selection.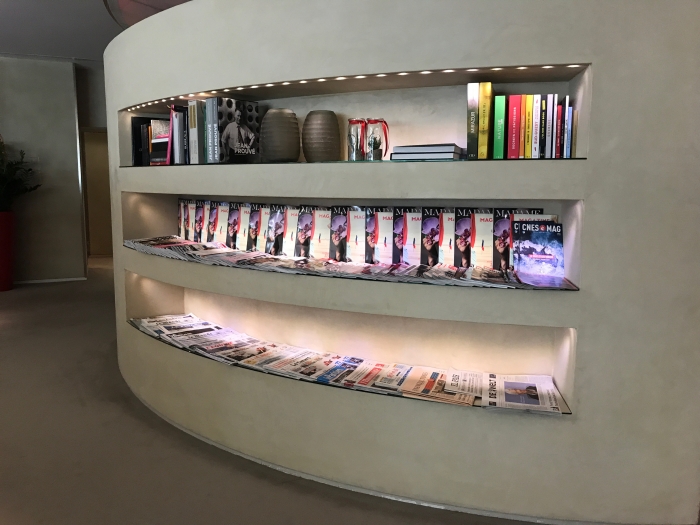 On the other side a lougne.
Overall view.
Now on the first lougne area.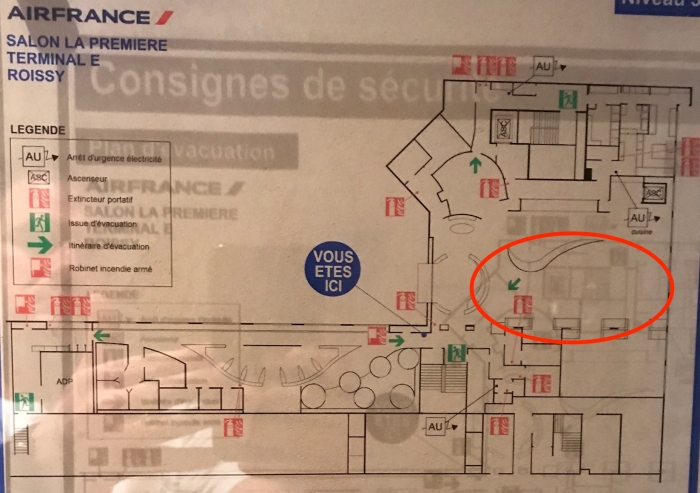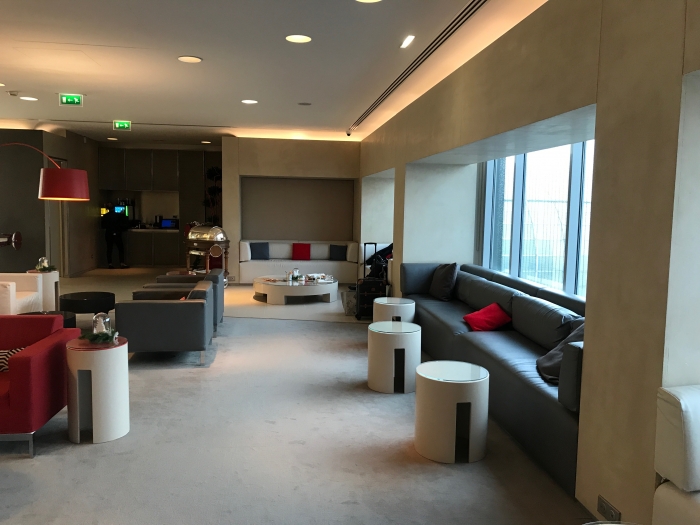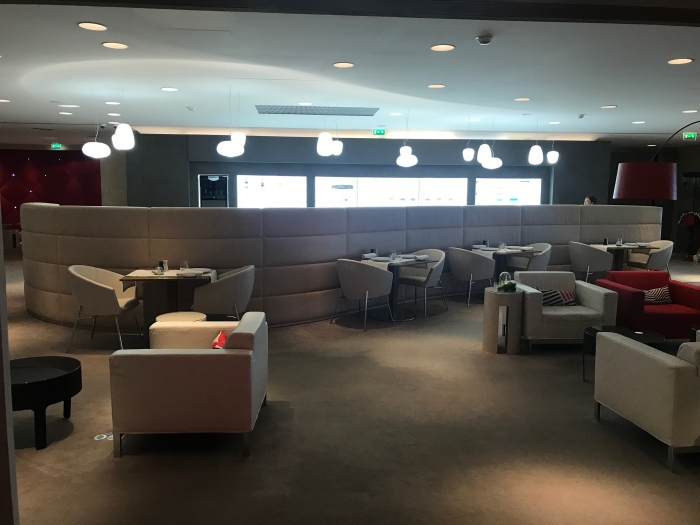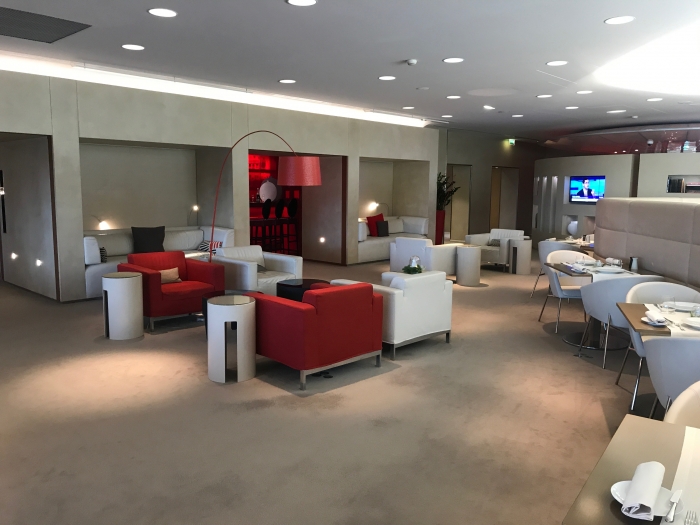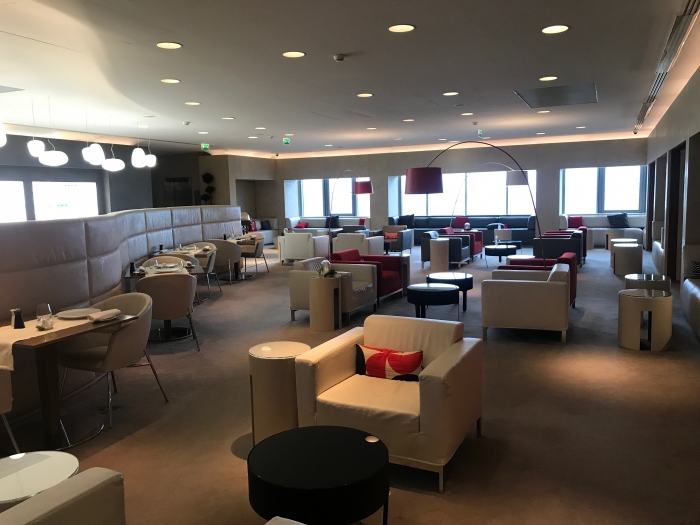 Then moving on on the second one where I decide to take aseat.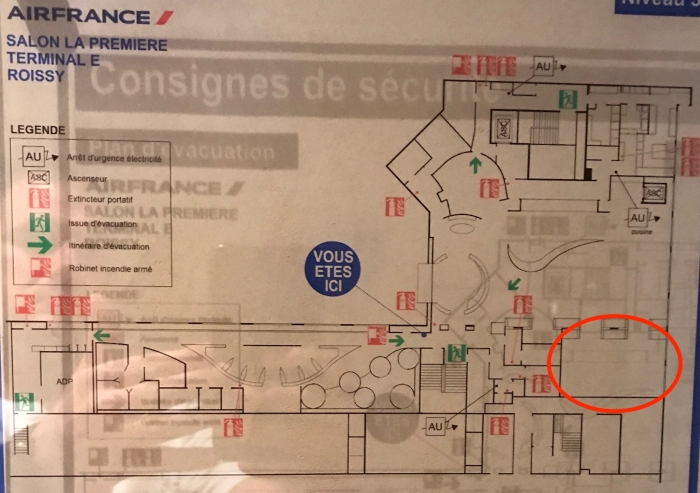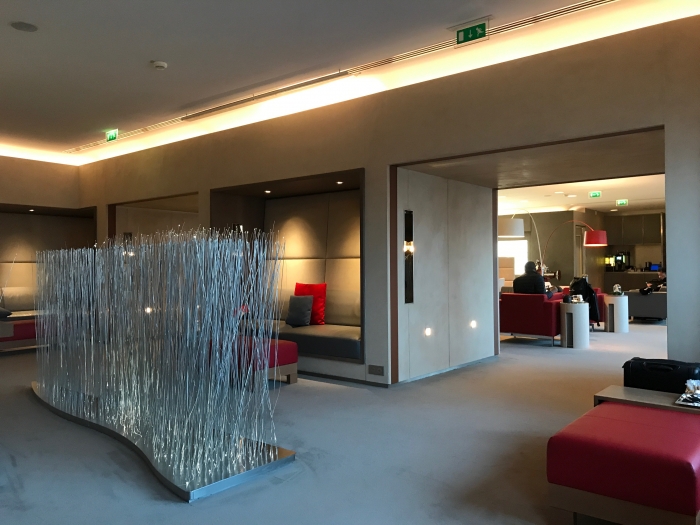 This is what I call life!!!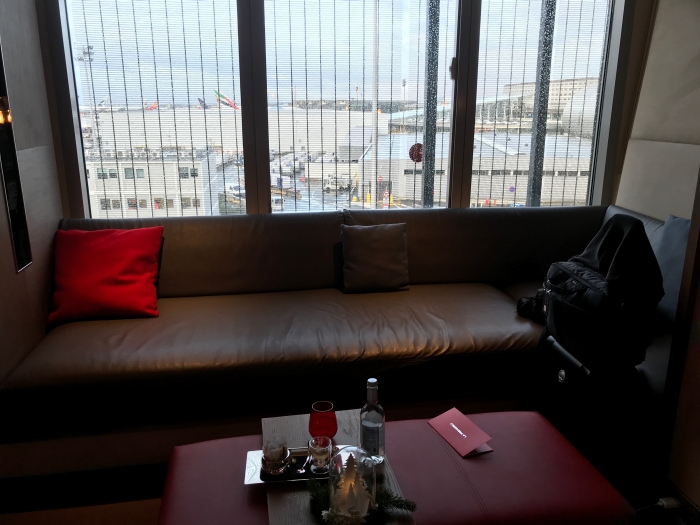 All the Christmas decorations are up.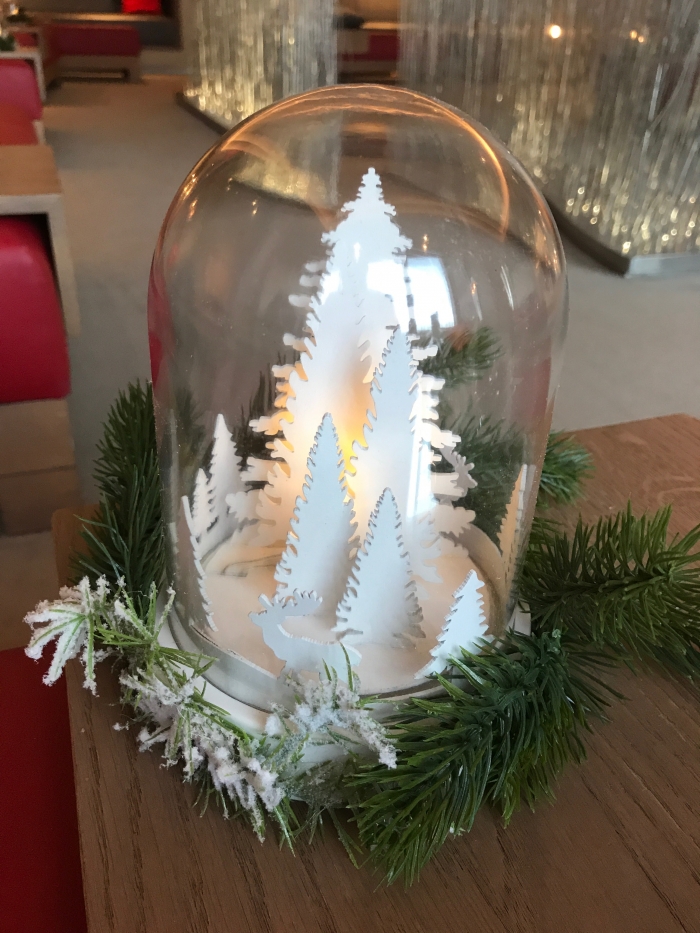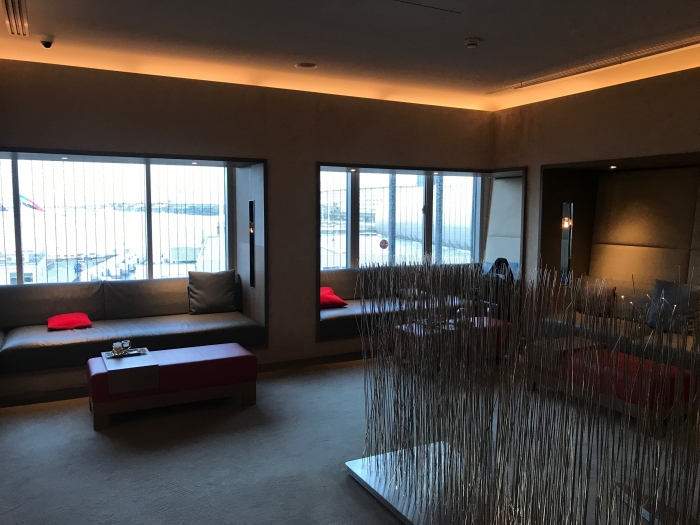 I find the place very pleasant.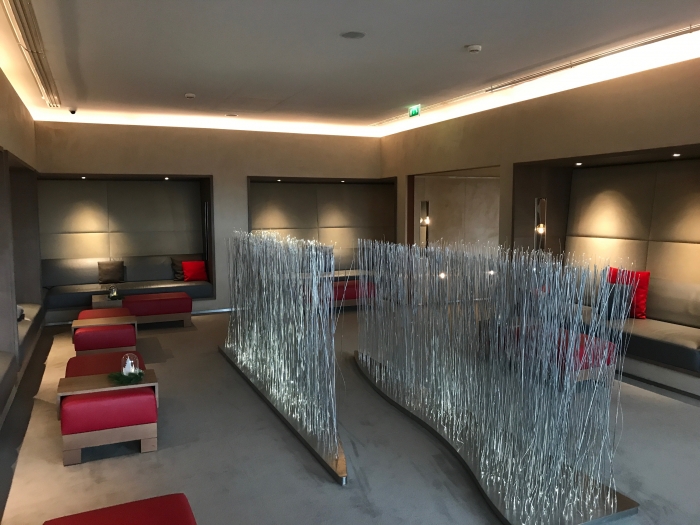 Right next the first lounge area is the dining area.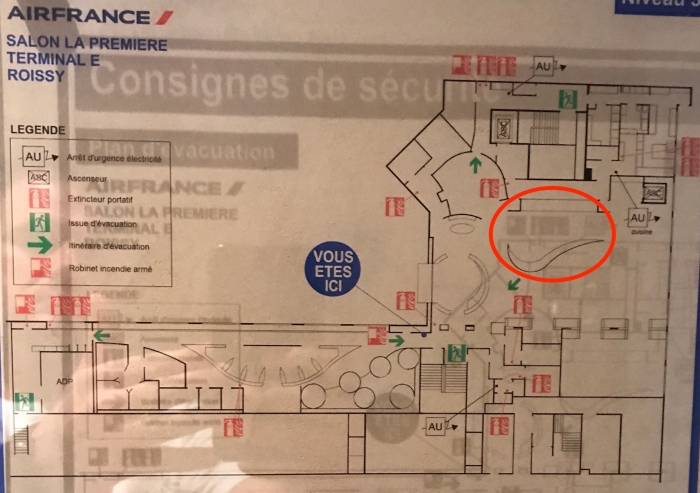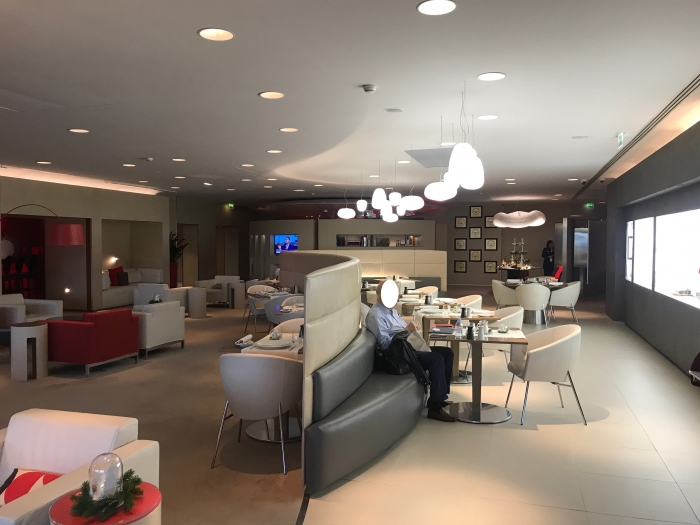 From this same first area it is possible to access the magnificent bar.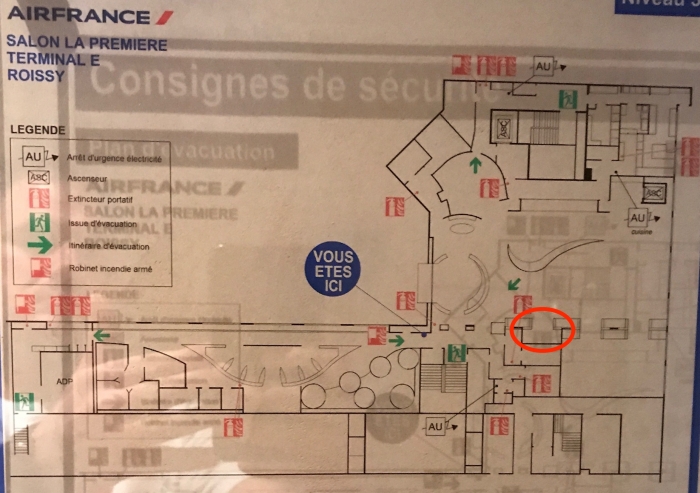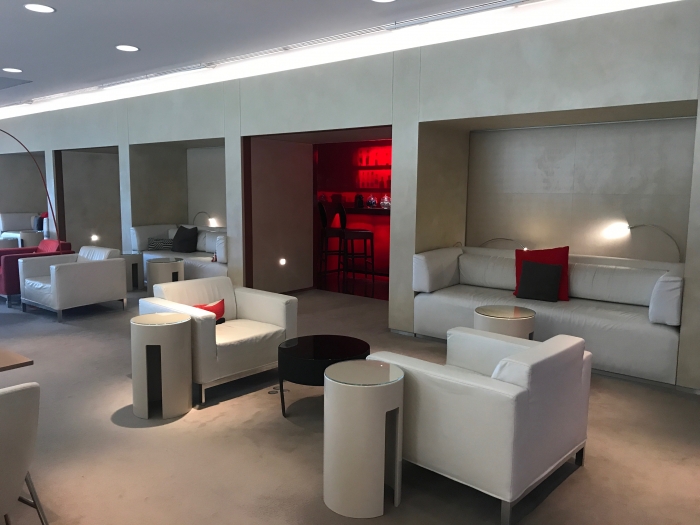 Here is the drink menu.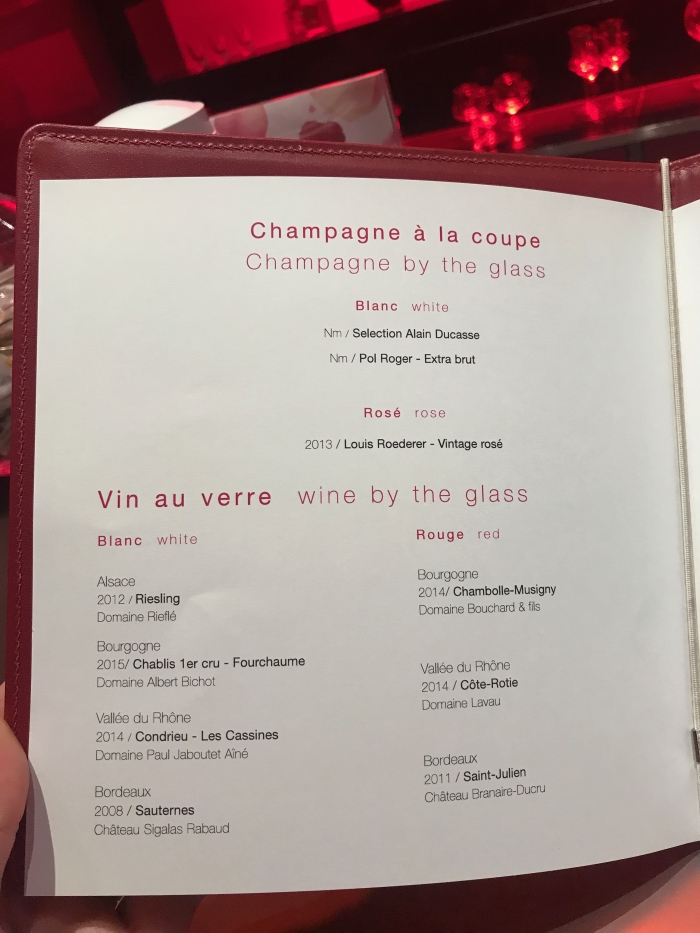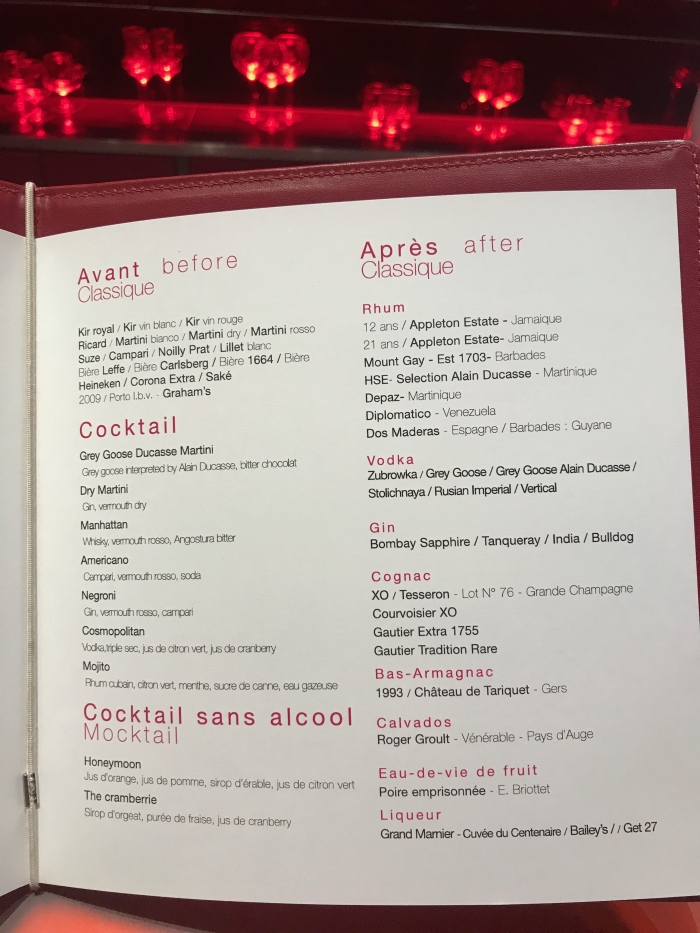 As well as the Whiskey menu.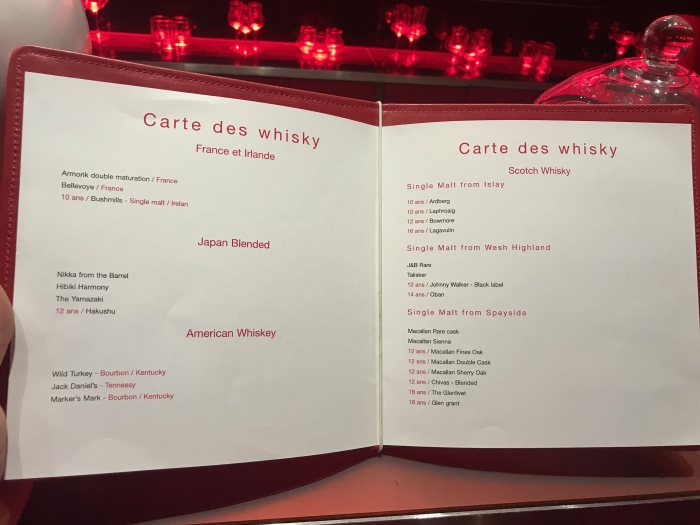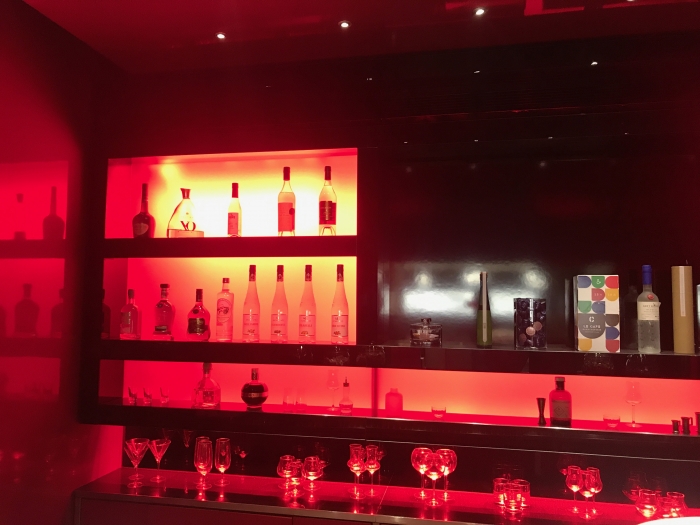 I really like this place.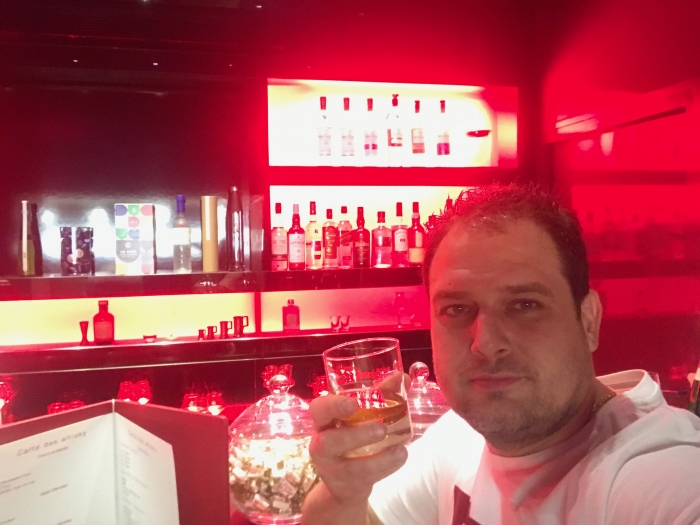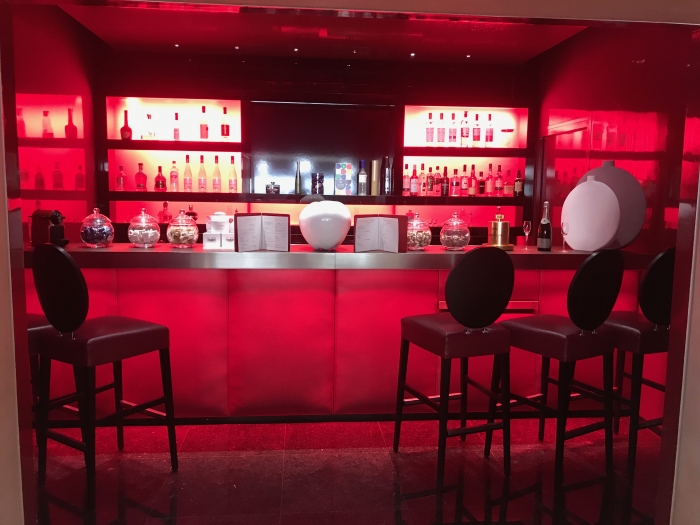 I let myself be tempted despite the early hour.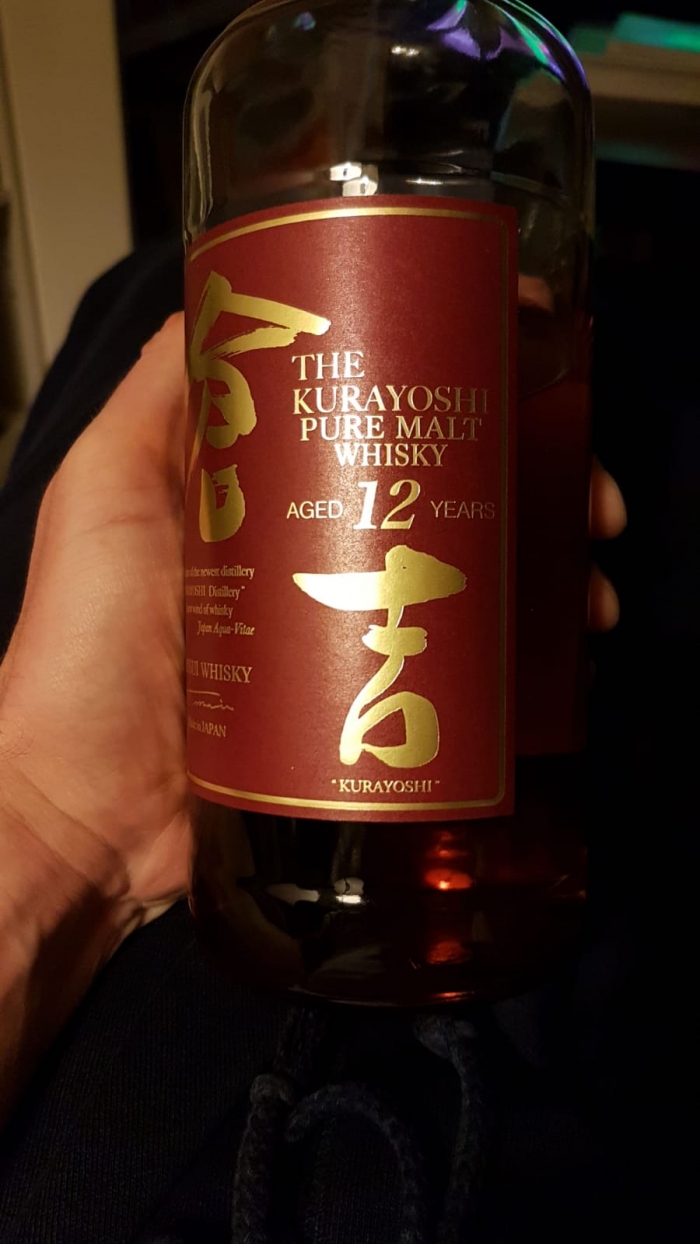 Now let's go to the other side where there is a very long corridor leading first to the toilets.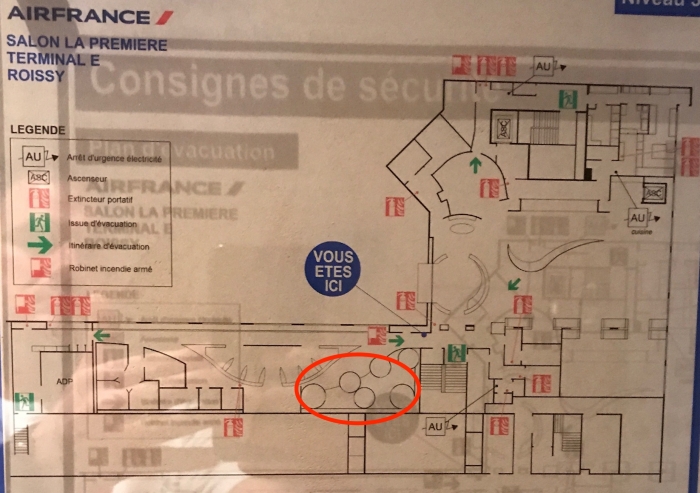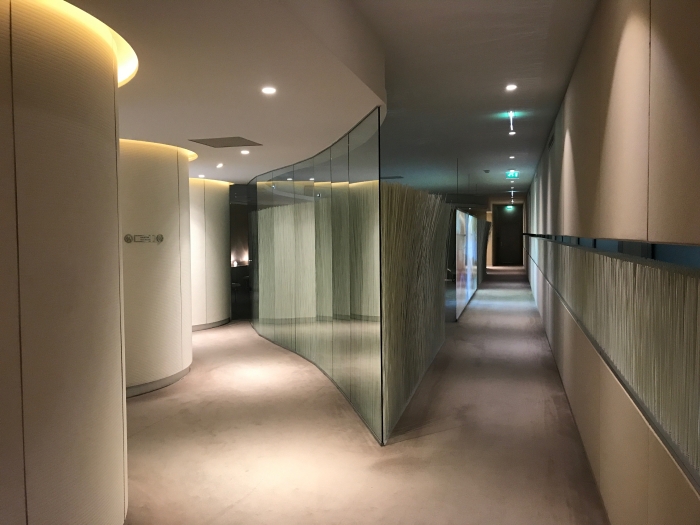 The walls are extremely thick LOL!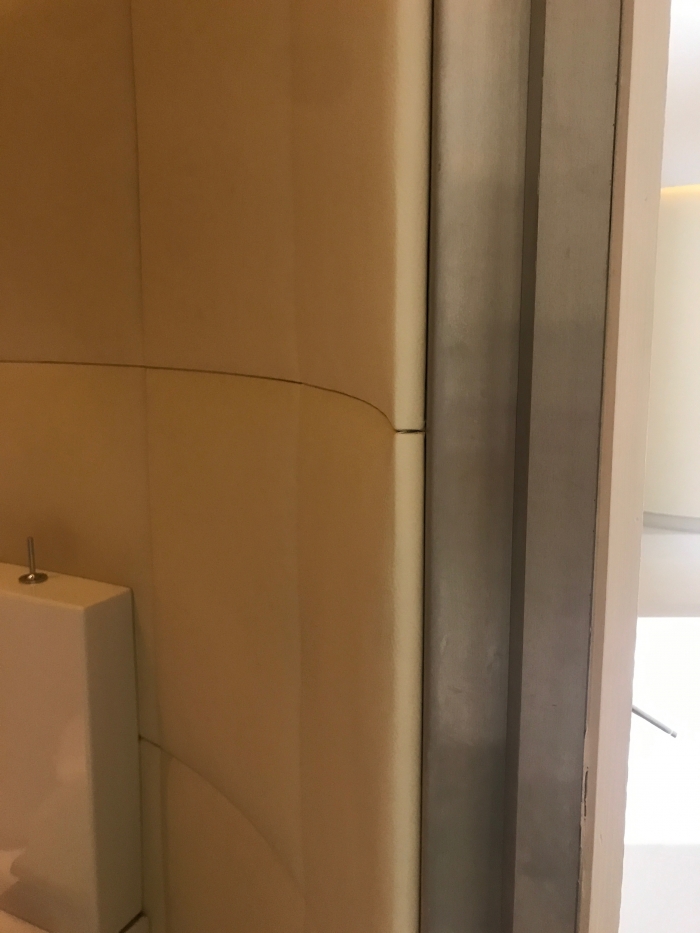 The lampshade is on the line of the rest of the lounge's deco.
A little further on are located the 3 showers.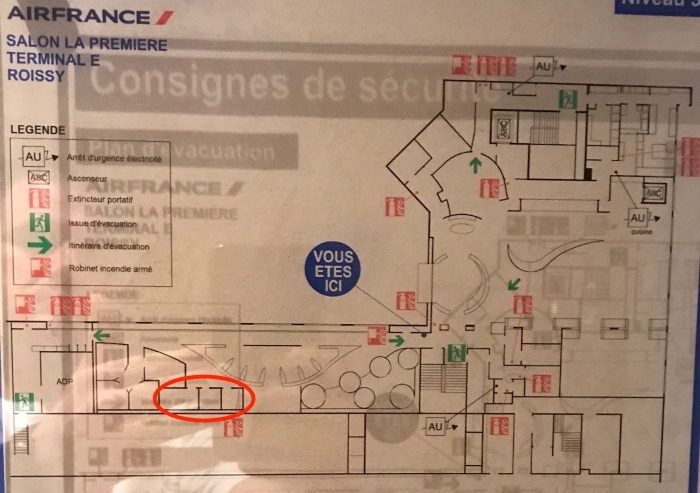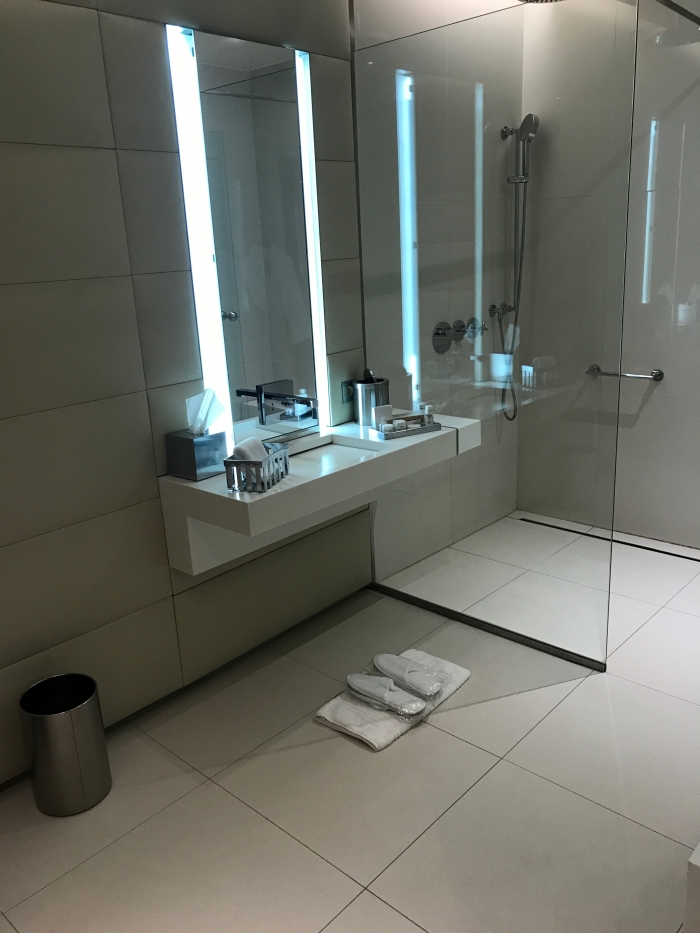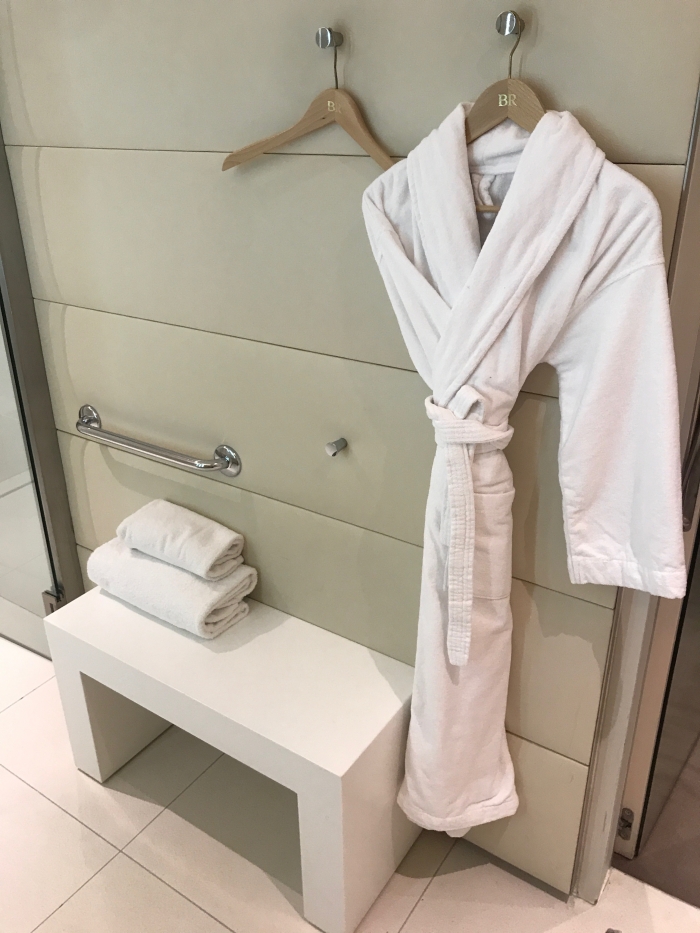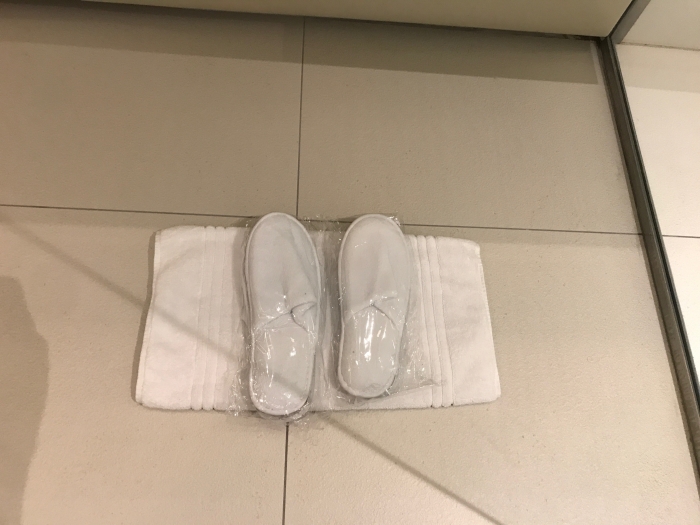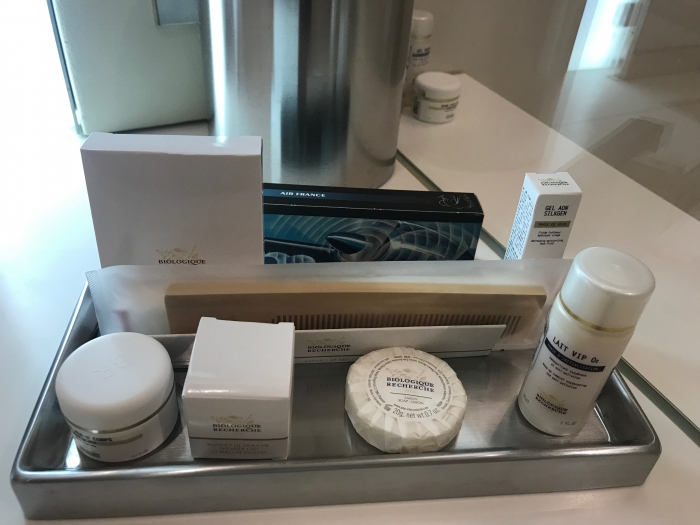 Between these 2 spaces you can find a rest area.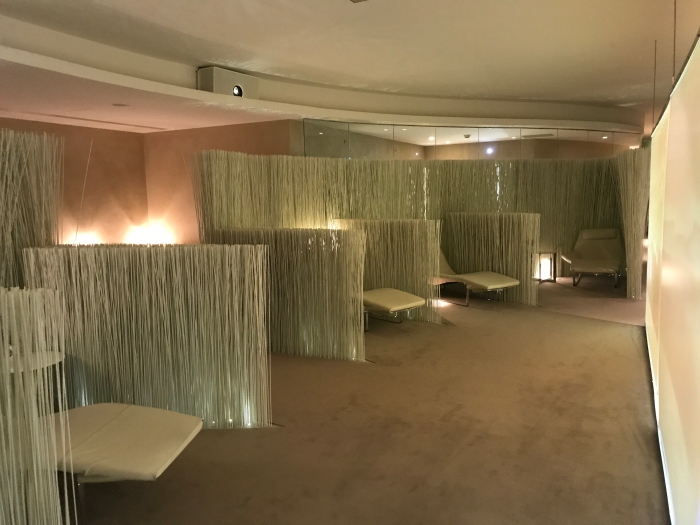 Finally at the end of the corridor is the Biologique Research SPA area.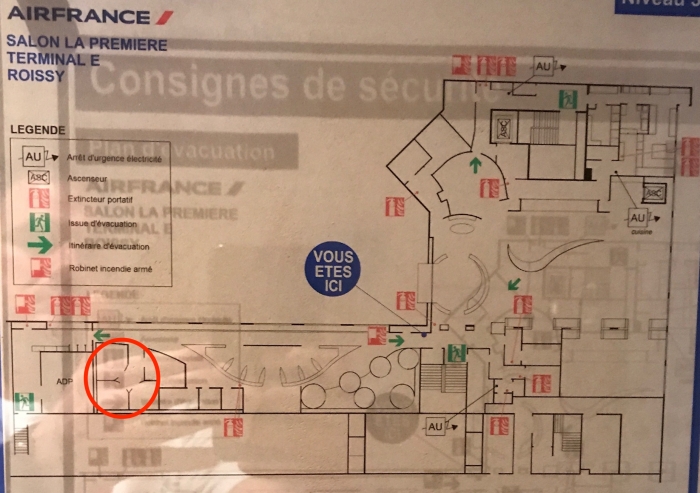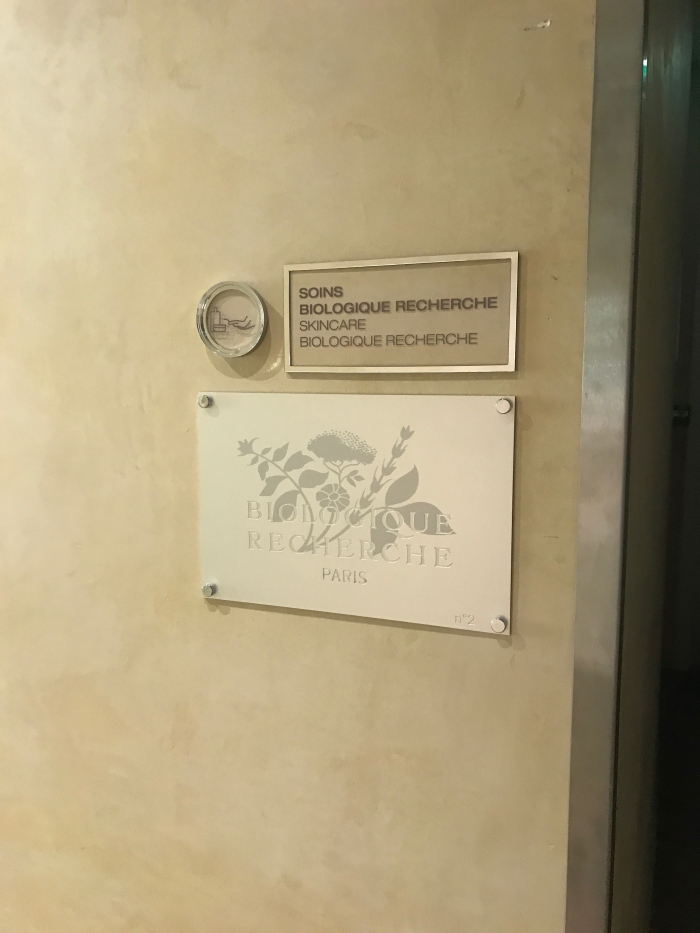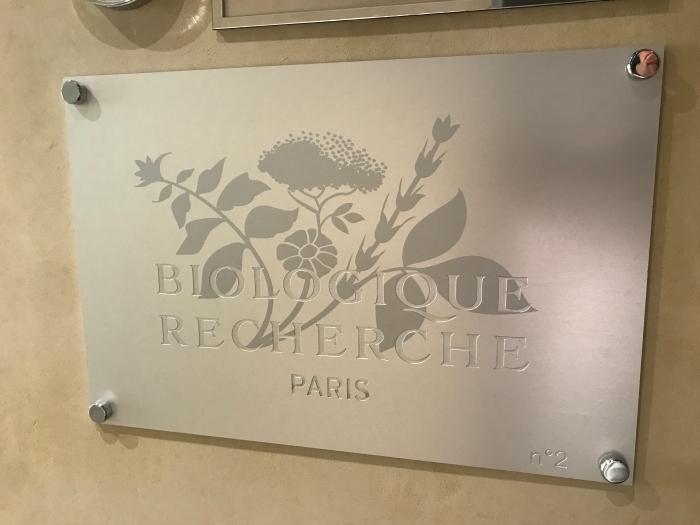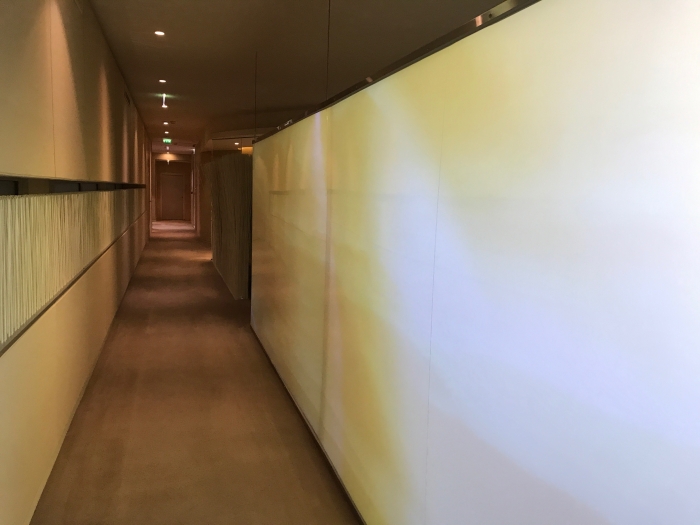 That's not all but it's time to grab an appetizer and head to the buffet. I opt for a light choice to beging with…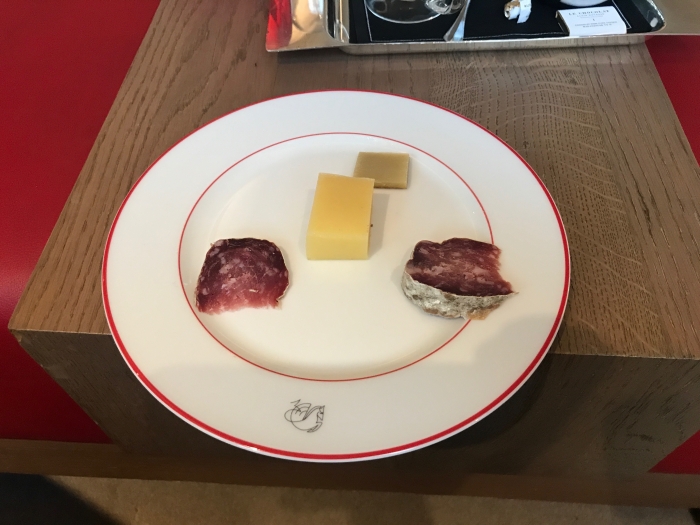 The self-service buffet calm down Jérémy!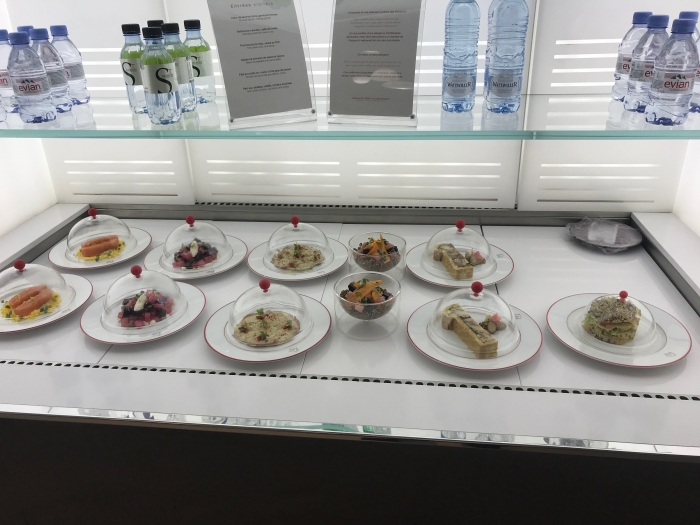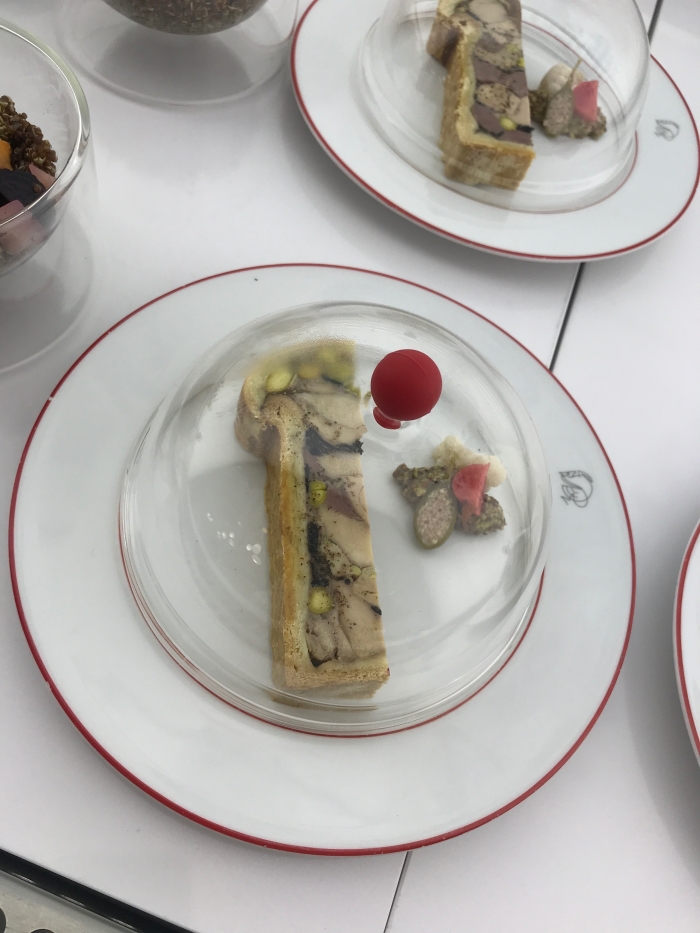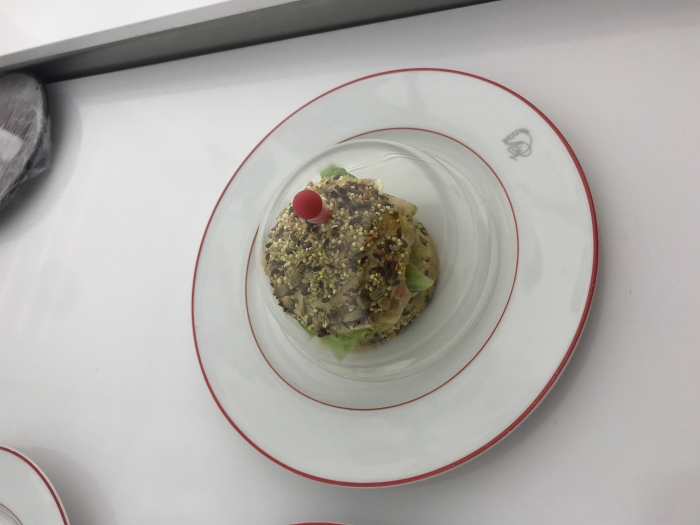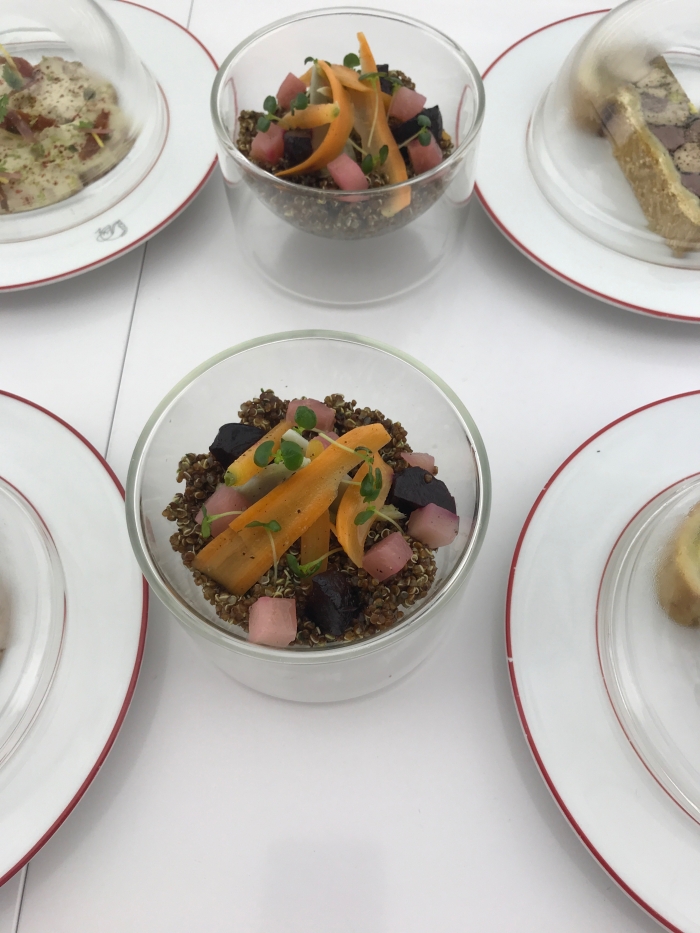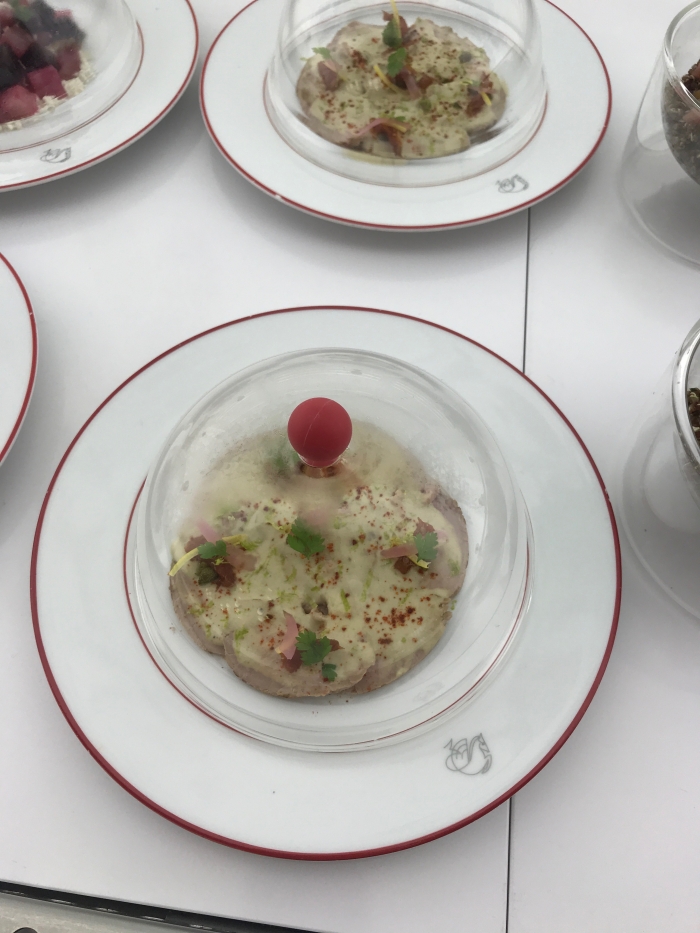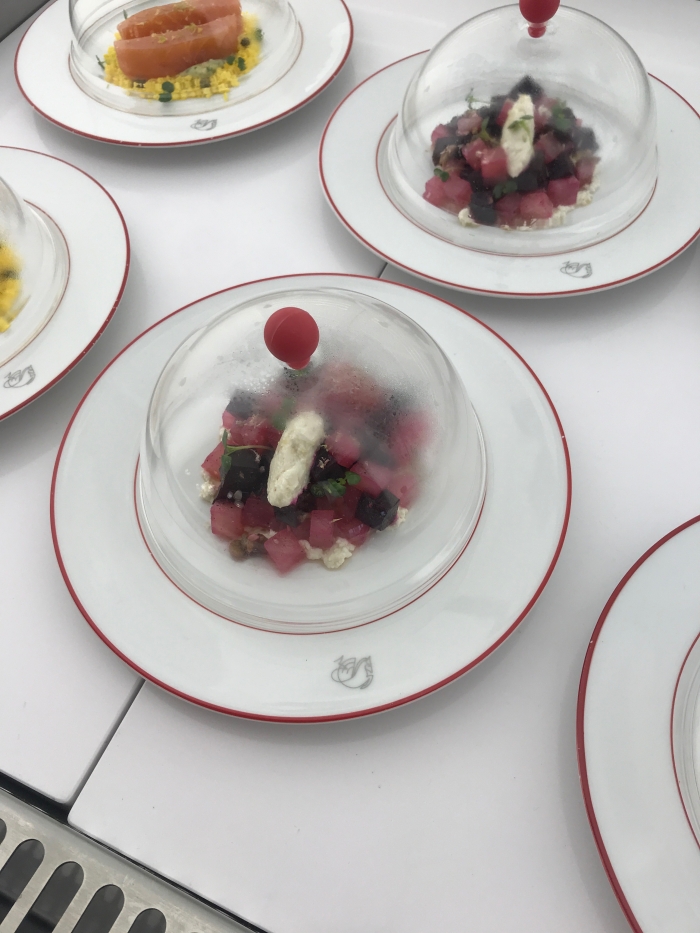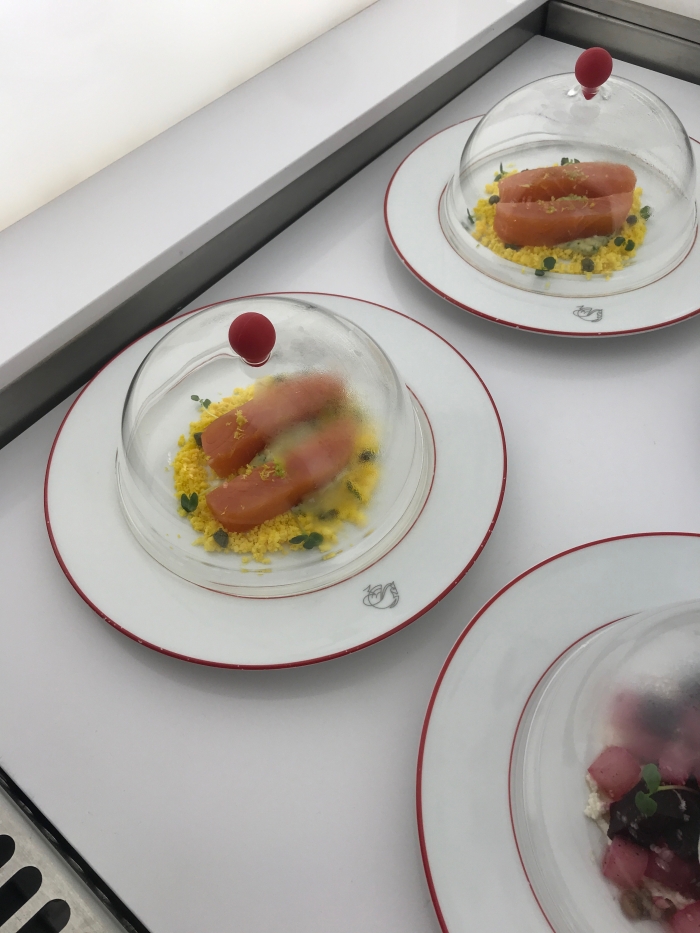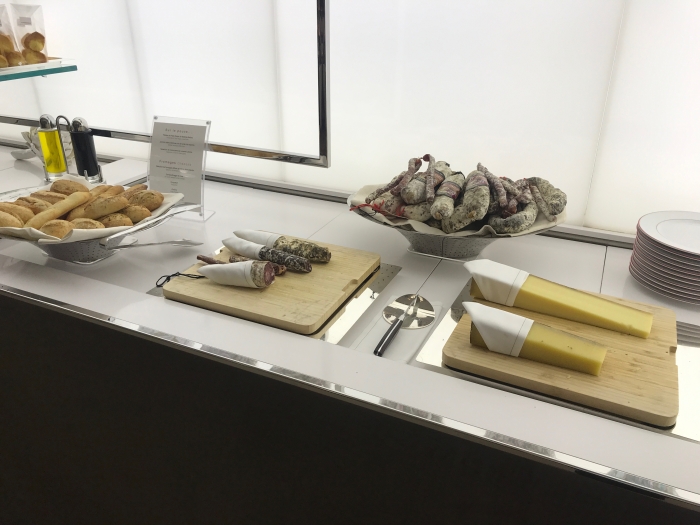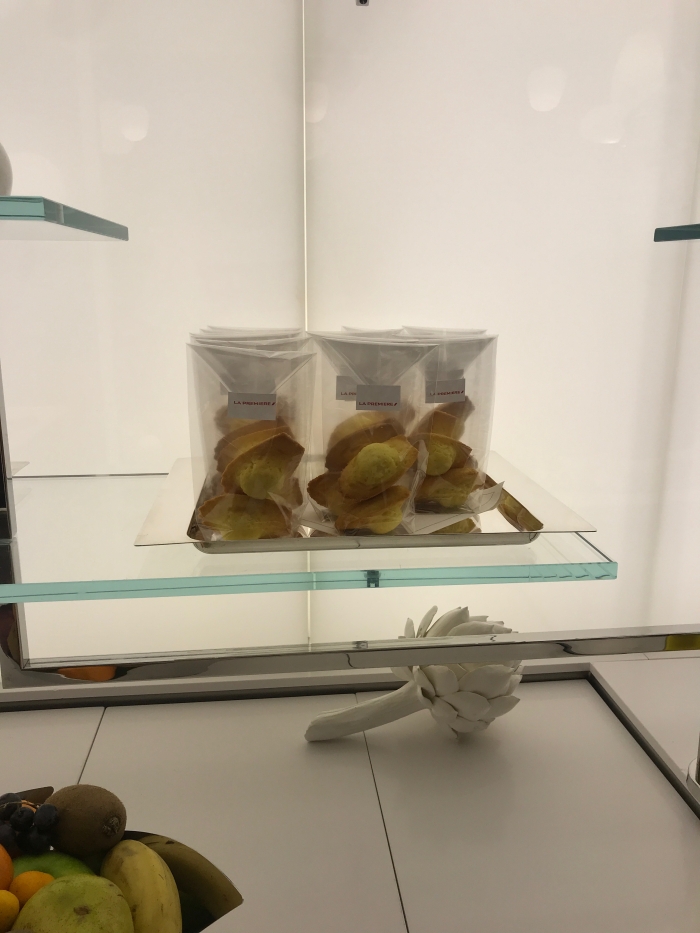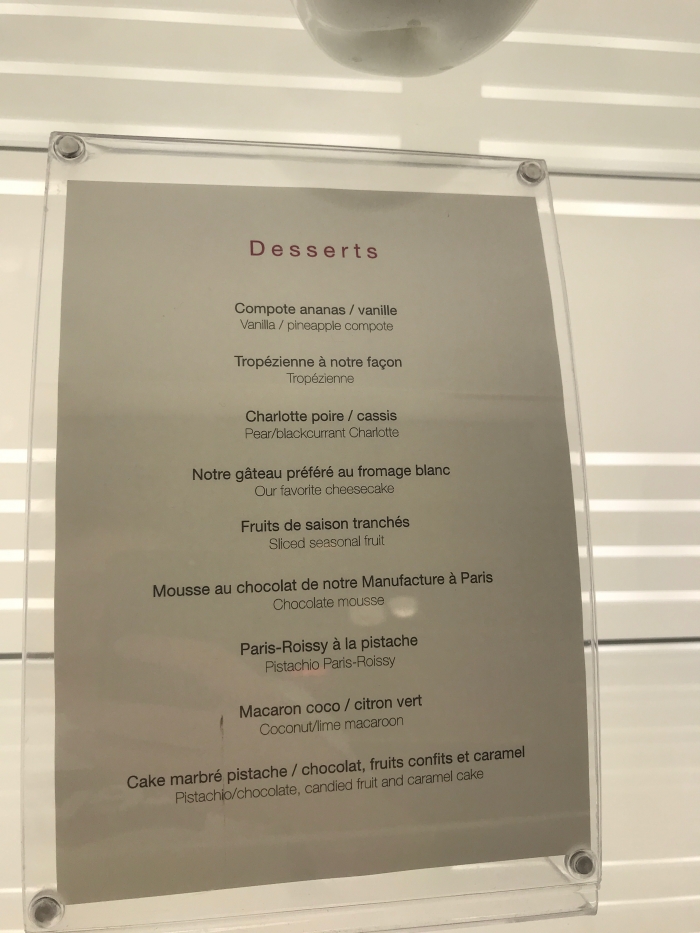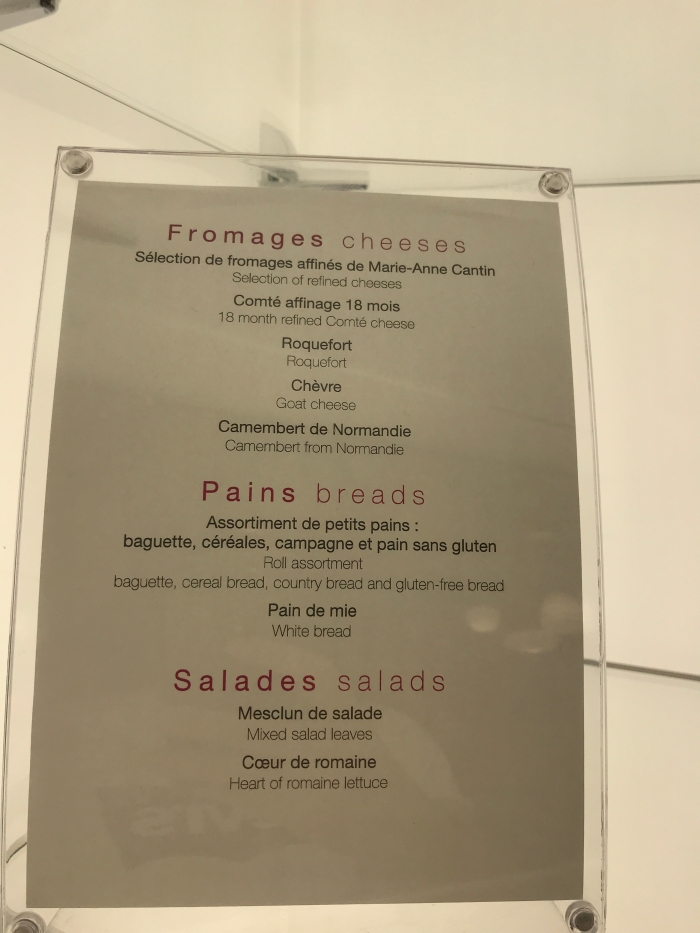 Second selection.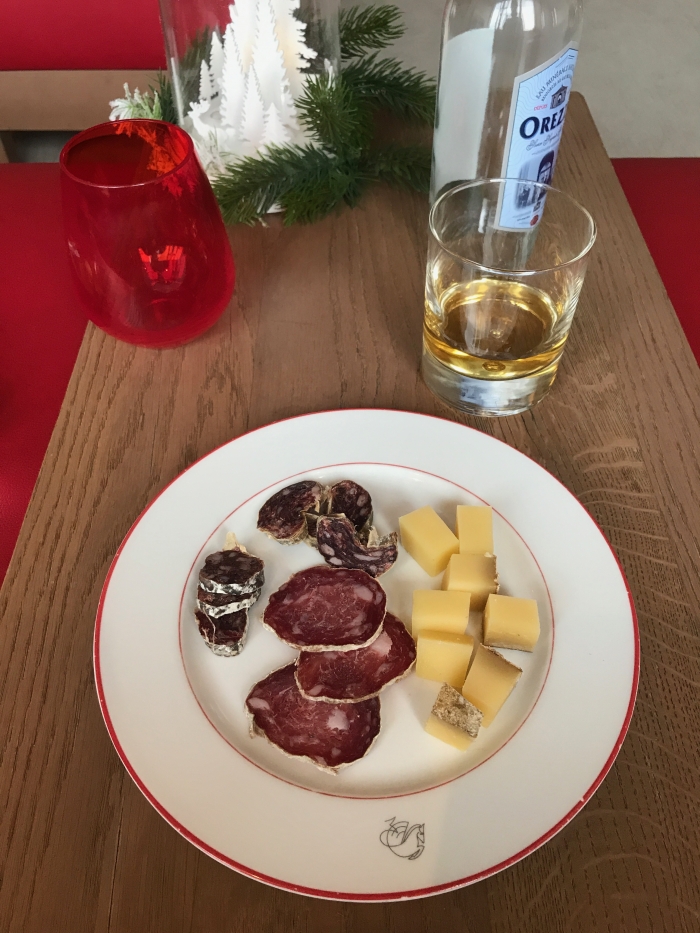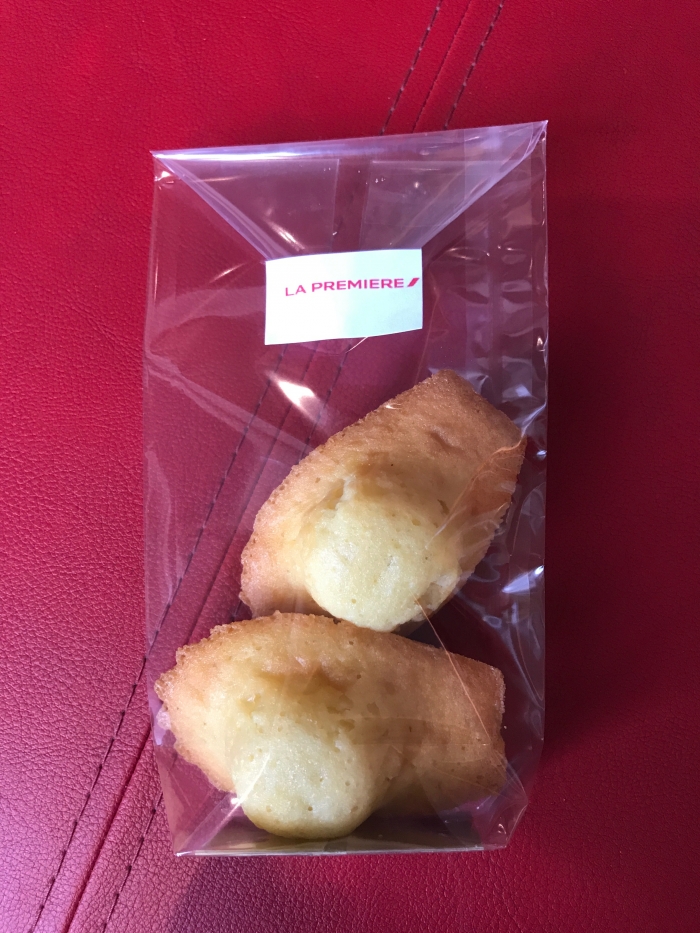 Not bad at all.
Little thought for Gigi and Thomas.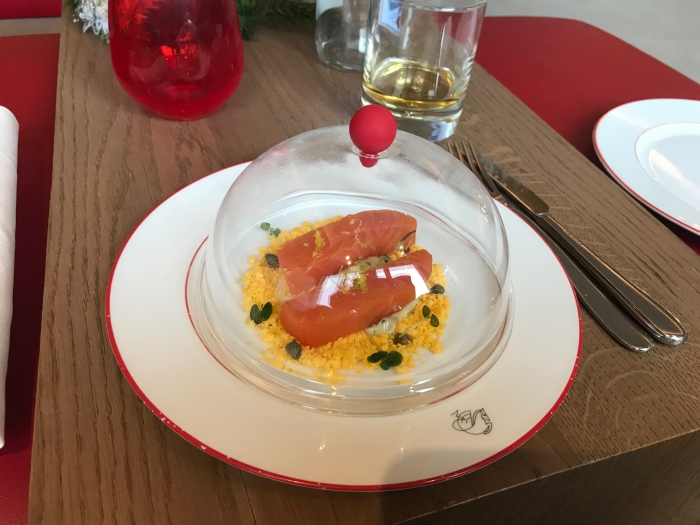 I test this sparkling water that I did not know.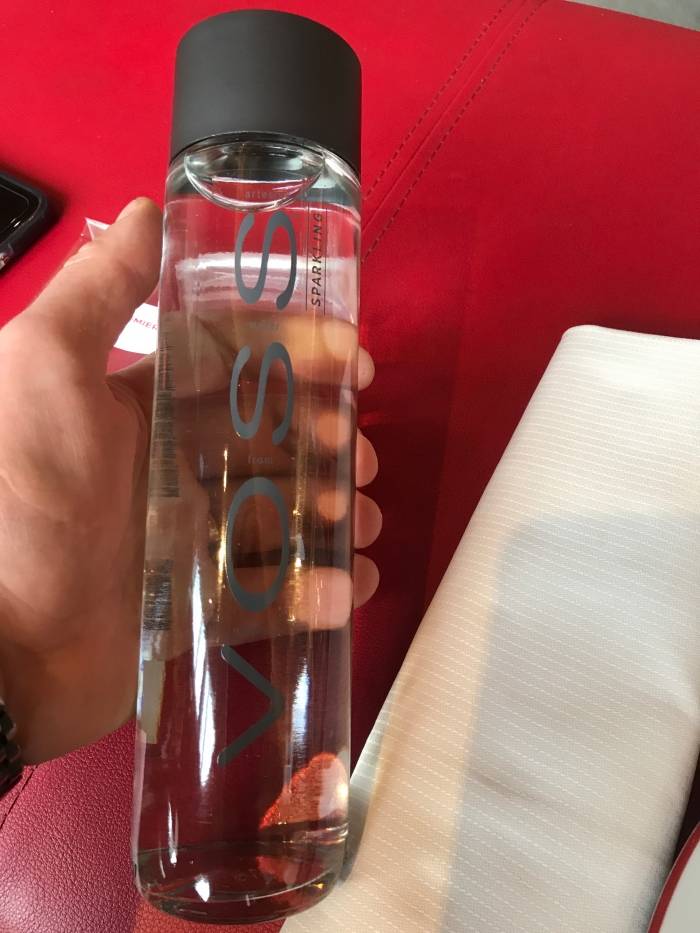 After these treats it is now time to take care of myself a little bit ! Spot on time I am invited to go to the space provided for this purpose.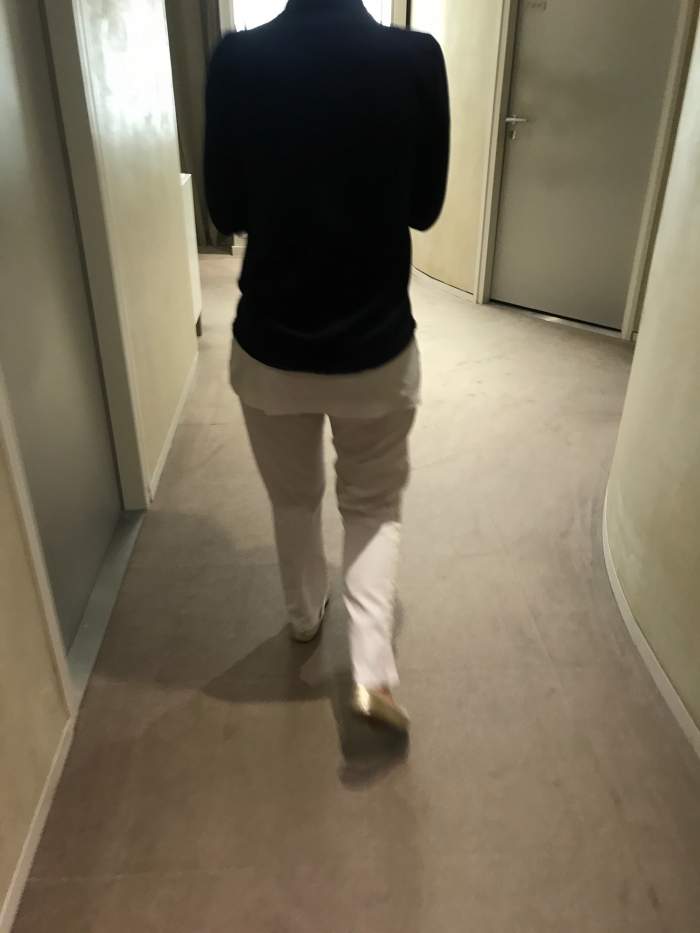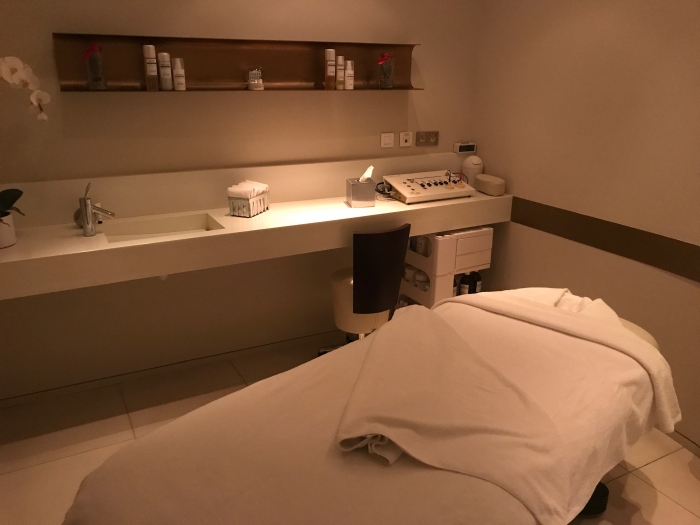 We forget for one moment that we are in an airport.
The treatments offered.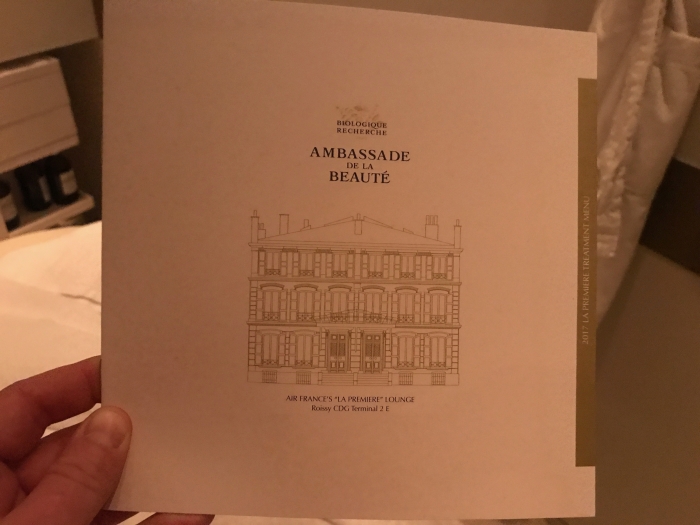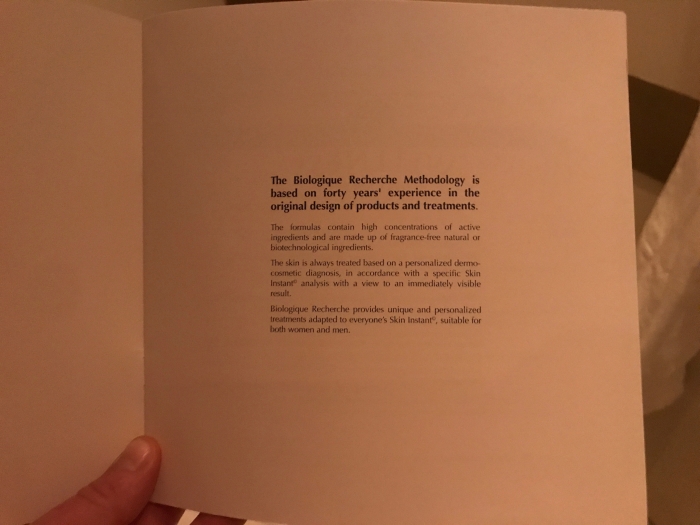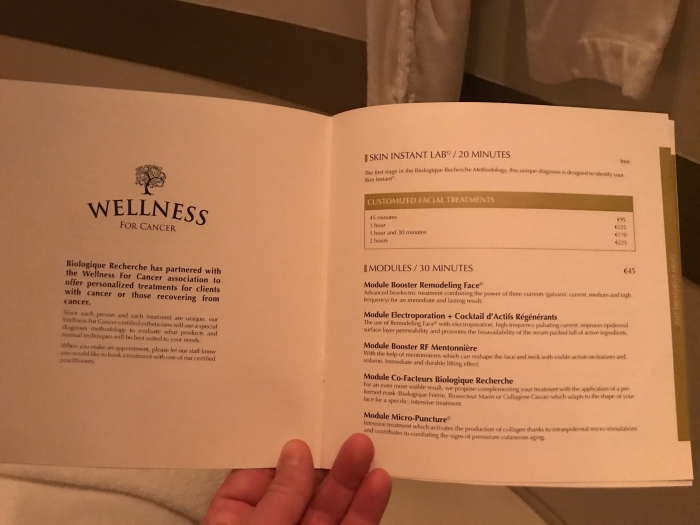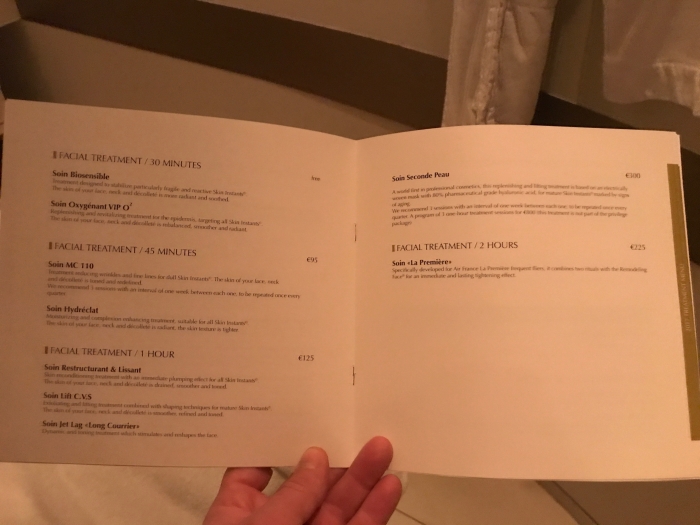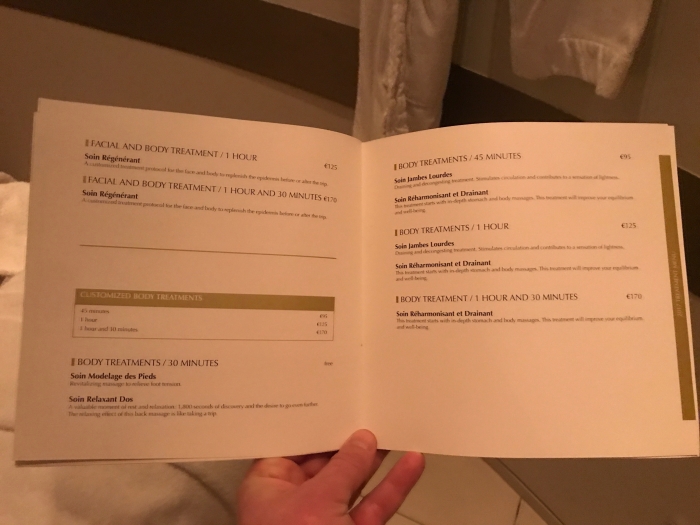 Once fresh and available I decide to have lunch.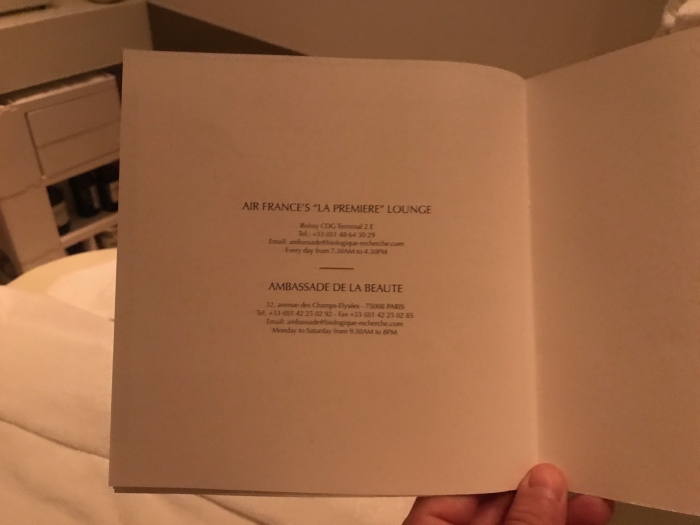 I take my place on the large bench.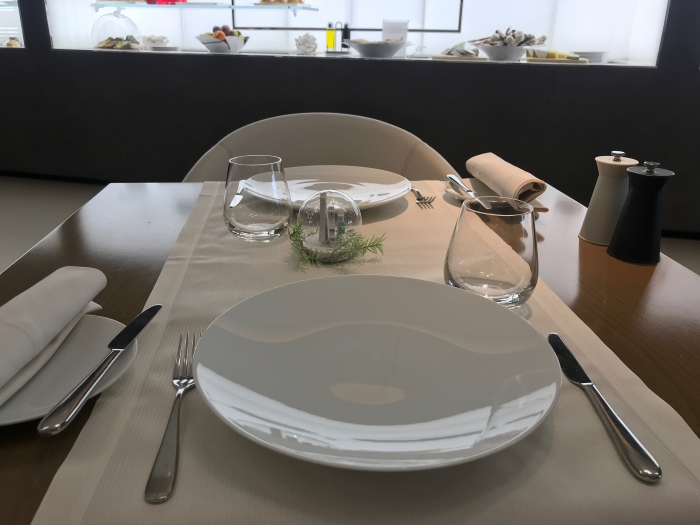 Here is the menu that is offered it is simply wonderful.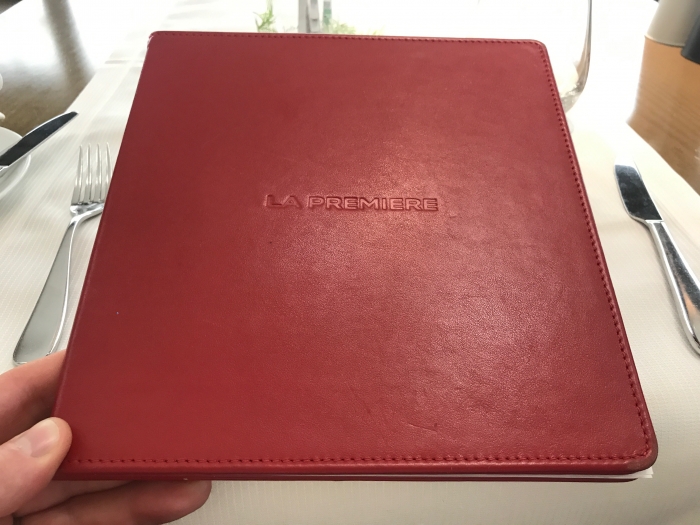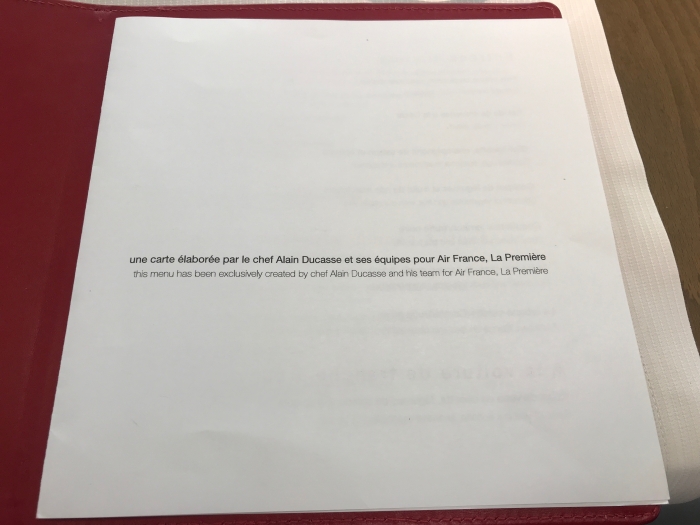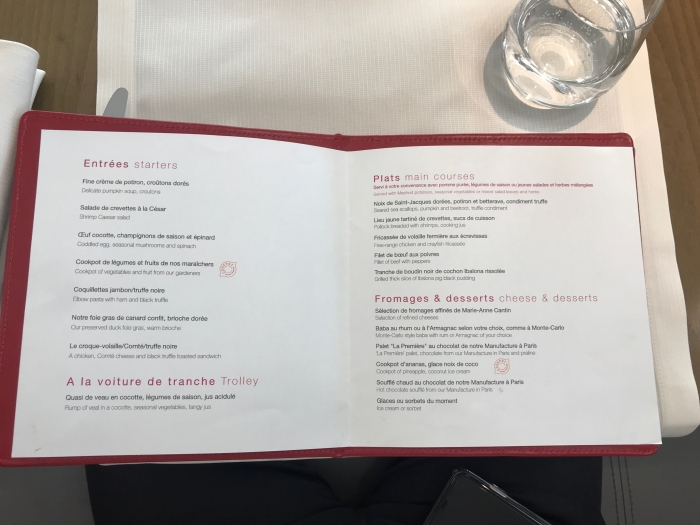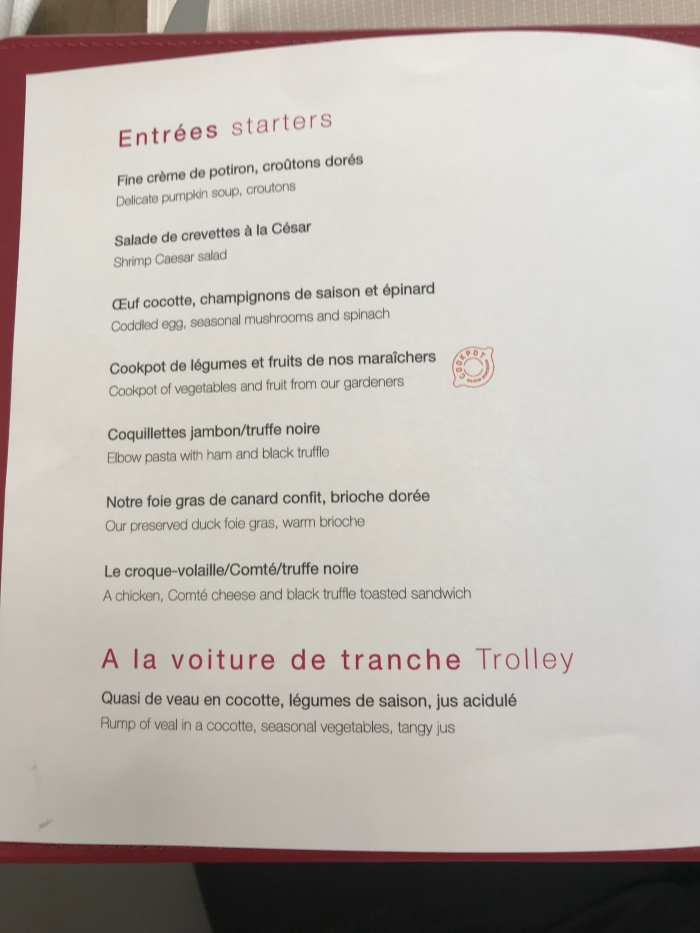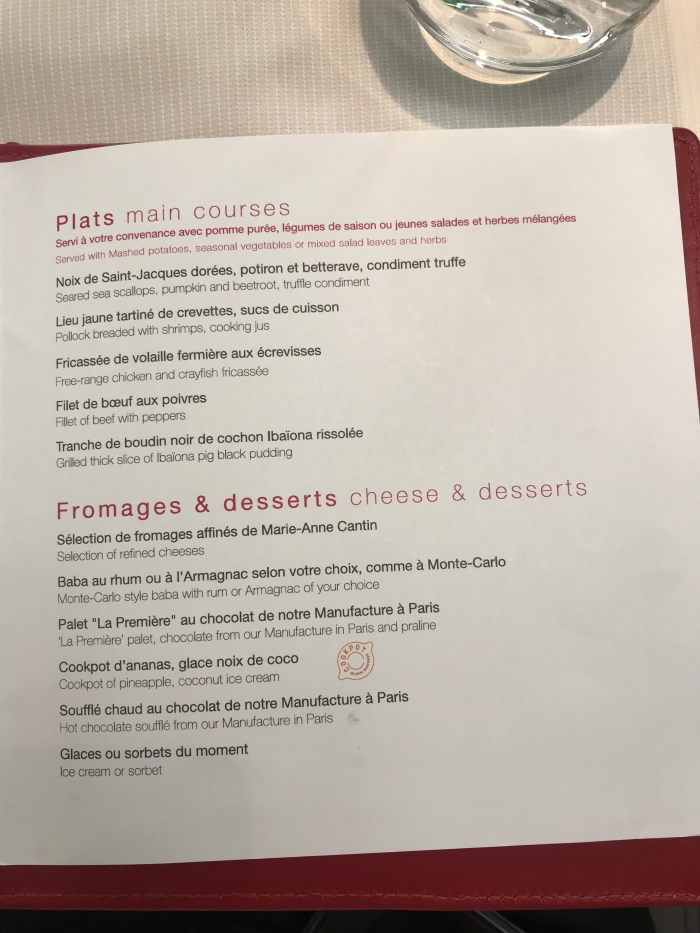 The drinks menu.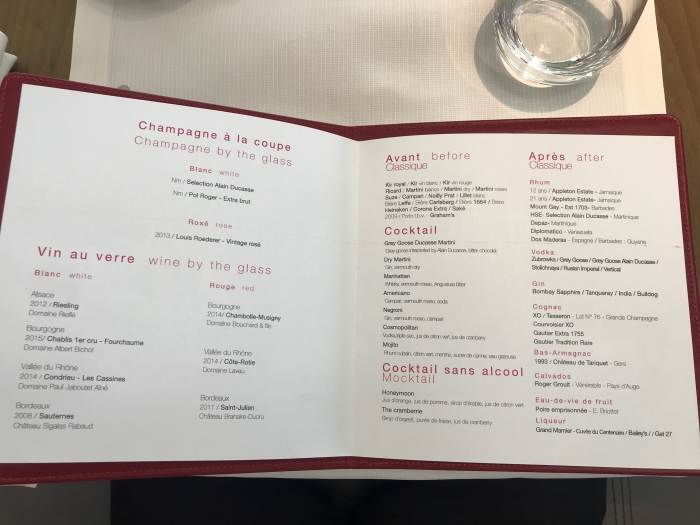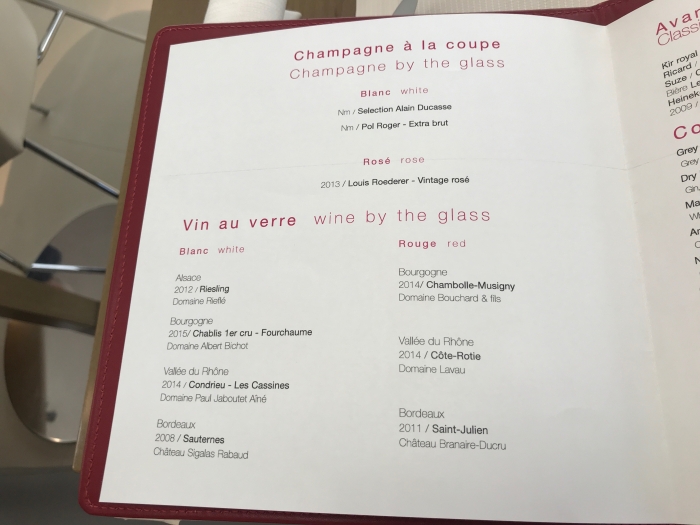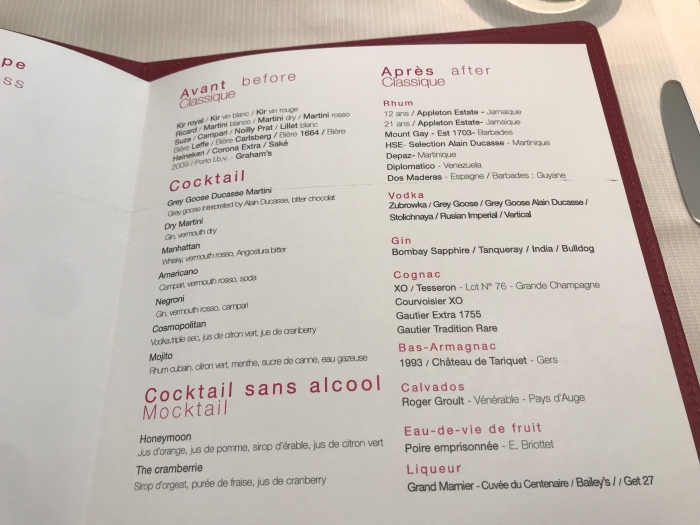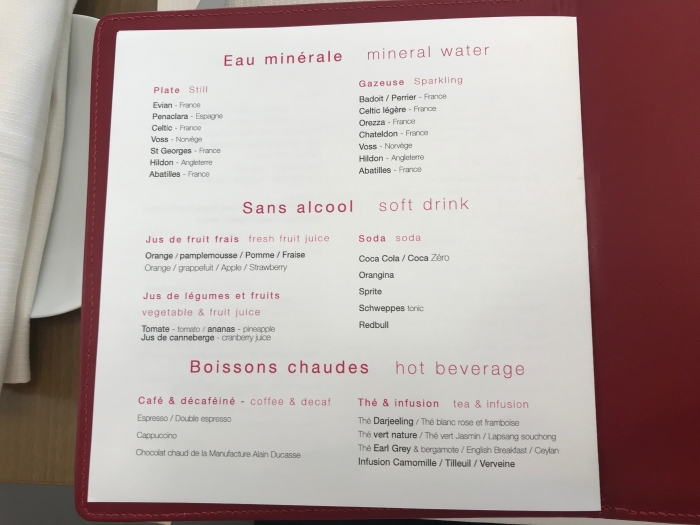 I start with this excellent champagne.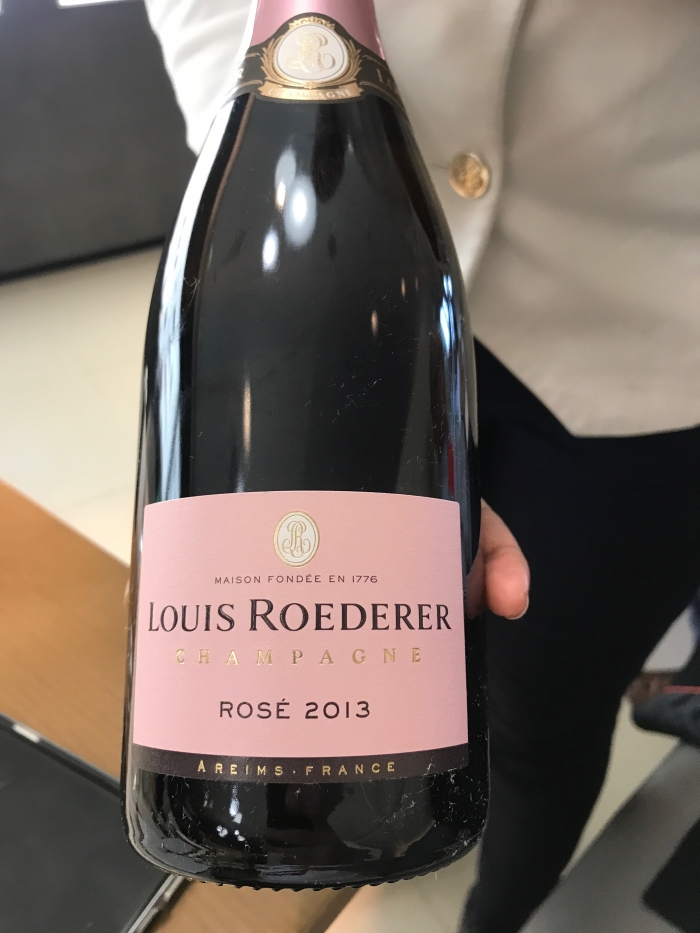 Cheers and long life to YTR!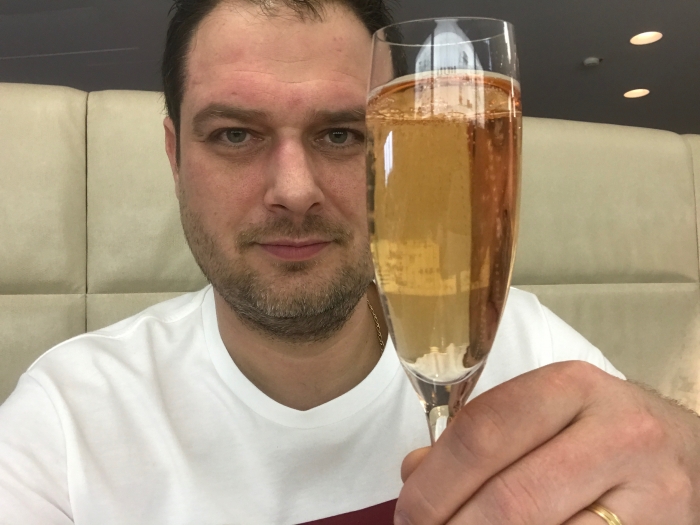 I continue with the not to be missed pasta dish which is just simply divine.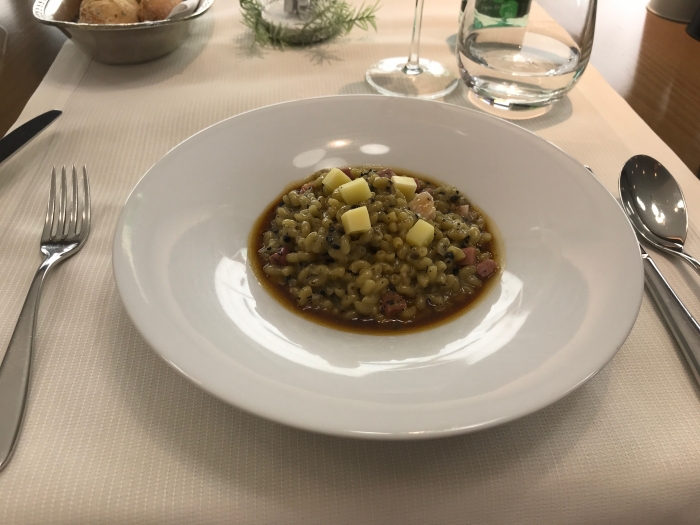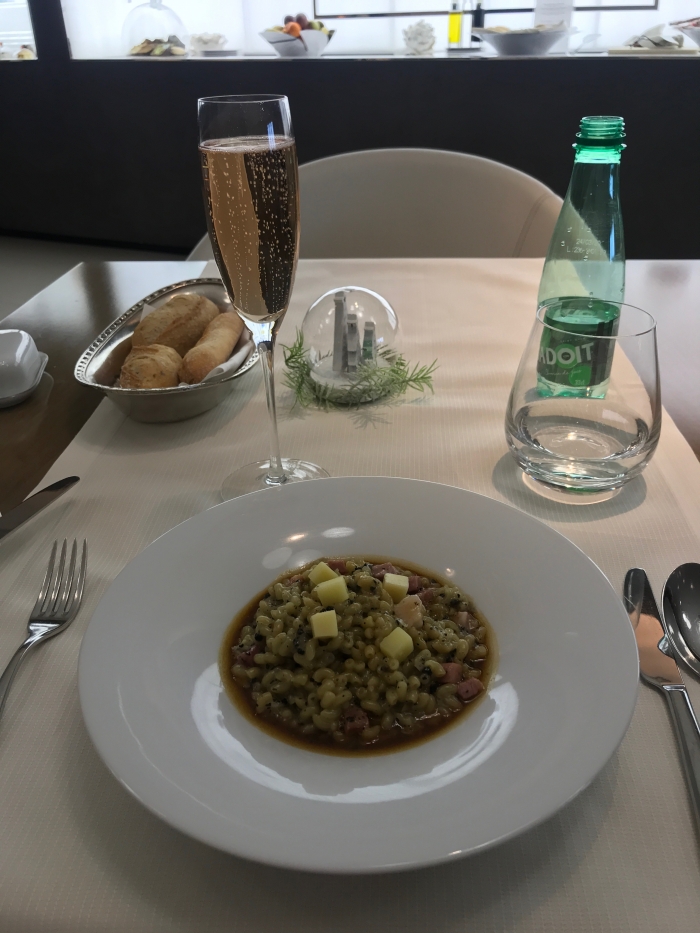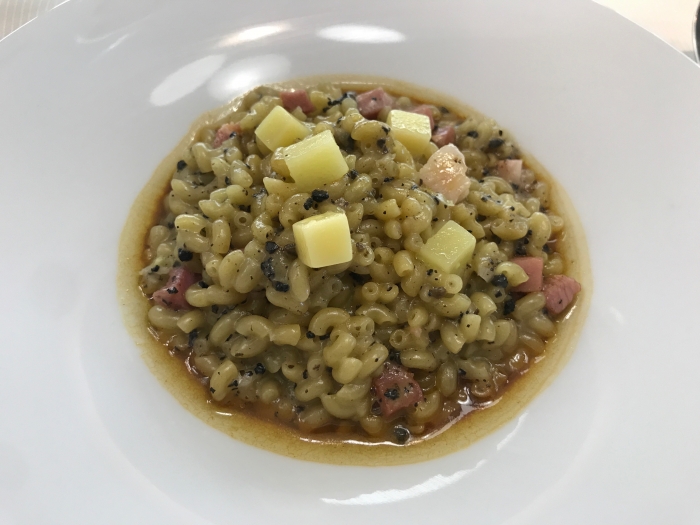 Bread and butter are on the table.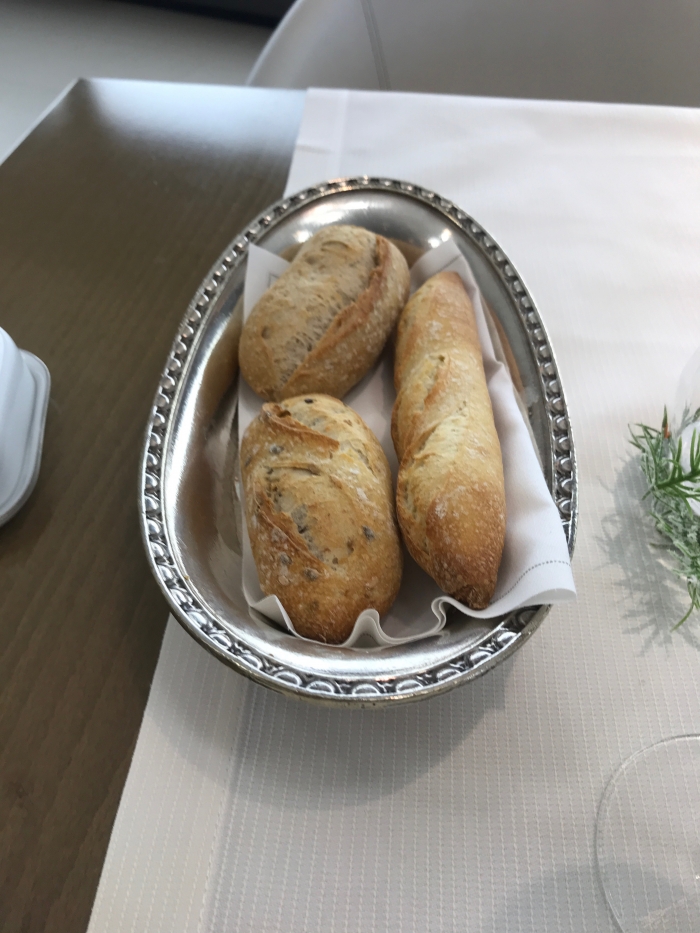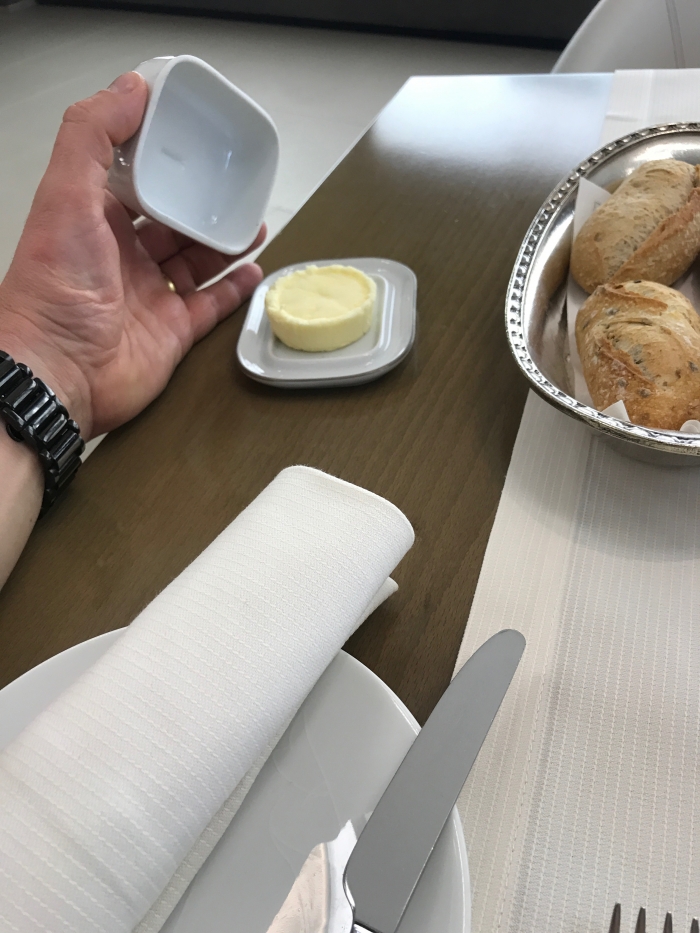 I sprinkle all of this excellent nectar.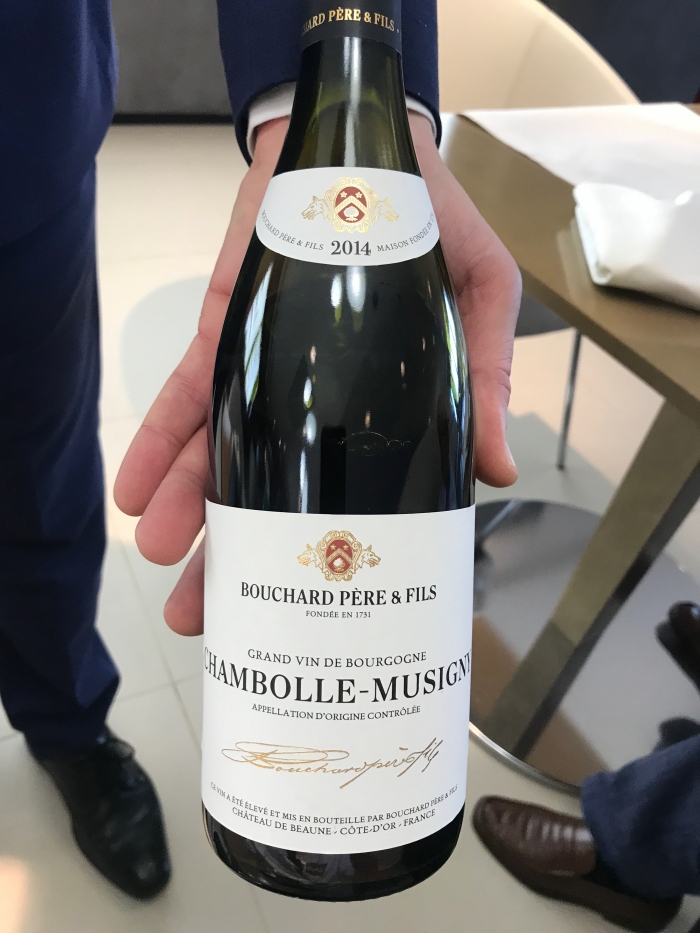 Right now I'm in a heavenly swirl of a culinary orgasm!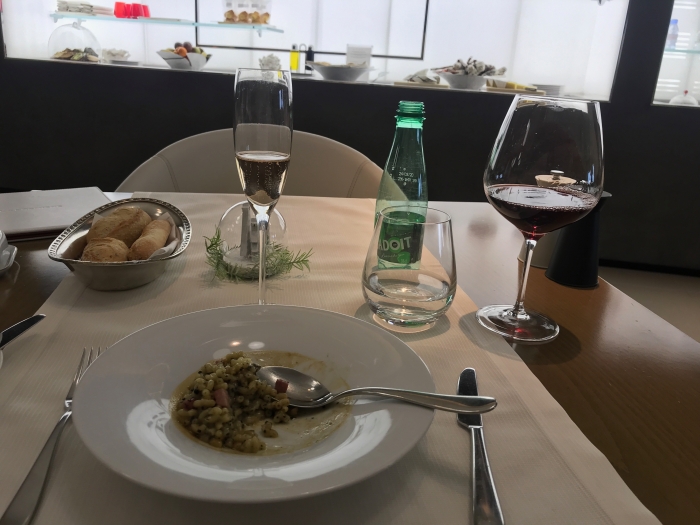 I carry on with some scallops.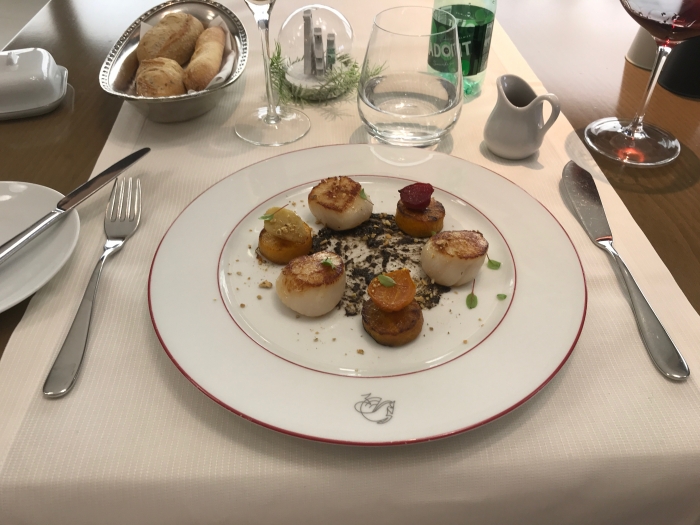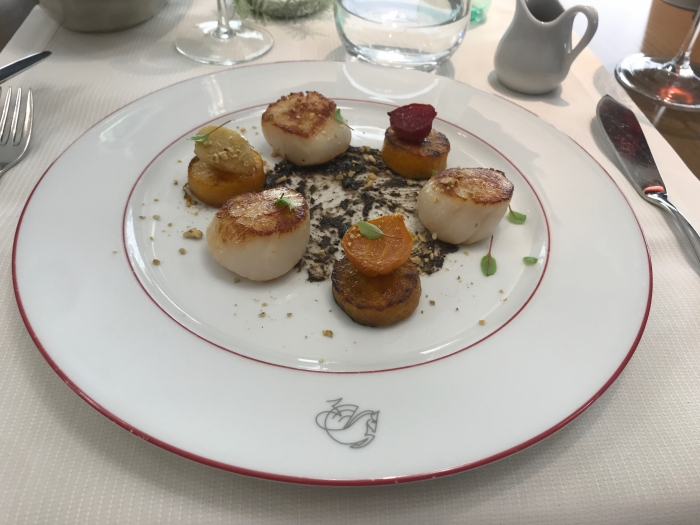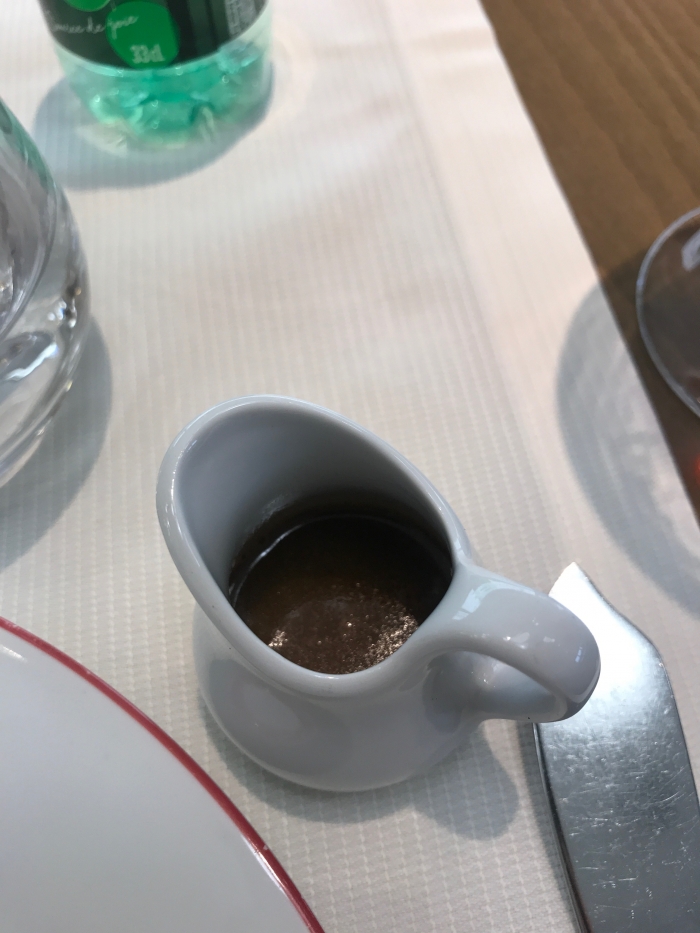 Change of nectar.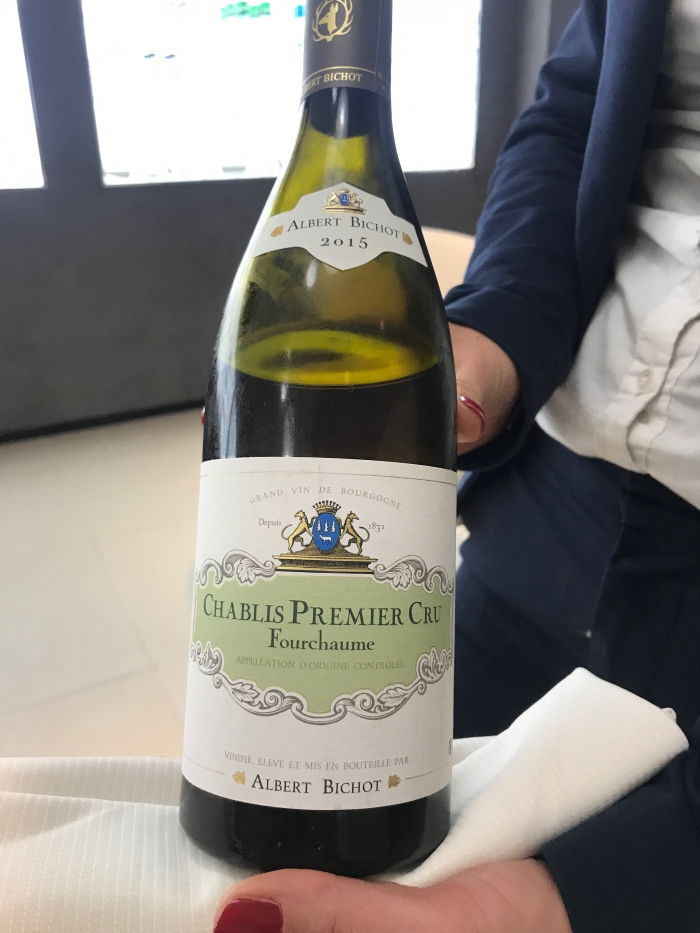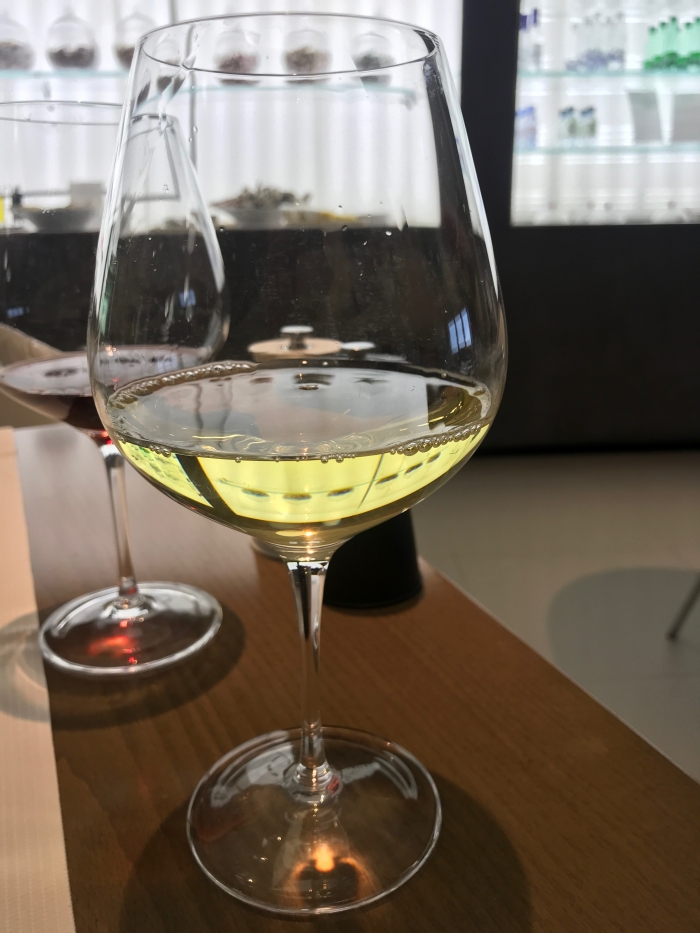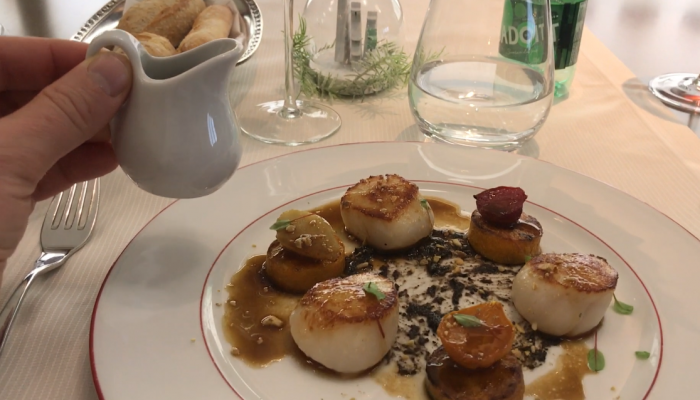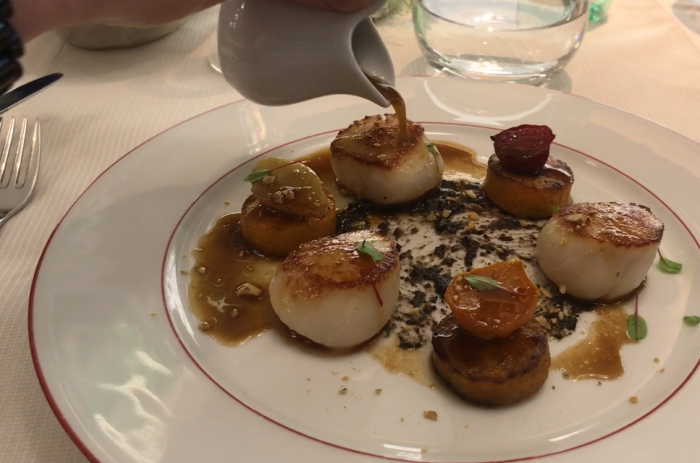 It's also a success.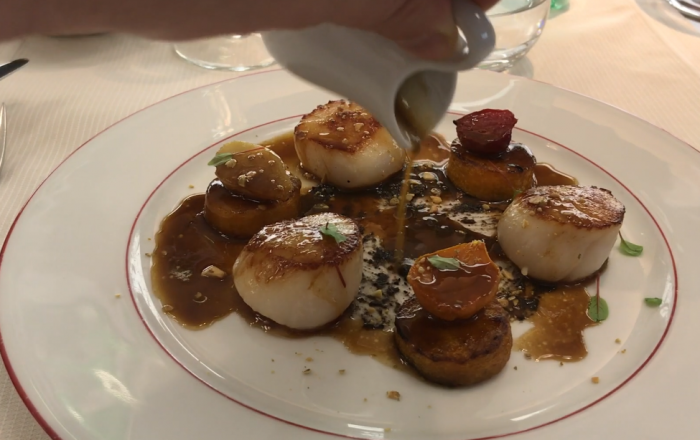 The lounge seems to be just opened for myself feeling very exclusive.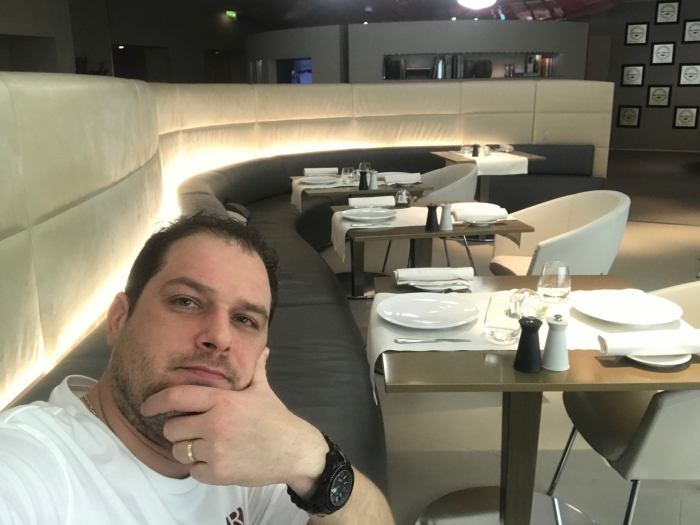 I just greedily ask for a little piece of camembert.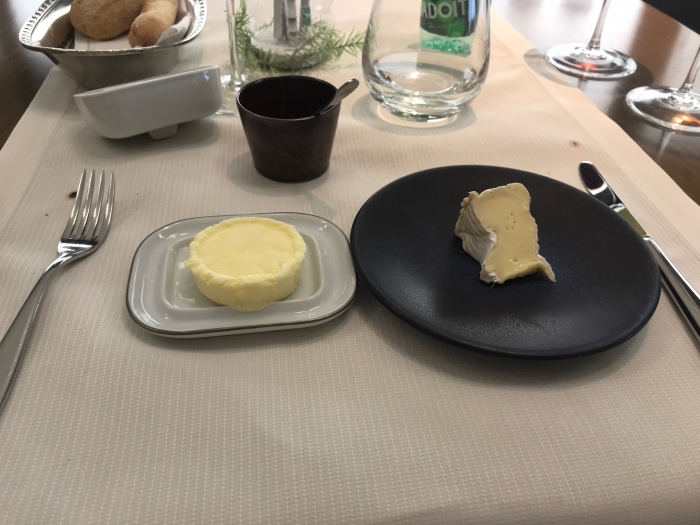 A meal with plenty of drinks :-)))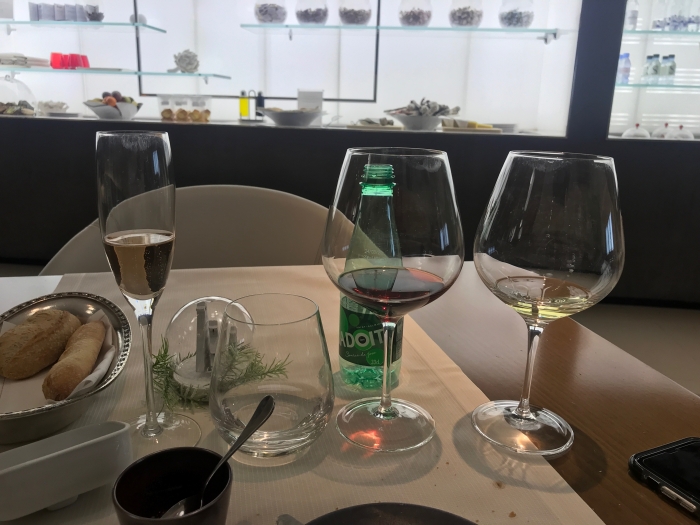 Followed by the inevitable rum baba.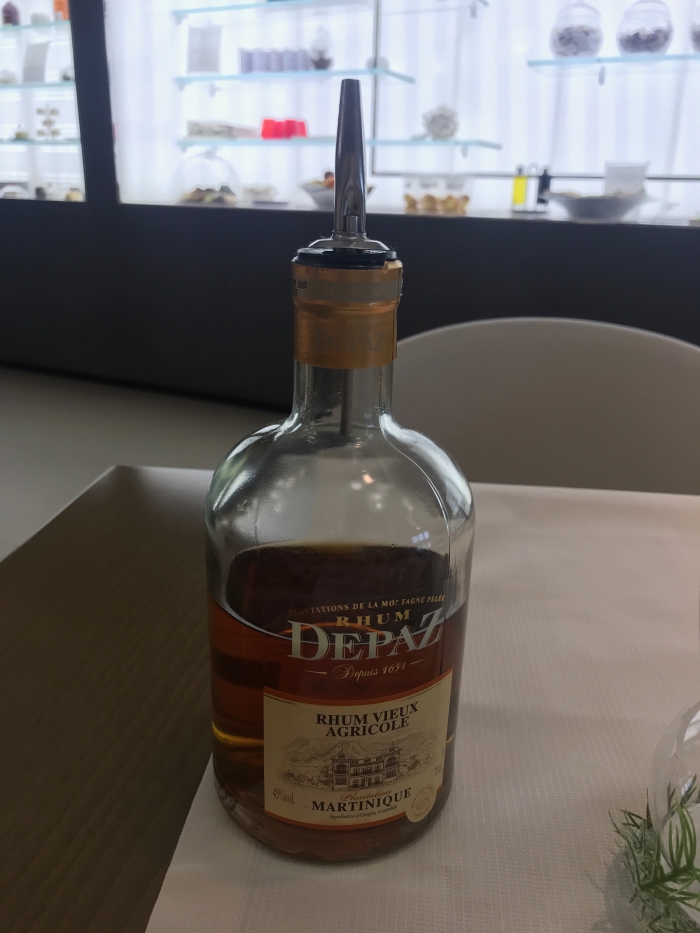 I love the service of it.
Attention to detail.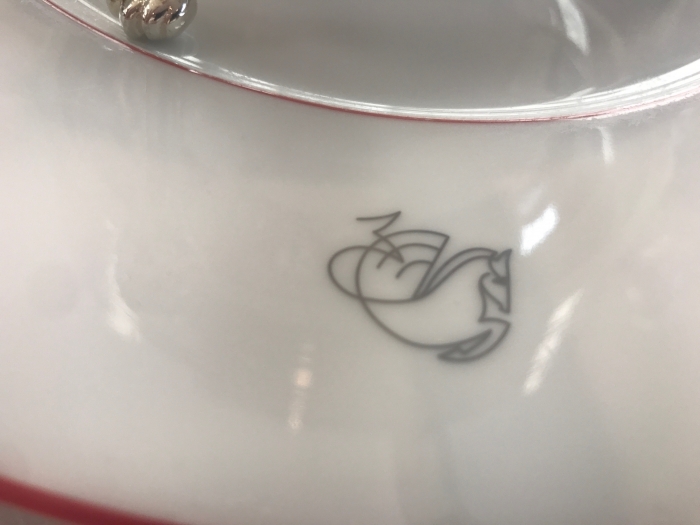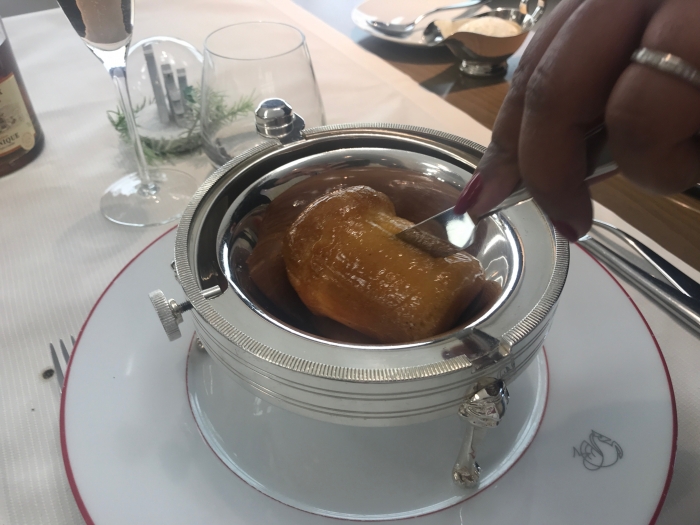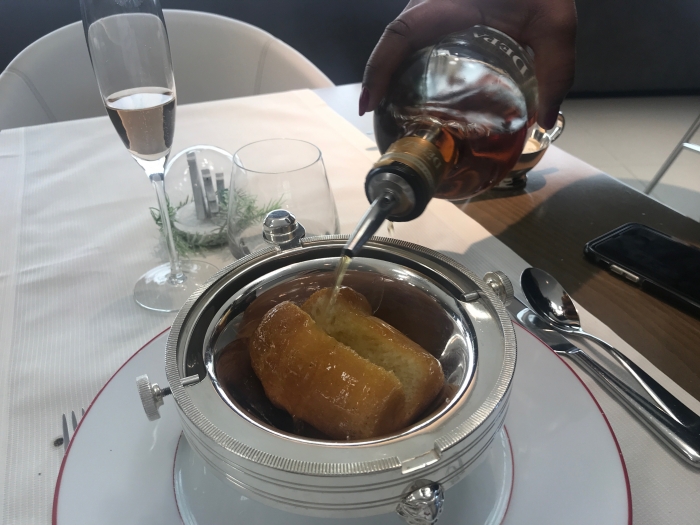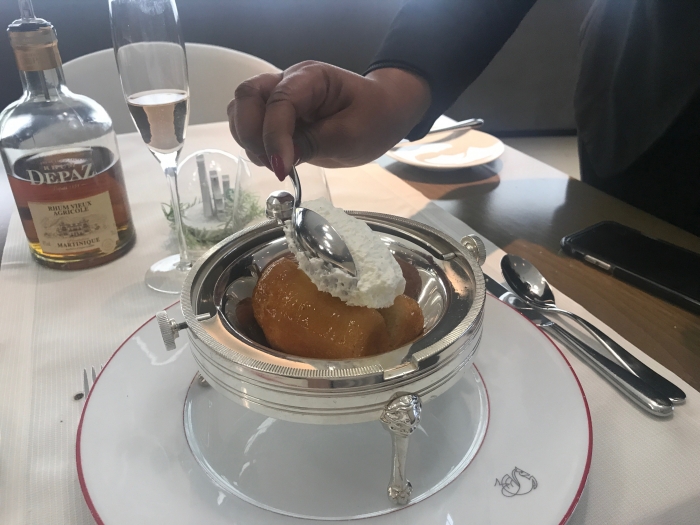 Gorgeous!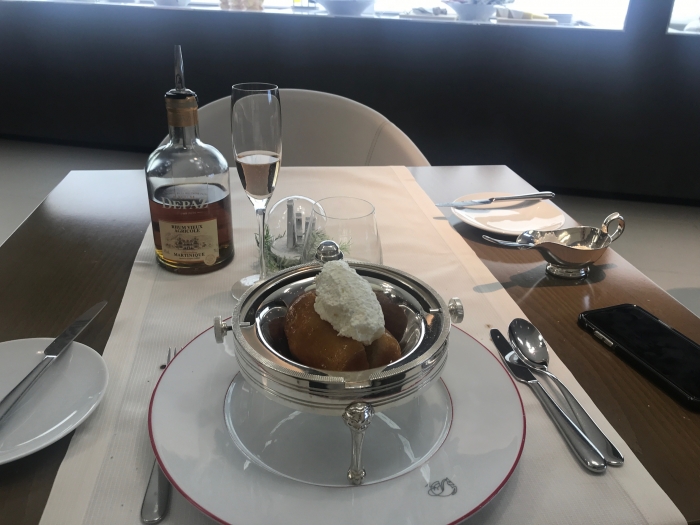 After this divine meal I go to the bar to take a little digestive and let myself be tempted by this excellent rum recommended by the butler.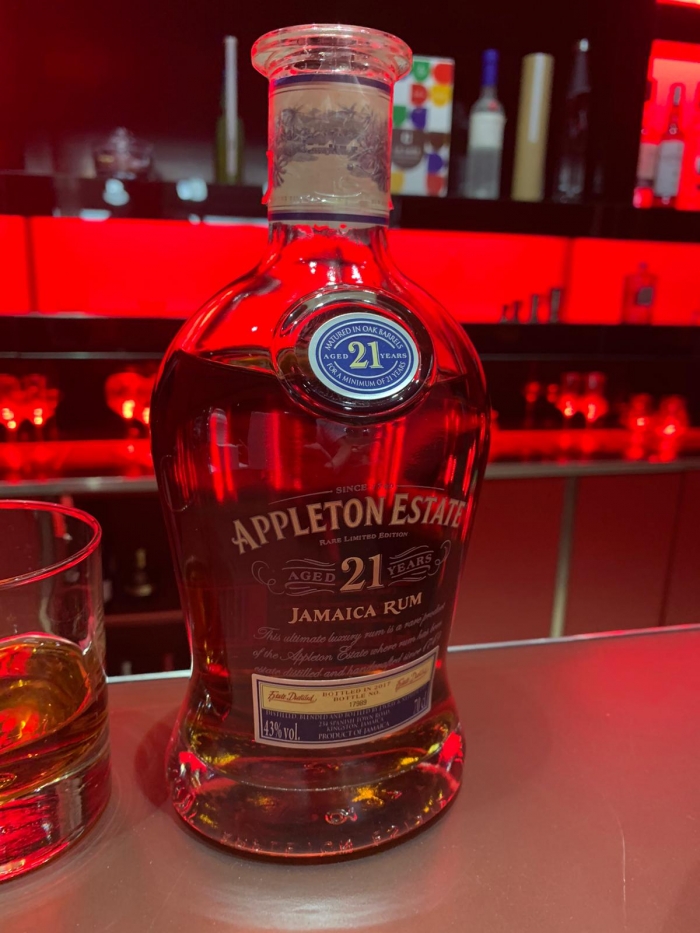 An espresso just finishes off my meal nicely.
By consulting the AF app I realize that the departure will be from the K gate... Small airside ride to meet my 77W.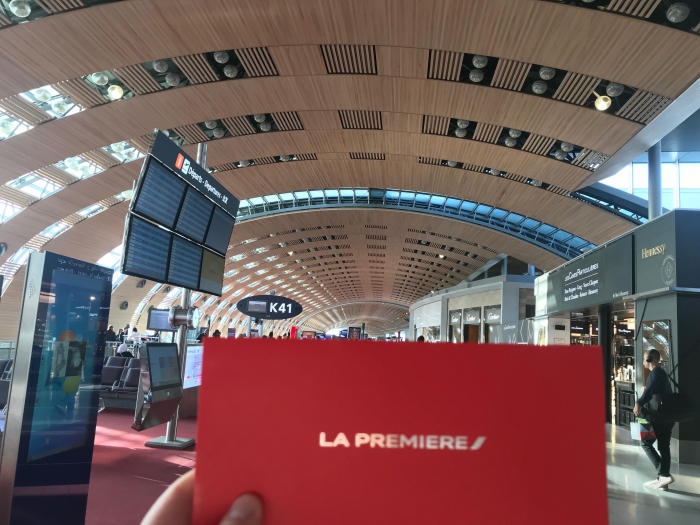 He's already there he's waiting for me nicely.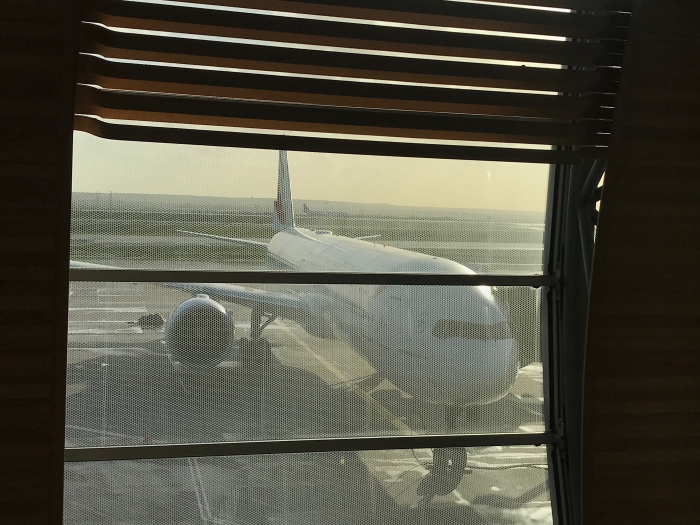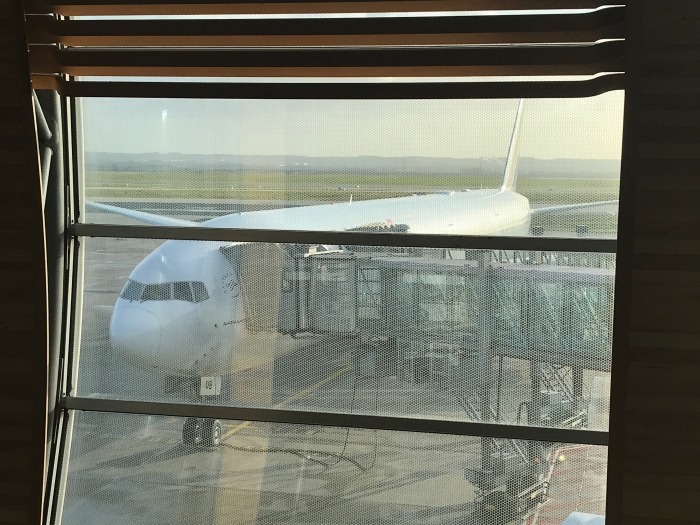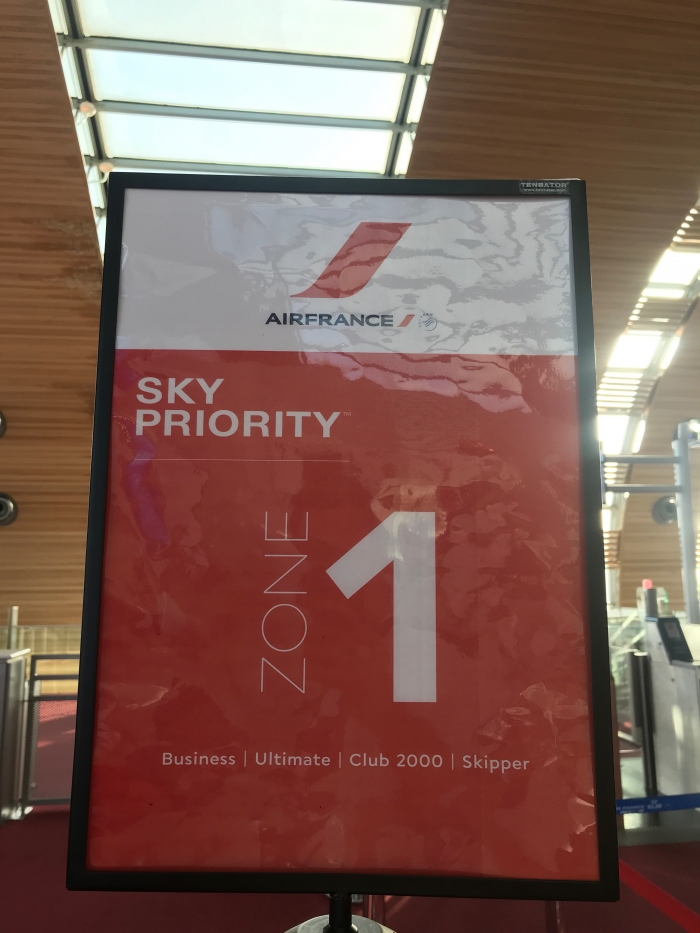 It is the F-GSQB the second 77W delivered to AF more than 15 years ago.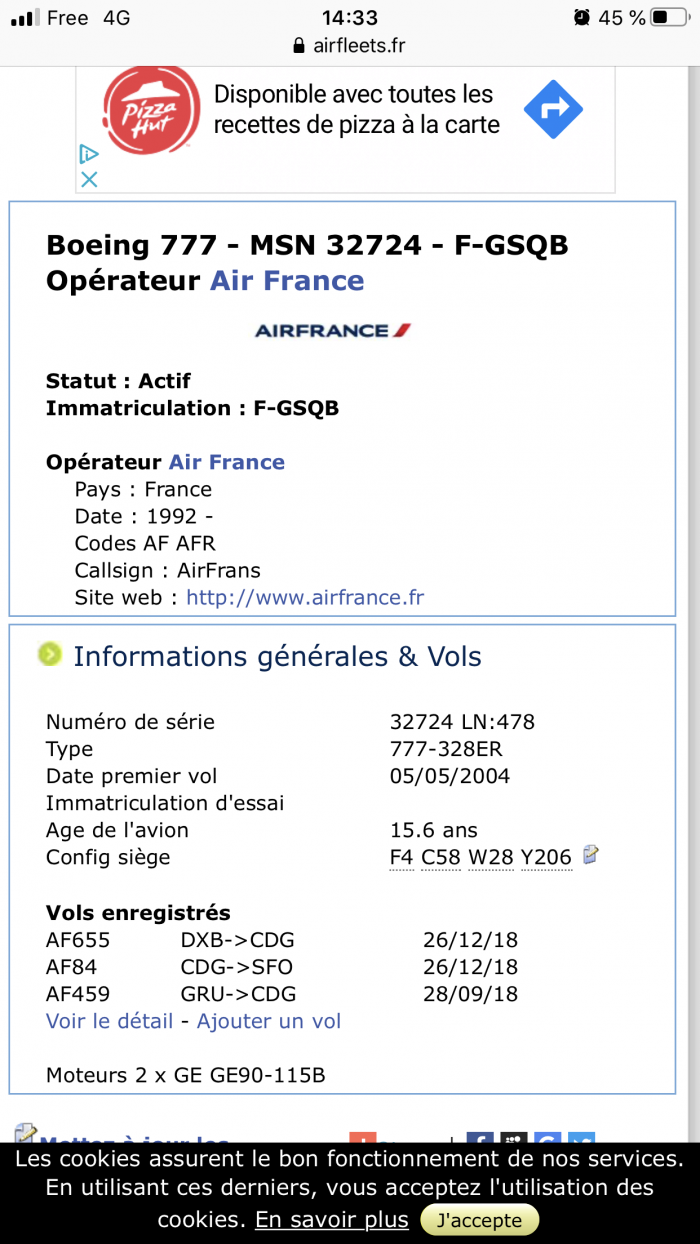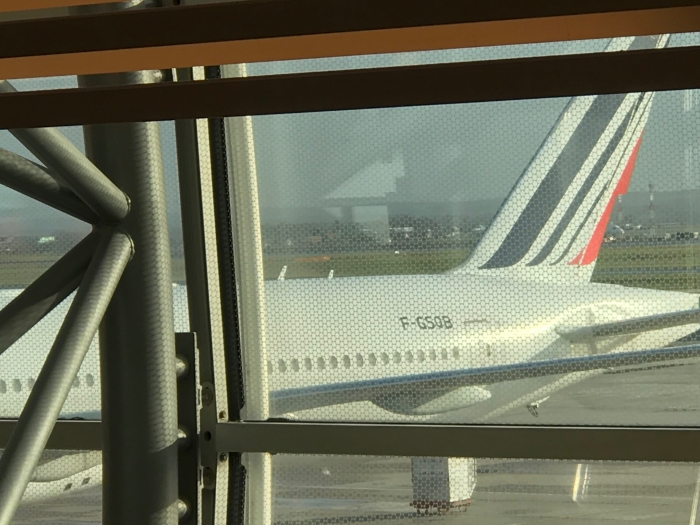 Back in my living space for my last minutes in this unbelievable place.
In the meantime a charming hostess brings me from the relay the magazine I wanted because it was not available in the lounge. My guide comes to introduce himself to me and asks me when I wish to board and if I wish to get there by walk or by car…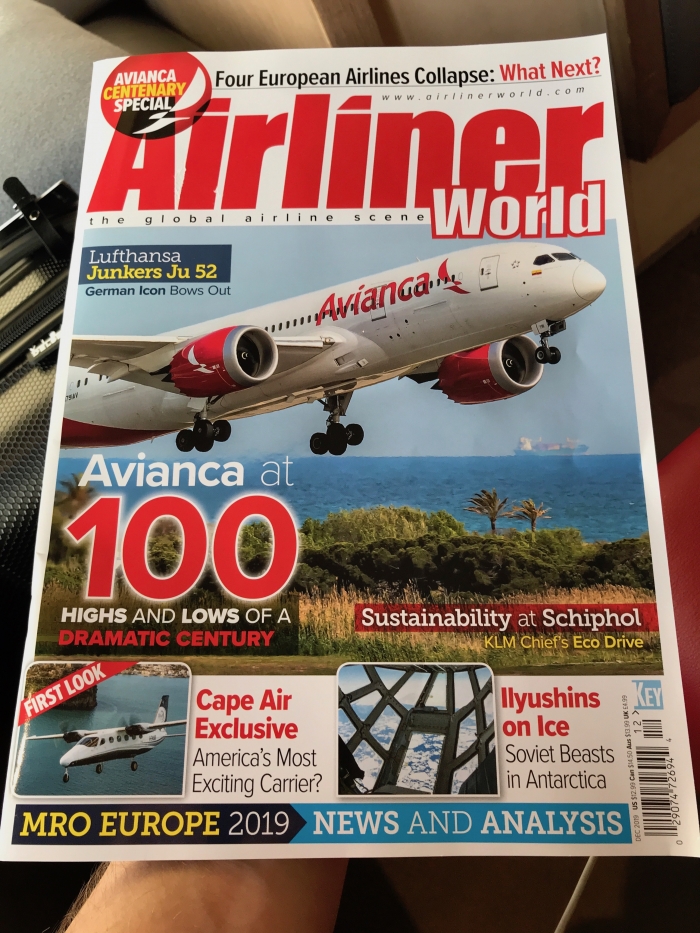 Here's the answer lol!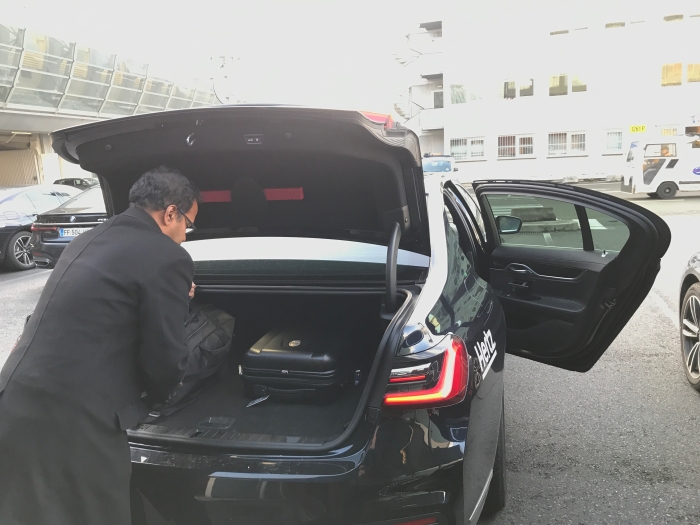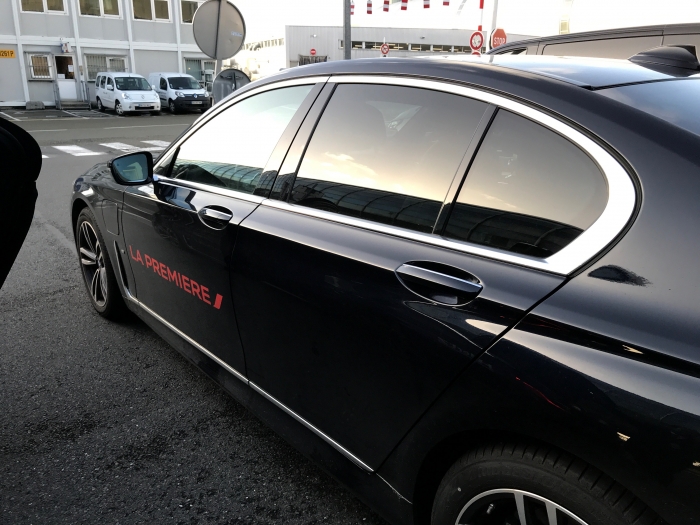 I proudly strike the pose in front of this gorgeous car.
The trip is quick and allows me few pictures.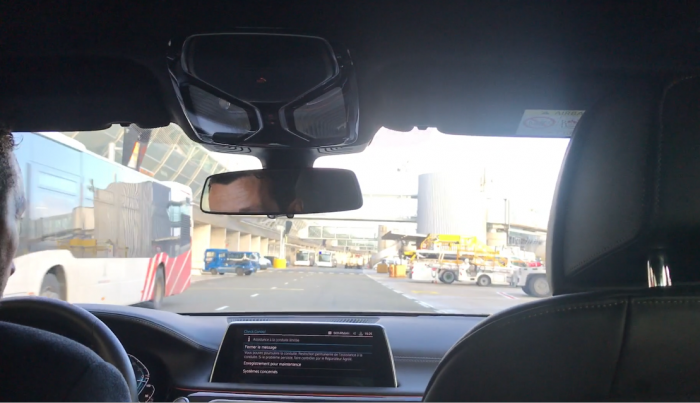 We quickly arrive in front on the plane for my trip for today.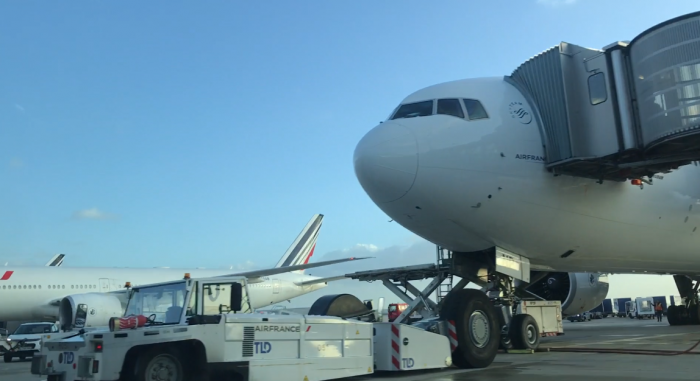 Memory picture.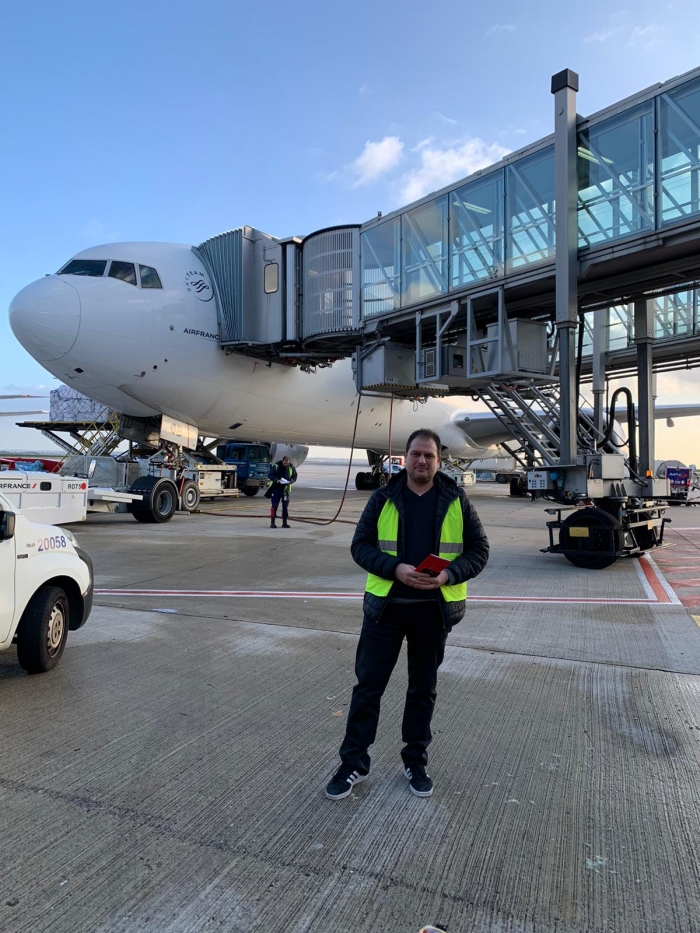 It is class really…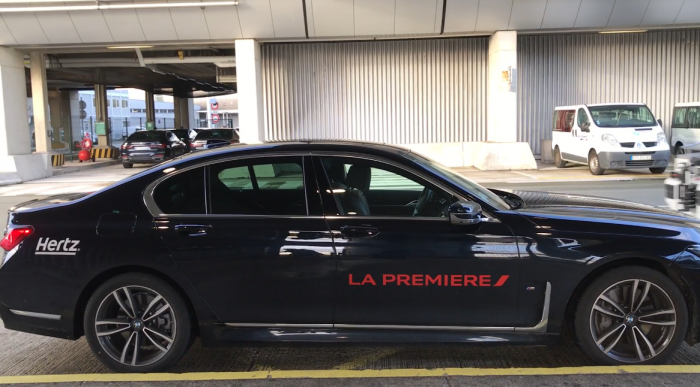 Back and heading to my 777 I have already taken those stairs to board a flight on a 787 to LYS but today this will be done by lift.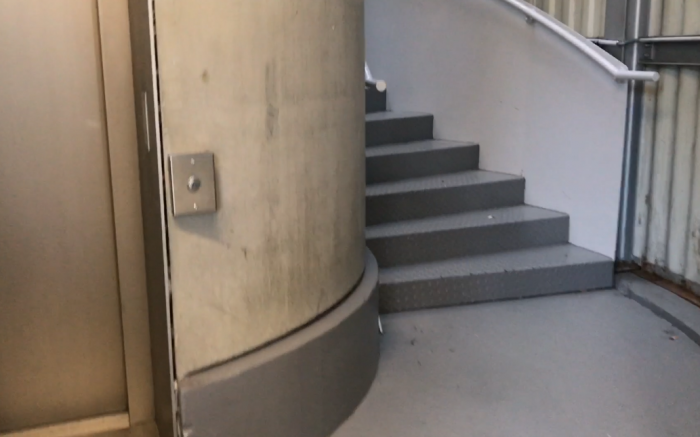 We exit the lift and my host opens the jetbridge door that allows just me.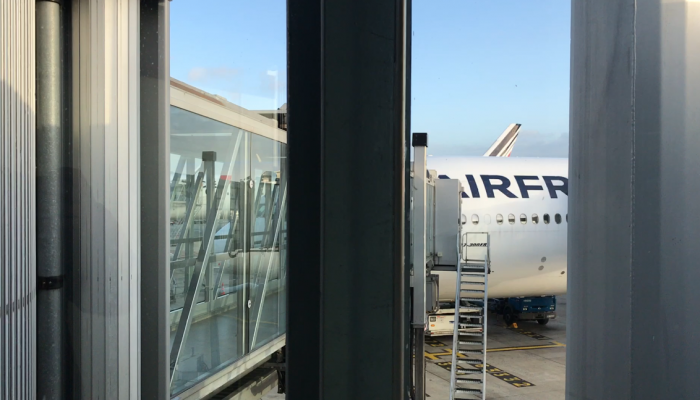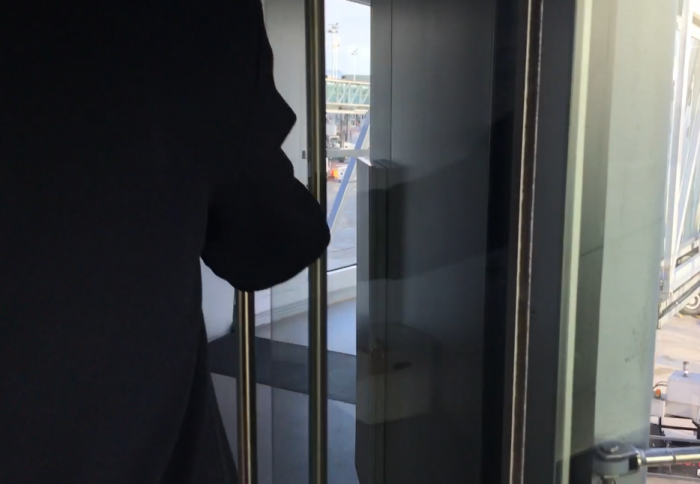 My jetbridge all to myself only LOL!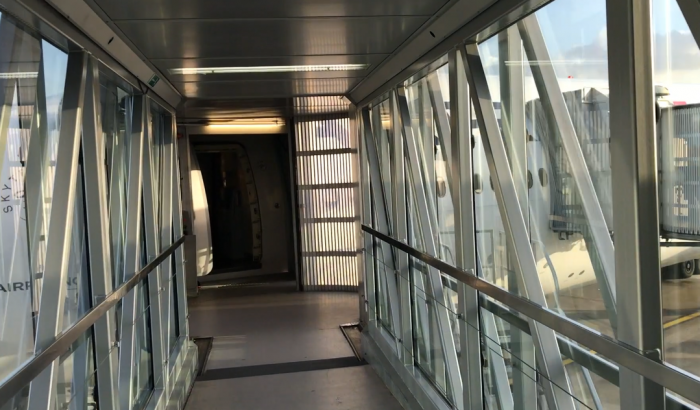 I arrive on the plane doorstep and I am greeted with a massive smile.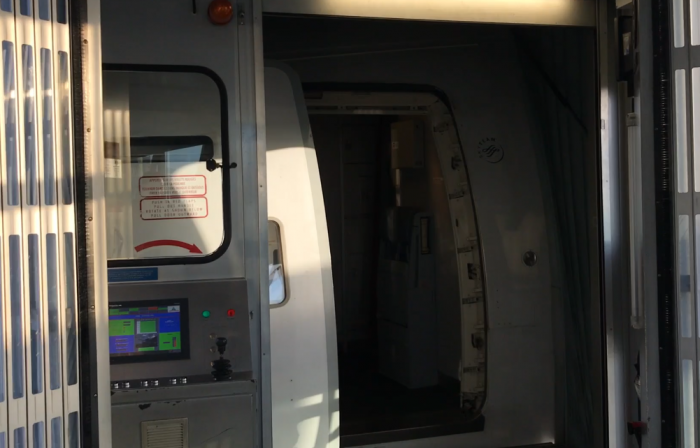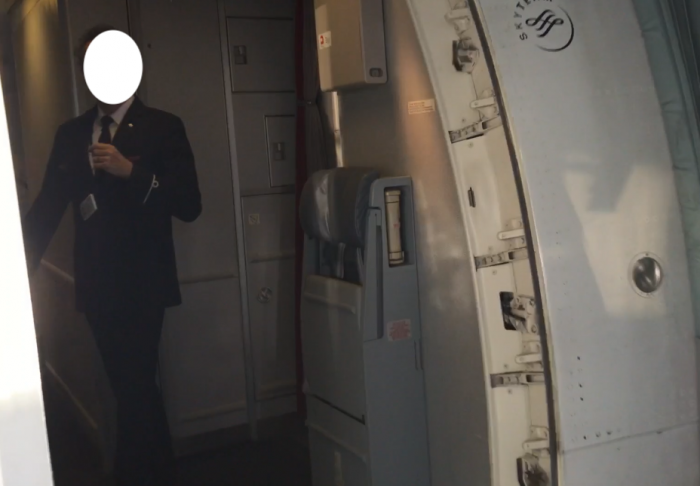 At last I discover this magnificent cabin which makes so many people dream about it…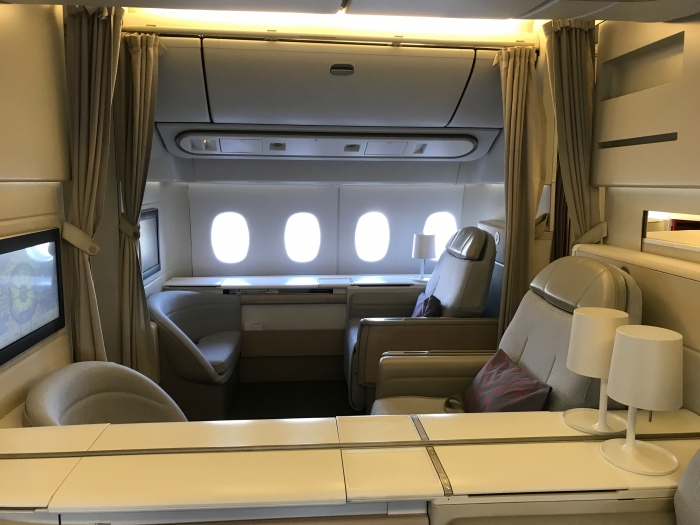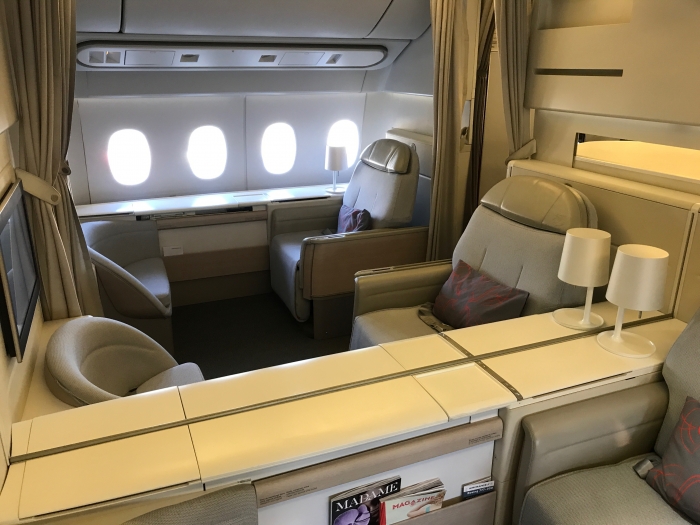 My vital space for this flight towards JFK.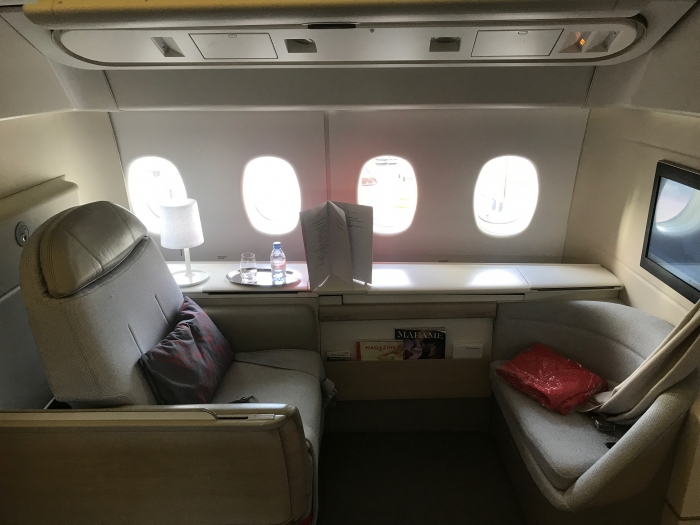 First of so many selfies!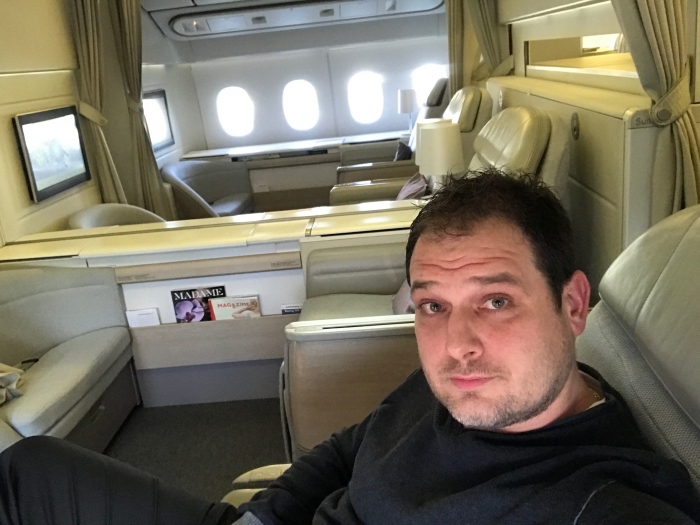 Wowww!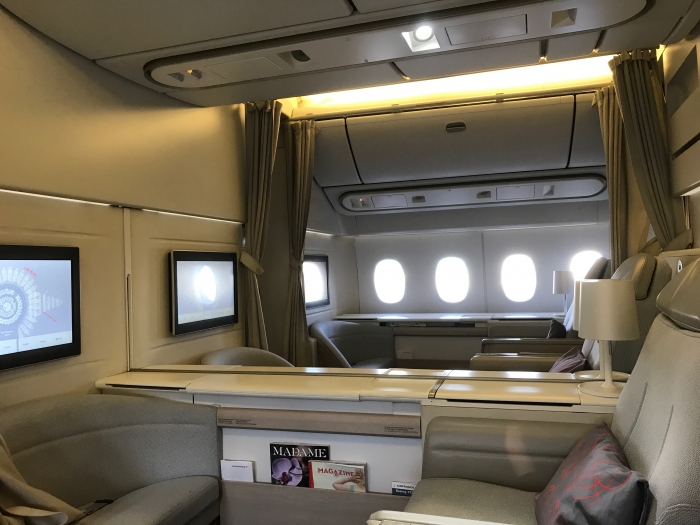 All the crew come to introduce themeselves to me and the charming air hostess who is taking care of the F cabin brings me the menu.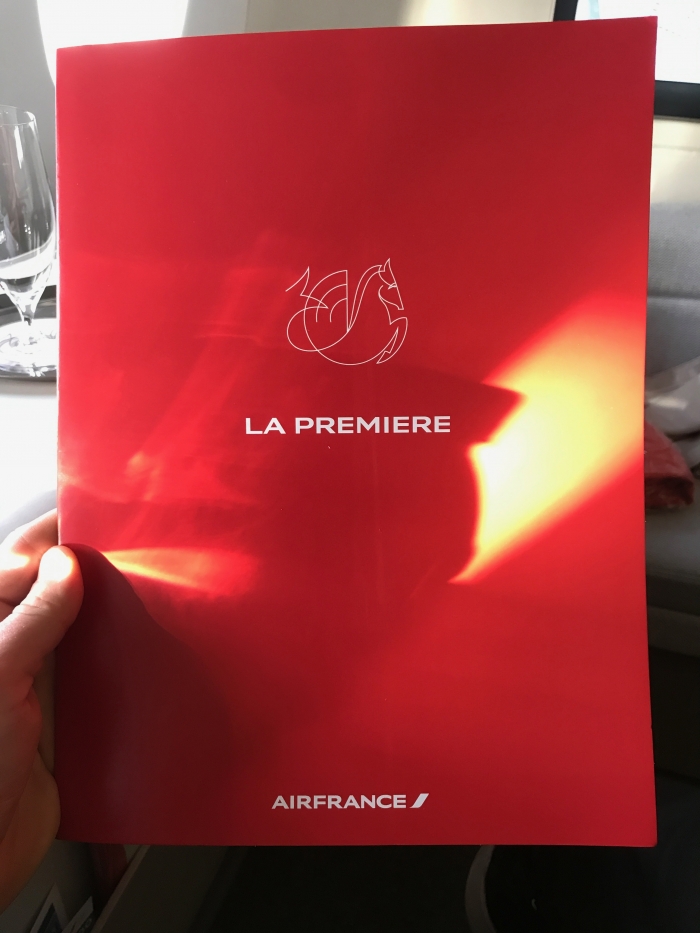 As well of the welcome drink.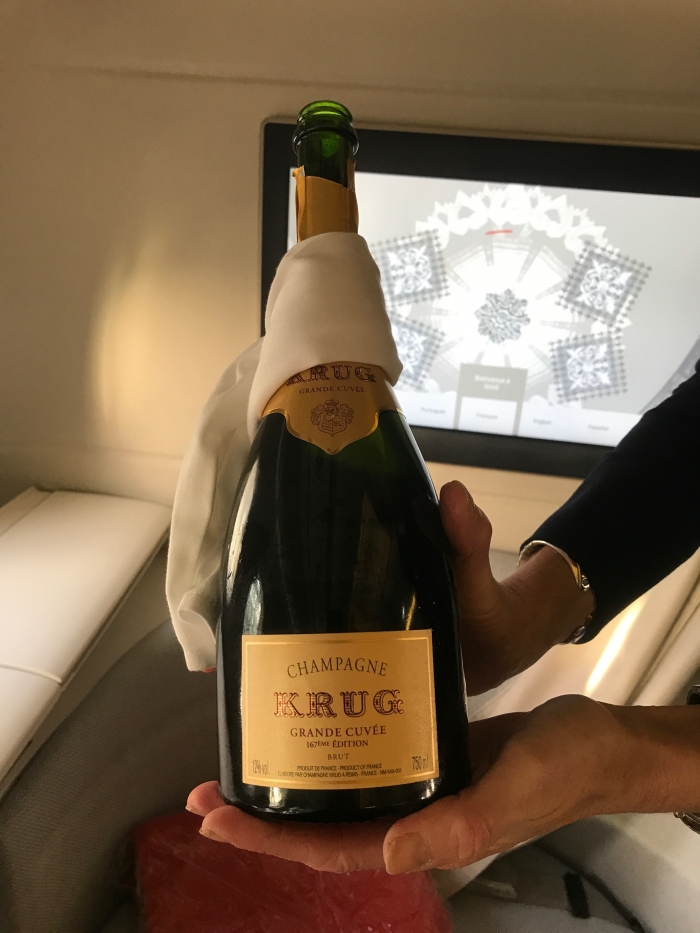 That's looking good!!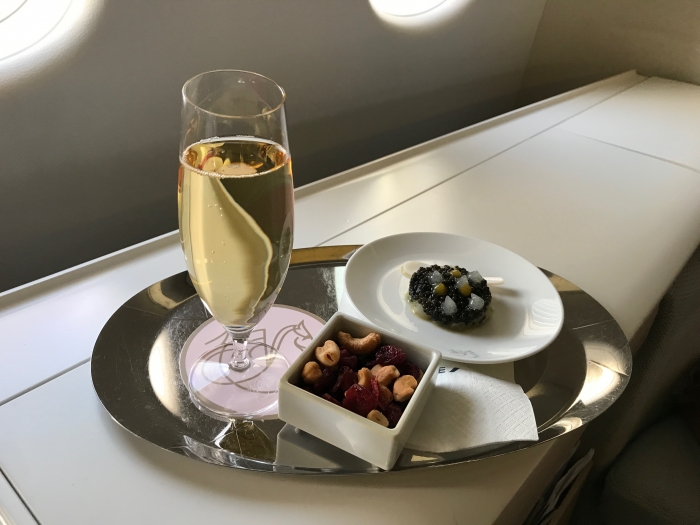 Here is the menu in full details…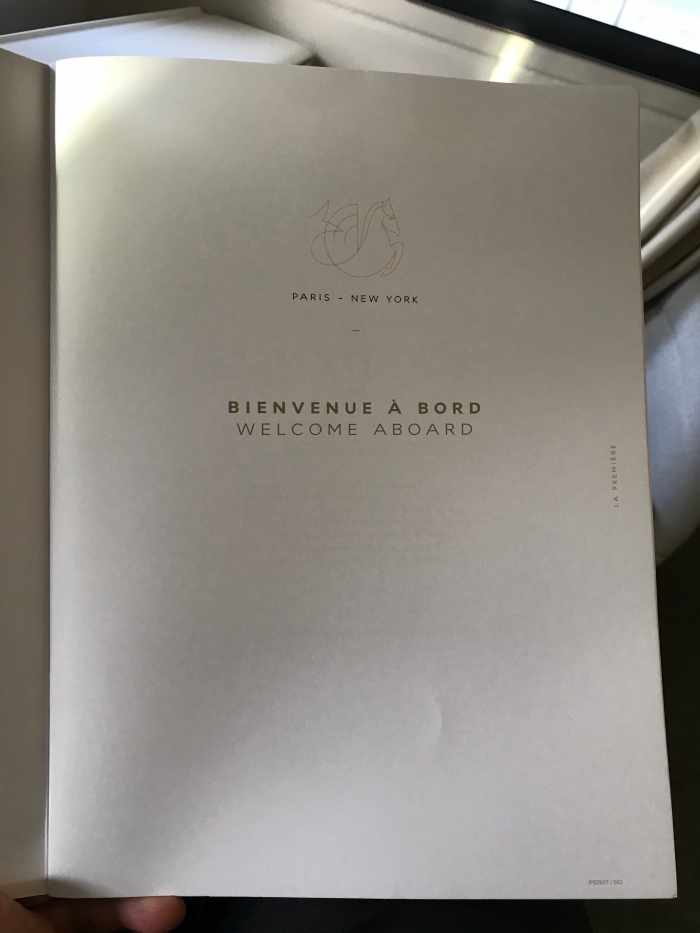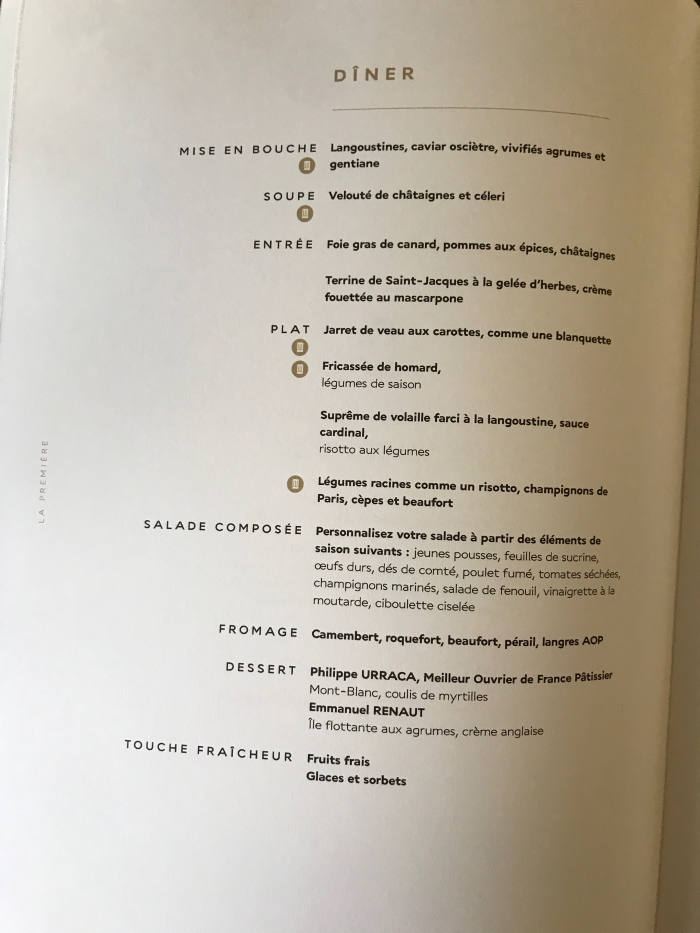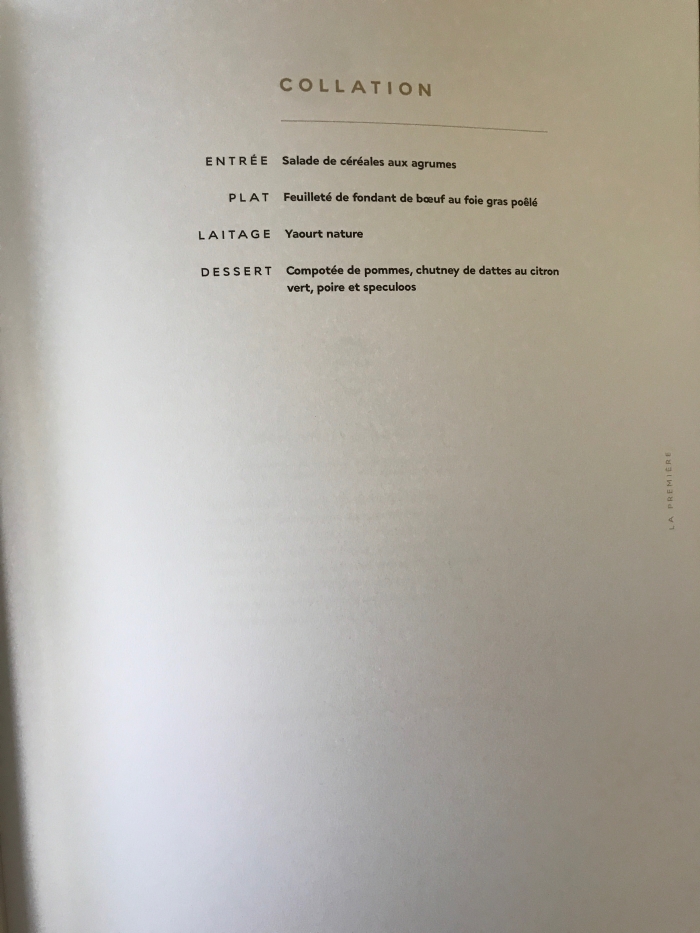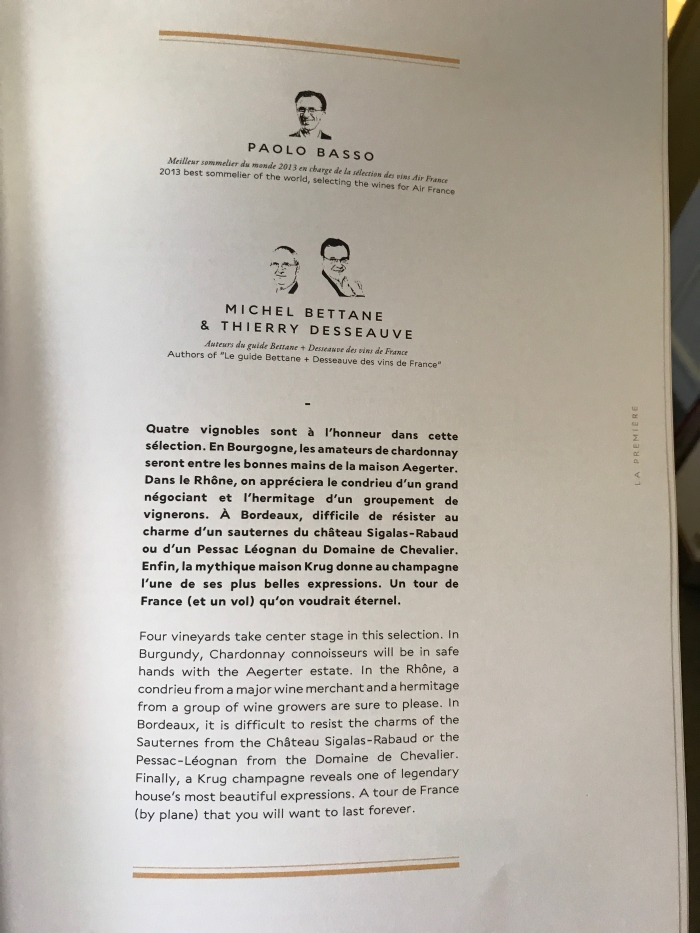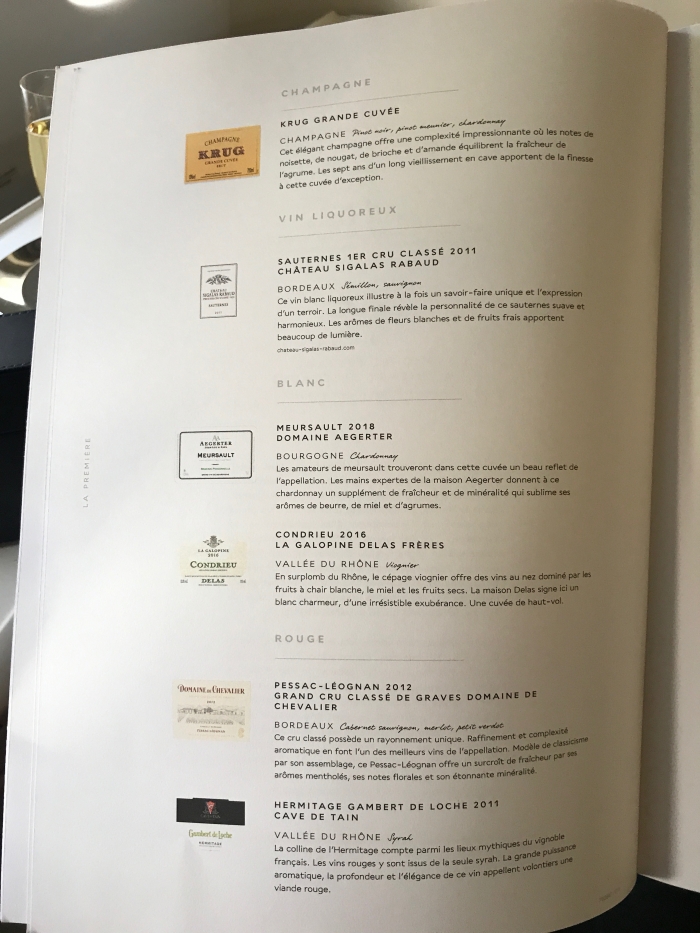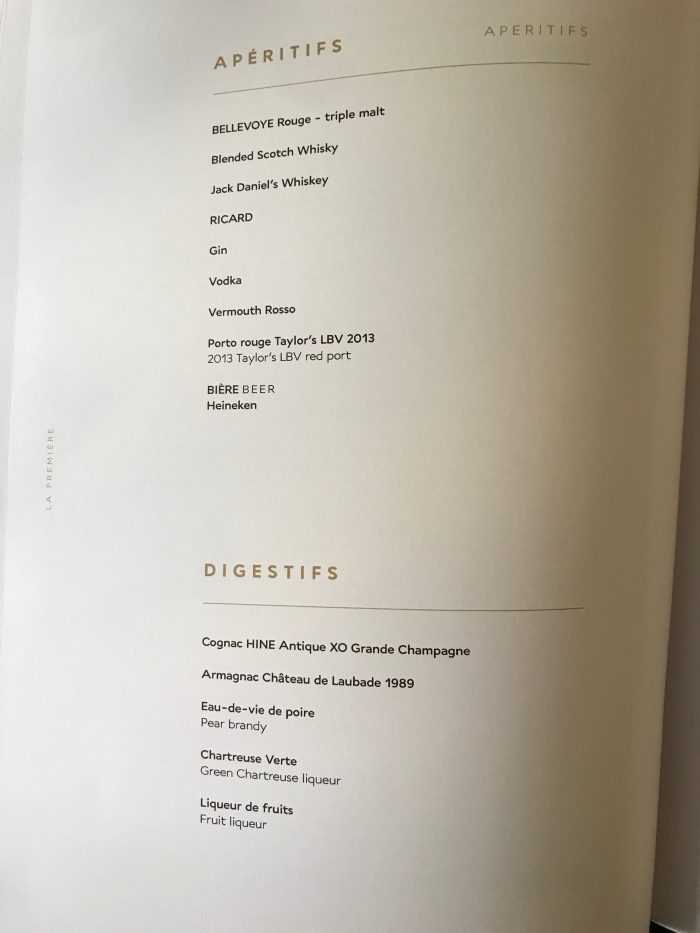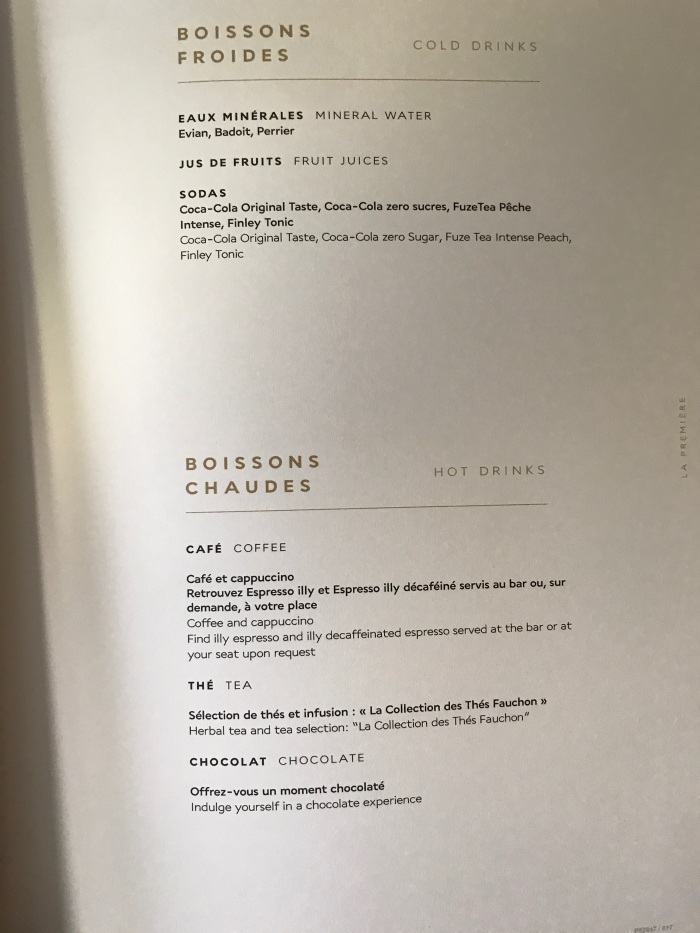 The necessity kit is brought to me.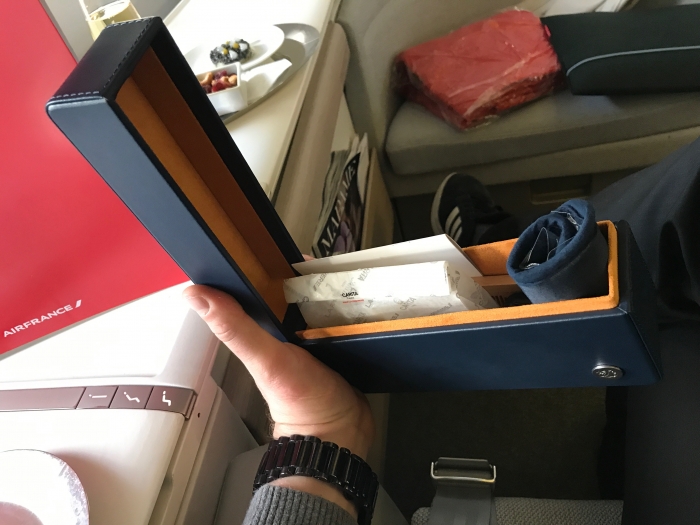 I love the integrated blinds on the windows.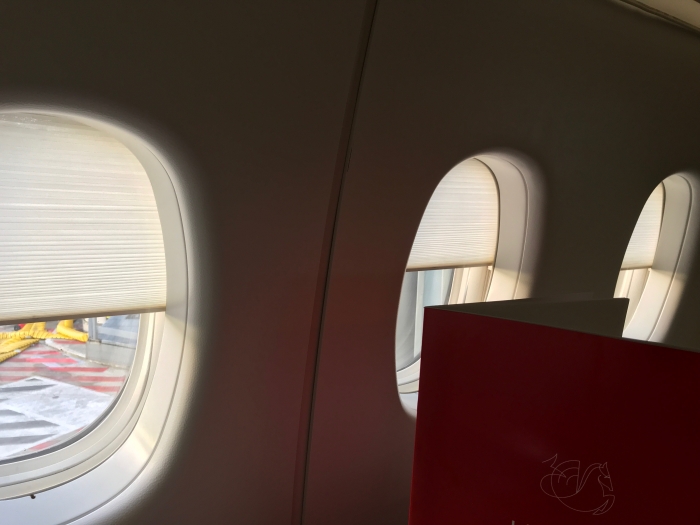 Time has come to immortalise this unique moment again.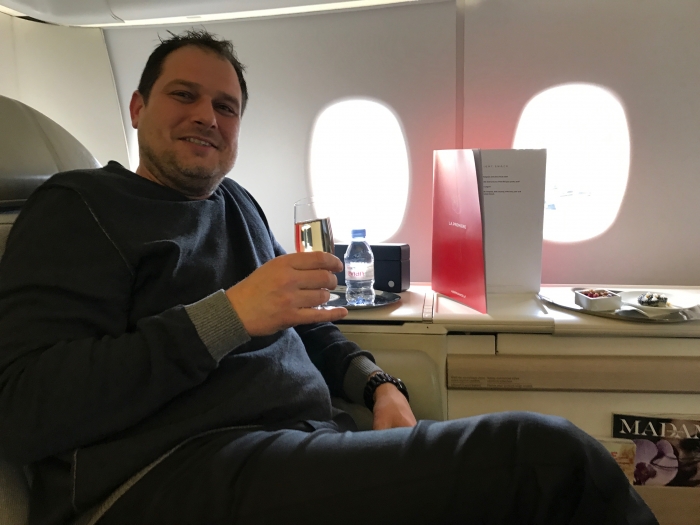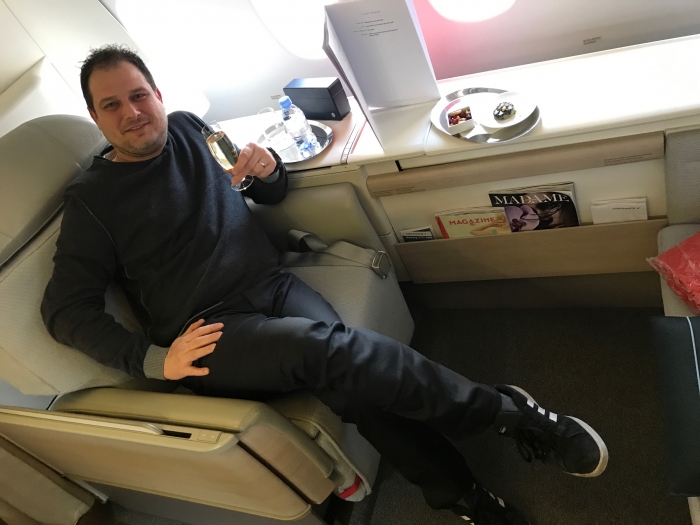 I will be the only pax in P on this flight the trip is going to be wonderful!
The appetizer is served with champagne.
Under the ottoman in front of me is something to store my personal belongings and slippers.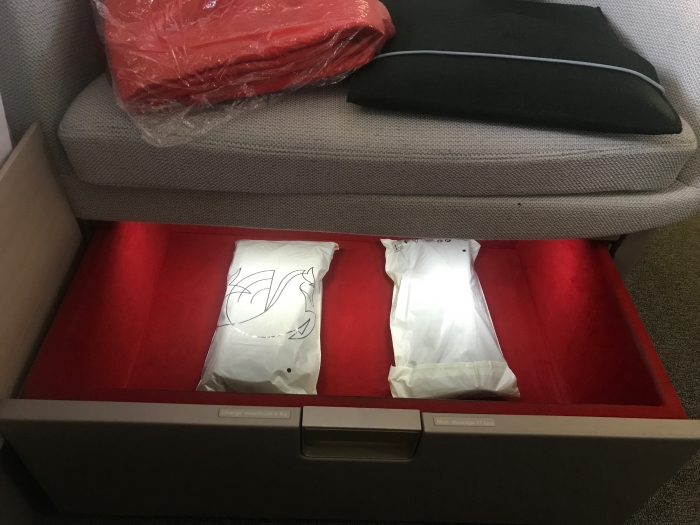 Comfort wear is brought to me.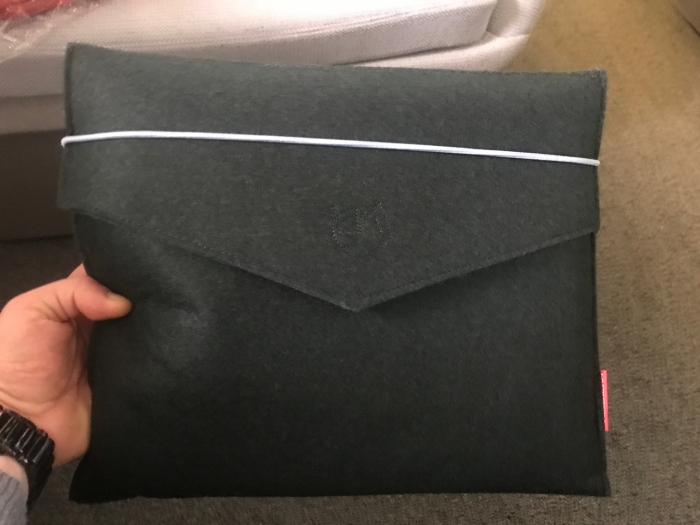 First oshibori.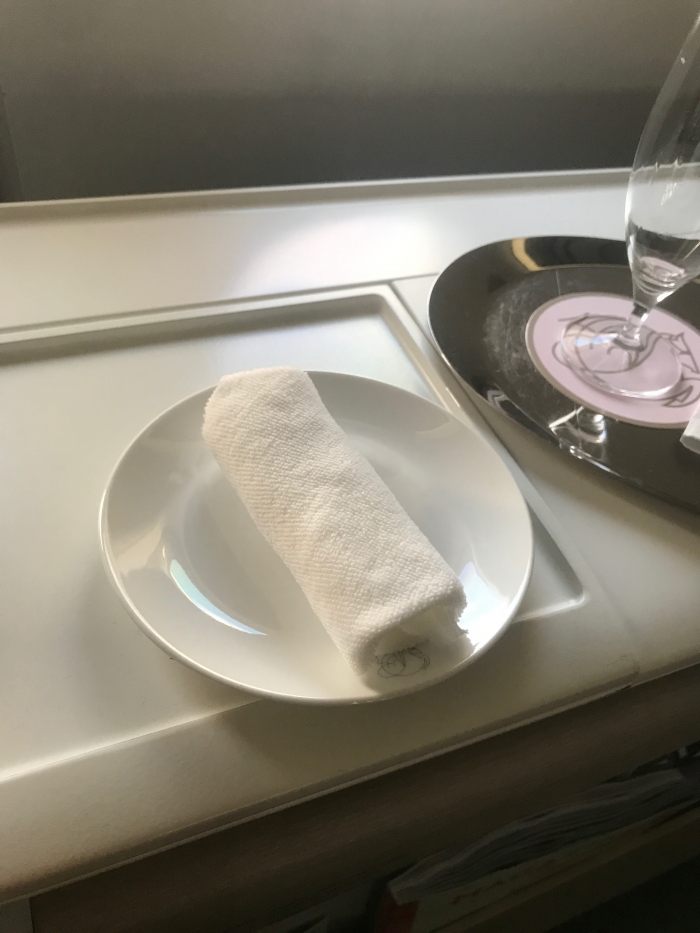 View of the business class located just behind.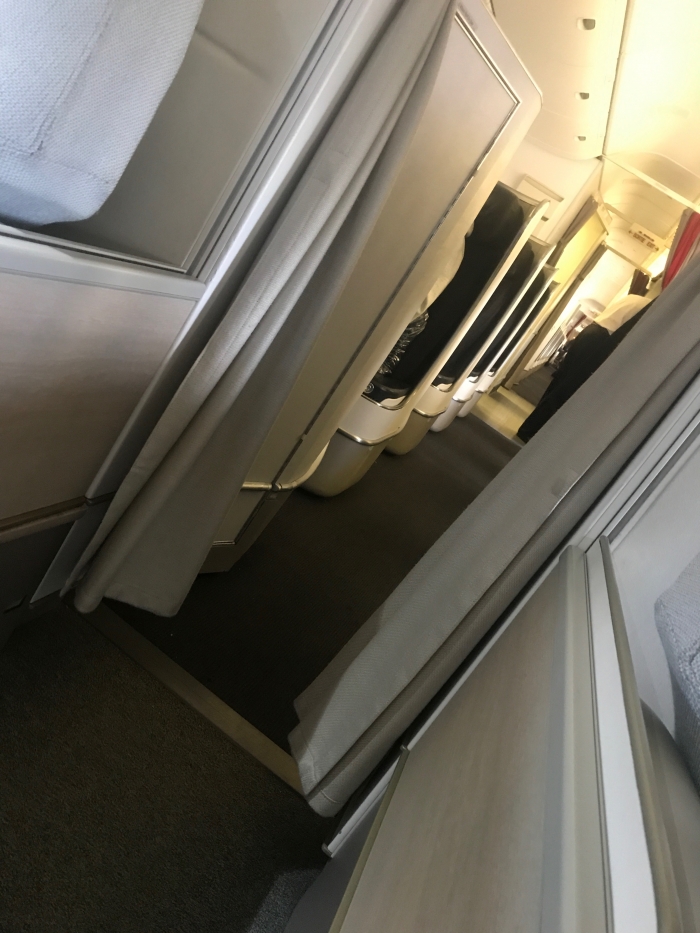 I am in paradise.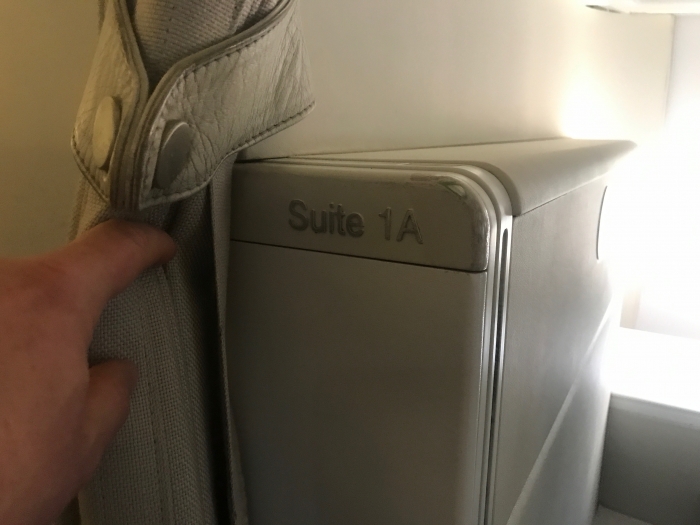 The jetbridge is removed and we push back.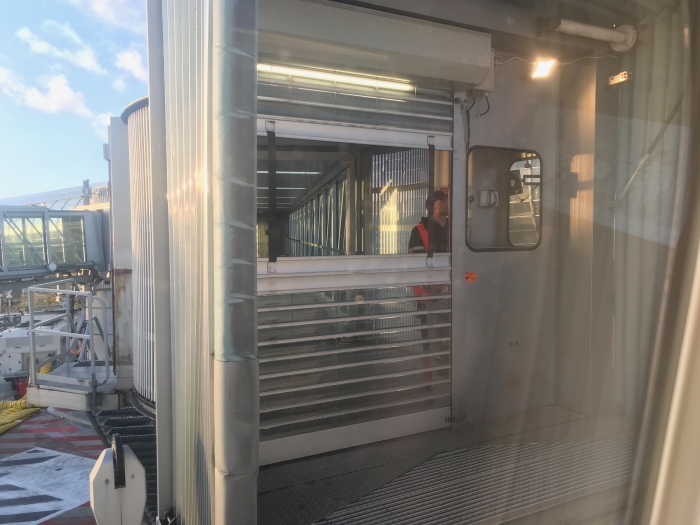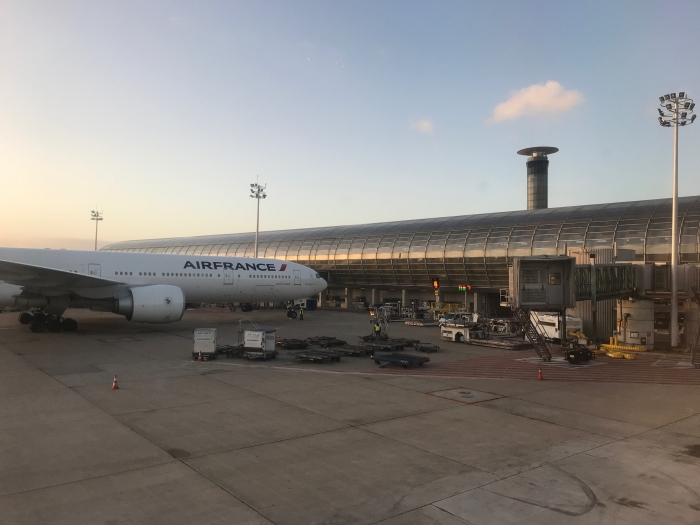 Safety demonstrations on the very large IFE.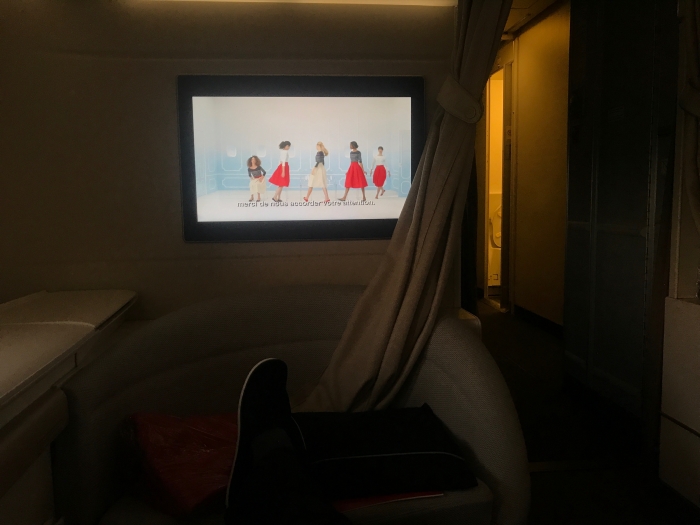 Here are the available connections.
The IFE remote control.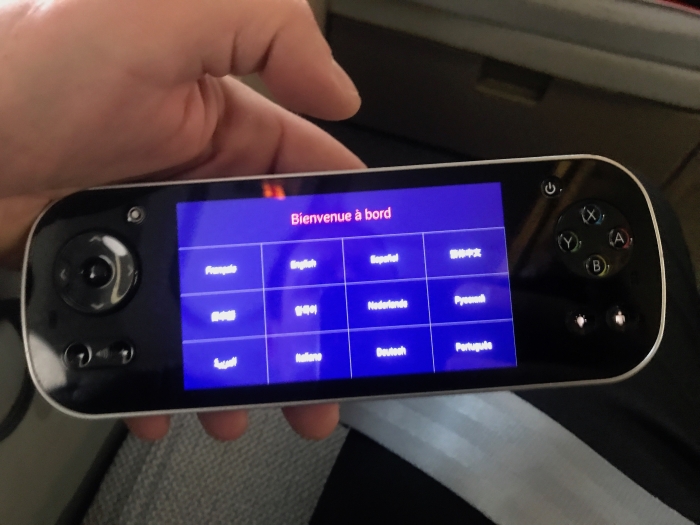 Some pics during taxiing.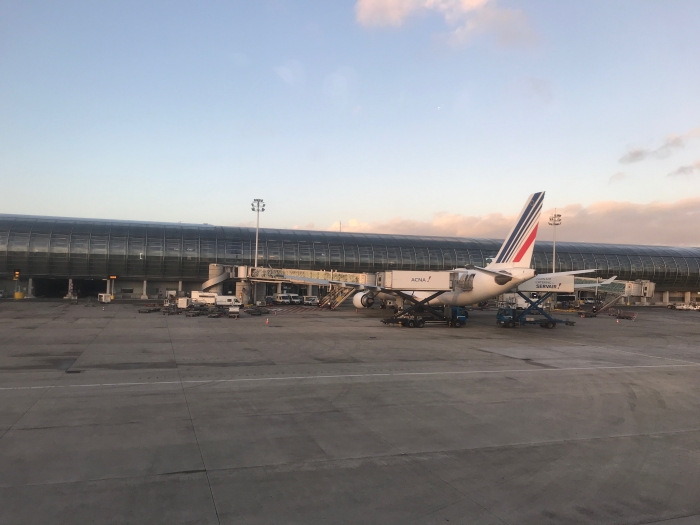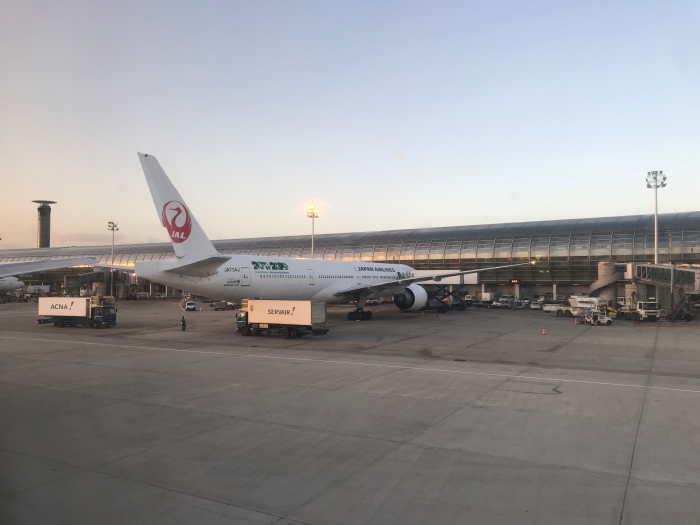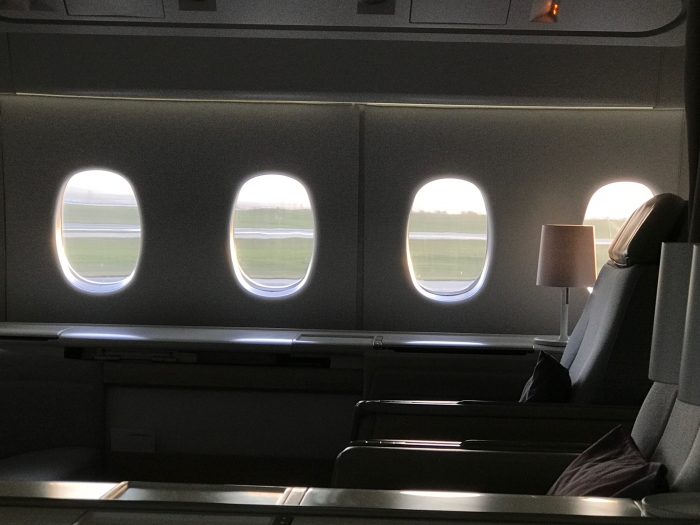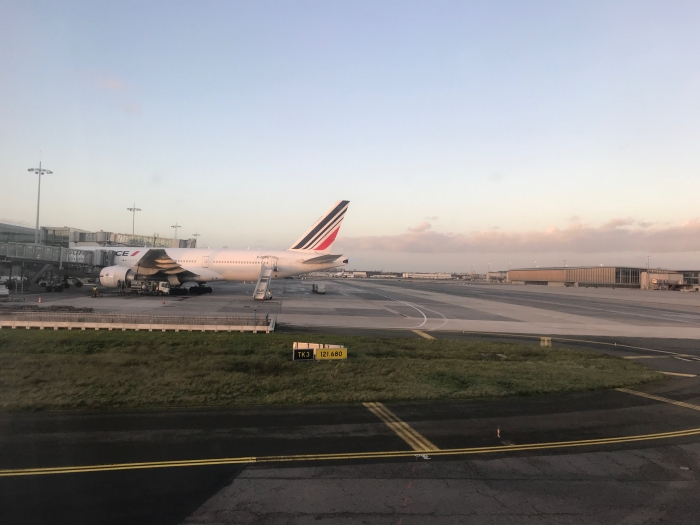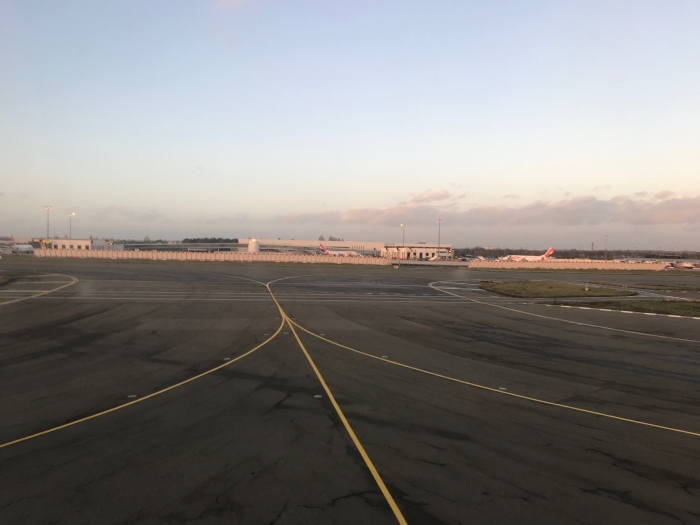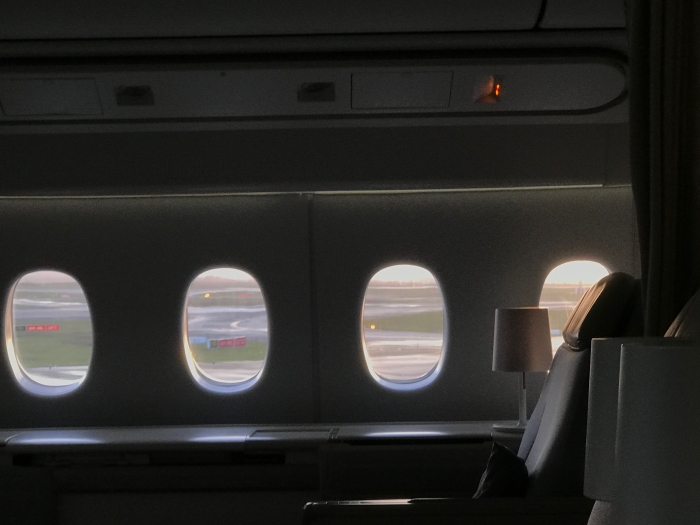 Alignment on the 26R and takeoff.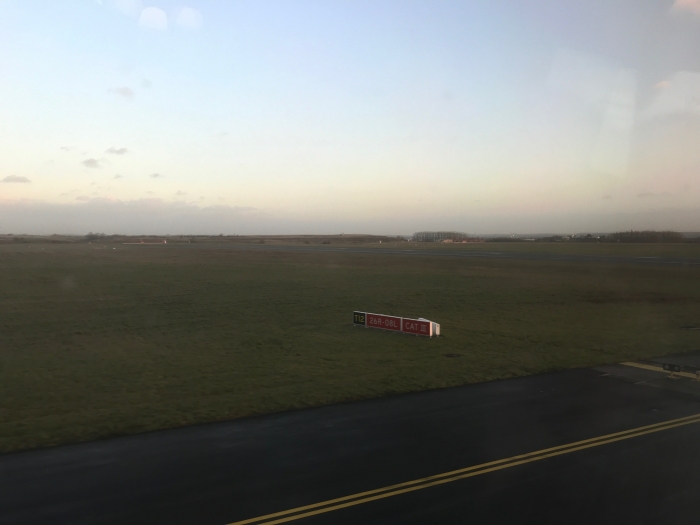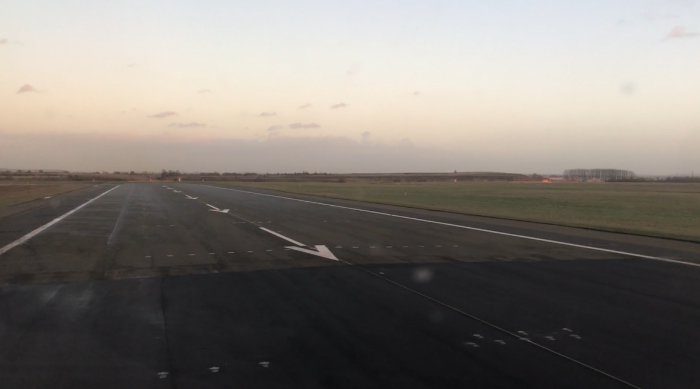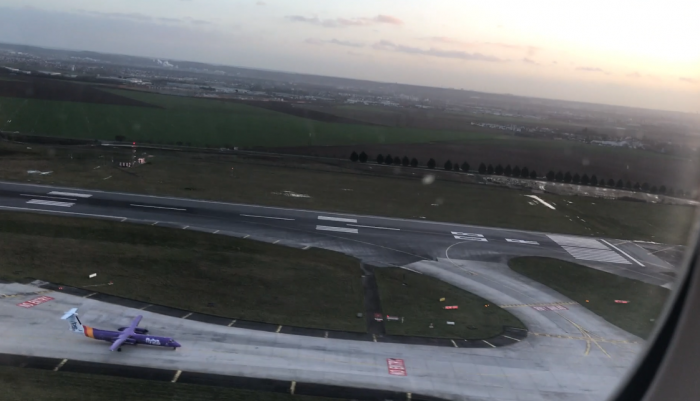 Le Bourget Airport very close to CDG.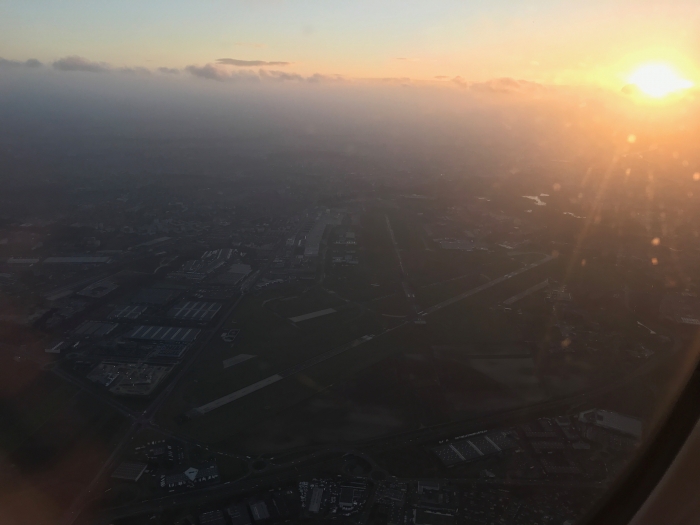 The nearby Parisian suburb.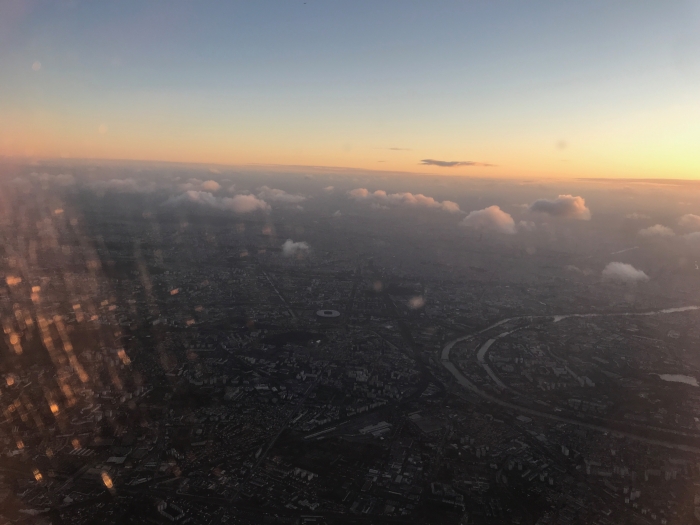 The Stade de France.
The spectacle is magnificent.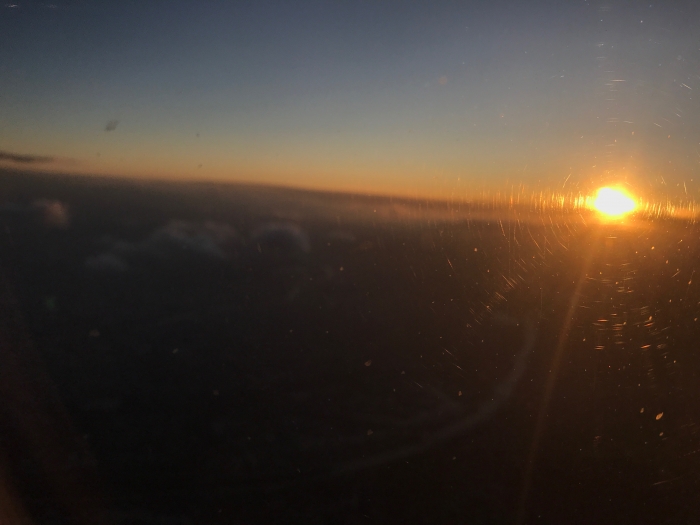 The hostess in charge of P arranges the cabin so I can travel in optimal conditions.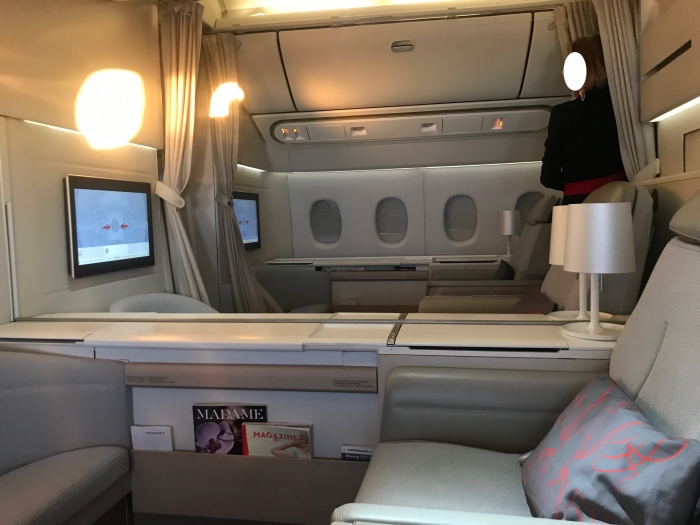 Wifi is available on board and the most complete package is free for La Première passengers.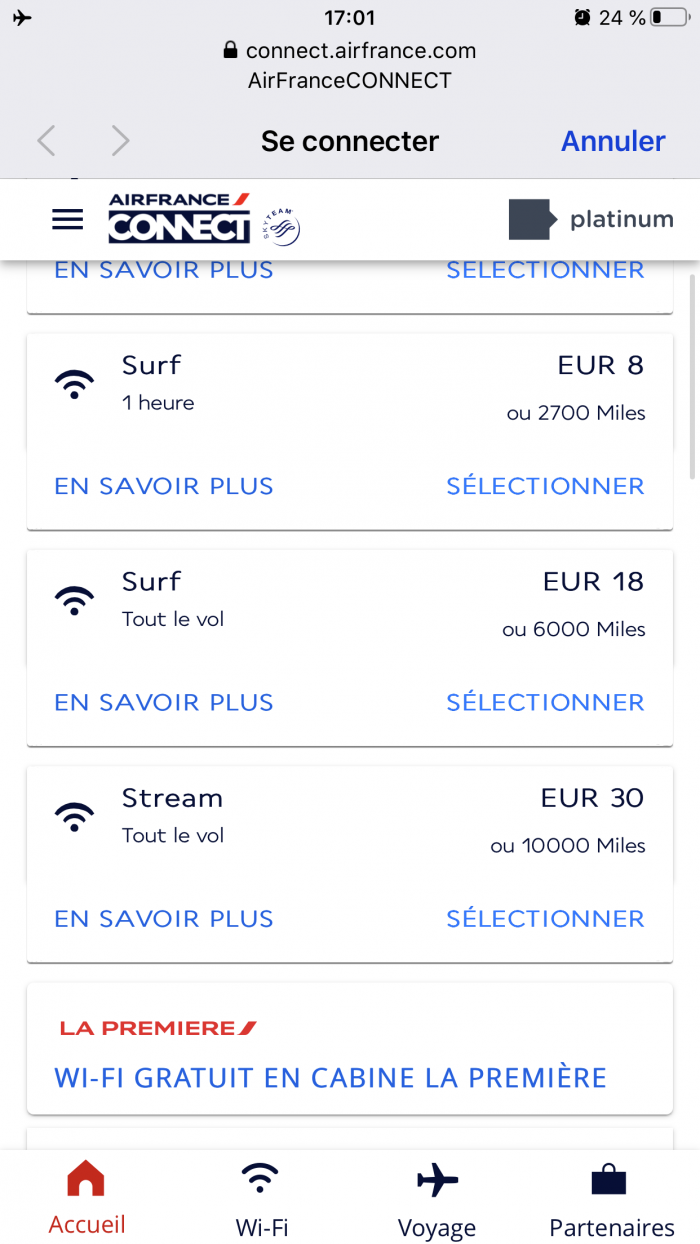 Meanwhile I go get changed in my confortable outfit.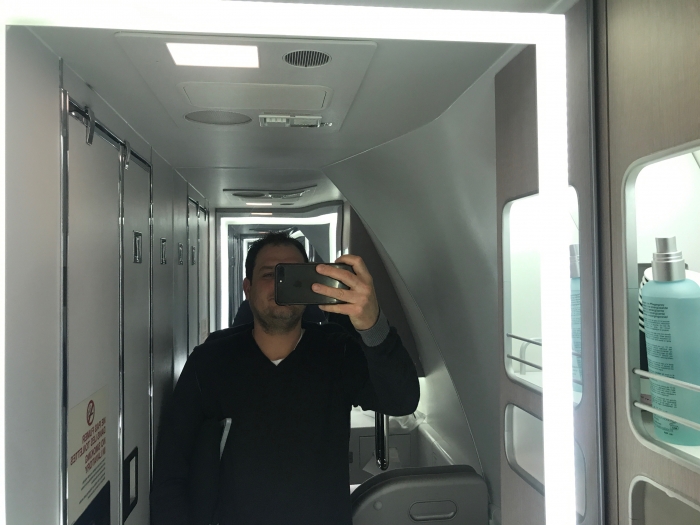 It's less practical than the locker room on 380 but it was still thought through efficiently.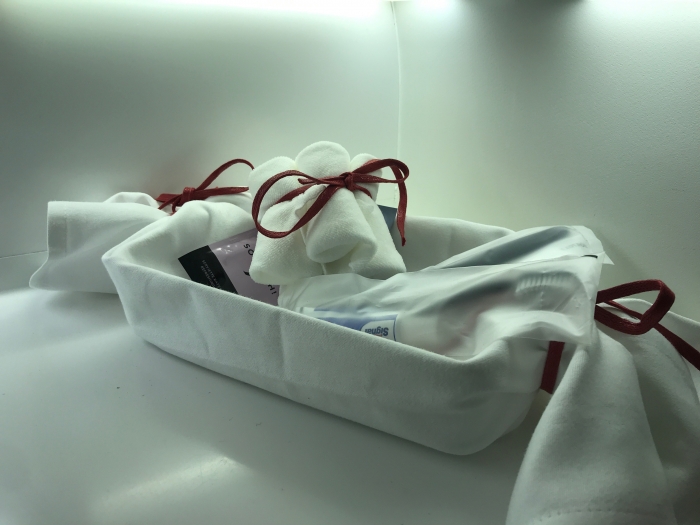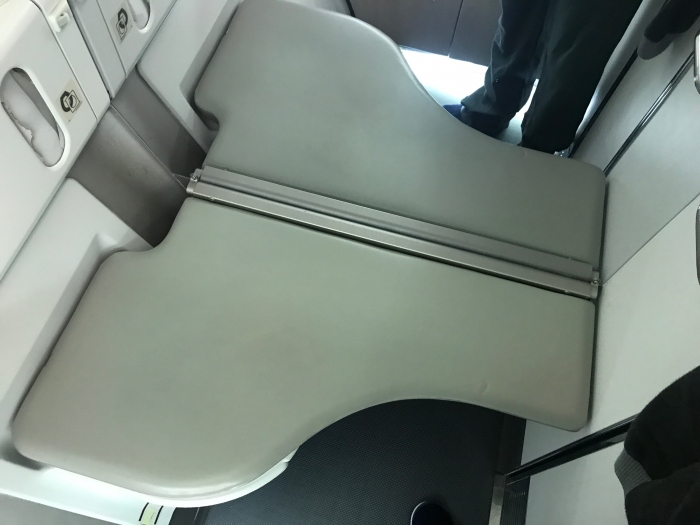 I discover when I leave the layout of my apartment lol! The curtain separating the 1F from the corridor was drawn so that people needing to go to the cockpit take the aisle between the seats 1F and 1L so I do not get disturbed while they go through . What a lovely and peronal attention!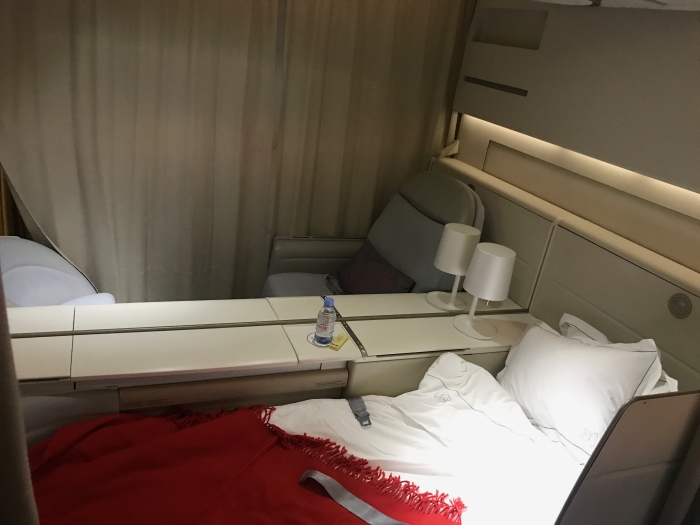 My bed.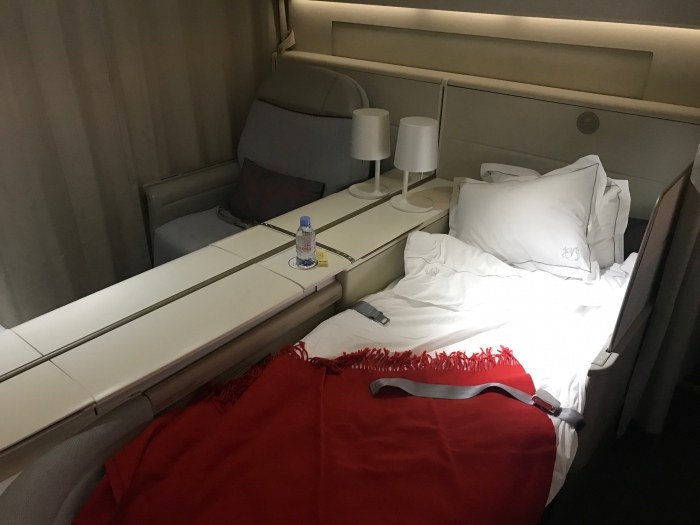 And my seat.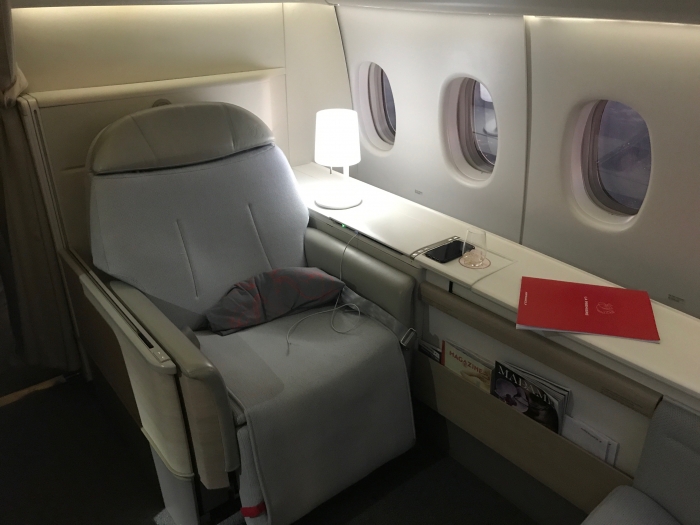 It's time to go for an aperitif.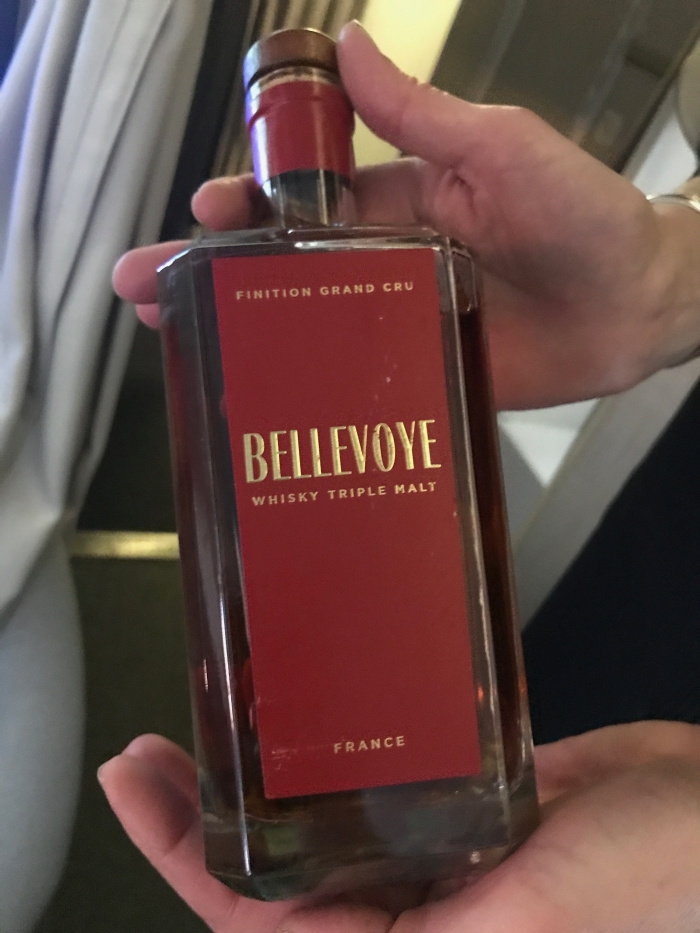 Not trying to be difficult but we can say that the can of Perrier is not really the best choice and at it's place.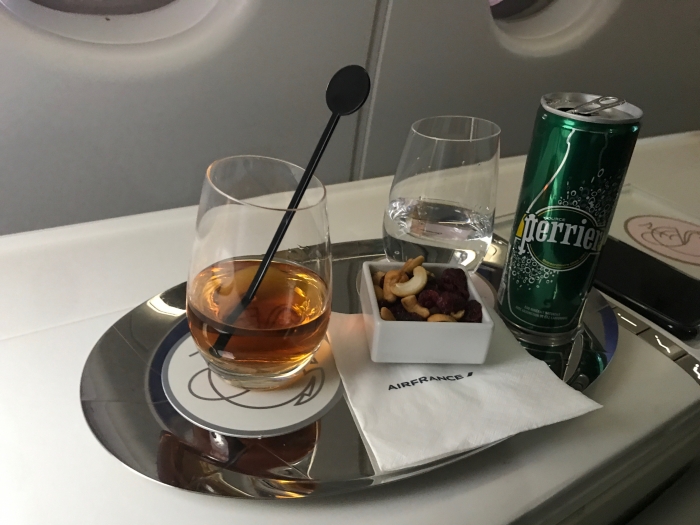 The very good quality IFE headset that I forgot to show you.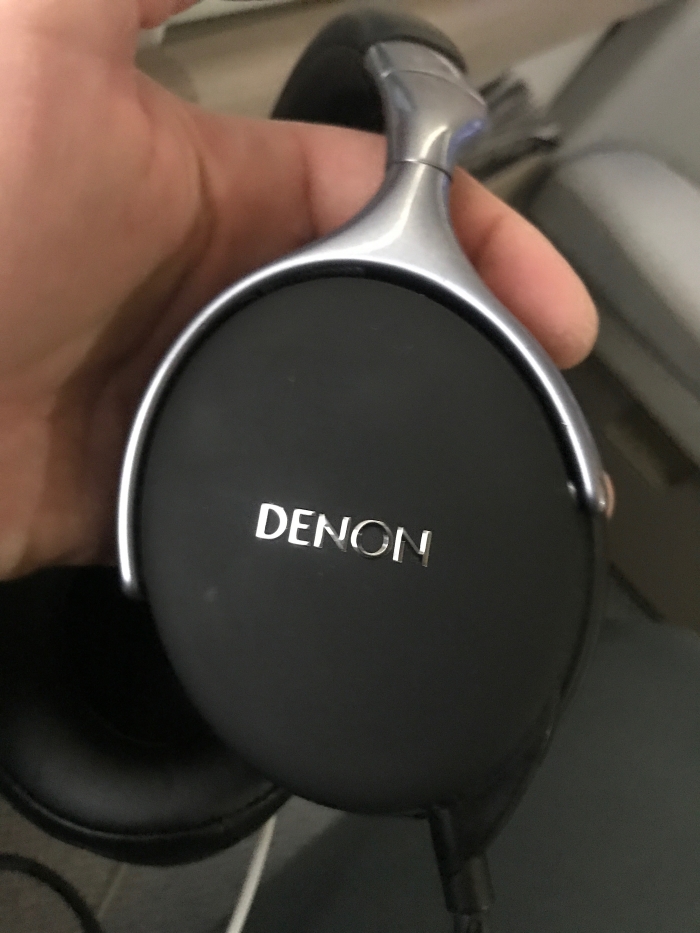 My hostess then brings me the appetizer of the J meal tray to continue the aperitif.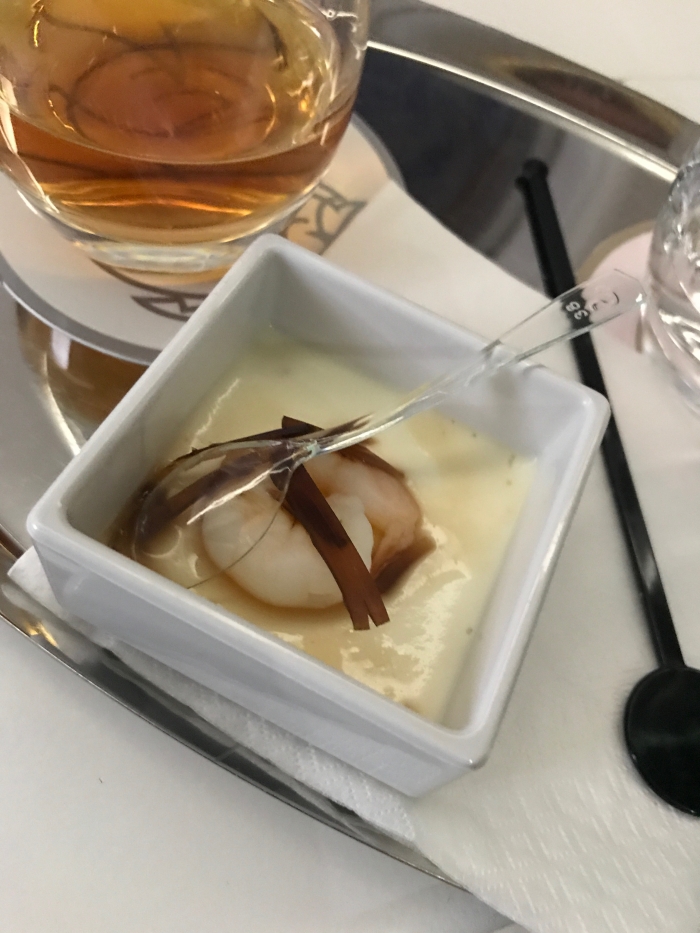 Outside the sun is already leaving us.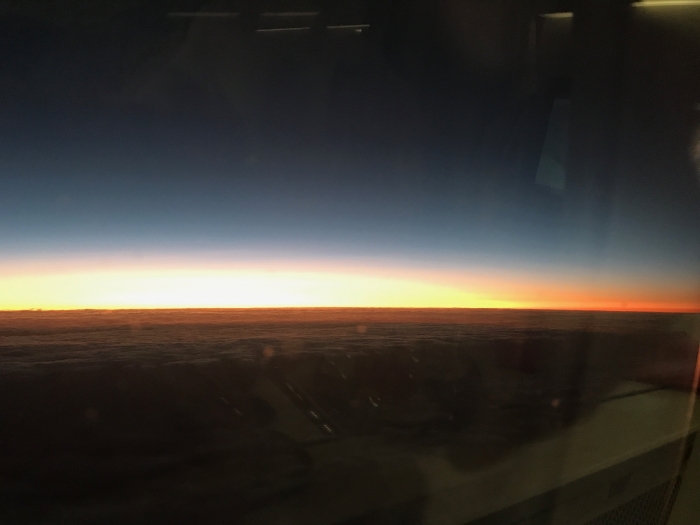 It is possible to watch a program on the main screen of the IFE while viewing the geolocation on the remote control.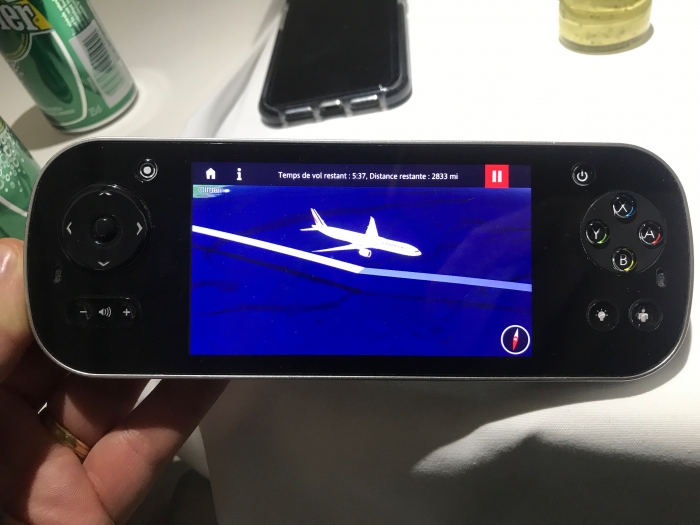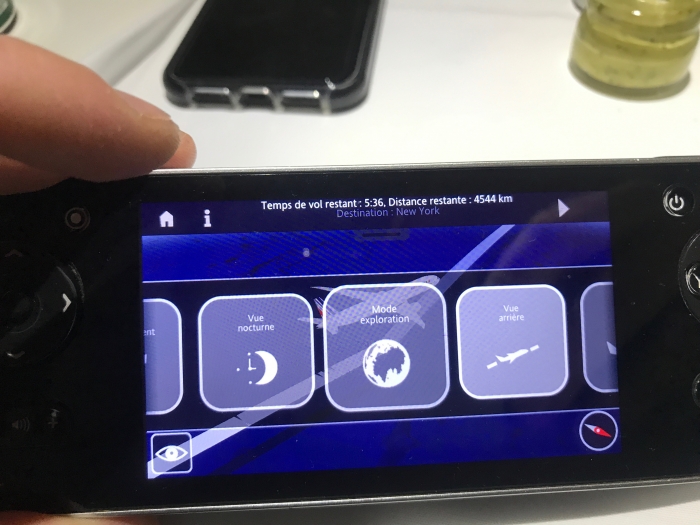 The seat's remote control.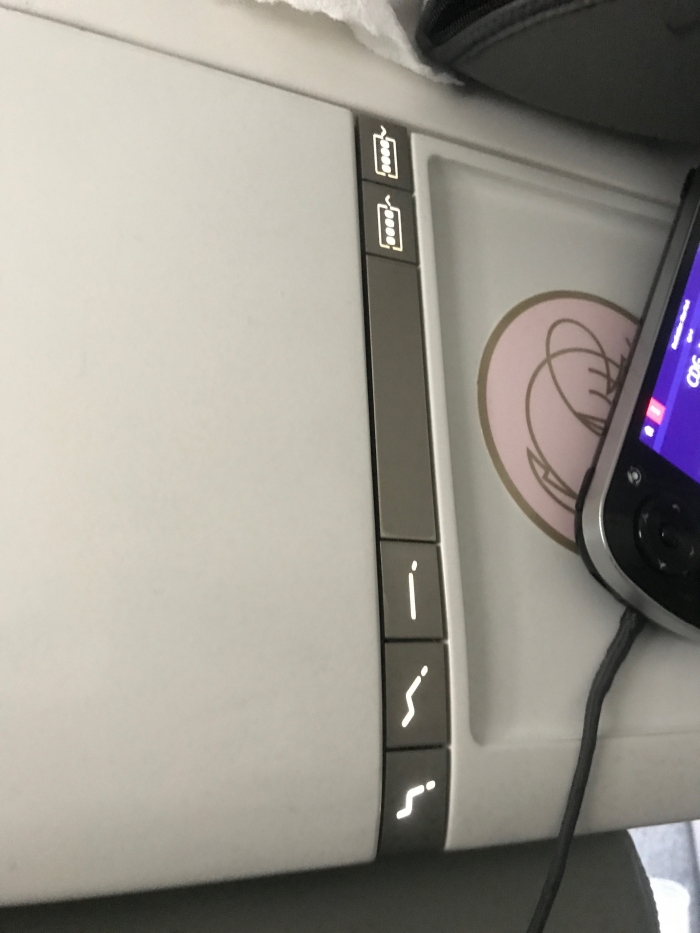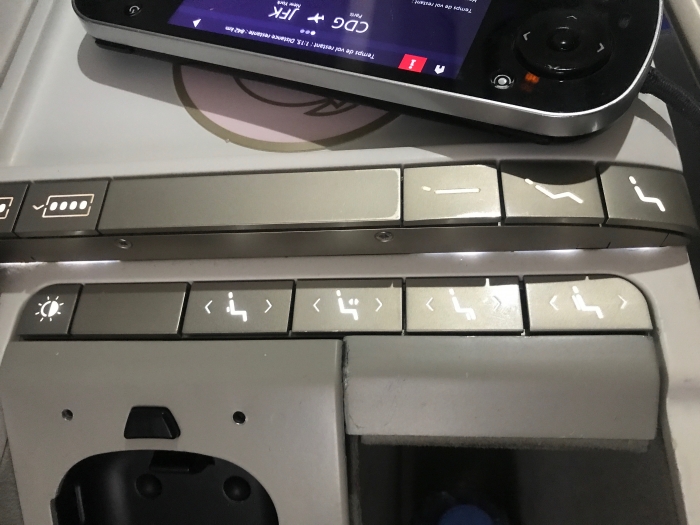 The service is of course on request and as I enjoyed myself in the lounge I eat a little in disorder. The table is set I love it !!!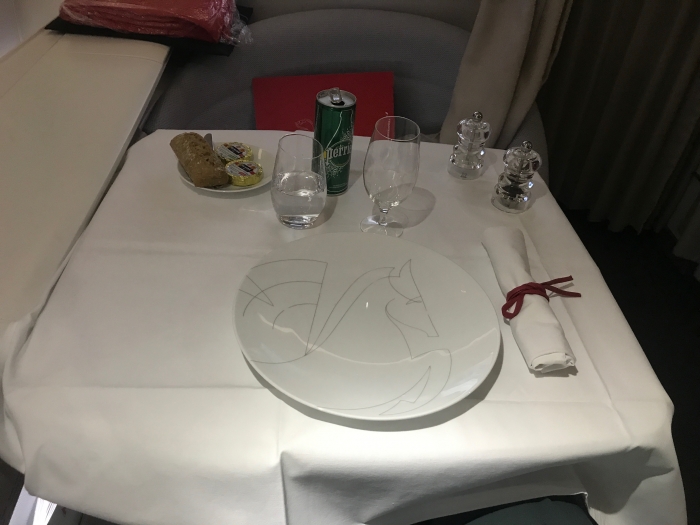 I start with the velouté which is delicious.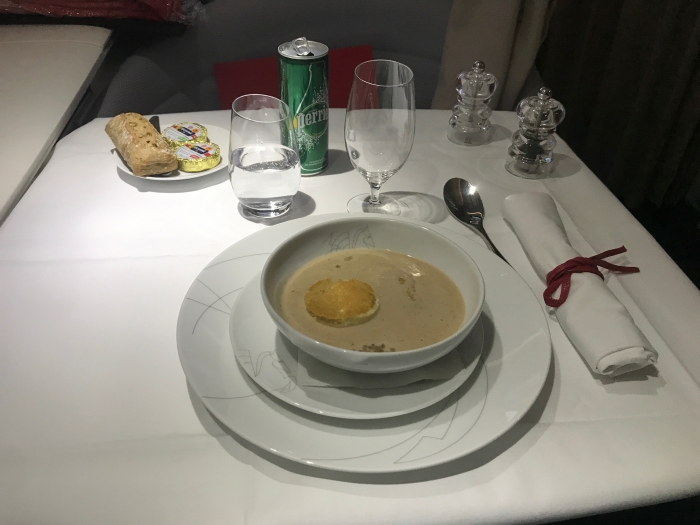 The proof lol!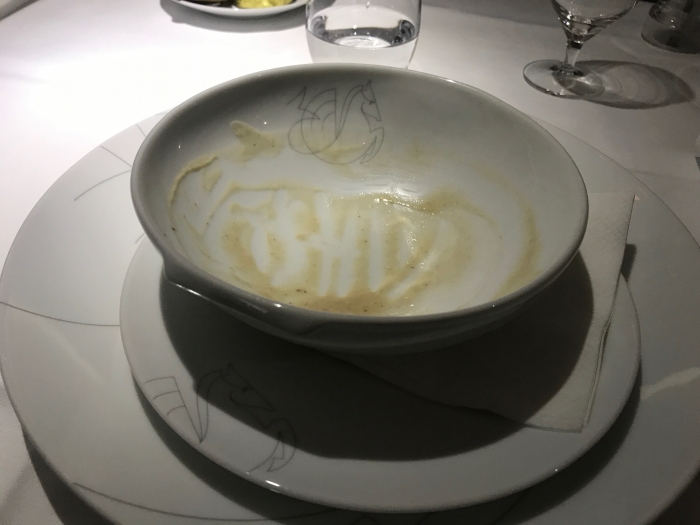 Bread and butter available.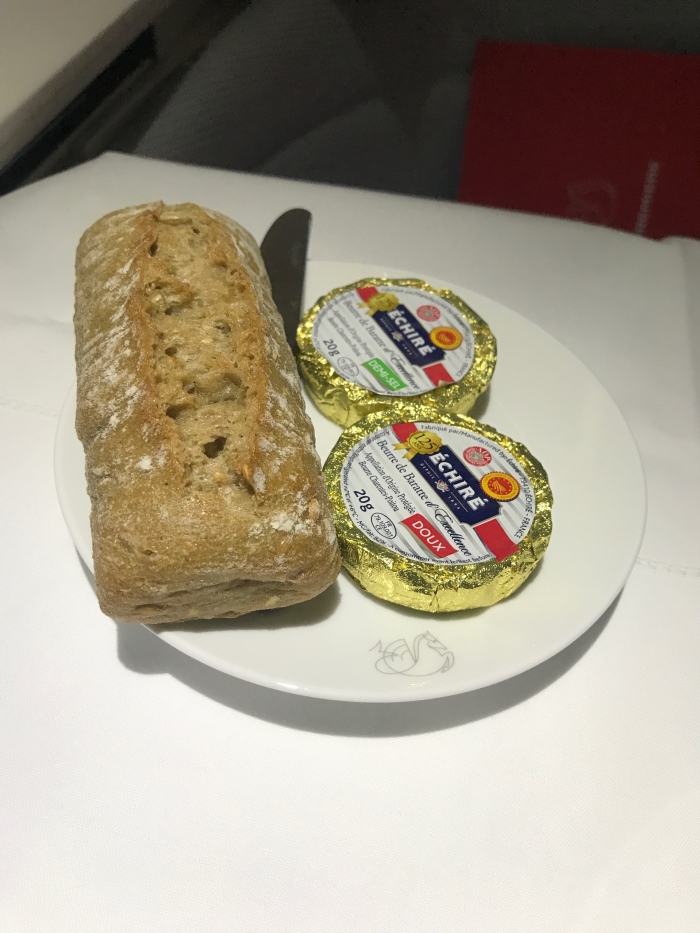 The dishes are sublime.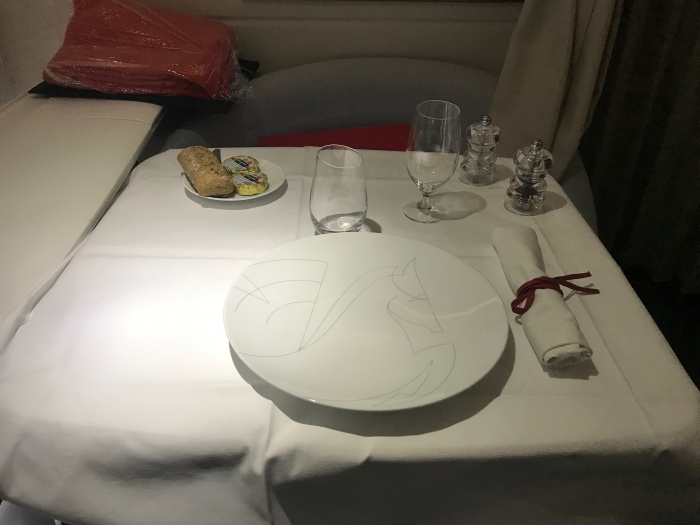 A little bit of Sauternes…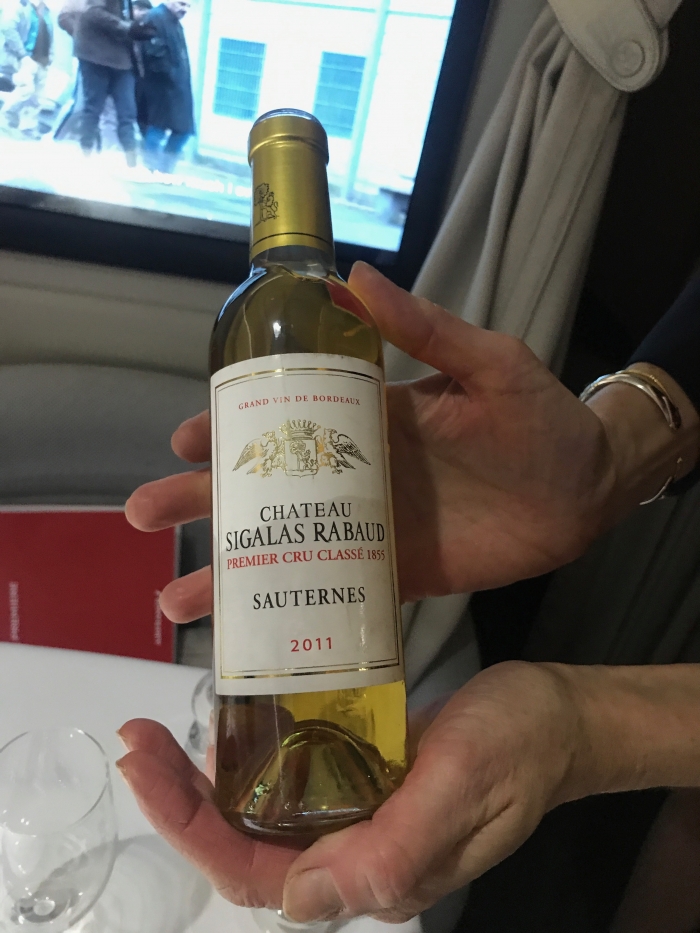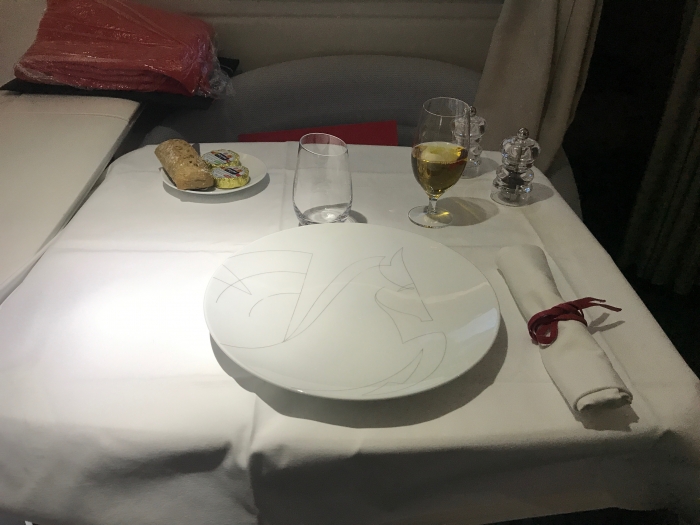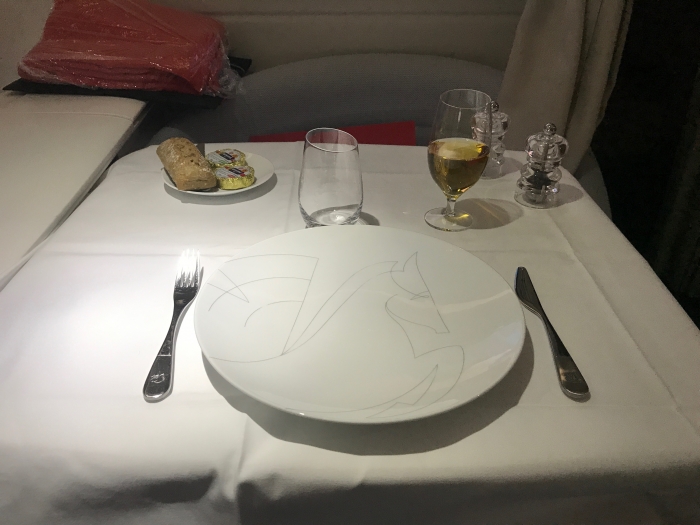 And the rest follows of course the foie gras is a success.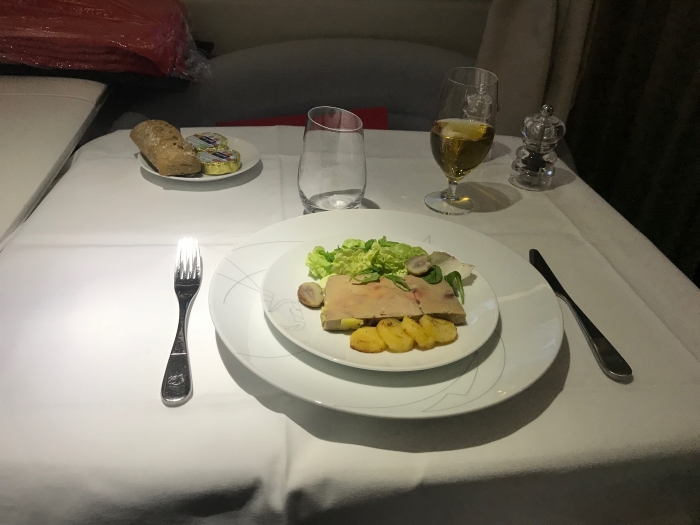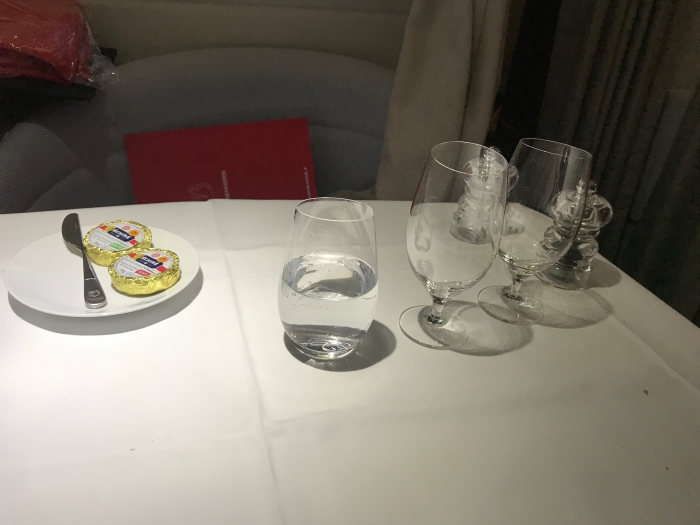 The hostess offered me to taste the 2 red wines.
This is the second one that i set my heart on.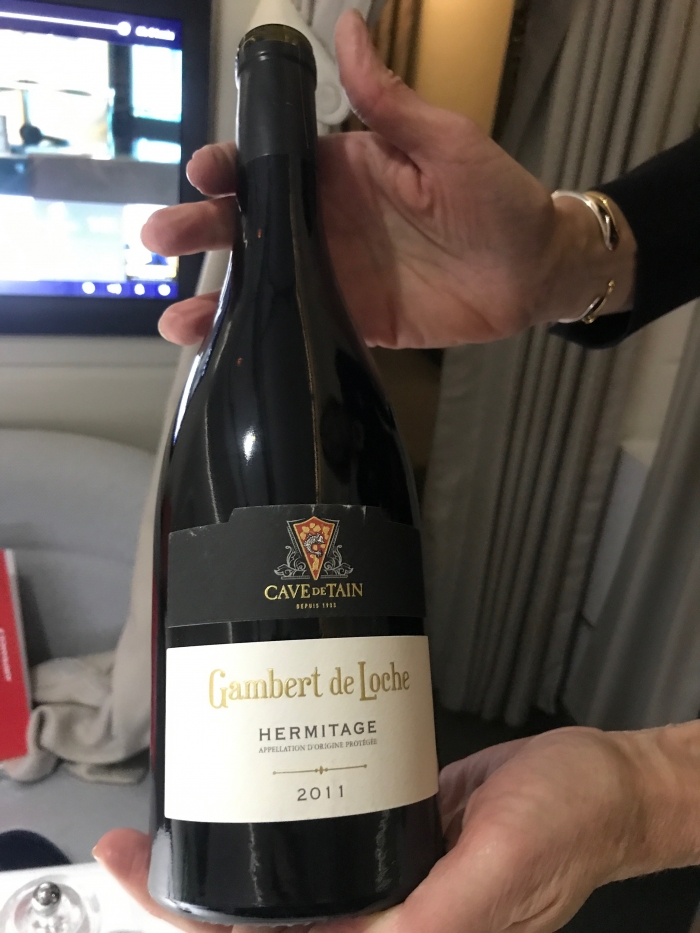 To go with the meat puffed pastry which is actually the snack served before landing.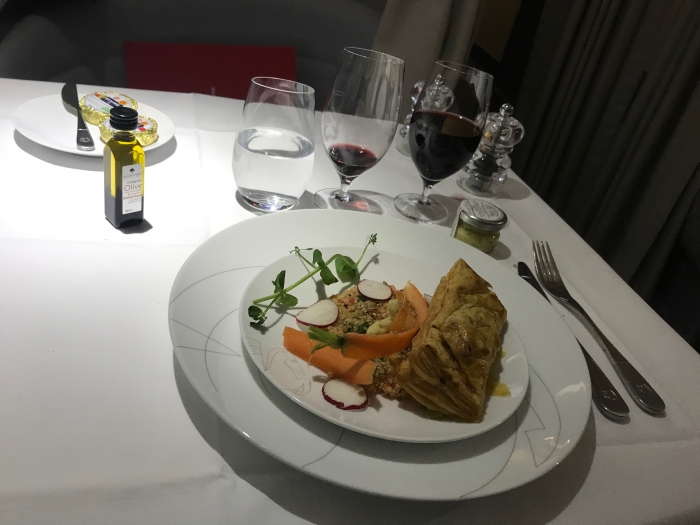 Dish seasoning.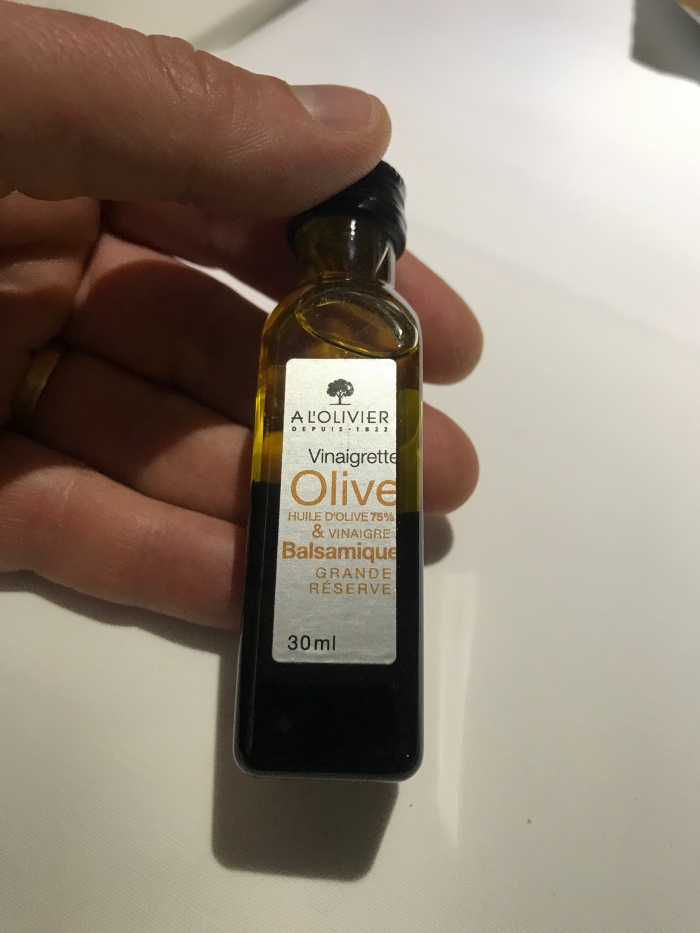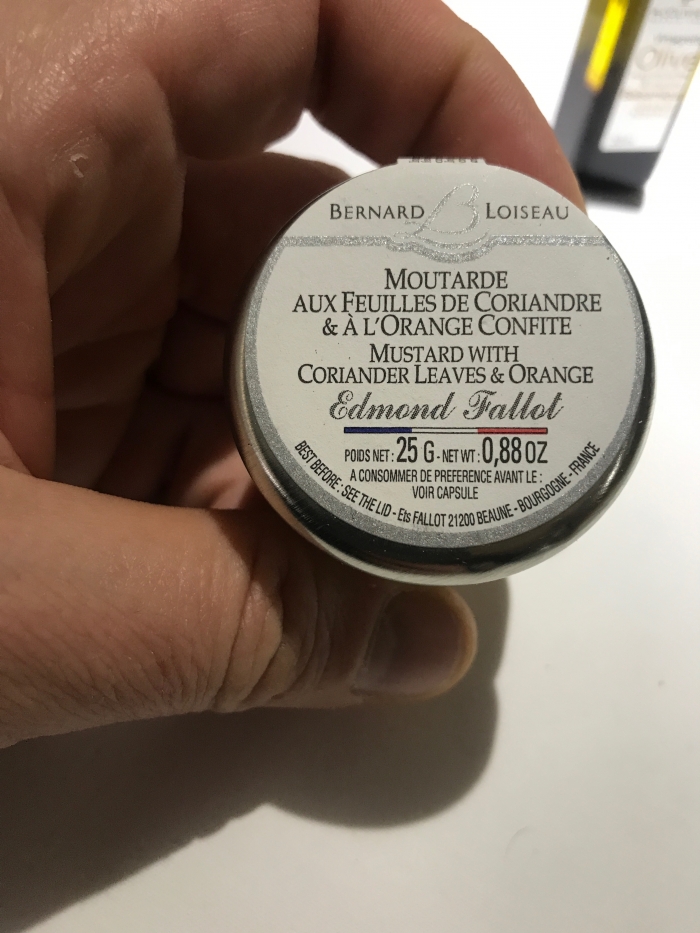 A magnificent Armagnac.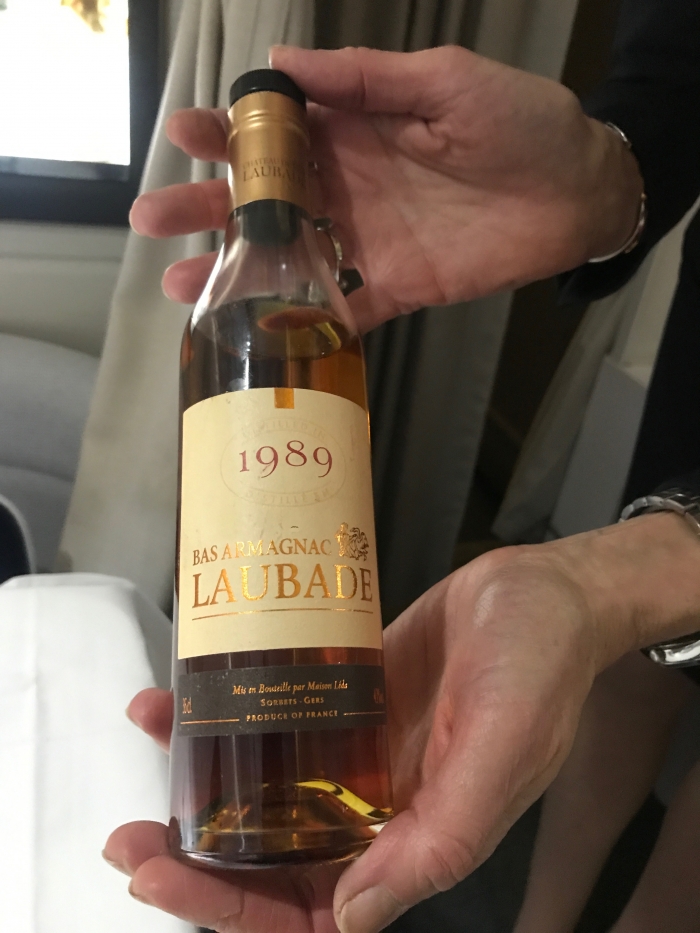 Which goes wonderfully with dessert and espresso.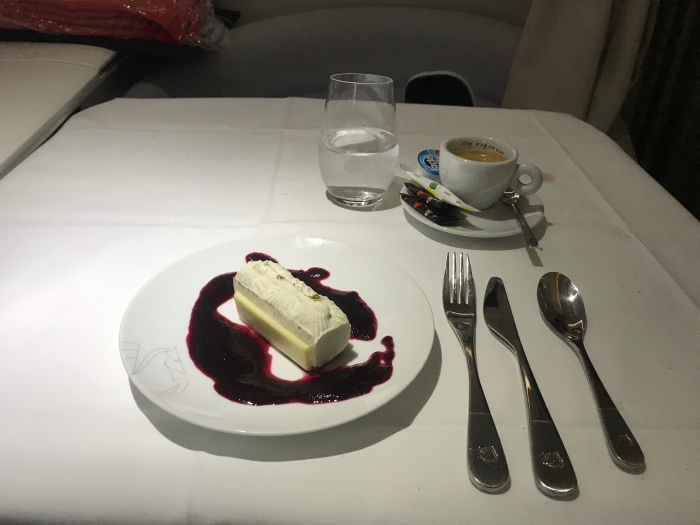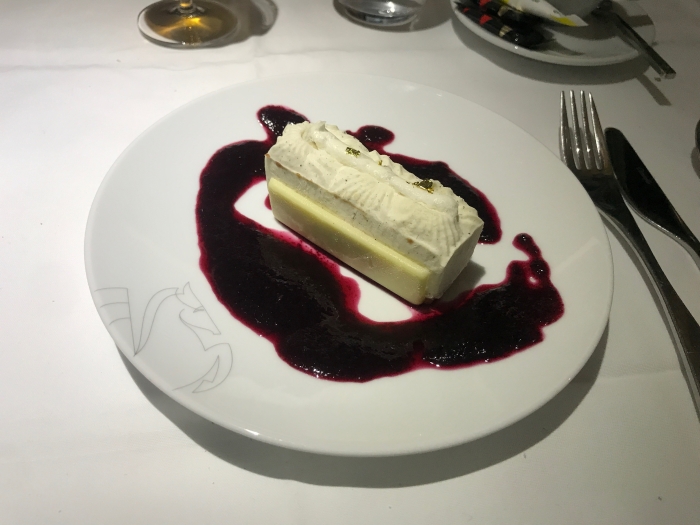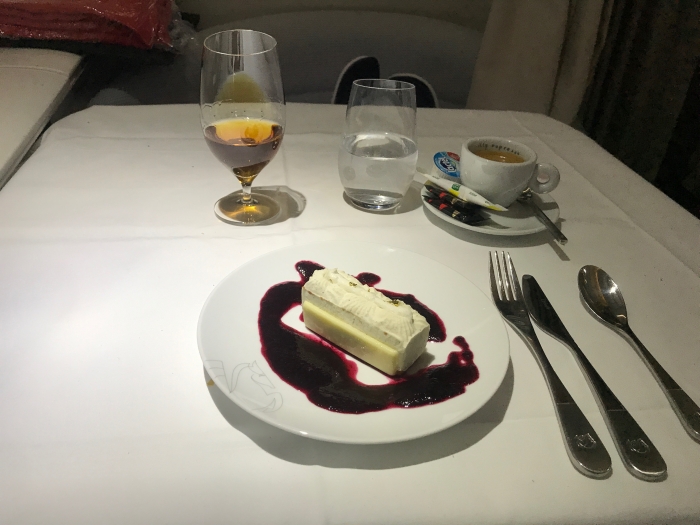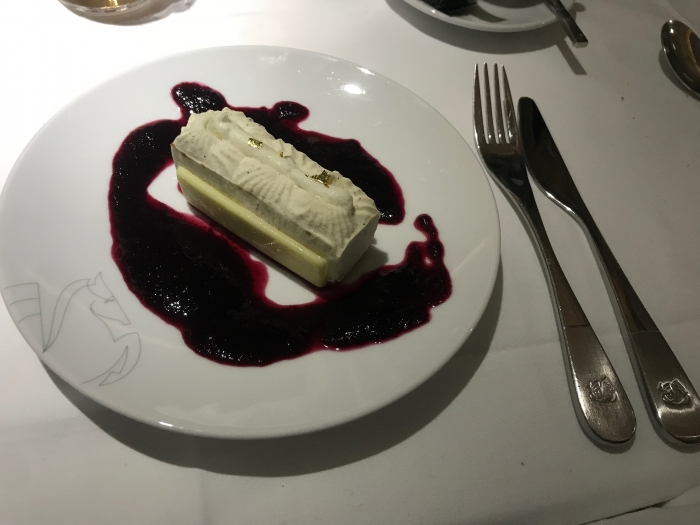 Little stroll around the cabin just to burn some calories lol! The Y is very small on this plane finally.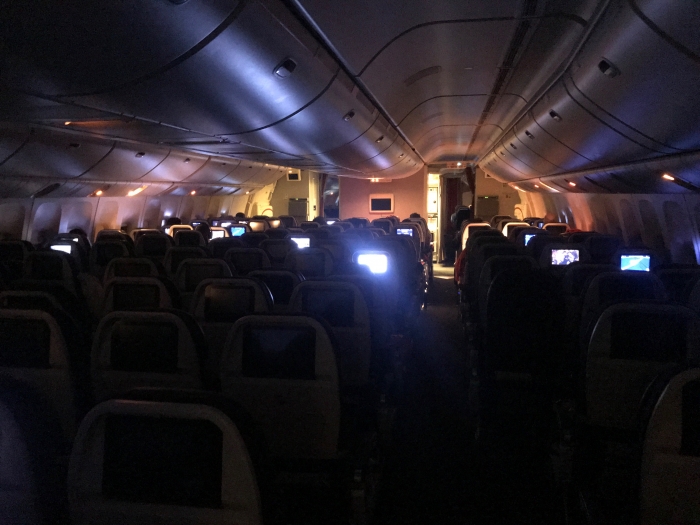 The galley in the background.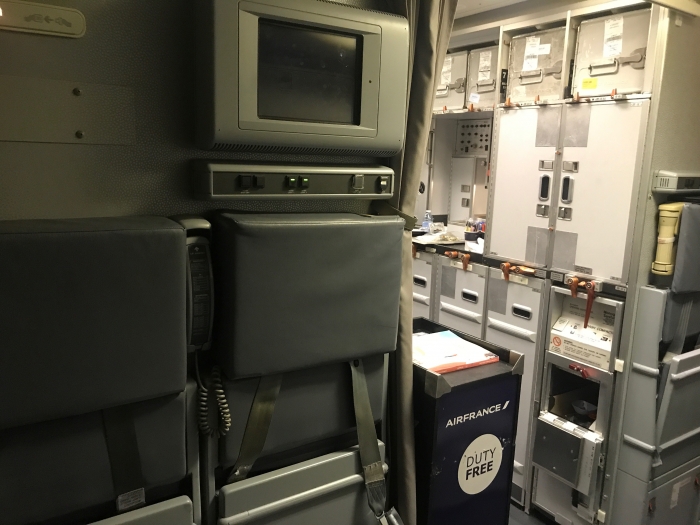 Refreshments available.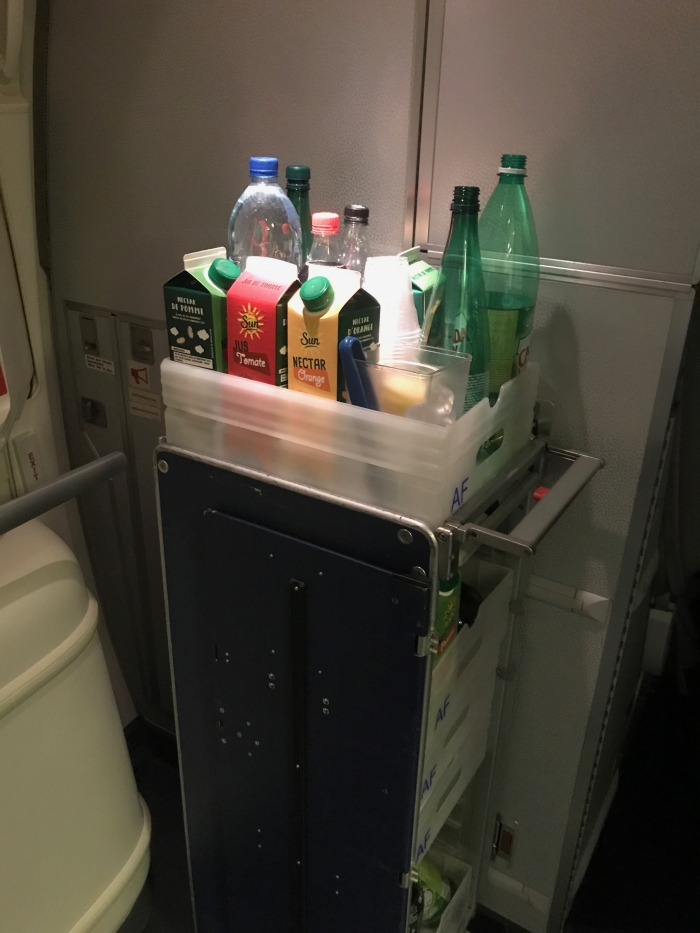 The W cabin.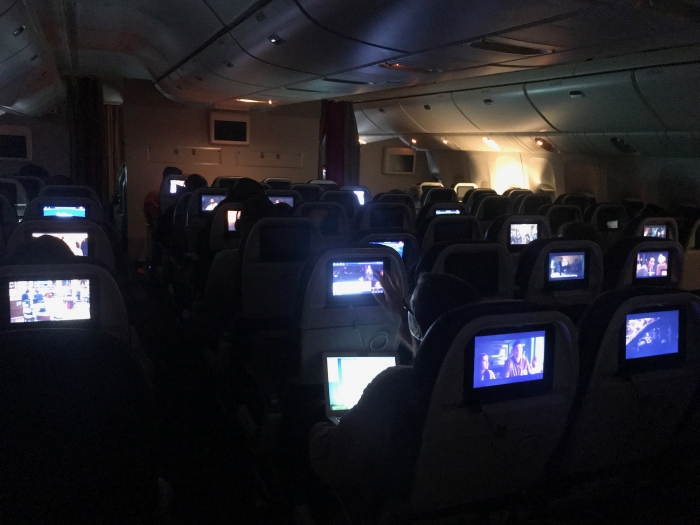 The J which is very large.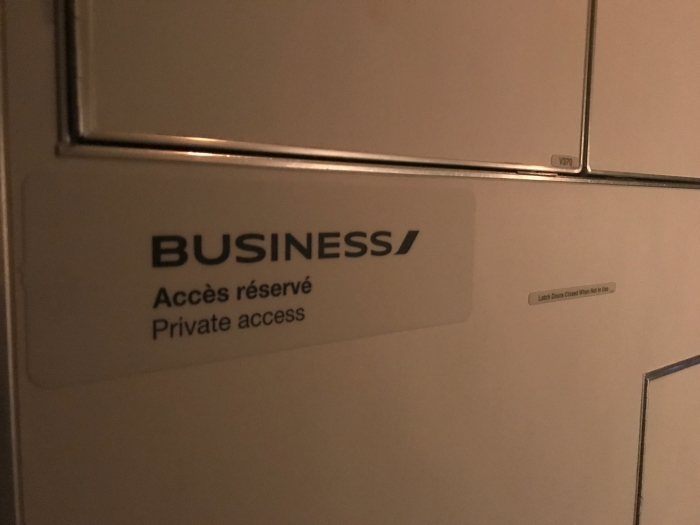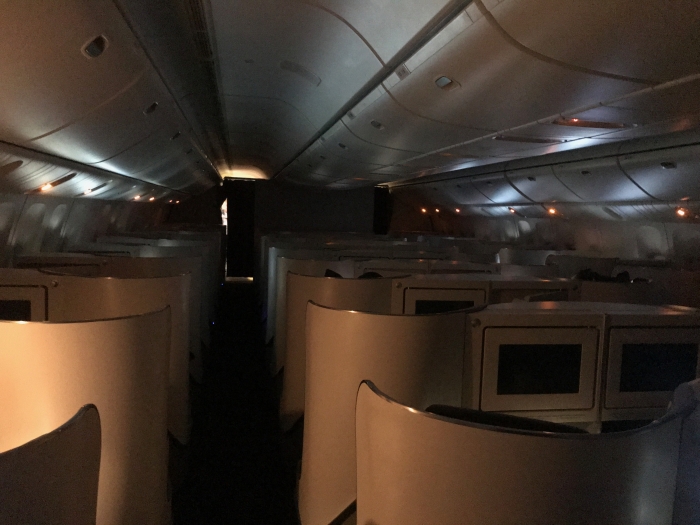 The bar available.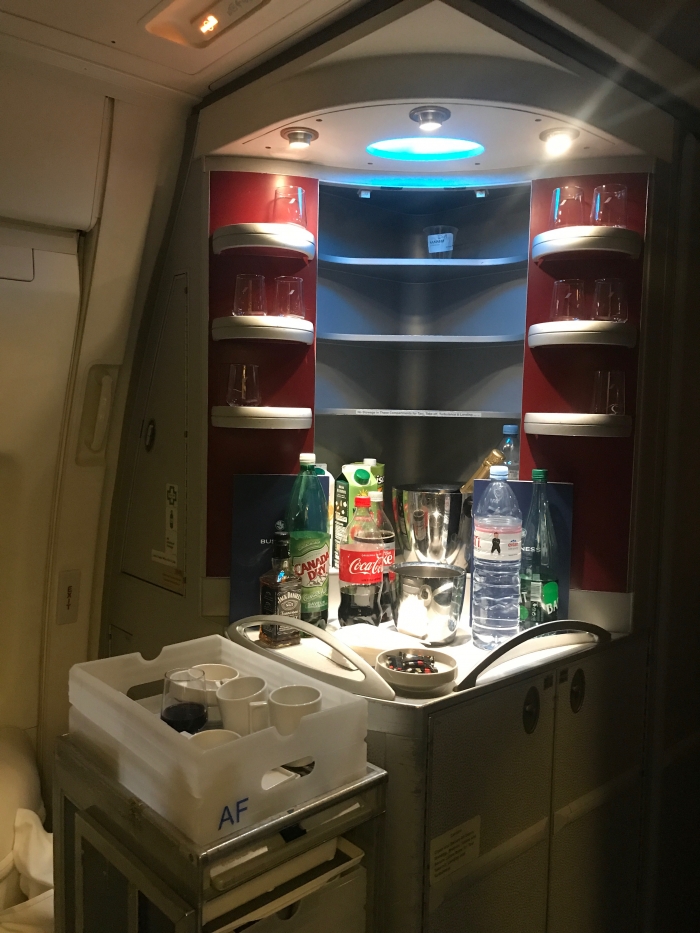 The purser office.
I return to my apartments.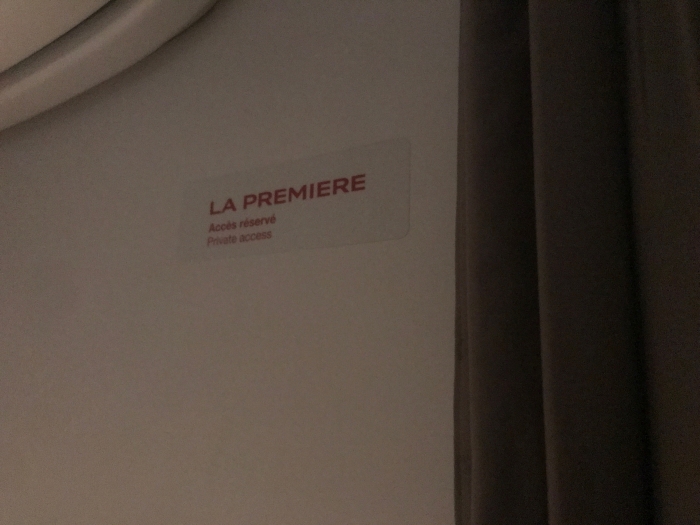 View of my living space on this flight it really makes you dream.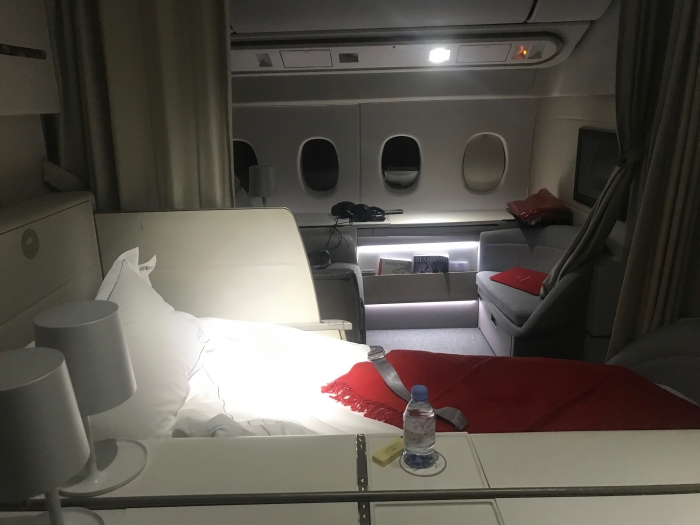 Another one for the road!
Small gift for the Avgeek that I am.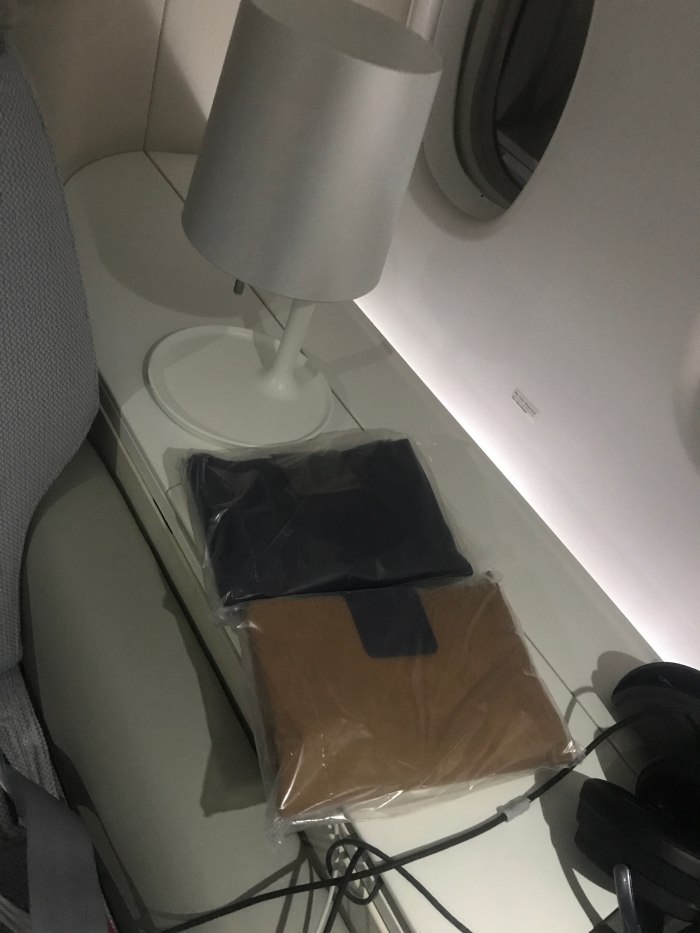 And I retire to my bed for a little nap.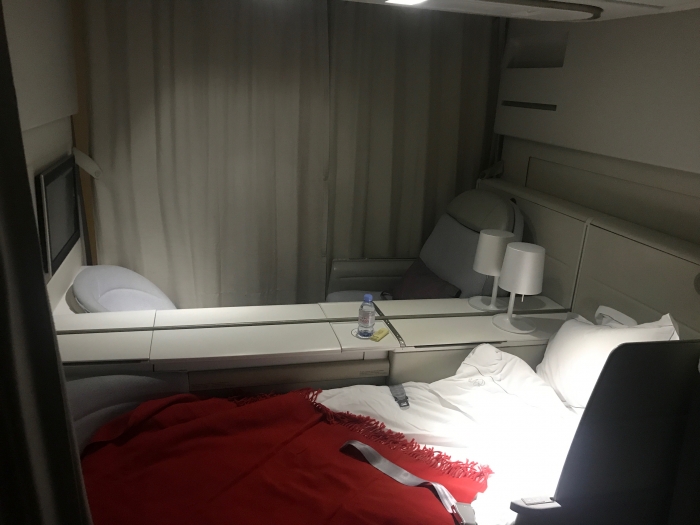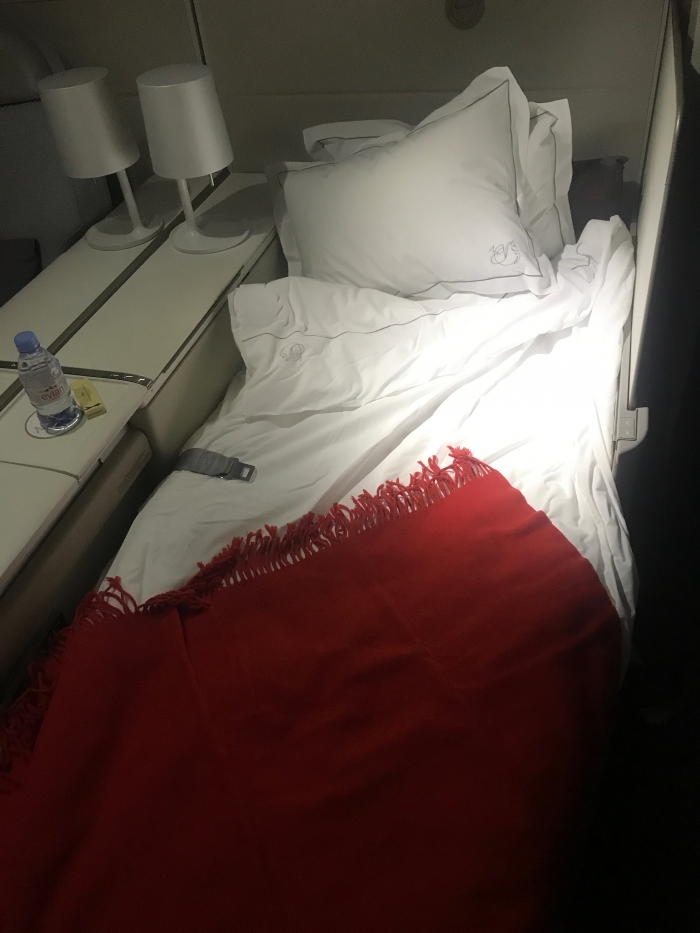 We're on top it's gorgeous and it's very comfortable.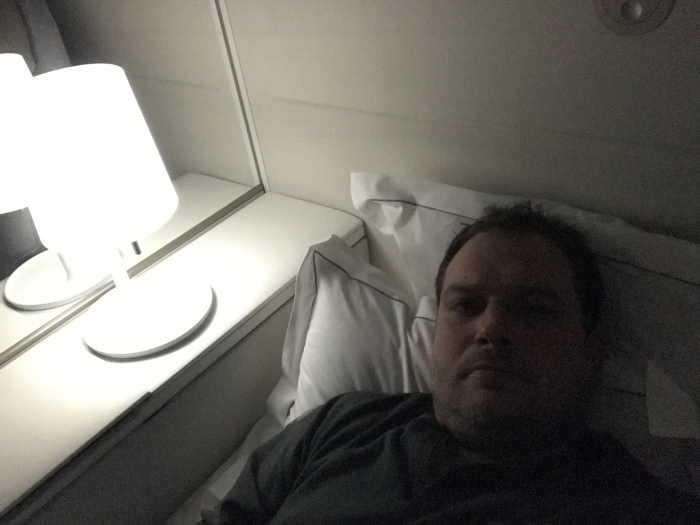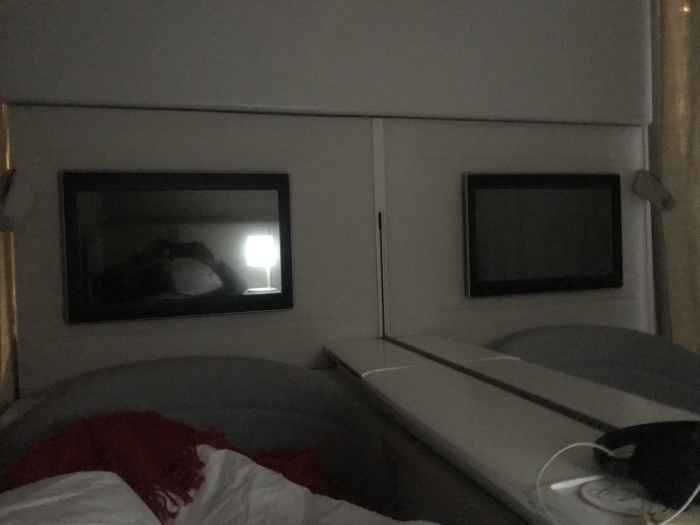 I told you!!!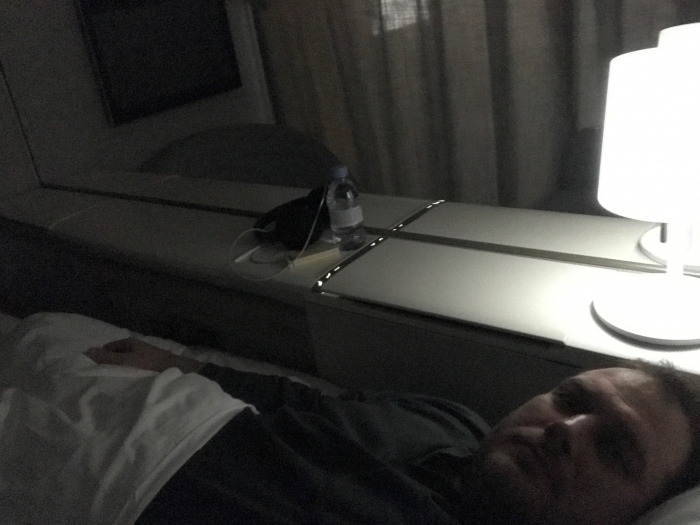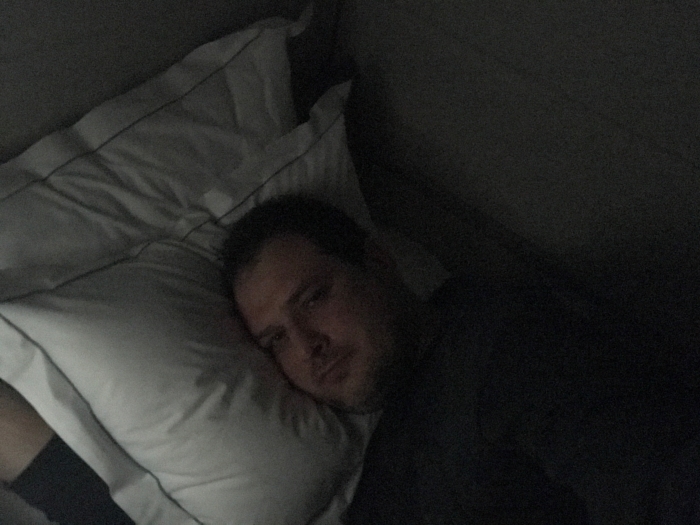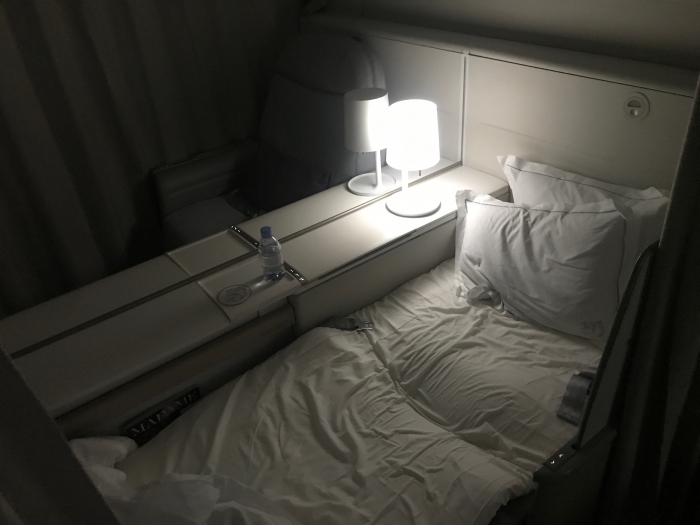 Woke up after 3 hours nap stop by the toilets and an oshibori is brought to me.
I continue my culinary orgy and choose this time some white wine.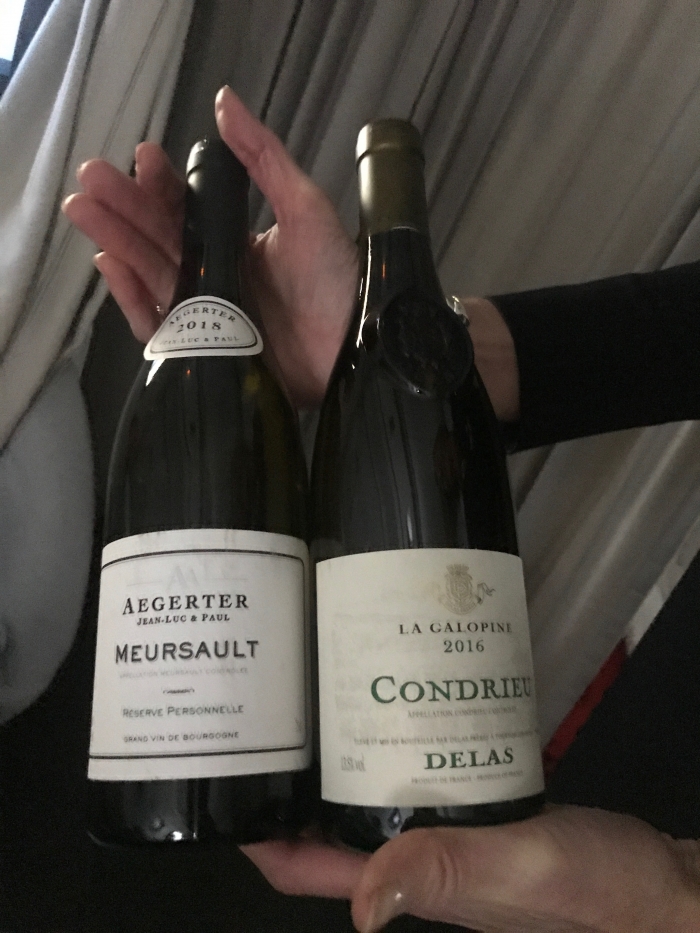 And try the scallop starter which was also very good.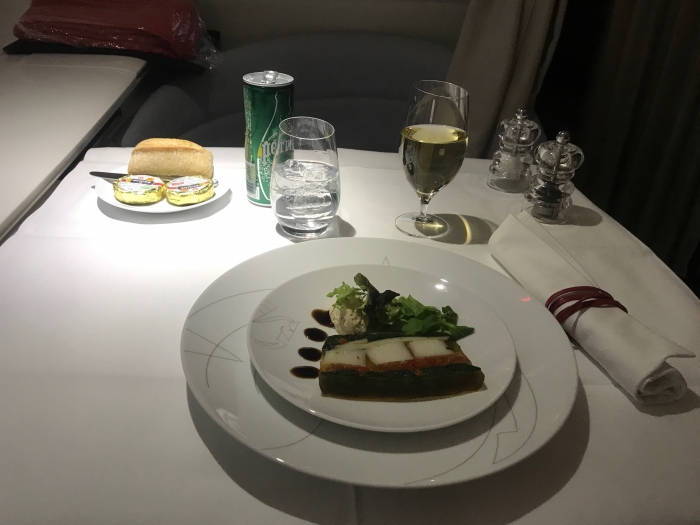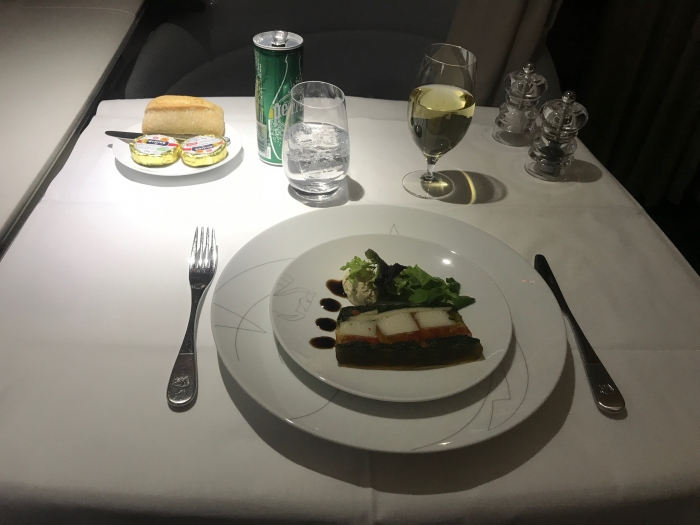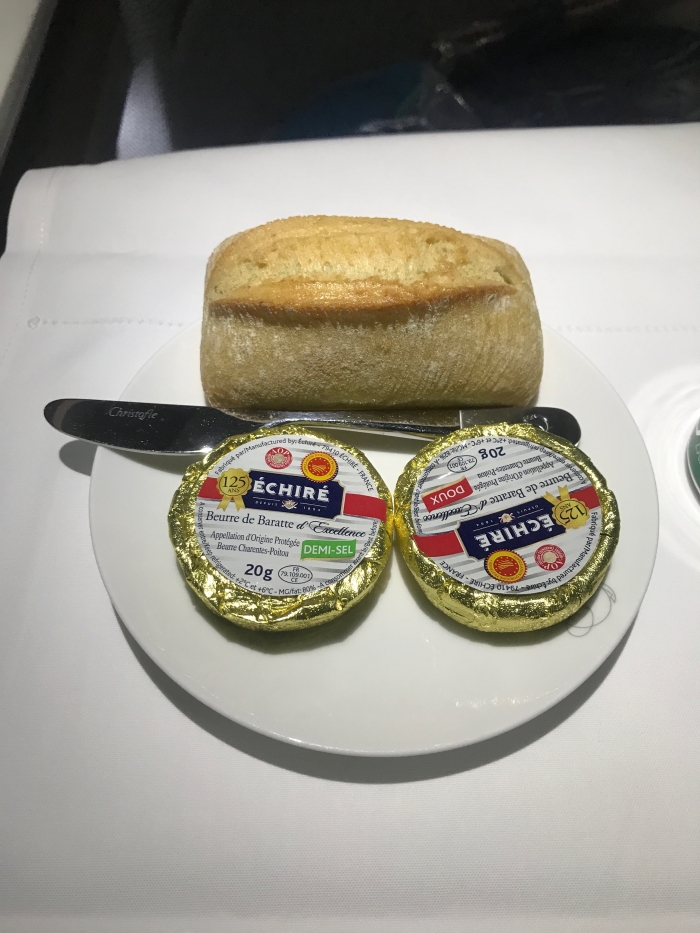 Attention to details and quality.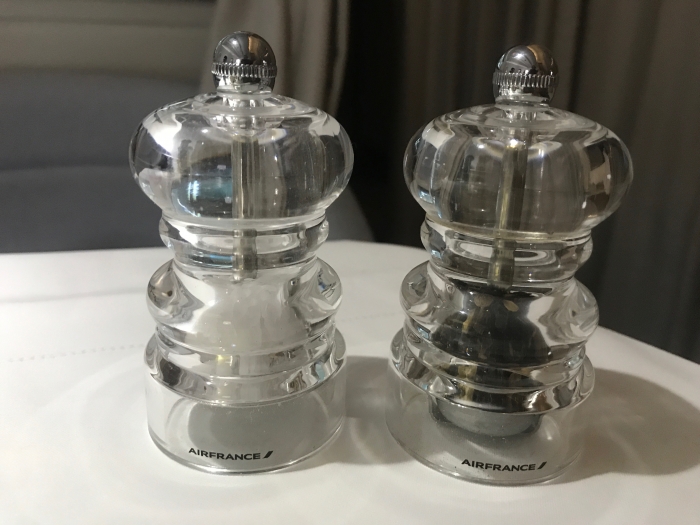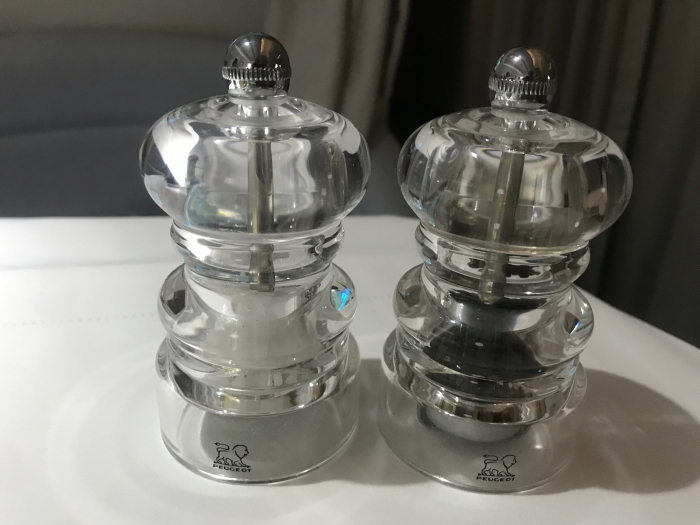 I never get tired of these blinds lol!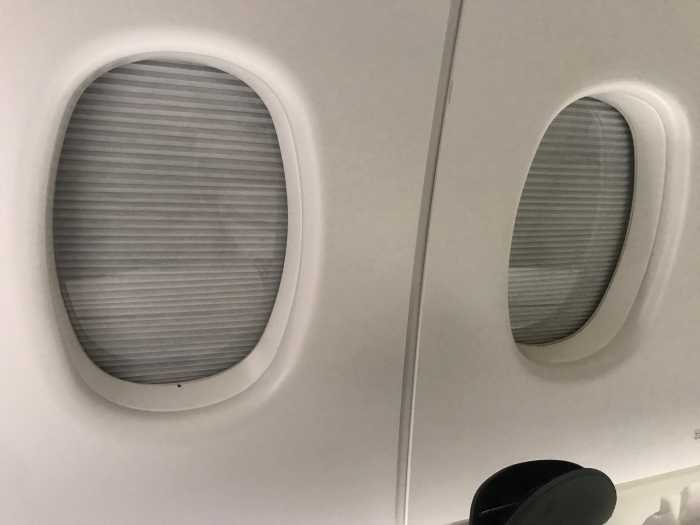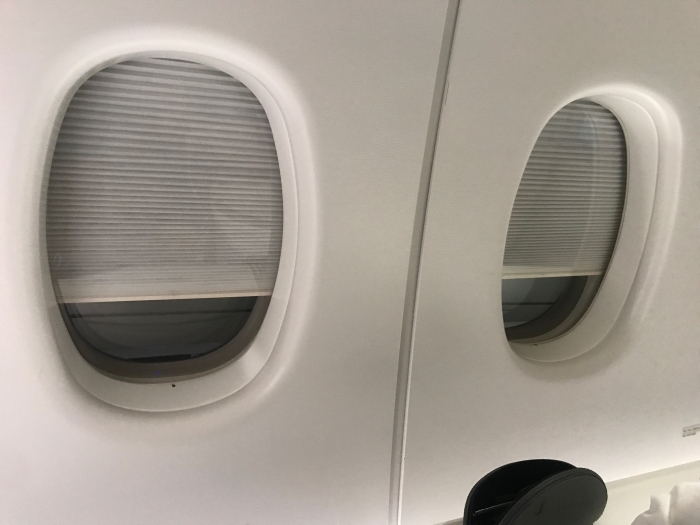 I carry on with the lobster which was also excellent. The presentation under a bell really gives this very luxury side.
But then I can't take it no more and I give up cowardly without even having tested the cheese or the other dessert ... Victory of the Food against me by Ko!
Unfortunately time flies by too quickly in these conditions and our descent is already began to JFK. The CCP who is a true aviation lover and passionate about his job will come to chat with me for a while once again it is a very pleasant moment.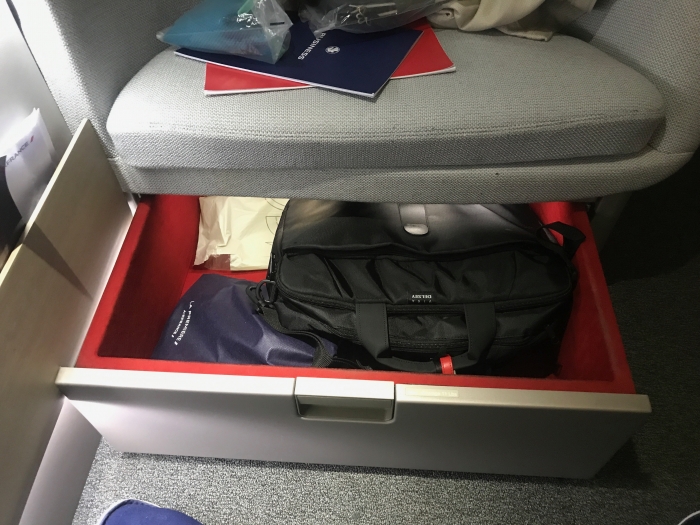 I put away my belongings and the entire crew will take by turns greeting me and I whis to add a special mention to my hostess and the J / P cabin manager who in addition to the mandatory greetings they had personal words and a very private message for me. I really enjoyed this moment and I want to thank them so much for these very special moments.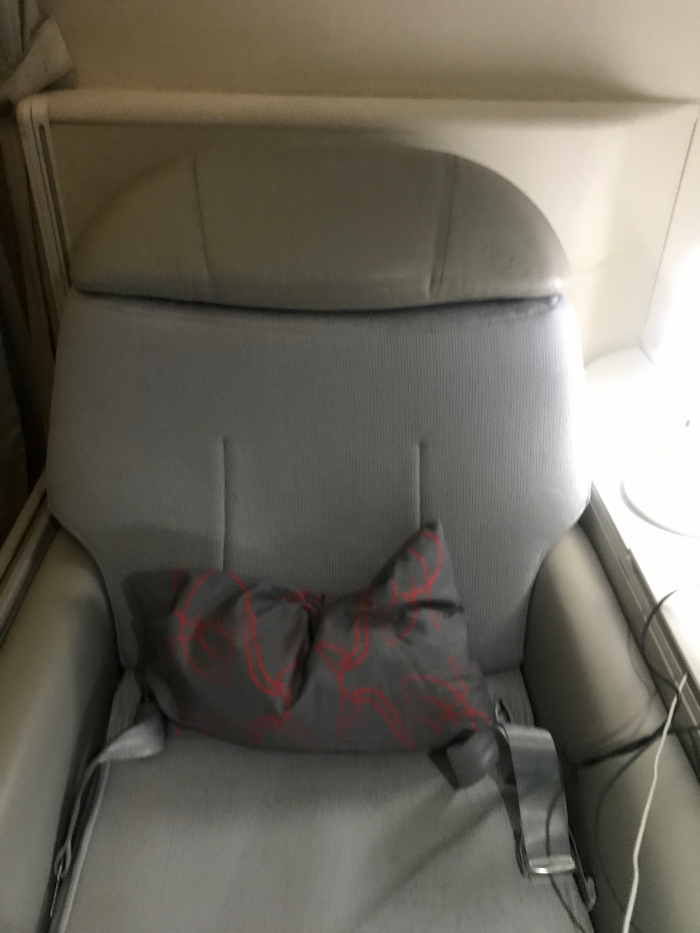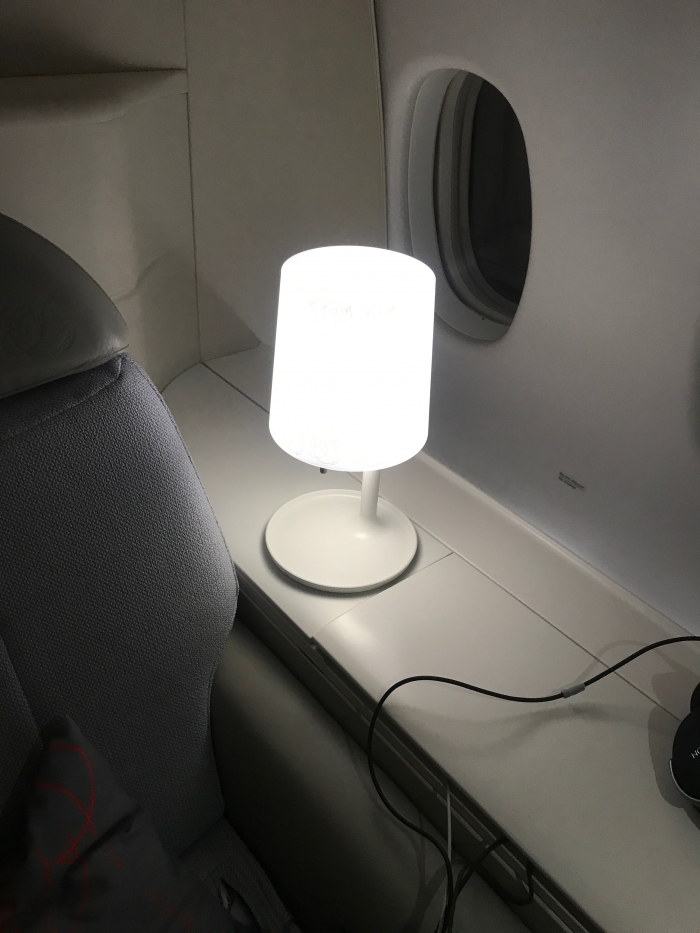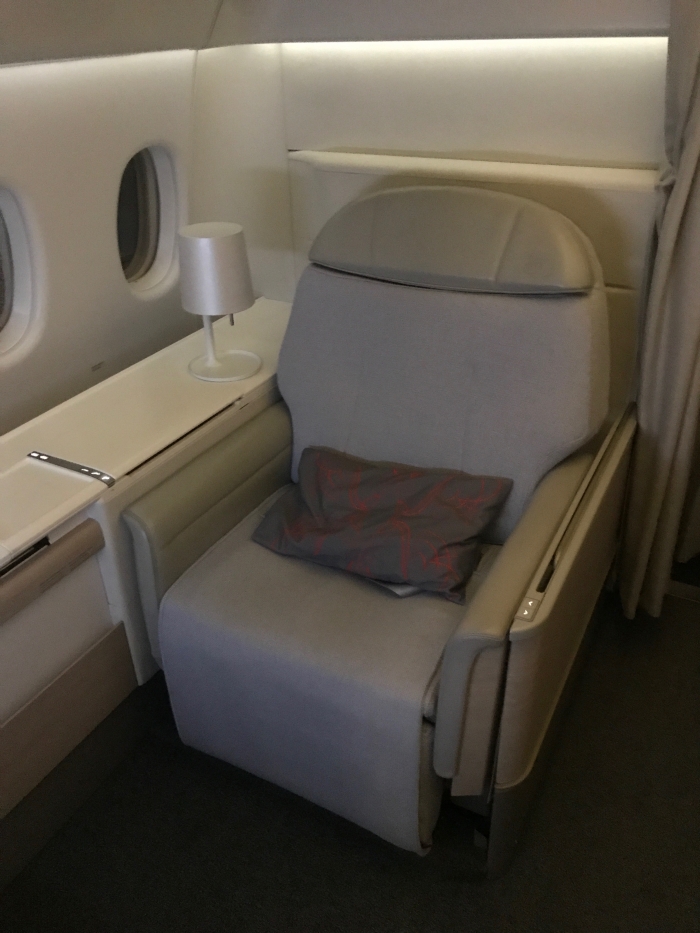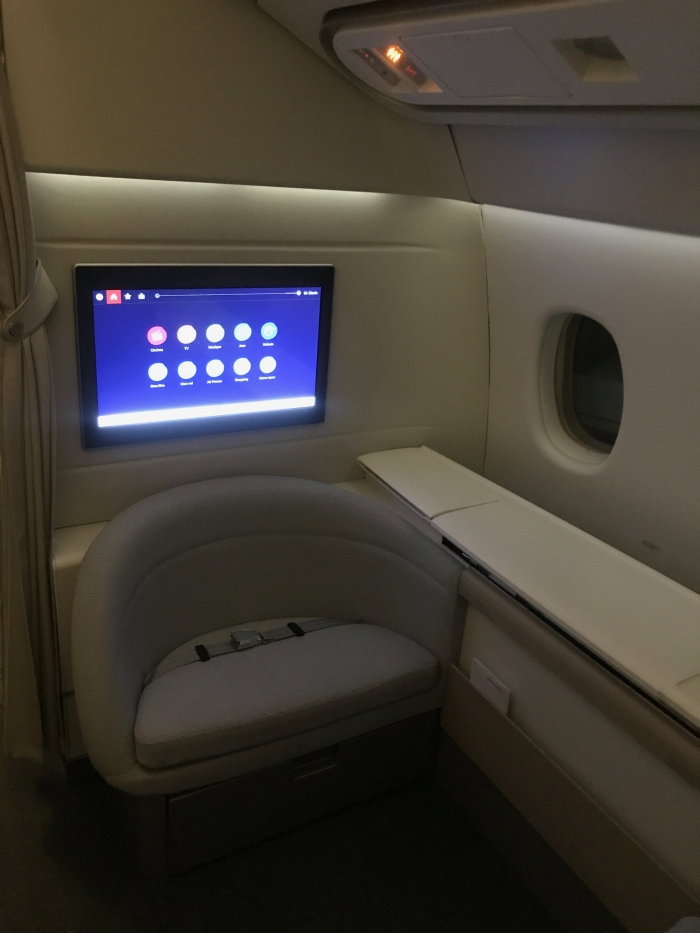 Cabin ready for landing.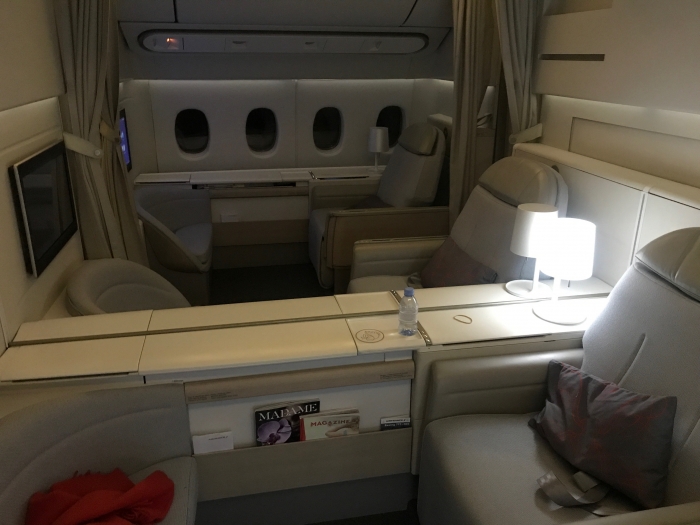 At the back of the seat is my personal wardrobe.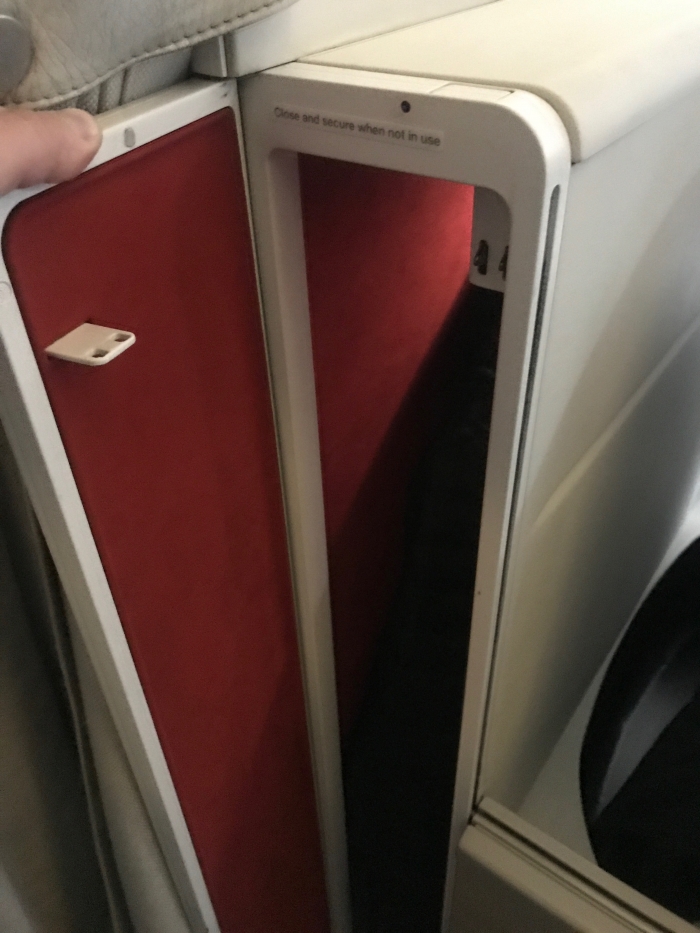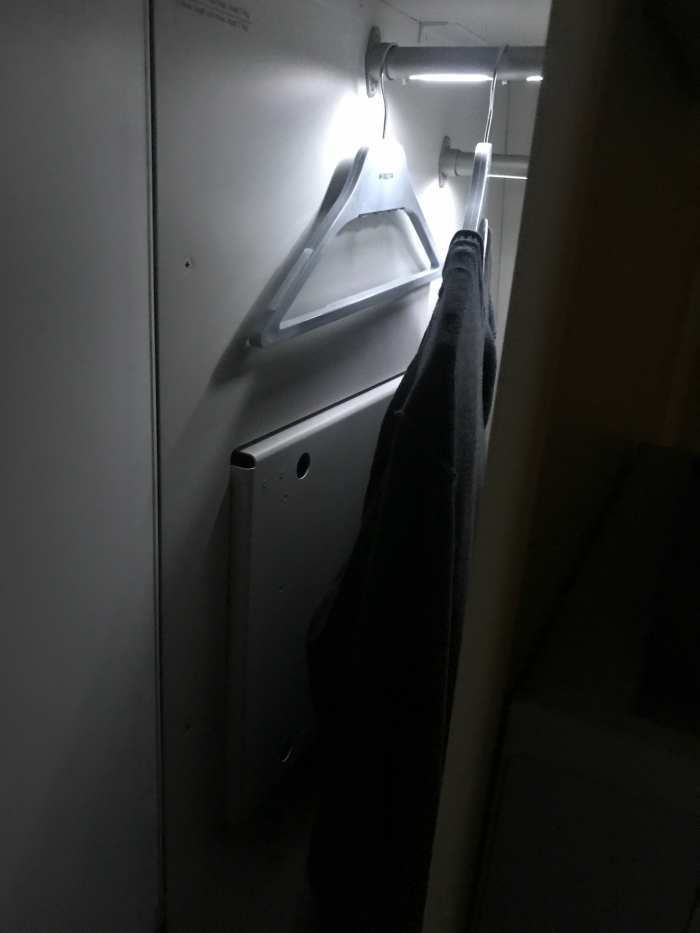 Ultimate oshibori before landing.
Here is in detail of the kit that I forgot to present to you. High standart products that can be complemented with more classic items on request from the crew.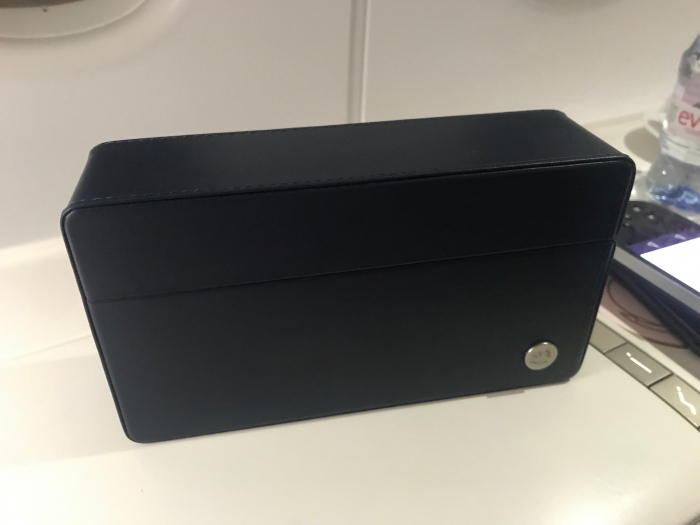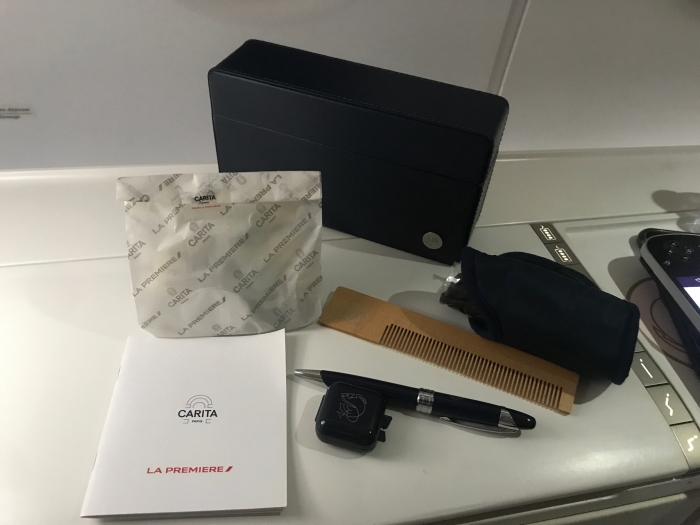 What a magnificent cabin….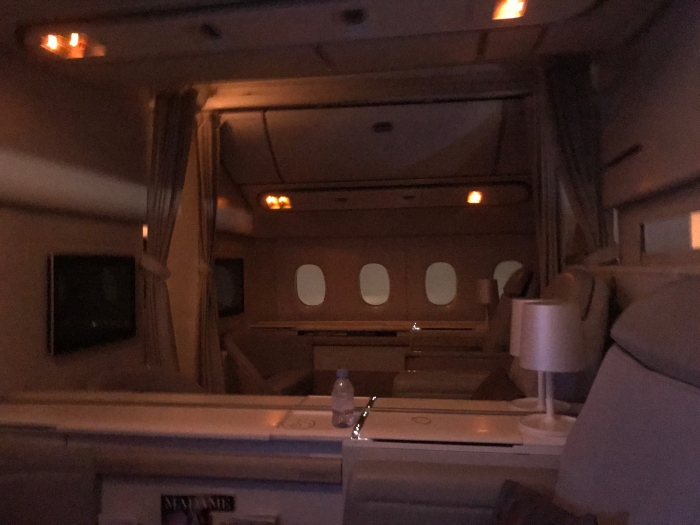 We're almost there sniff…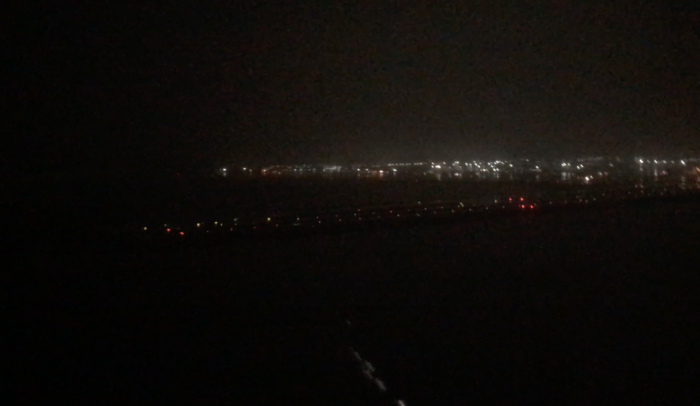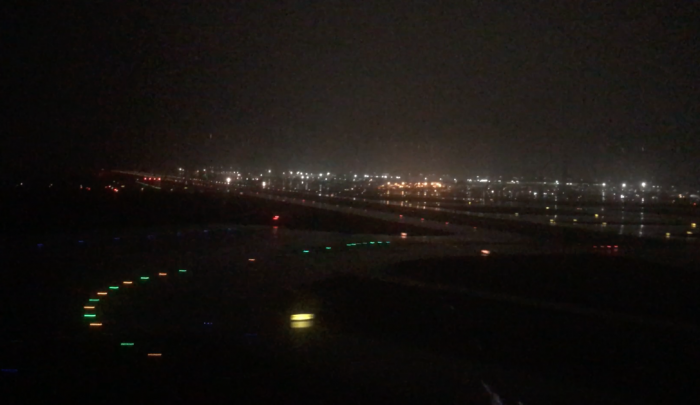 Landing and braking..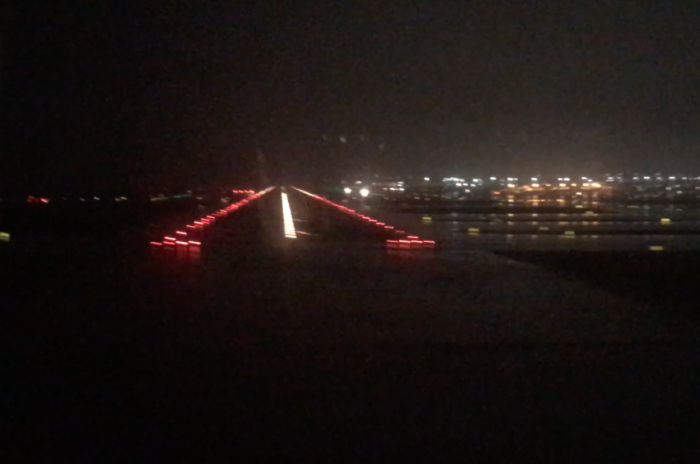 Last view of this cabin of which Air France can be very proud!!!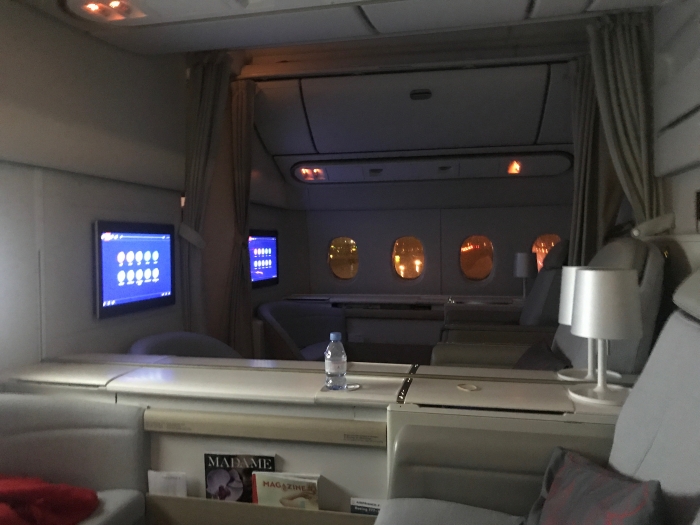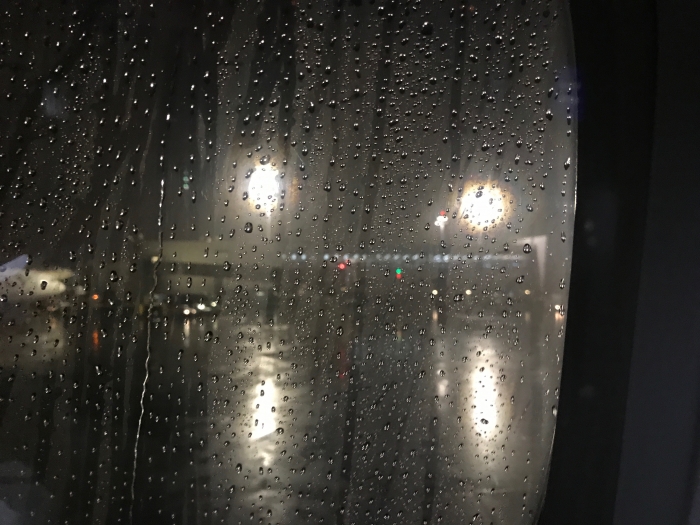 We park next to this bird which has since ceased operations.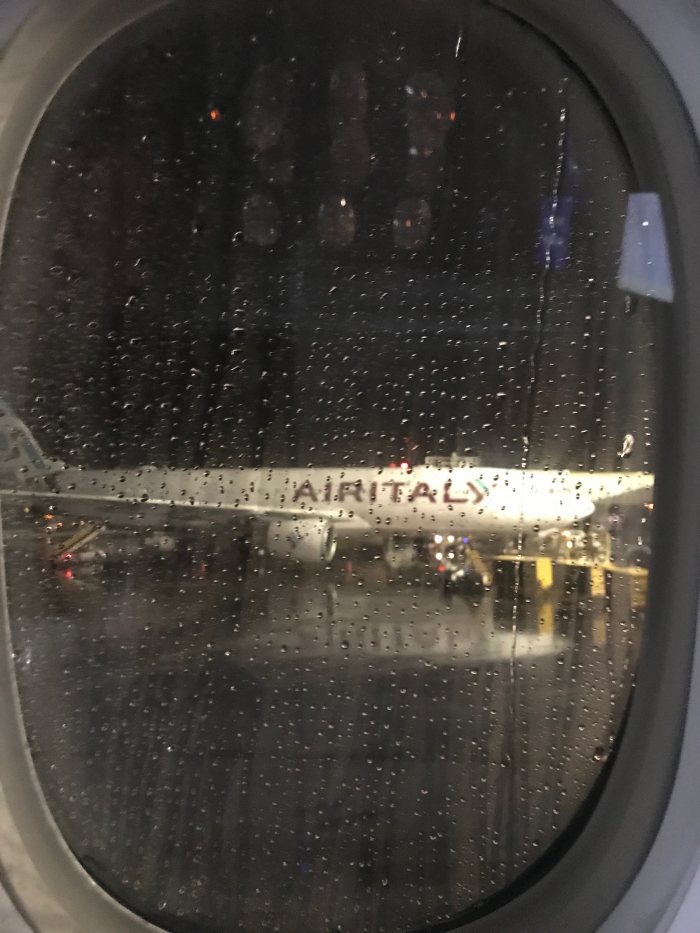 The jetbridge is approaching and the carriage will again become a pumpkin….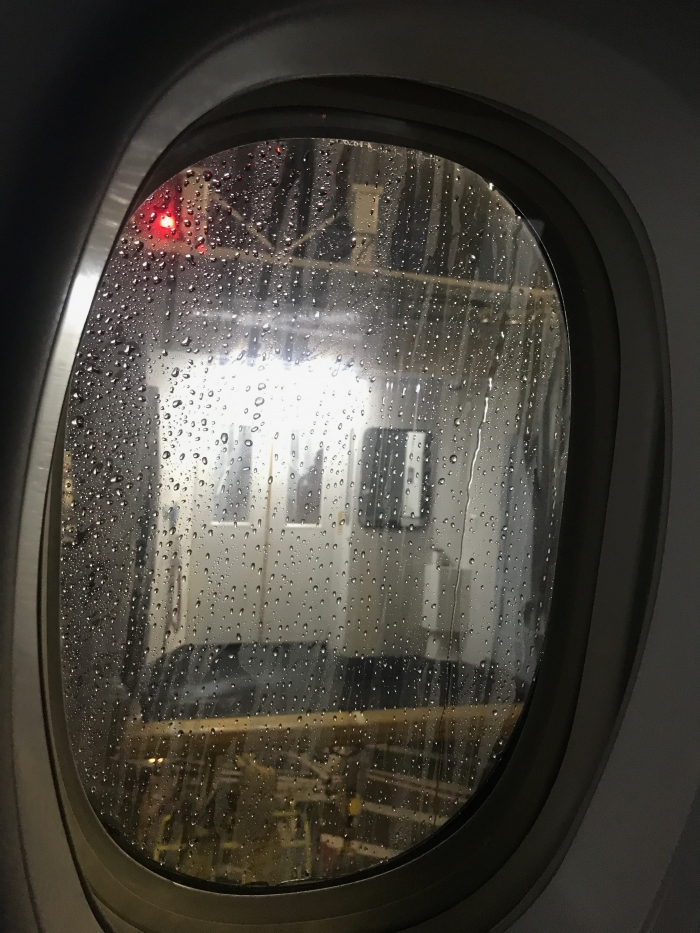 The curtains are drawn in order to block the pax J while my host takes care of me.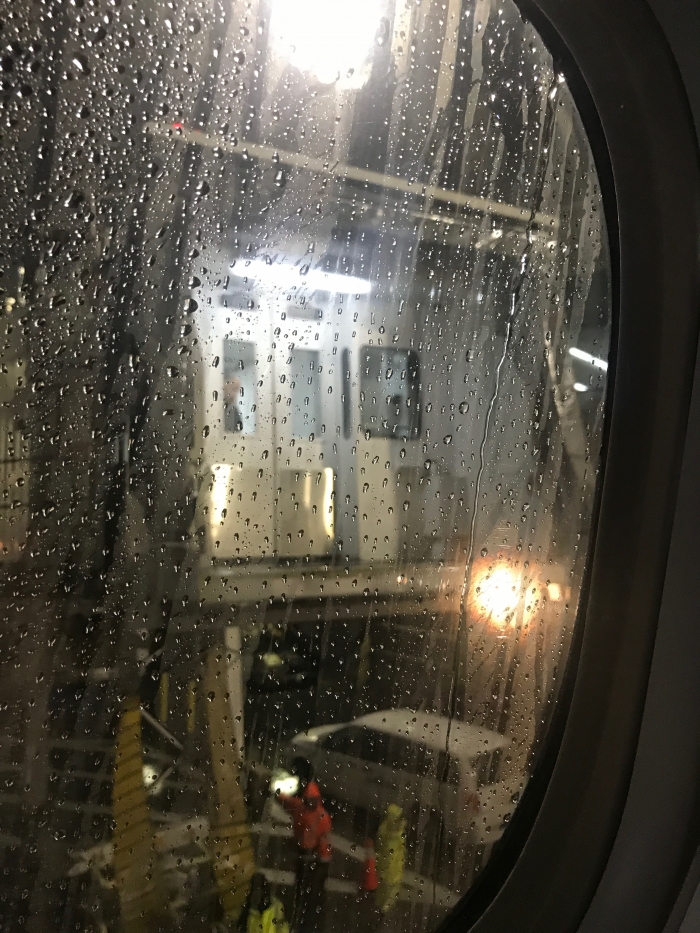 We're on time.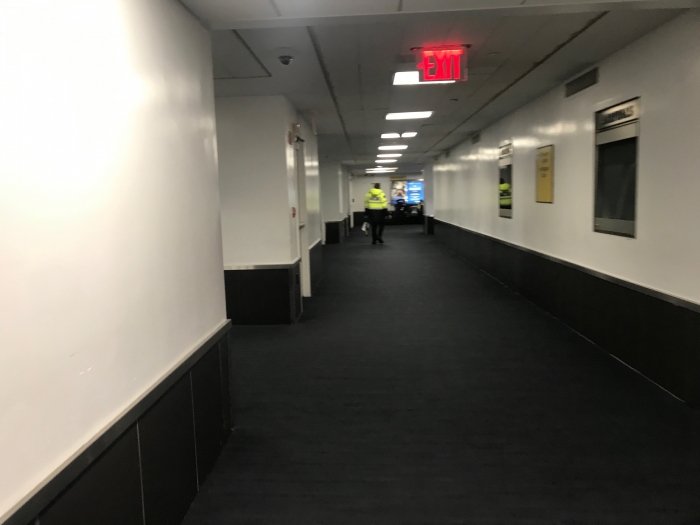 Direction TSA which we will go through in less than 5 minutes by borrowing my lane dedicated to diplomats.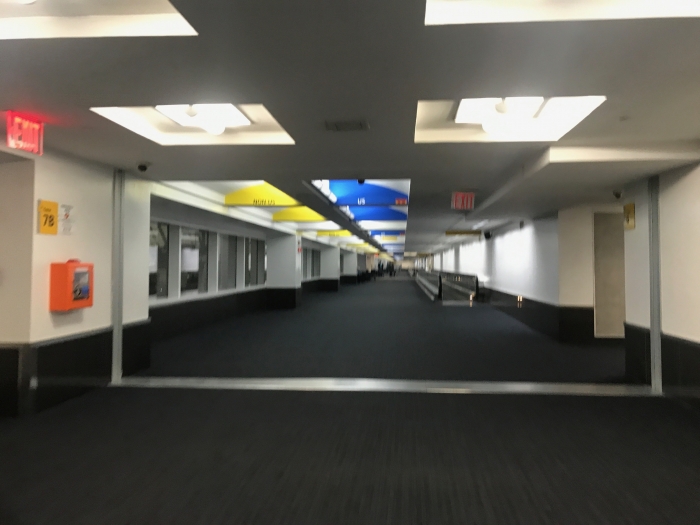 As my previous flight in P towards JFK as soon as I pass The TSA through my suitcase is already on the belt!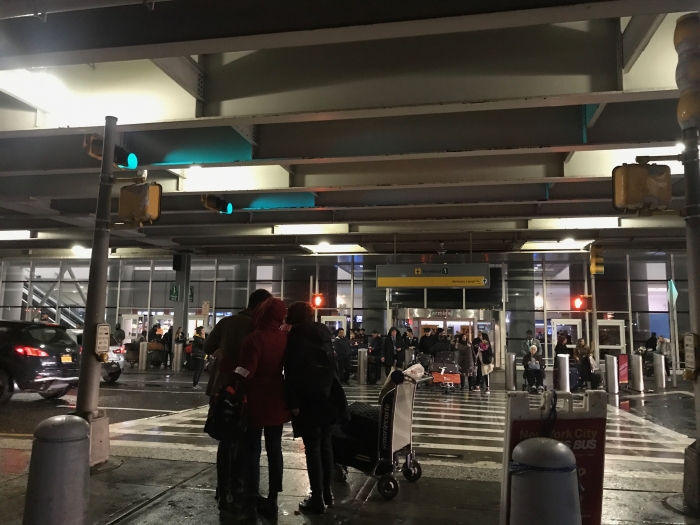 Less than 10 minutes passed by the time I exit the plane and the moment where I am outside of the airport .
My host takes me to the air train.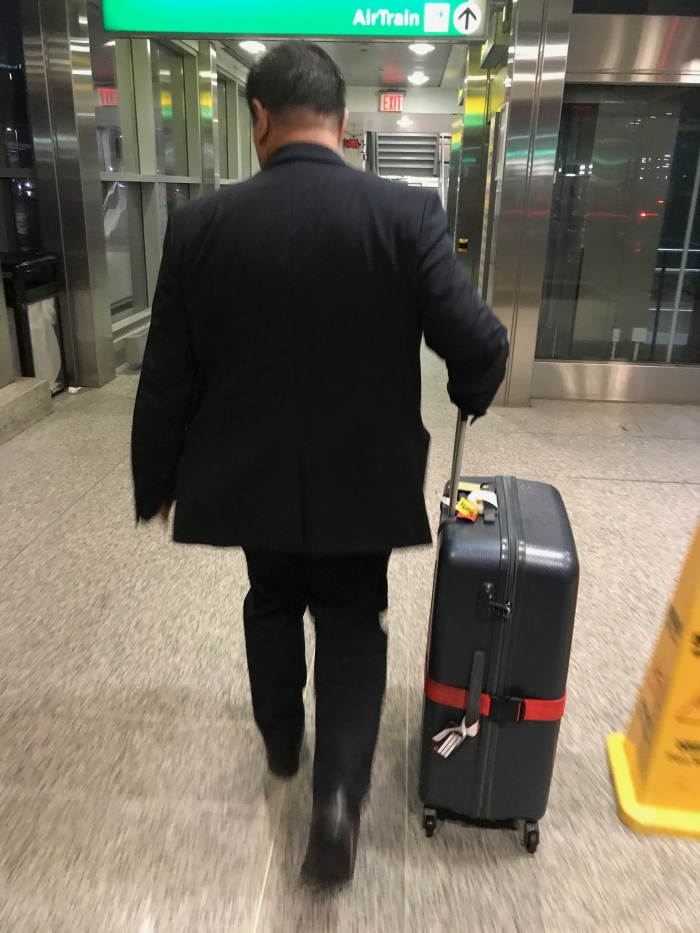 La Première luggage tag.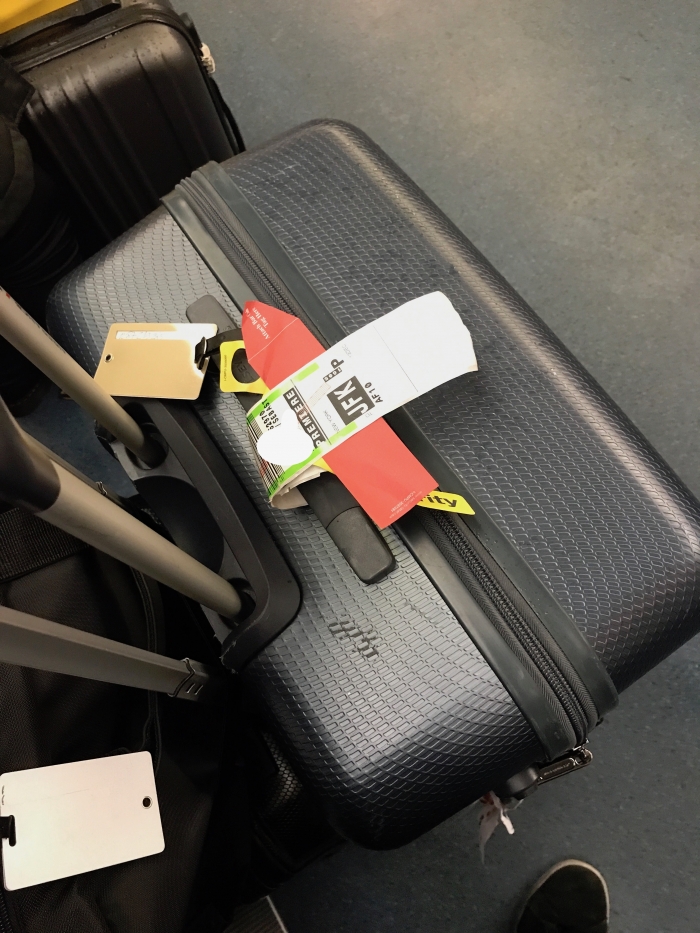 This is where I leave you the rest you already know. I hope you enjoyed reading this TR as much as I did sharing with you every moment of this magical moment. Thank you all for your reading and see you soon.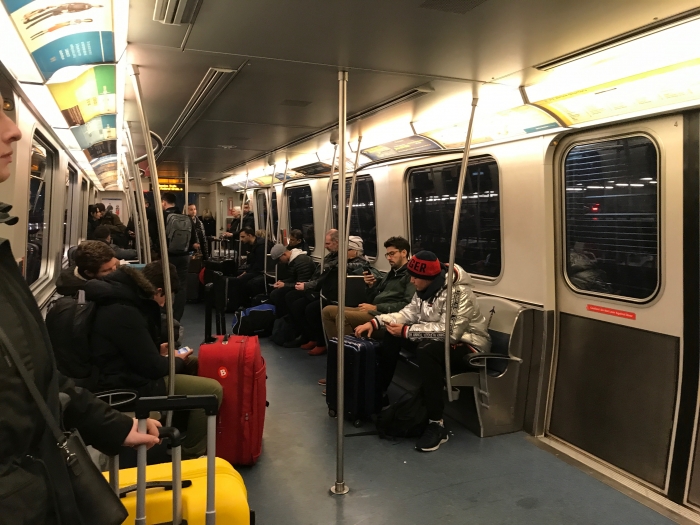 ========== Paris Charles De Gaulle (CDG) - ==========
Security/Immigration efficiency:
10/10
Access and parking:
10/10
Services and activities:
10/10
General cleanliness:
10/10
========== La Première Air France ==========
========== Air France - Airline ==========
On-time performance:
10/10
Breakfast or light meal before arrival:
10/10
========== NewYork JFK (JFK) - ==========
Security/Immigration efficiency:
10/10
Access and parking:
10/10
Services and activities:
10/10
General cleanliness:
10/10
Summary:
Is there really a need to sum up after such a flight. I think it all comes down to one word, PERFECTION.
In lack of a true conclusion, I would like to thank all the Air France teams who allowed me to live this exceptional moment. From the dedicated hotline to book treatments, reception at CDG, in the lounge, in flight and on arrival at JFK, everything was with an accurate precision and perfection. It is true that I do not know what other companies offer in F but honestly given the quality of the service offered why go to see somewhere else?
Thanks again to all Air France employees who work passionately every day to serve their customers.
And a big thank you to my lovely wife for translating all the TR in English for me!