Prologue:
Hello and welcome to the continuation of my trip to Milos.

We previously flew from Corfu to Athens in order to connect to this flight due to the lack of direct Corfu - Milos flights. Thankfully the leg from Athens to Milos is only about 40 min. (sometimes less) so this was not such a big hassle. In addition we had plenty of time for some lounge hopping so we visited the A3 and Goldair Handling lounges in Athens. We tried the LH lounge but since the flight was booked on OA even though they are a subsidiary of A3 we were refused entrance.

Here are are at the Schengen A3 lounge. Upon entering you will find some publications by the reception desk.
The lounge is not big for being a hub lounge. A3 opened a new lounge on the non Schengen side that is supposed to be the pride of the network and a fitting lounge for its hub but unfortunately you can only access it if you are flying on *A to a non-Schengen destination.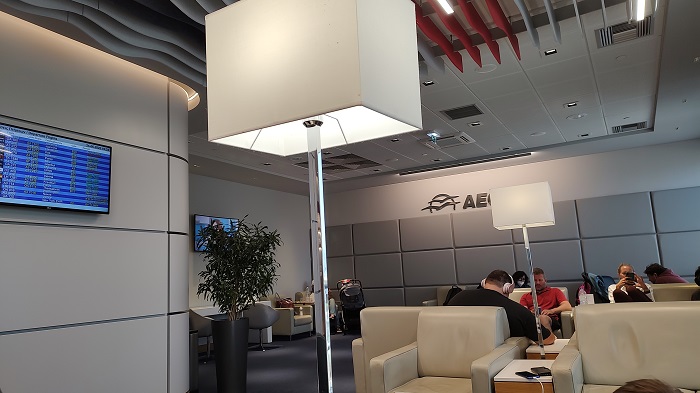 Buffet area.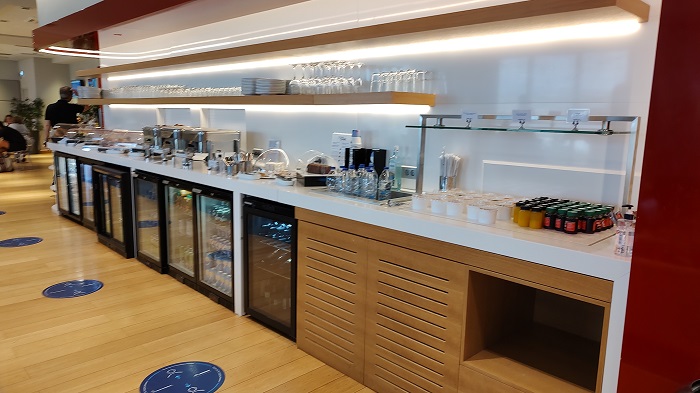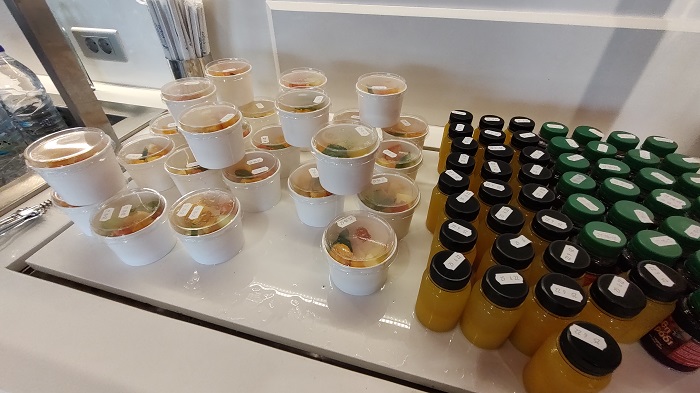 The only hot items you find at this lounge are the filled pastries.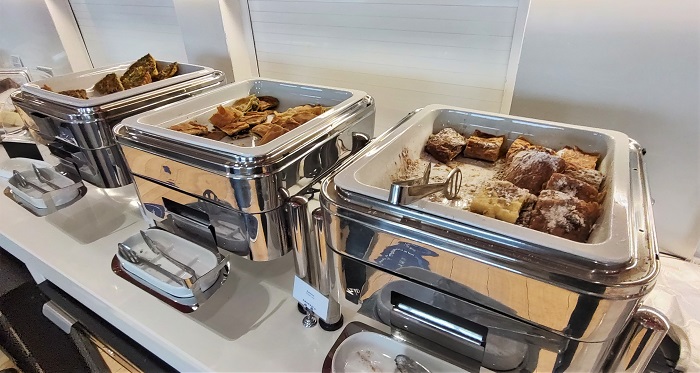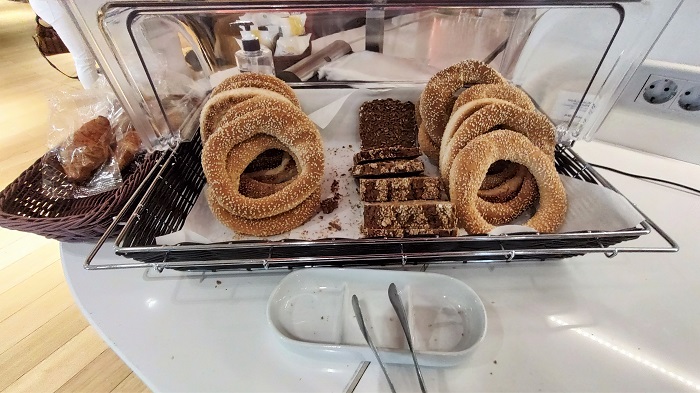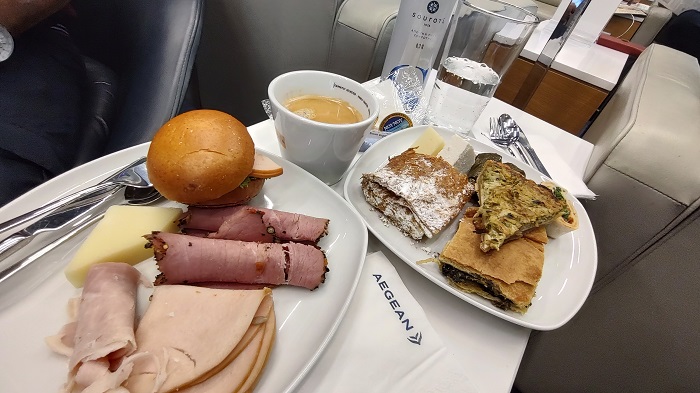 Liquor cart by the coffee counter. There is an attendant to make your hot drinks.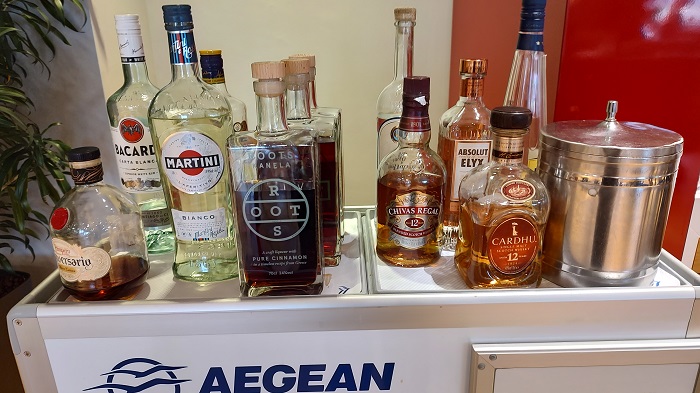 The Goldair is located a few steps down from the A3 one. This lounge is part of the Priority Pass network and it is also used by AF and ITA.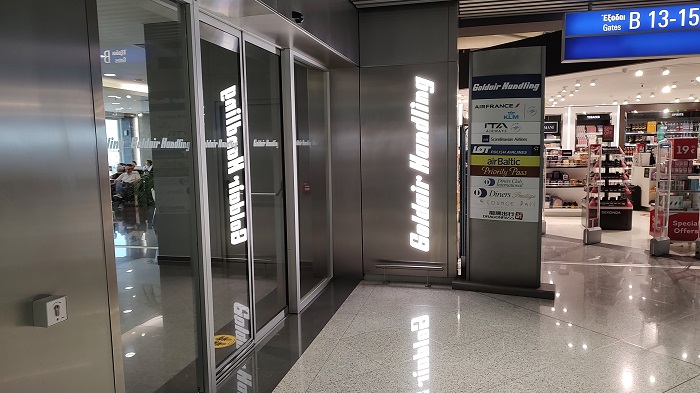 An efficient welcome at the desk.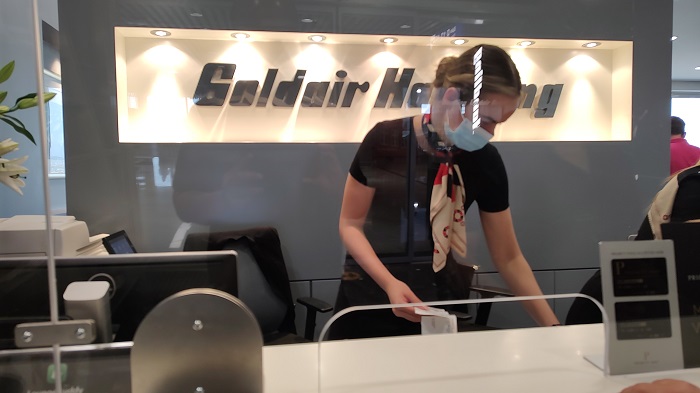 The lounge is not too big and can suffer from overcrowding. However I find that the catering is better than A3 and there are more choices for hot dishes.
Drinks area.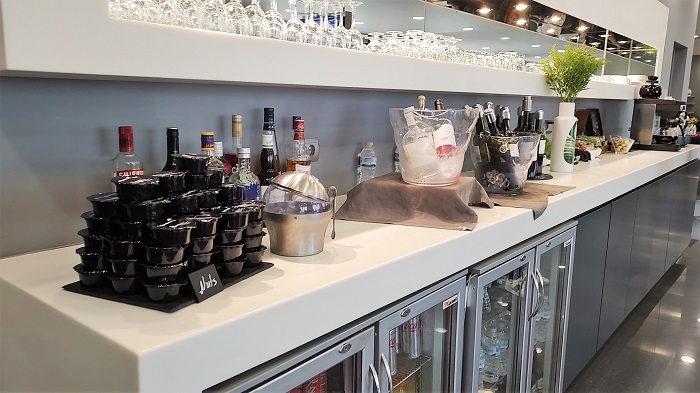 Buffet.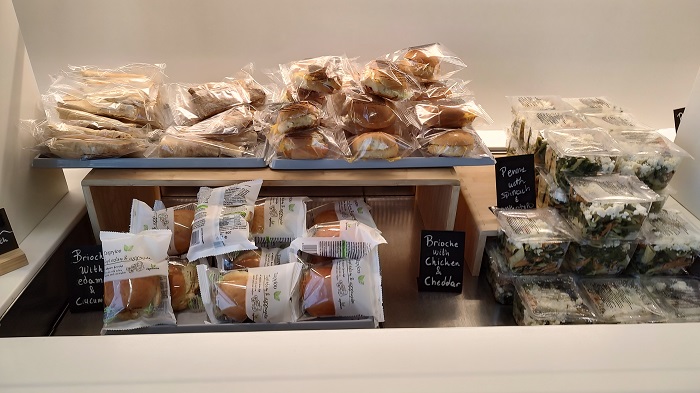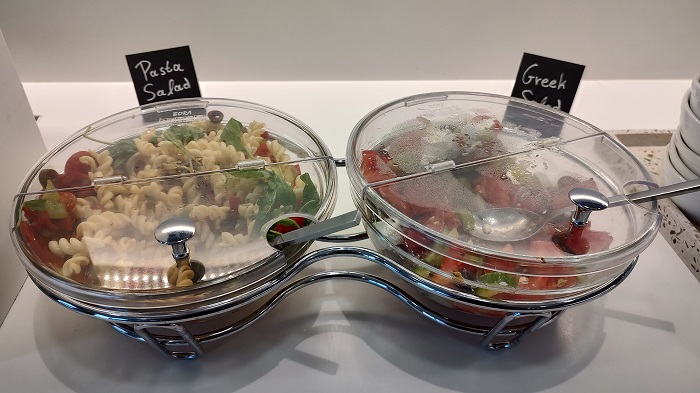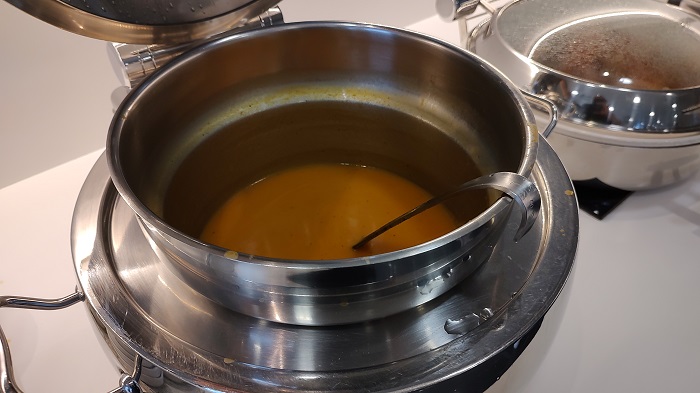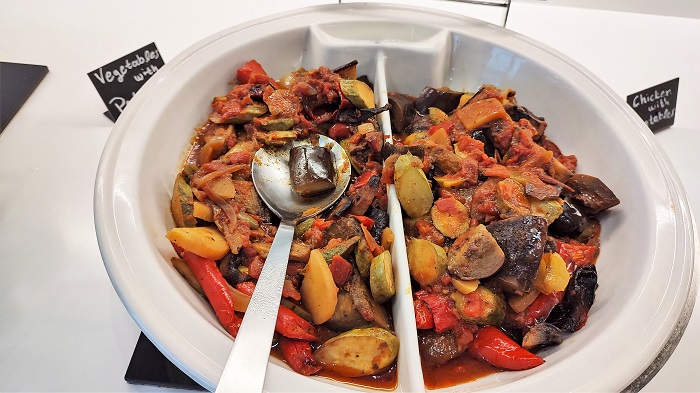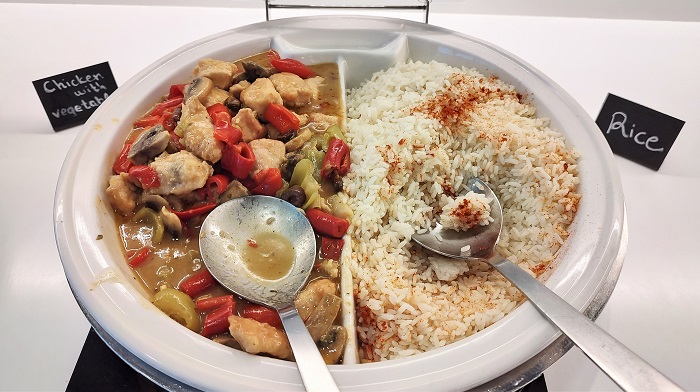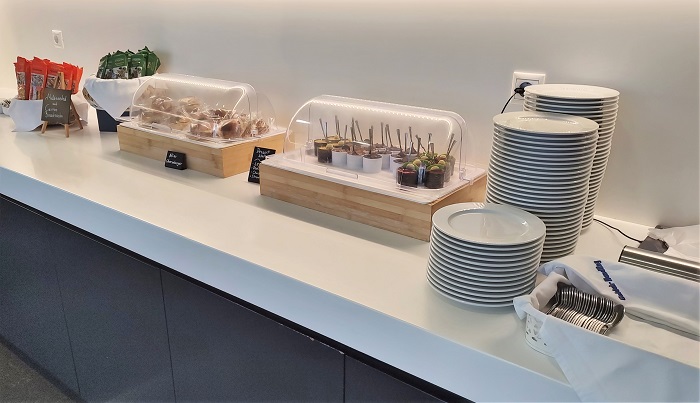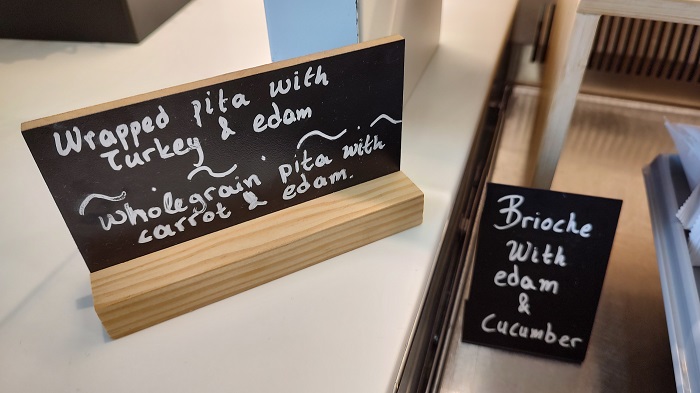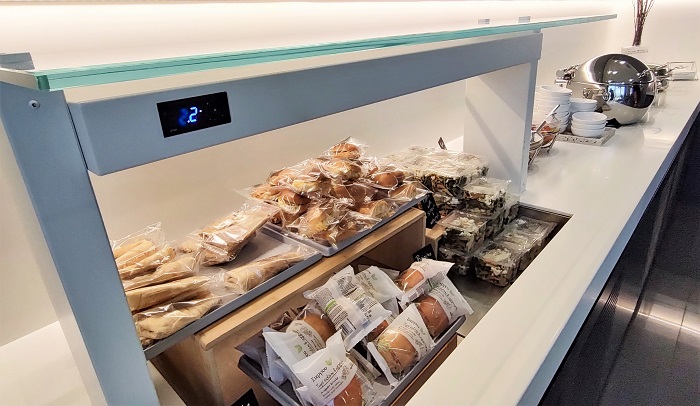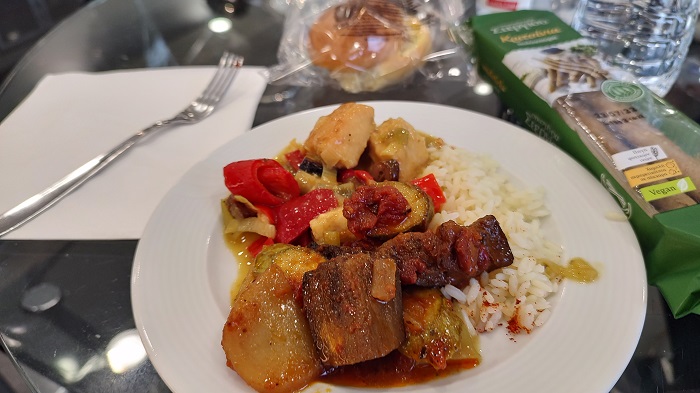 We boarded by bus to the plane.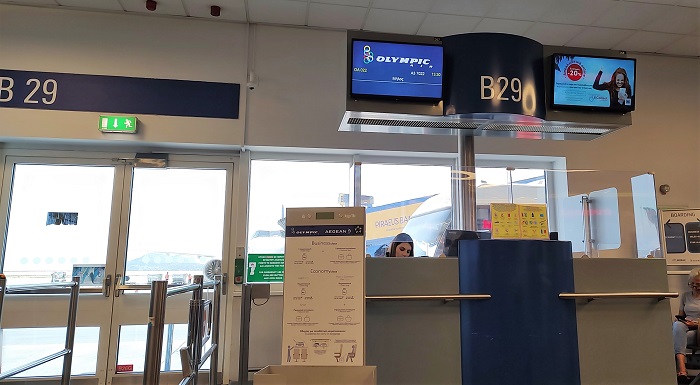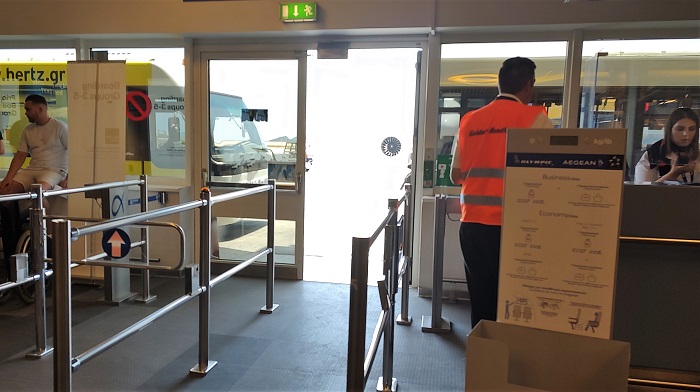 I was excited to fly an Olympic designated flight. Imagine my disappointed when I saw the plane. It didn't have the traditional livery and it was just a white plane without any identity. Kind of sad to think that the once premier airline of Greece has been reduced to this now.
We boarded from the rear door and a FA stood by the galley with a basket of sanitizing wipes welcoming pax.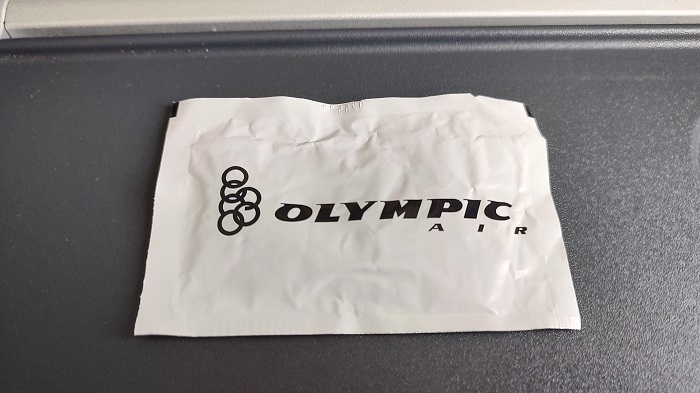 Interior of plane.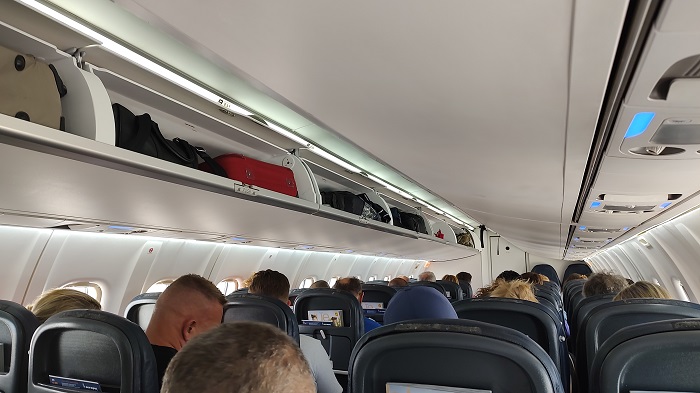 Pocket contents.
View from my window. I wish that was my plane.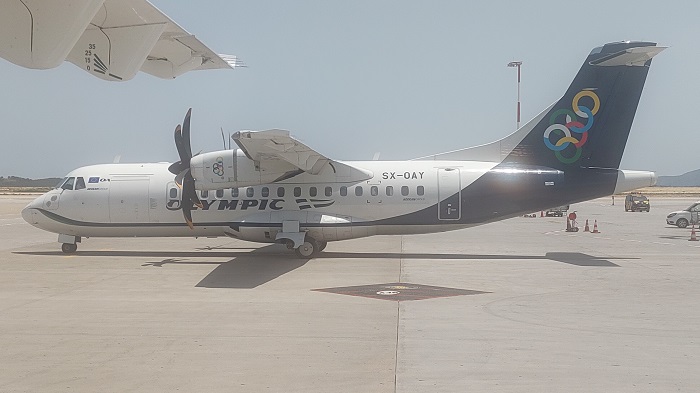 Seat pocket on the side.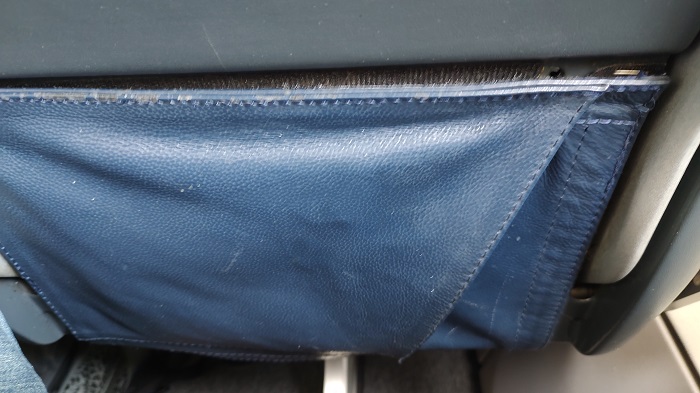 Individual air vents and lights.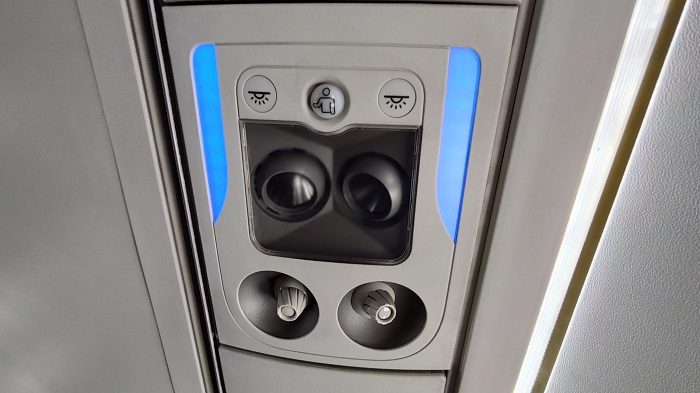 Taxiing out.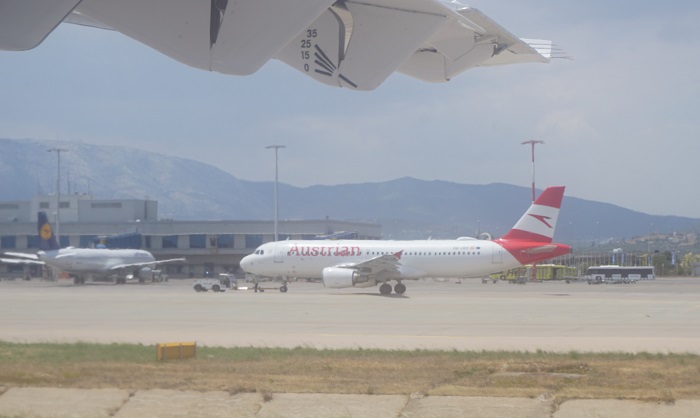 Bye Athens.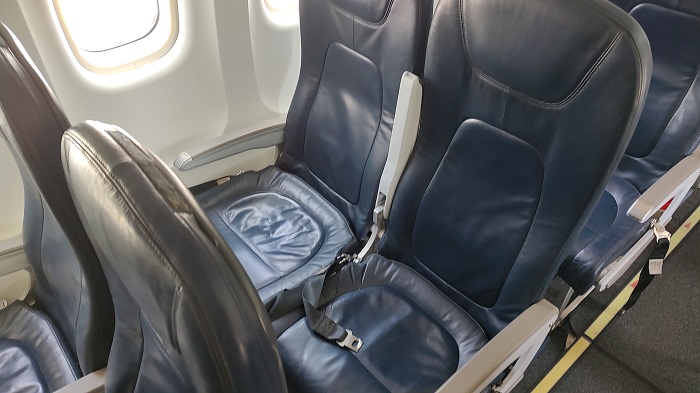 Service aboard after leveling. Service on a 40 min. flight? Yes!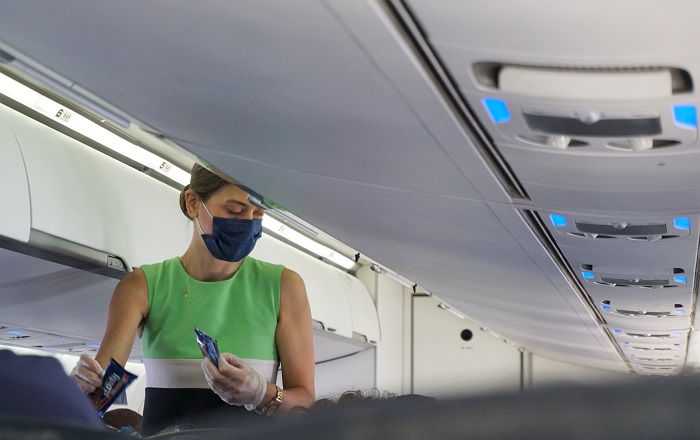 Each pax received a bottle of water and cookies. This was much appreciated and deserves an "A" for effort.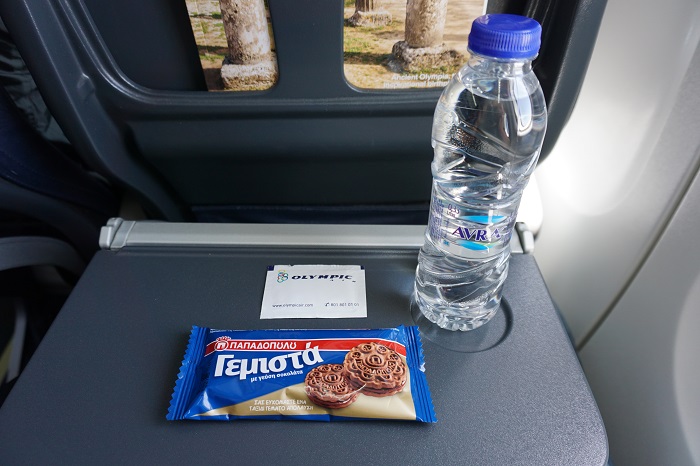 Soon we were landing.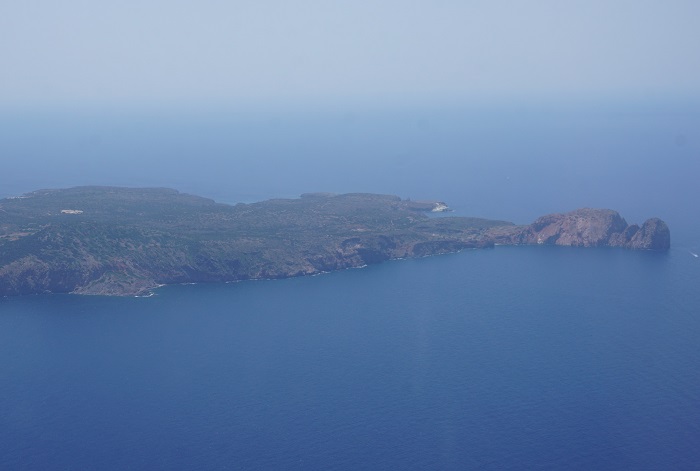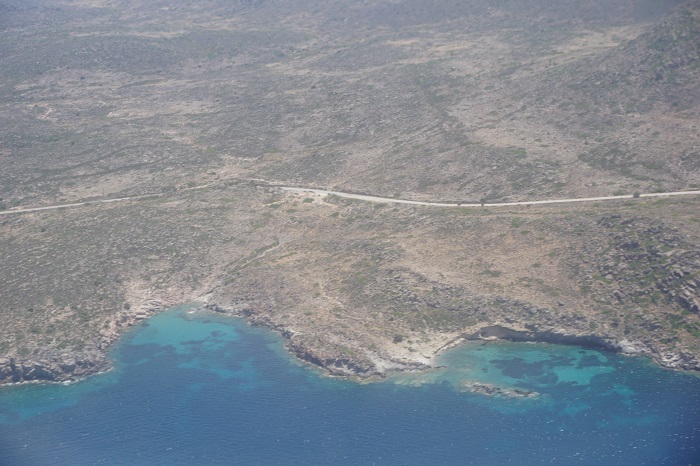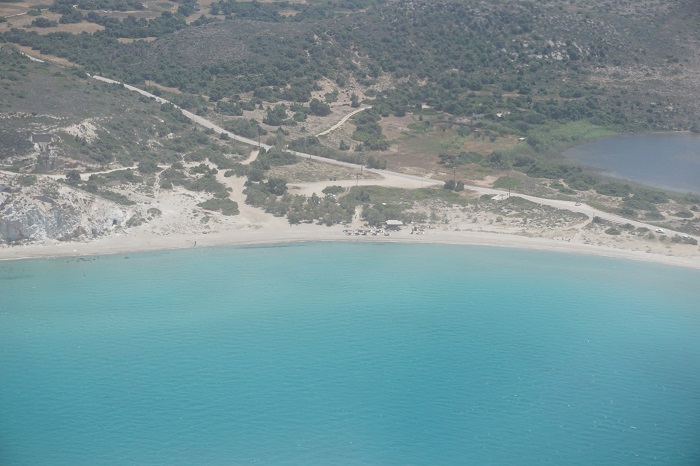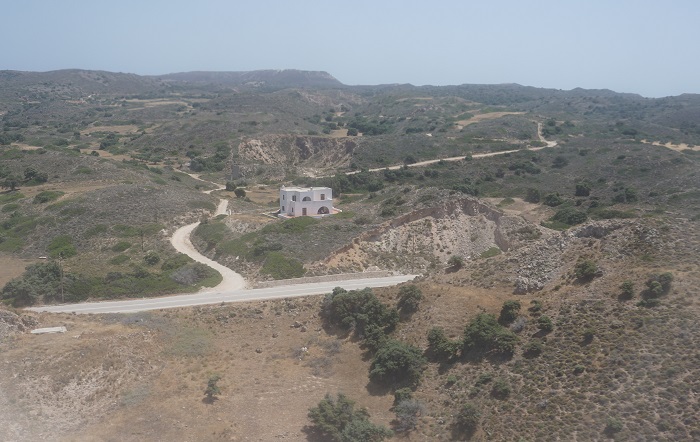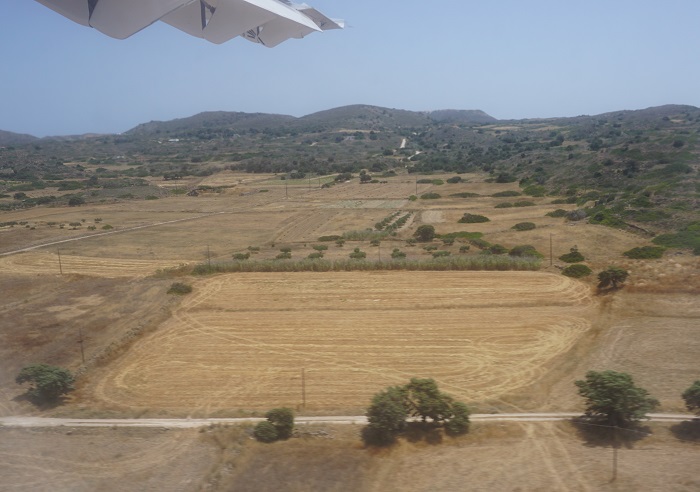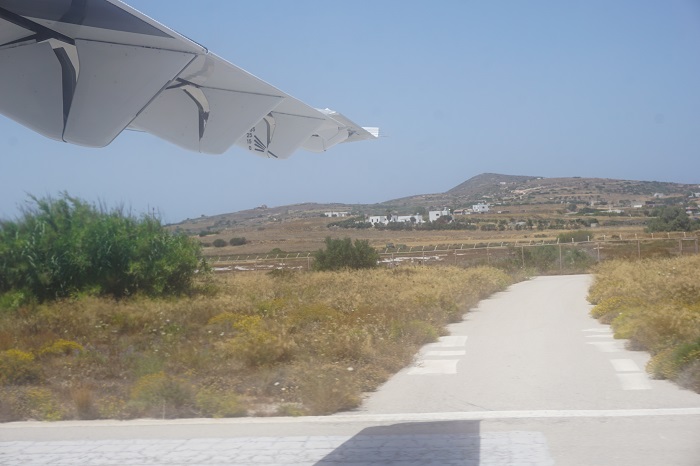 Milos airport terminal. Not a lot to see but it does the job.
I like deplaning this way.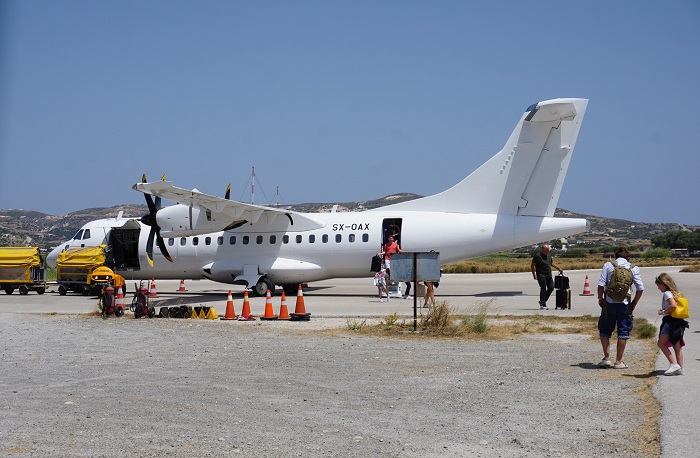 Milos is truly an enchanting island and it is what you picture to be quintessential Greek with white buildings and quiet corners.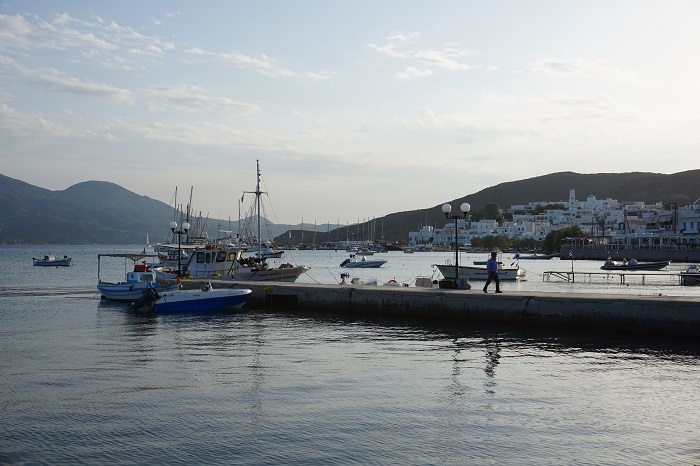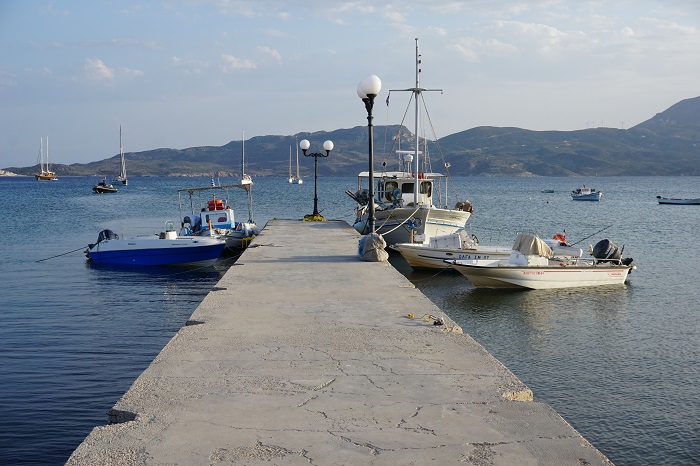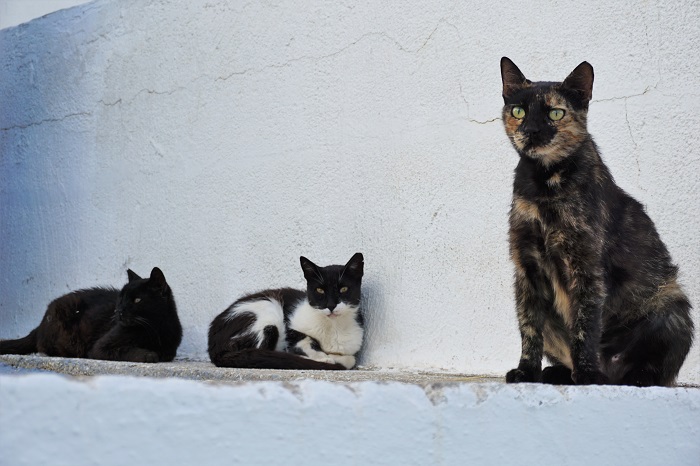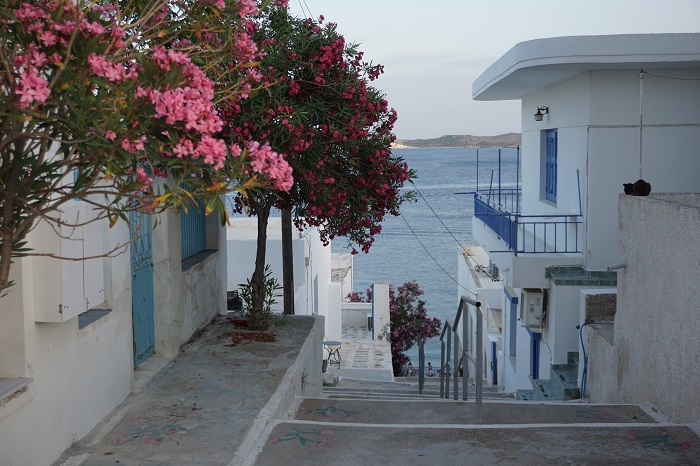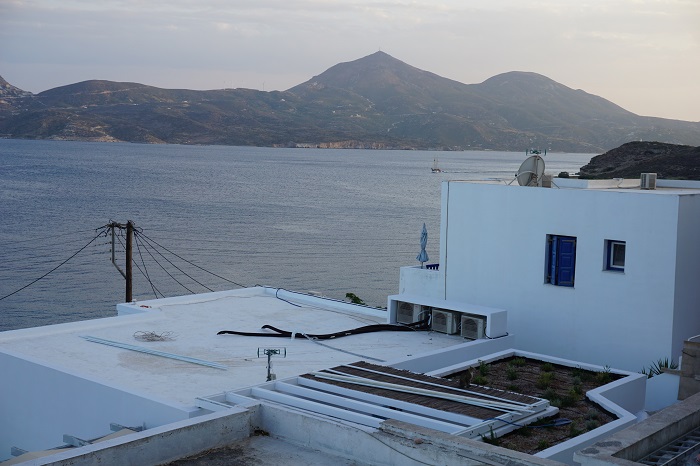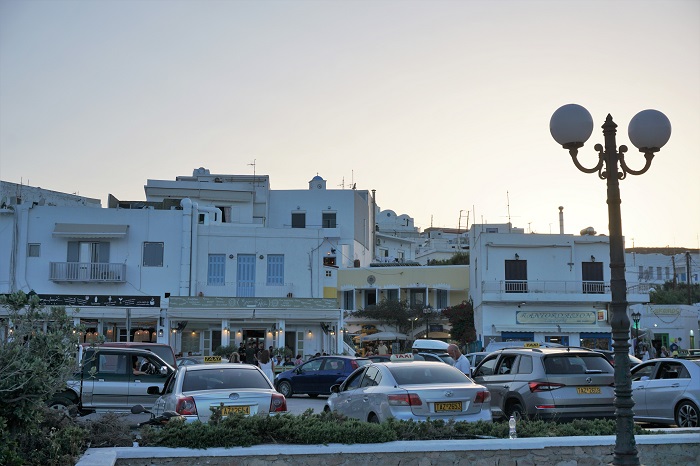 There are several towns throughout Milos. Plaka is the main one with spectacular views overlooking the gulf of Milos.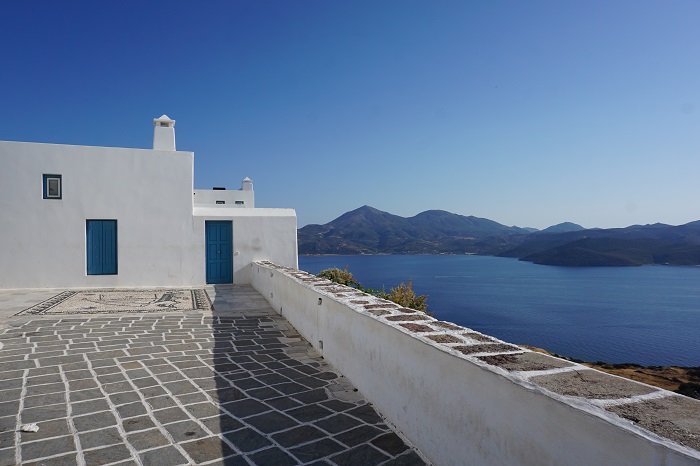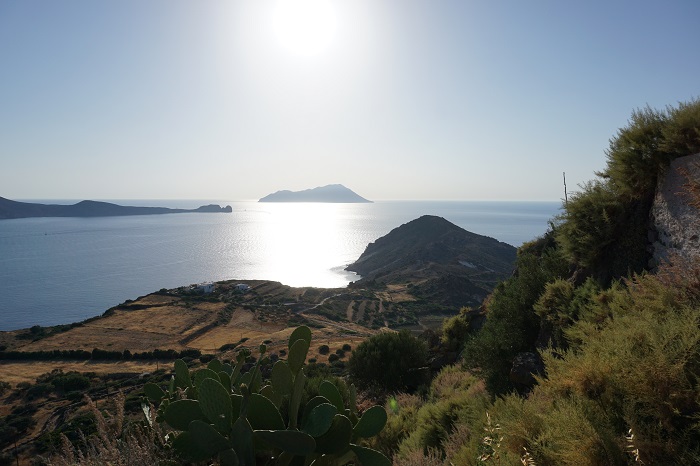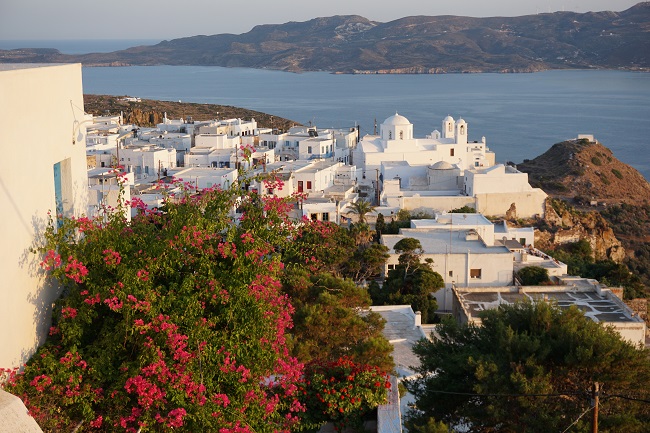 During sunset people go to the highest point of town by the castle to marvel at the scenery.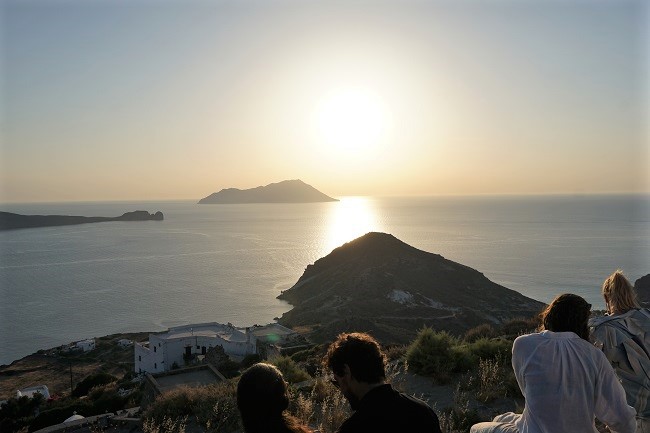 ========== Eleftherios Venizelos Intl Arpt (ATH) - ==========
Security/Immigration efficiency:
9/10
Access and parking:
10/10
Services and activities:
9/10
General cleanliness:
10/10
========== Aegean Business Lounge ==========
========== Goldair Handling CIP Lounge Terminal B ==========
========== Olympic Air - Airline ==========
On-time performance:
10/10
Breakfast or light meal before arrival:
0/10
========== Milos Arpt (MLO) - ==========
Security/Immigration efficiency:
10/10
Services and activities:
8/10
General cleanliness:
9/10
Summary:
Overall the lounges in the Schengen area of ATH do the job but they seem to suffer from not having enough space to accommodate guests during busy times. For a hub lounge I would expect A3 to be better and have more generous catering. In that regard the Goldair lounge had better catering with more choices especially hot dishes.

I was impressed with this short flight on Olympic serving a snack and water for this 40 min. flight. The only downside was that the plane was not painted in the respective livery.