Prologue:
Welcome to this report on Condor A330-900 in J.

A few months ago I was looking for an award seat from Europe-SFO and by chance I found a seat through my Alaska account with Condor for 55.000 miles + $159.25 in taxes and fee. Without hesitation I grabbed this fare right away especially when most airlines were asking for 200,000+ for award redemption in a similar cabin.

I have never flown DE and I was looking forward to trying this new airline for me.

DE is located in T1 at the end of C hall.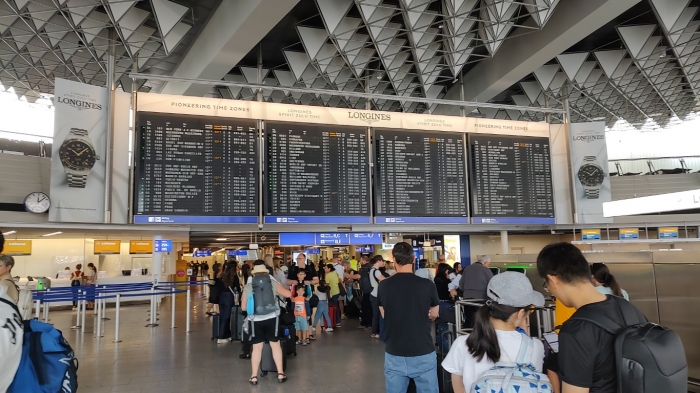 It was very crowded when I arrived and there were only 2 agents dedicated to the J counters.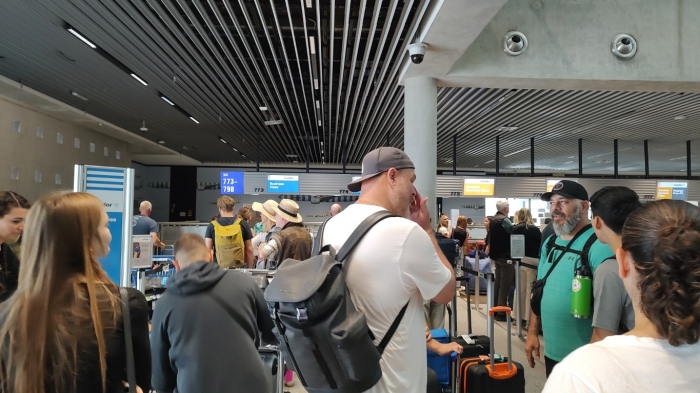 The lines moved slowly and I had waited a good 25-30 min. before an agent checked me in. Not a very premium experience compared to the LH premium check-in desk which was nearly empty.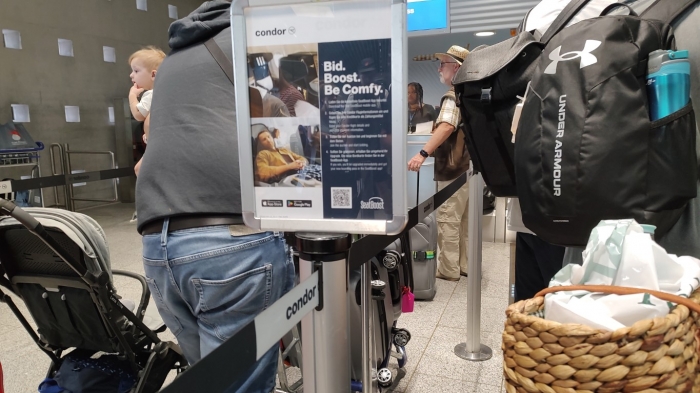 This was the Premium Economy line next to me.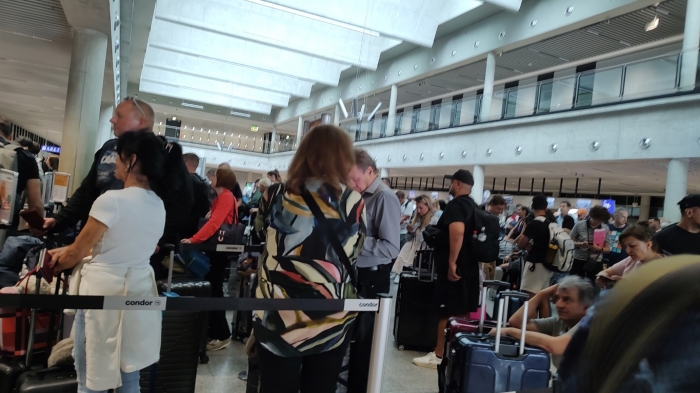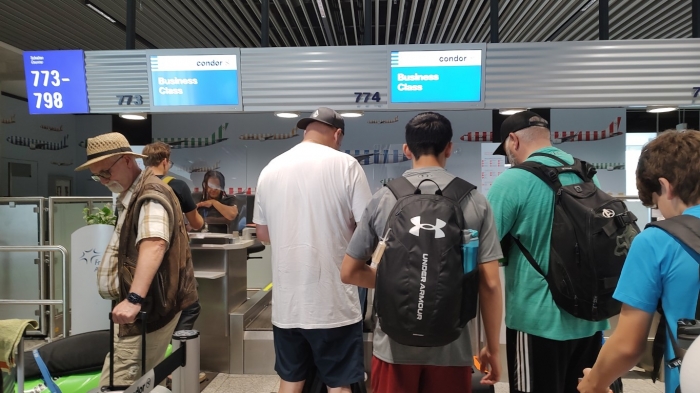 There was some recognition at least. The agent was efficient but very robotic and there was no greeting whatsoever.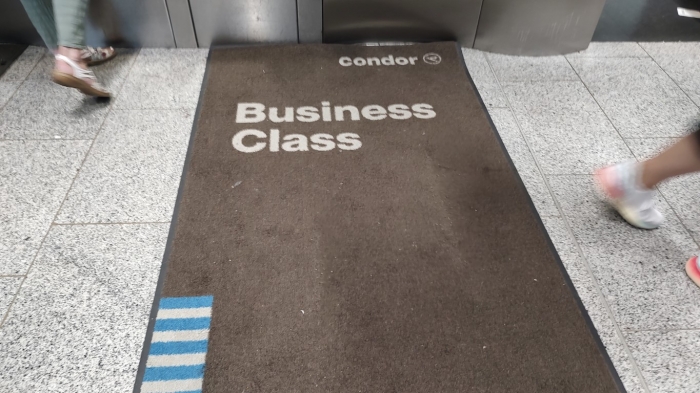 This is what the Y line looked after I finished checking in.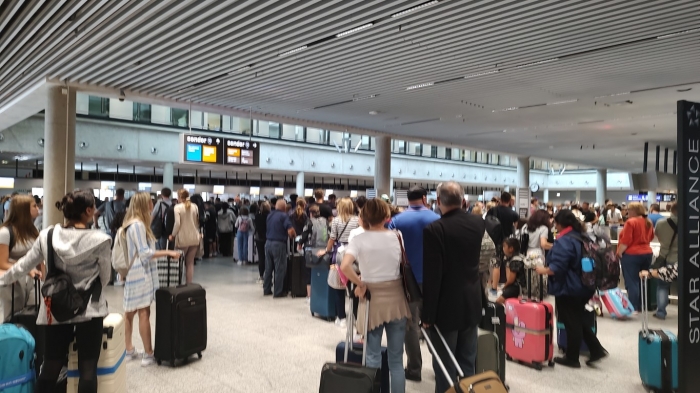 DE ticket office nearby.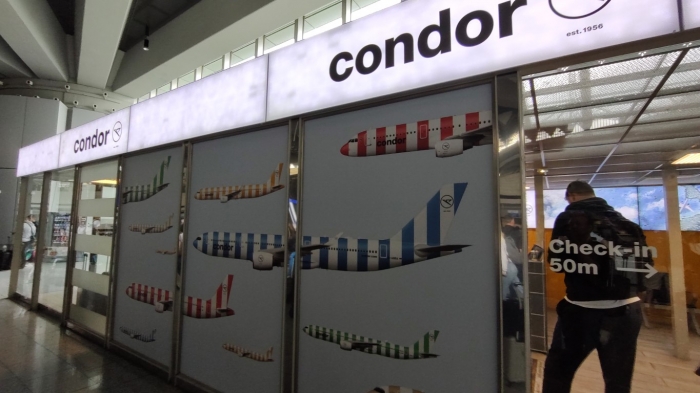 When my boarding was issued at the counter the agent wrote the lounge that I had access to and directed me there.
The lounge by B44 was spacious and not crowded which was a welcome sight.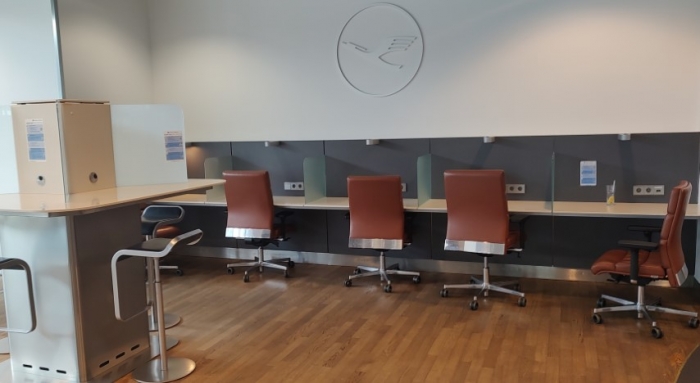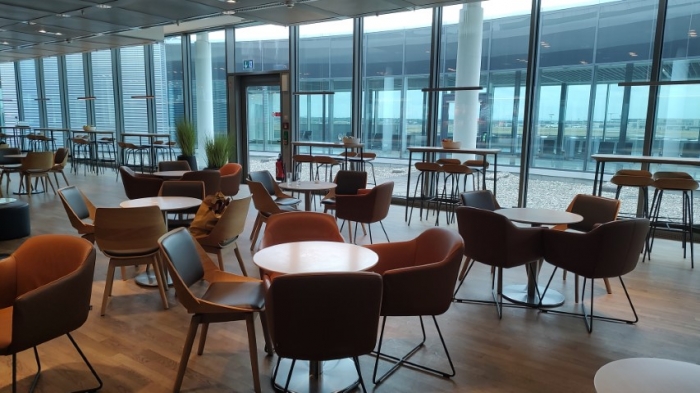 Catering was average. Dessert options were good but savory choices were a bit lacking.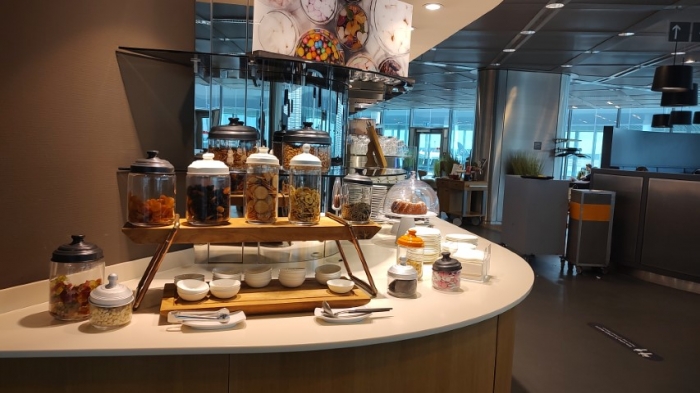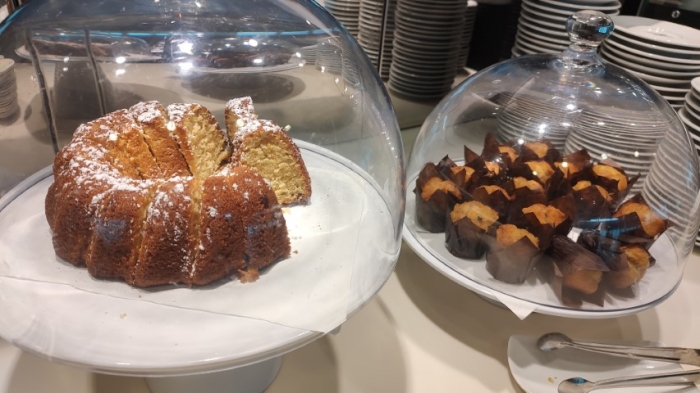 Special dessert.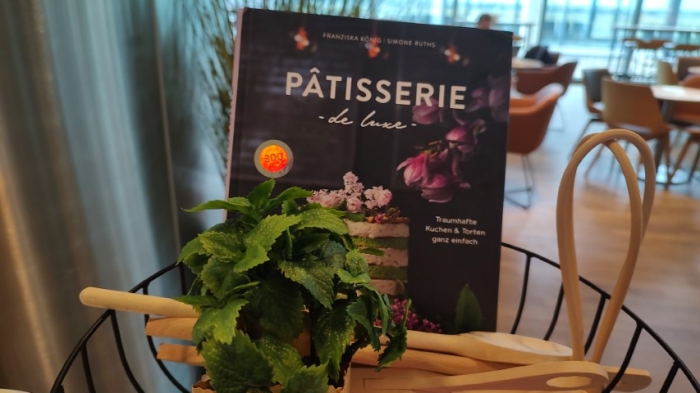 Salad station.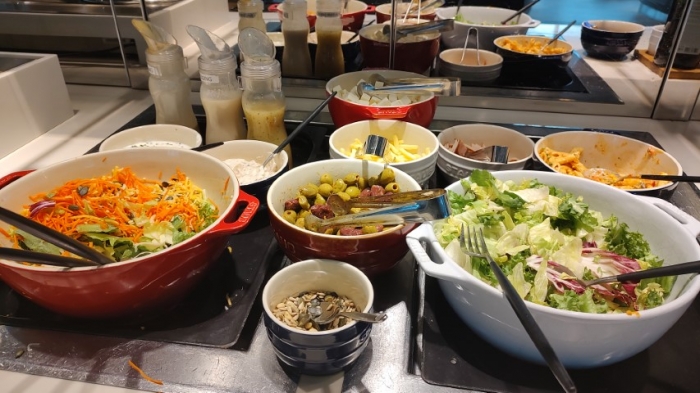 Soup.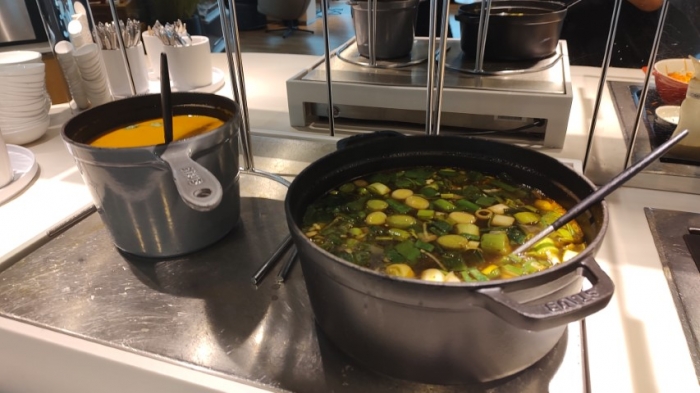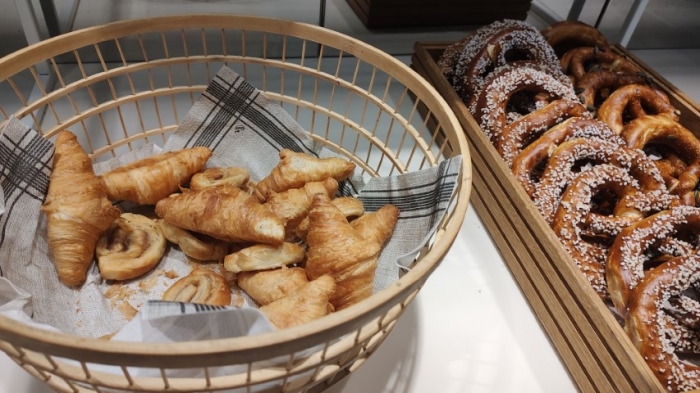 Stir fried veggies and a chicken stew type of dish.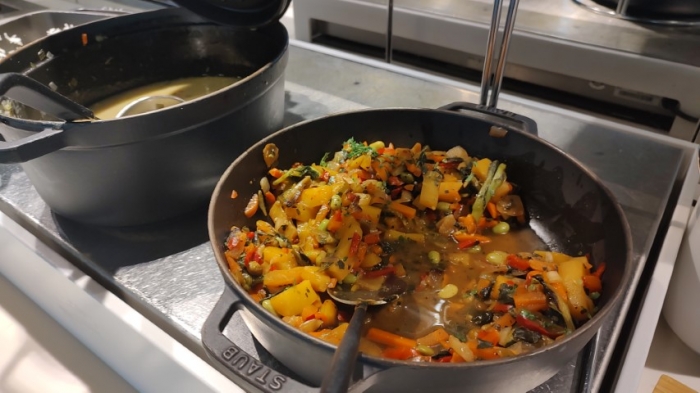 Dessert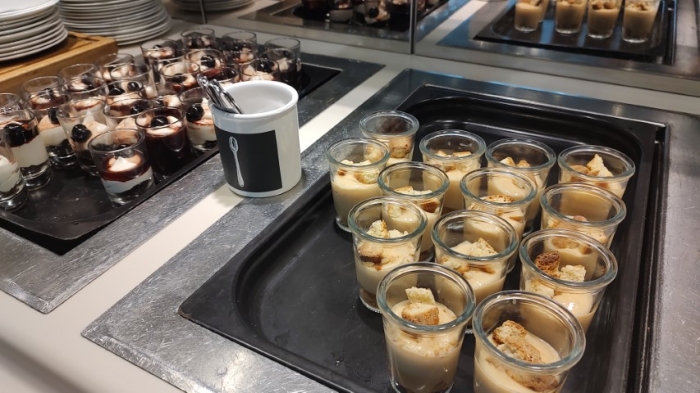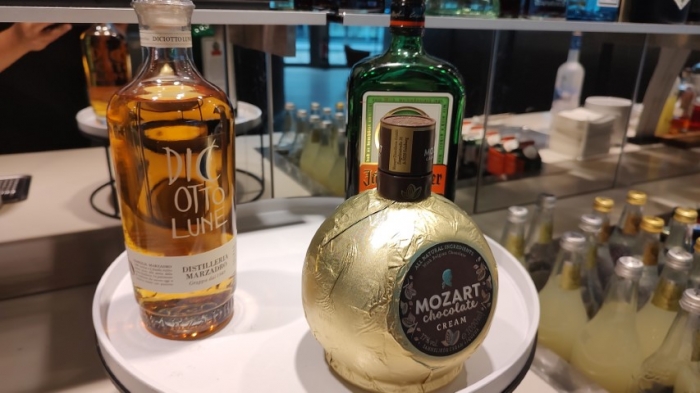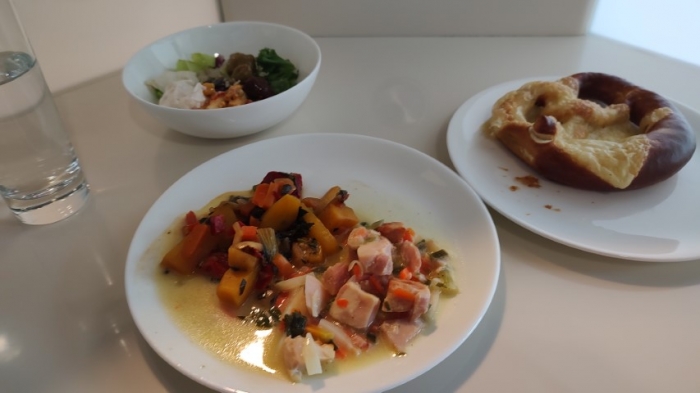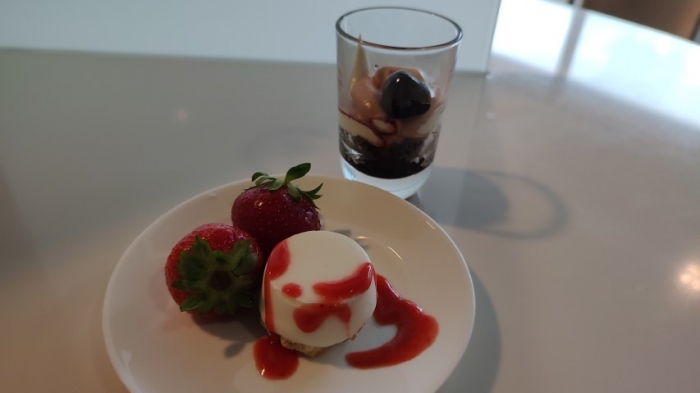 Plane at the gate.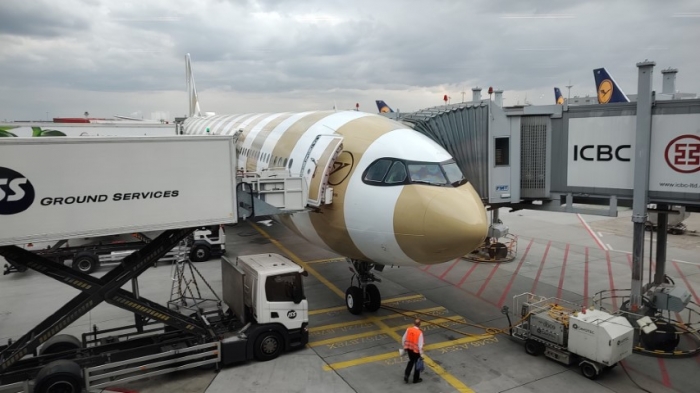 Boarding was delayed and we did not board until past our departure time. There were hardly any announcements in reference to this delay and the boards were not updated.
We were supposed to depart at 15:35 and did not leave until 16:24.
Boarding was a frenzy.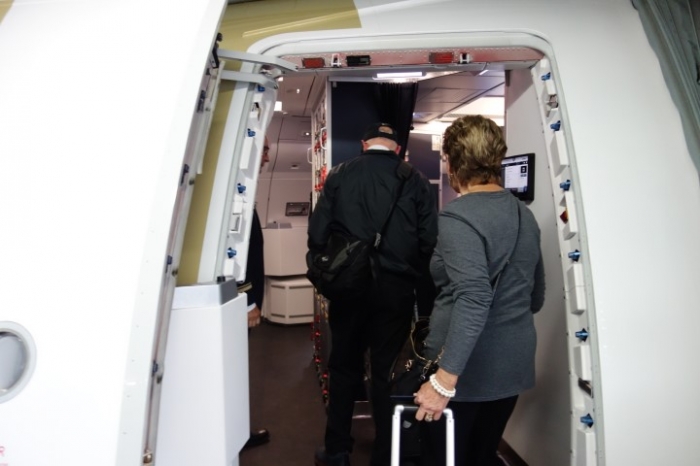 Cabin.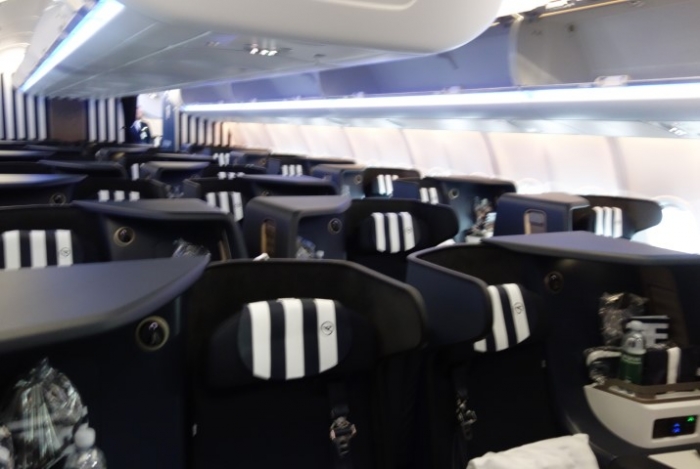 The cabin felt elegant.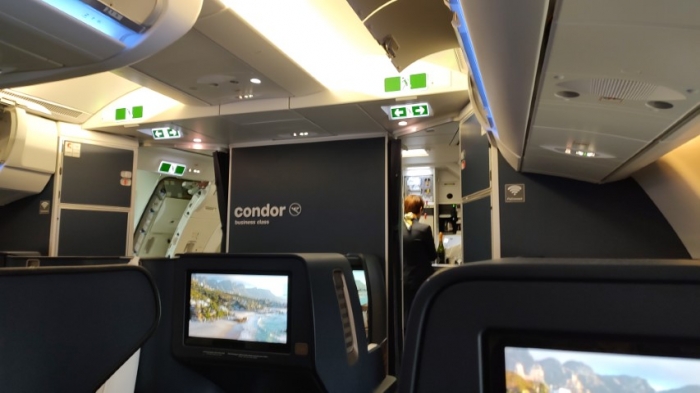 Amenities on the seat.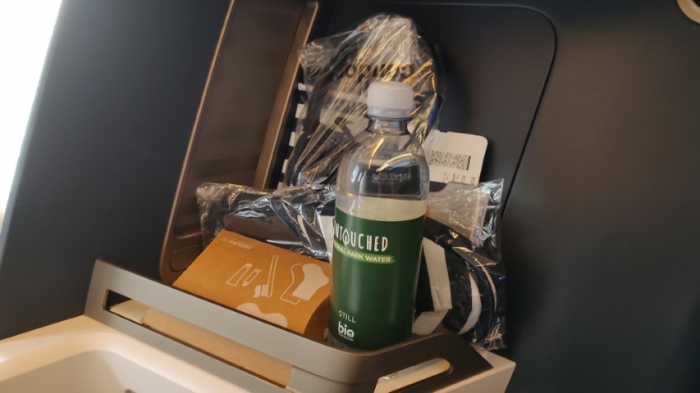 Lots of plugs.
Very comfortable seat.
Mattress to place on the seat just like LH.
Easy to understand seat controls.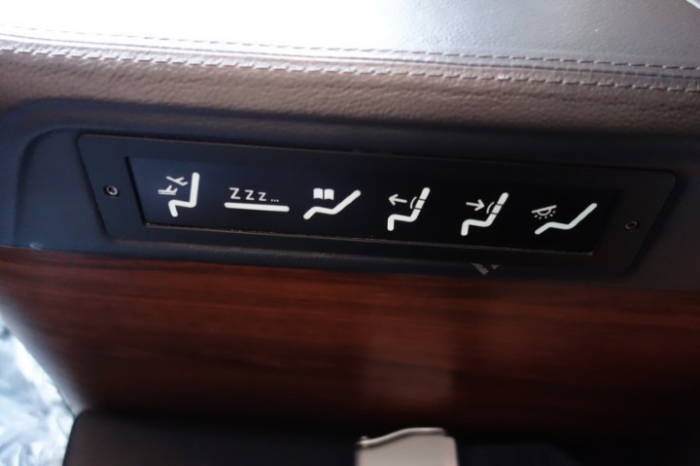 Pillow and duvet were on the seat.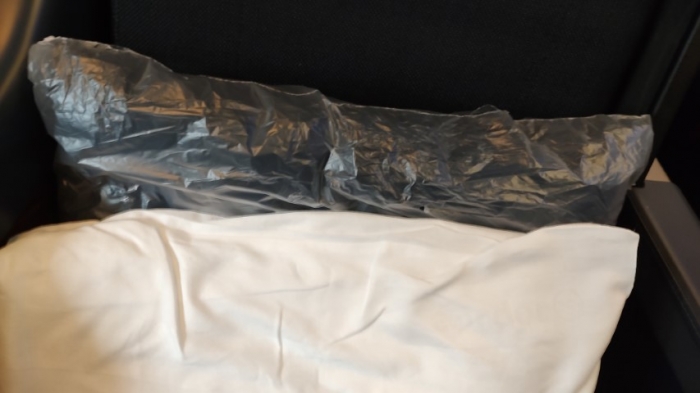 Pre-dept champagne or orange juice.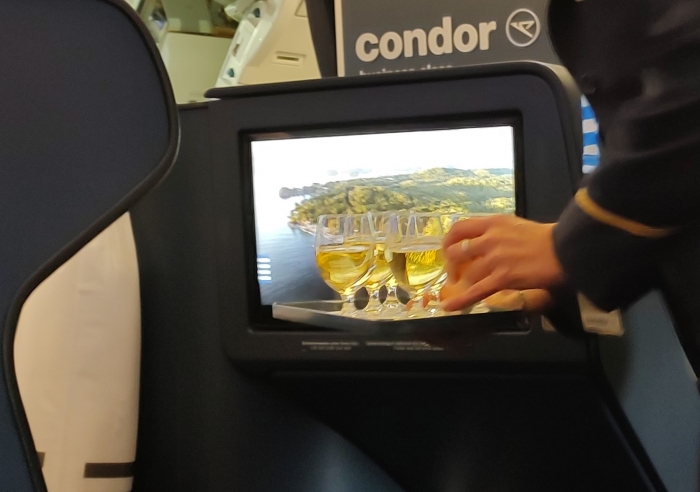 Cheers!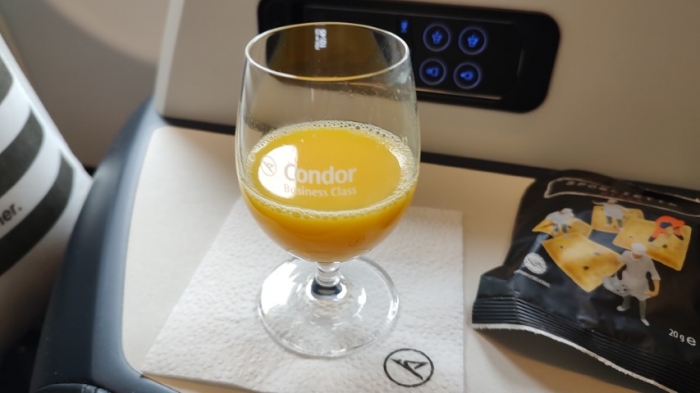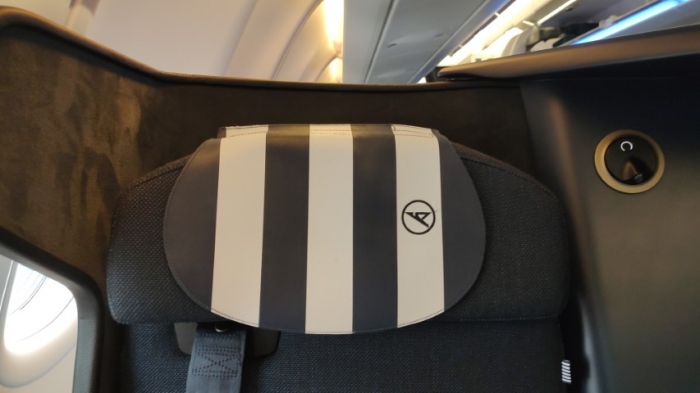 Contents of literature pocket by the foot rest.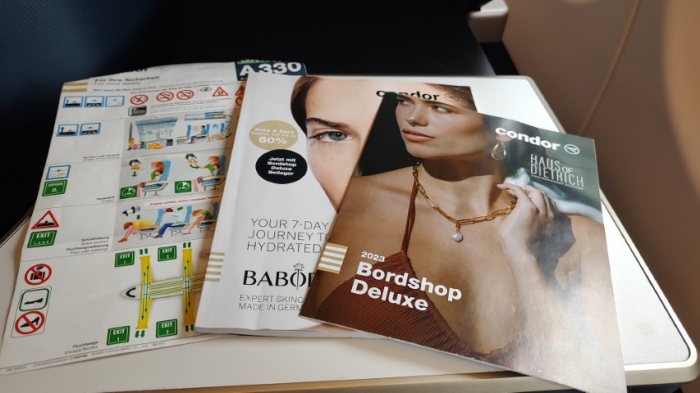 I was asked to switch seats with the pax behind so that she can be in the same row as her kids. Actually this worked better for me since 4H had the seat next to the window.
The credenza with the items was now located to my left.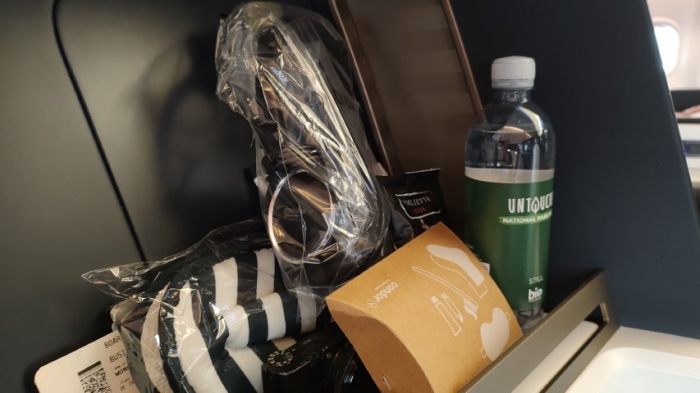 Safety video.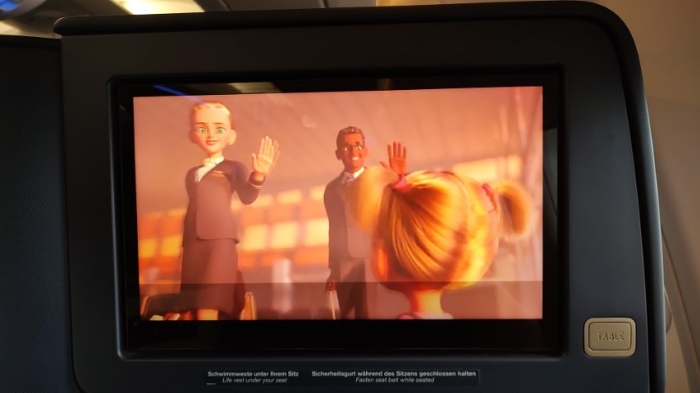 Taxiing out.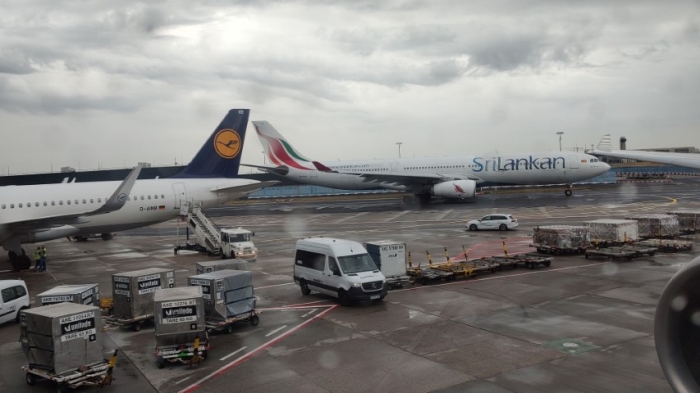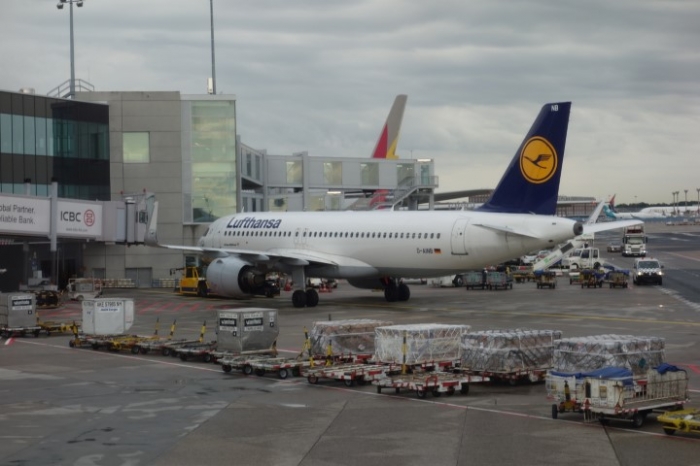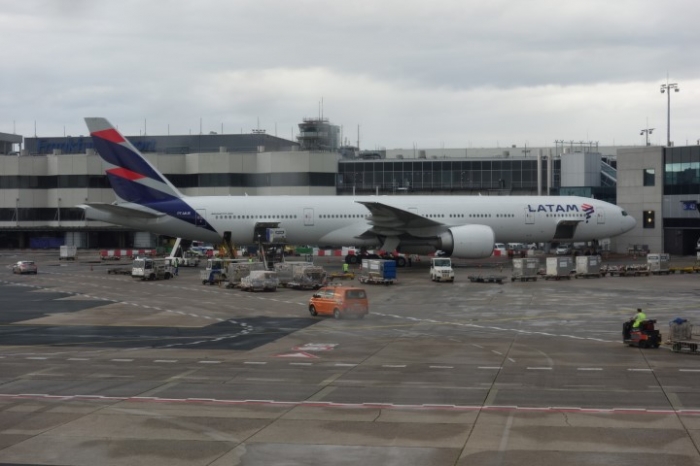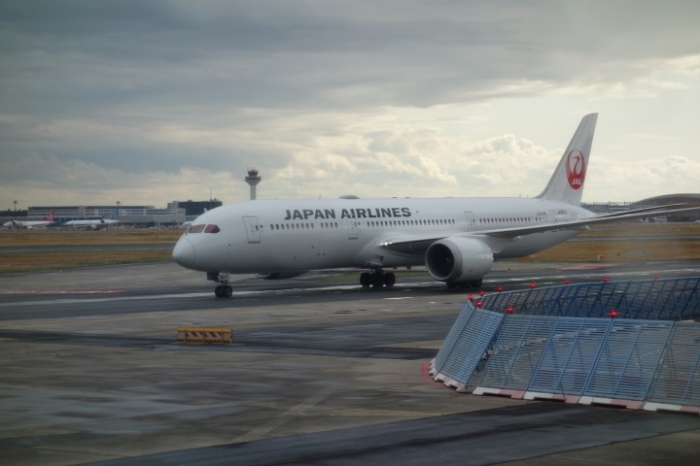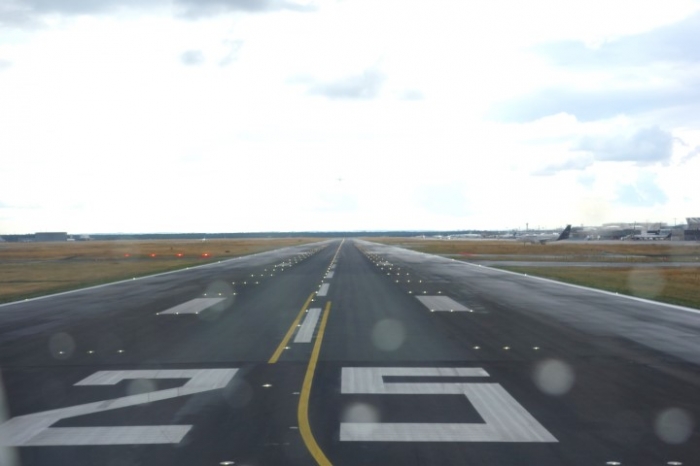 Bye FRA.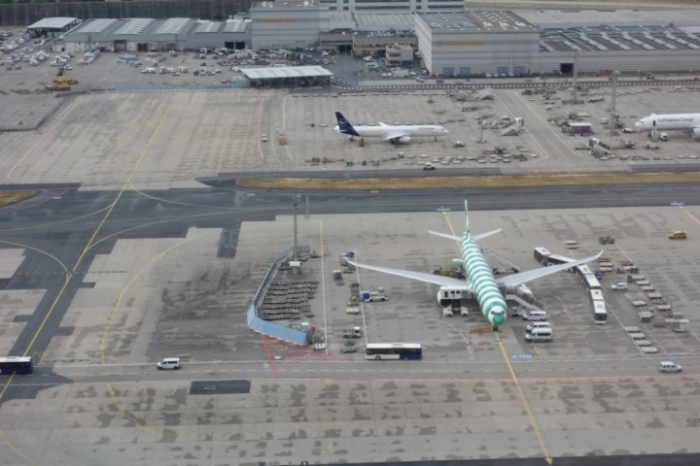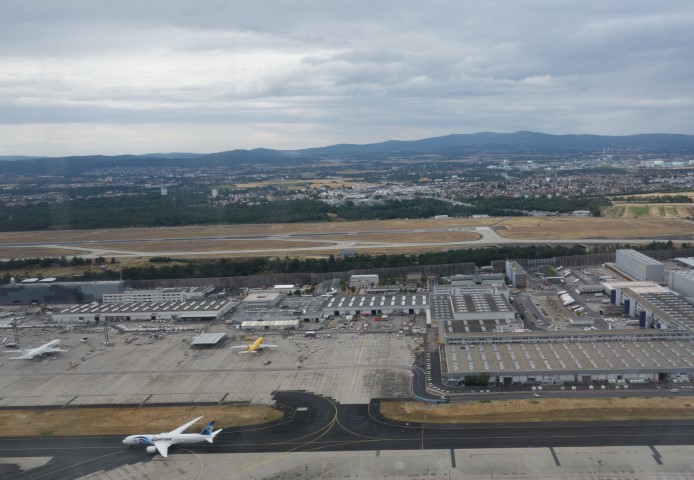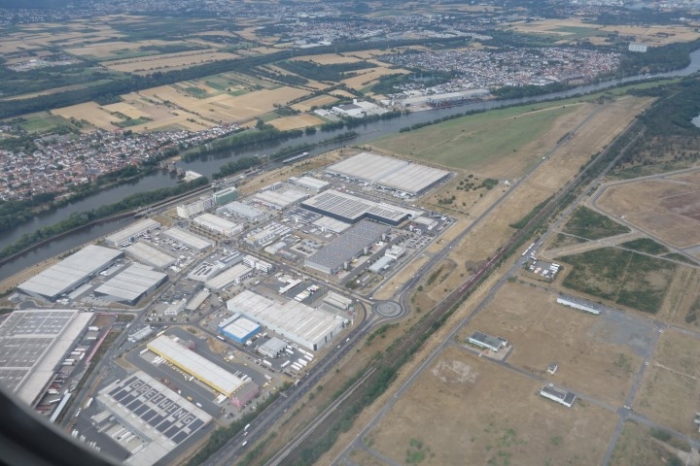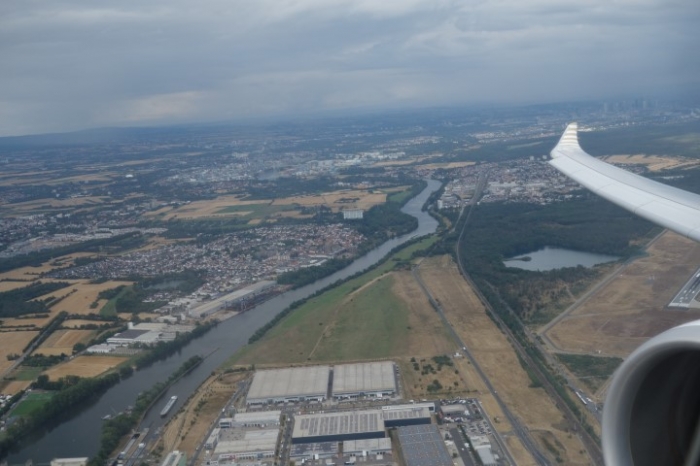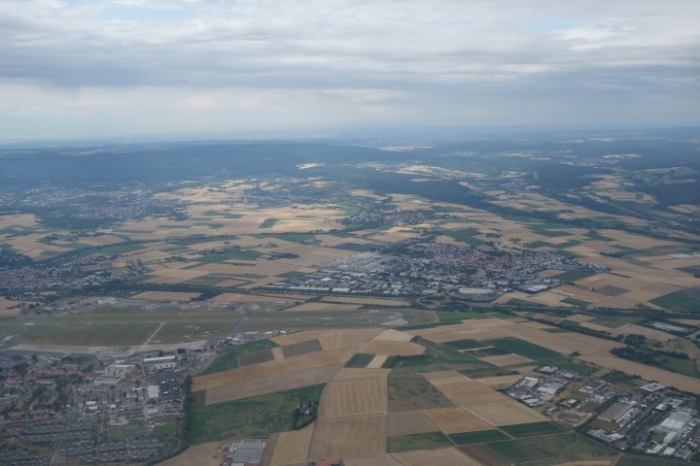 Menu.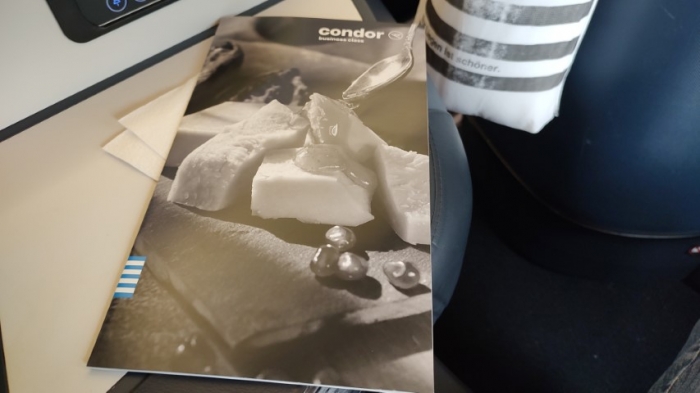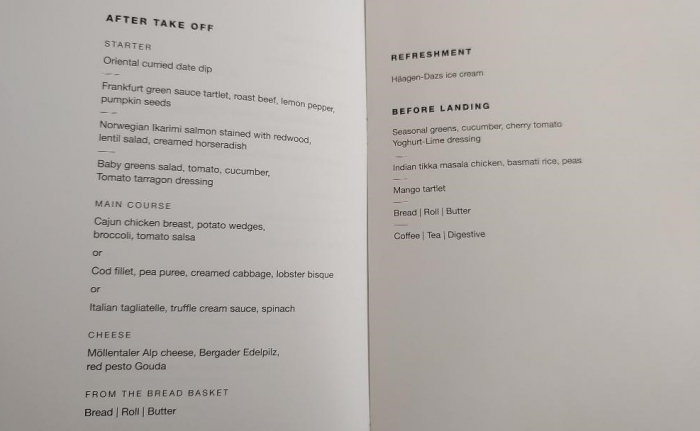 Wine menu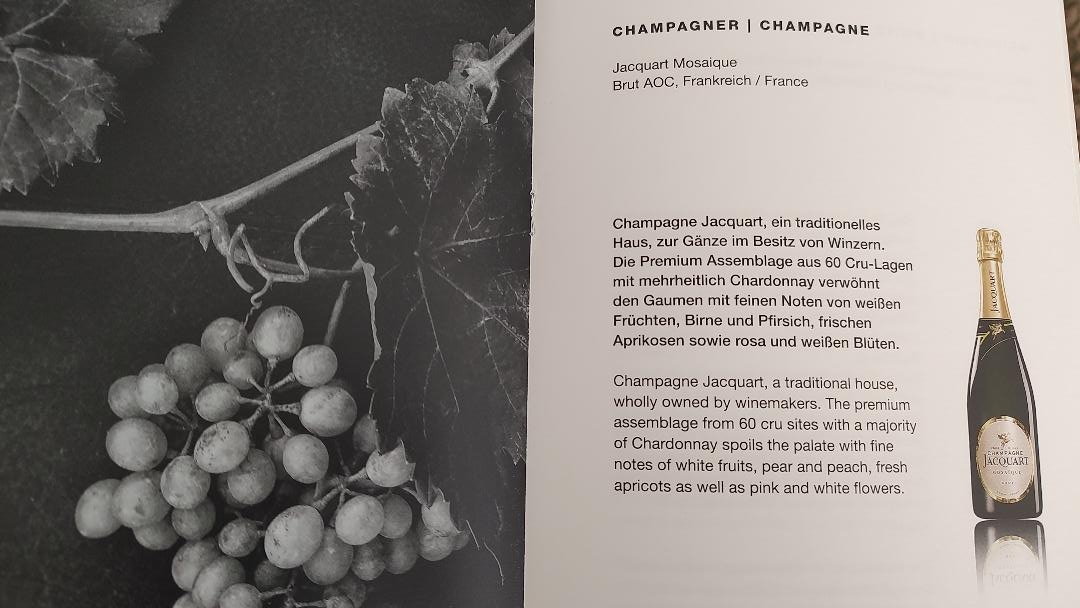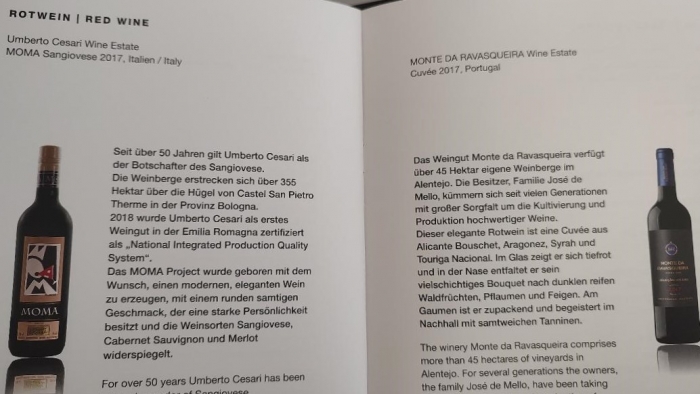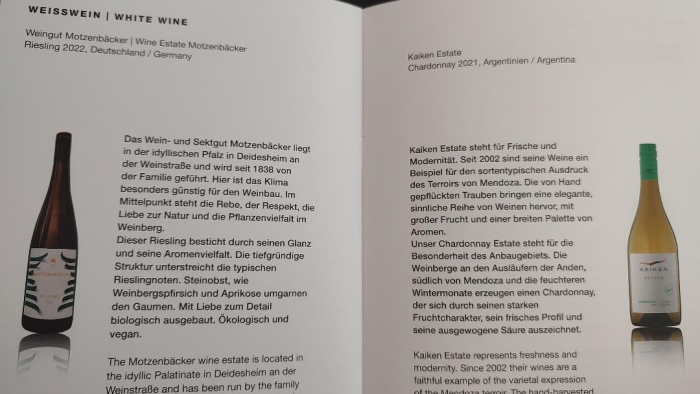 Hot towels were distributed before the meal.
Drinks cart.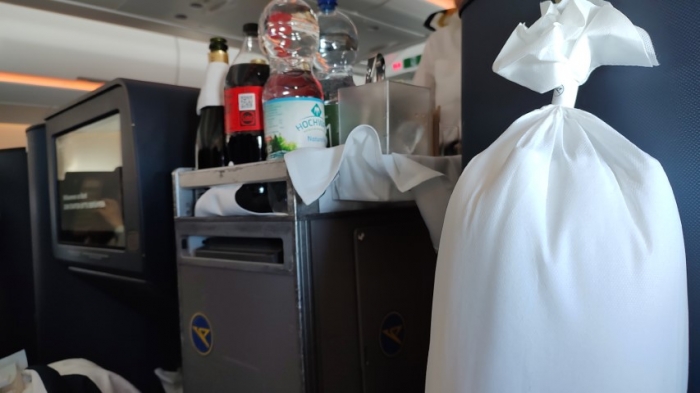 I had a Riesling which was a bit dry to my taste and water.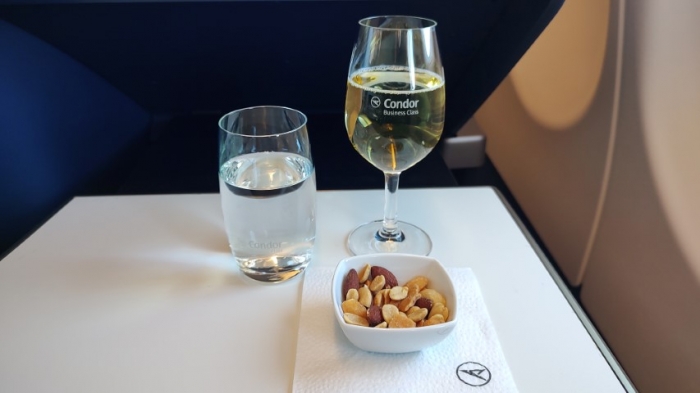 Warm breads were offered frequently.
Appetizers. Crew was very professional and refilled glasses frequently.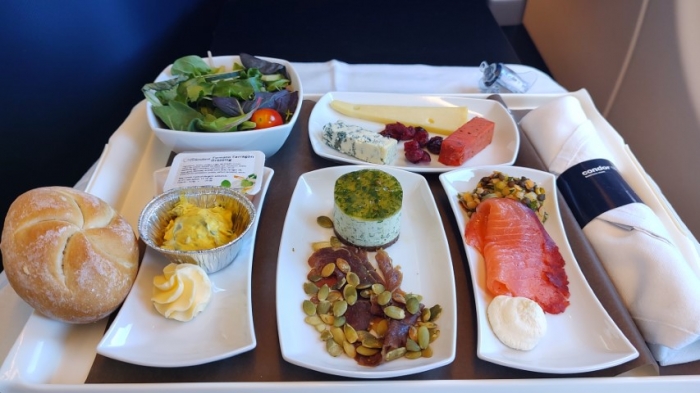 Nice salt/pepper shaker.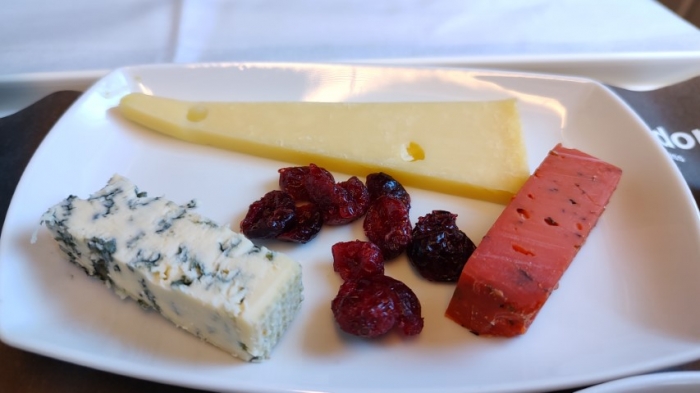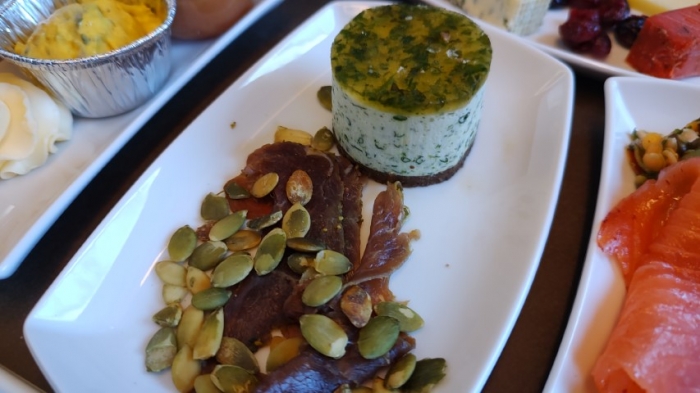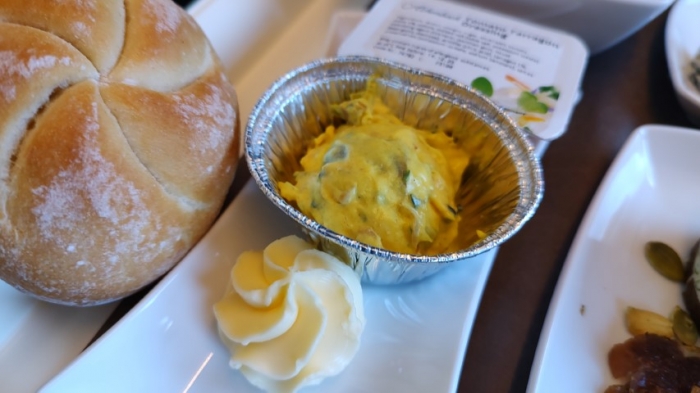 Once the appetizer tray was cleared the crew distributed a new set of utensils.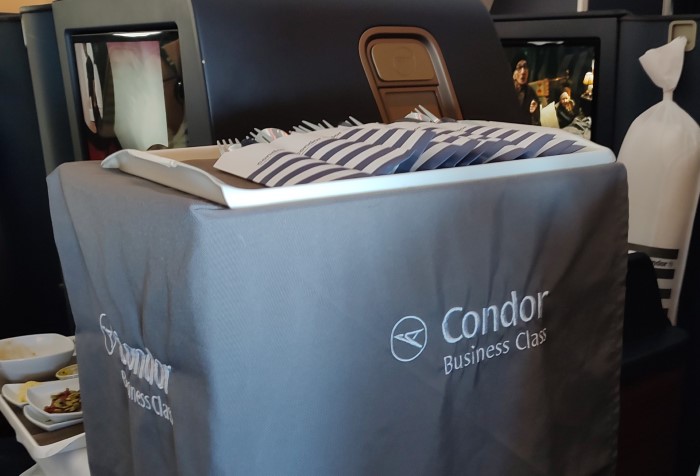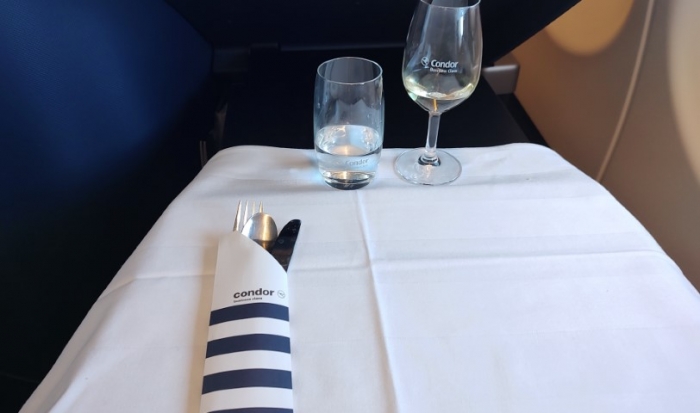 Main course. I ordered the cod fillet with lobster bisque.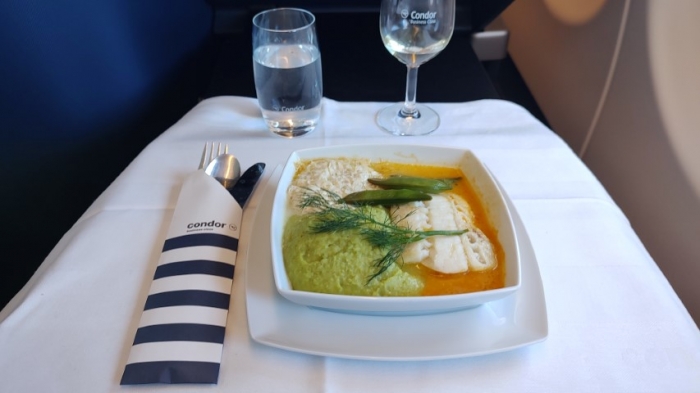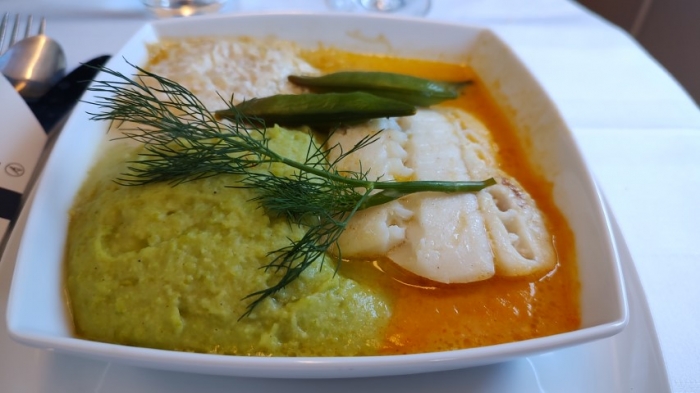 After the meal coffee or tea were offered with chocolate dessert.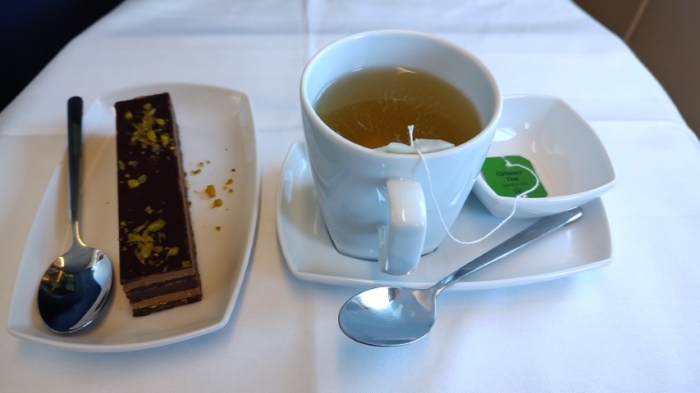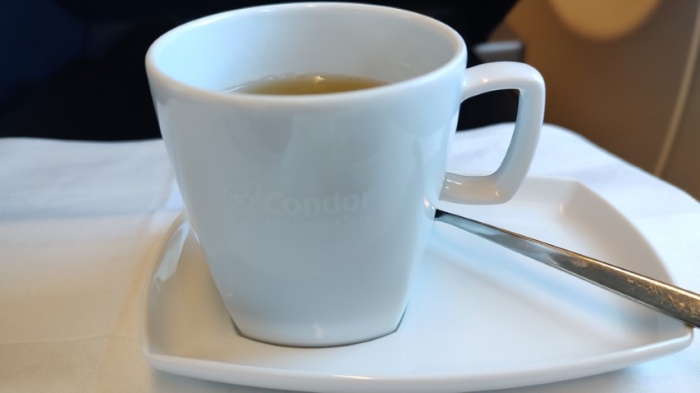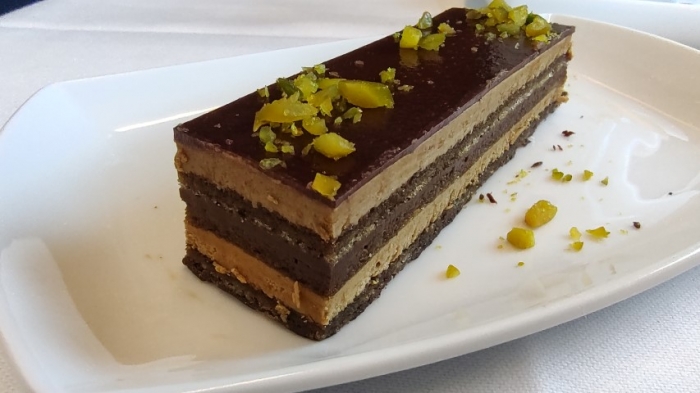 WC's were well maintained and.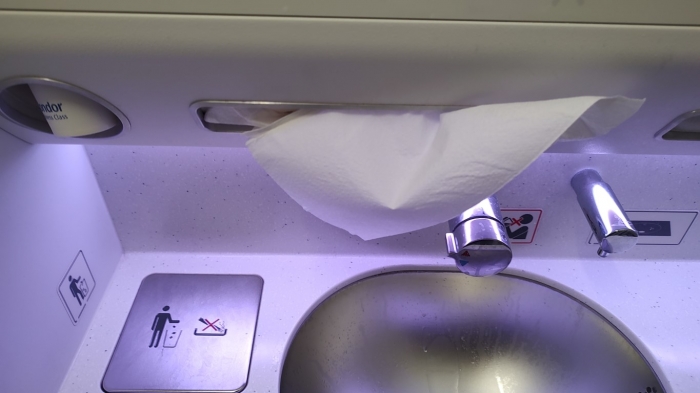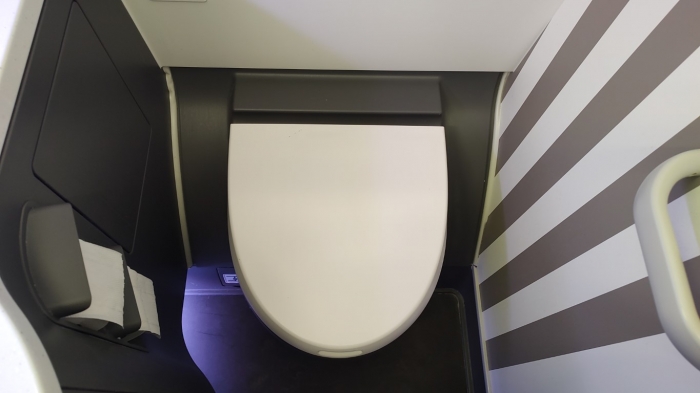 I love this option to open the garbage bin.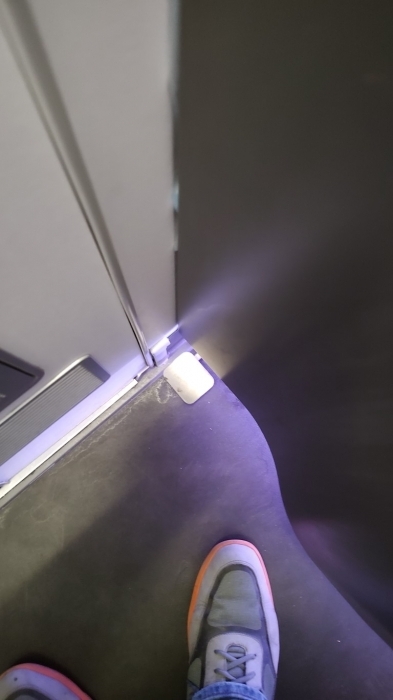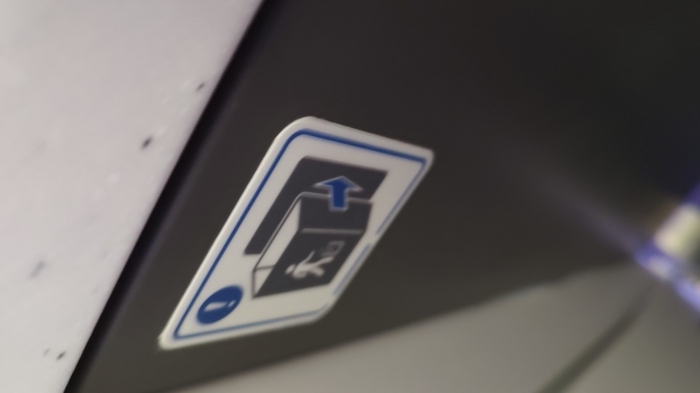 Ice cream was distributed by the crew mid-flight.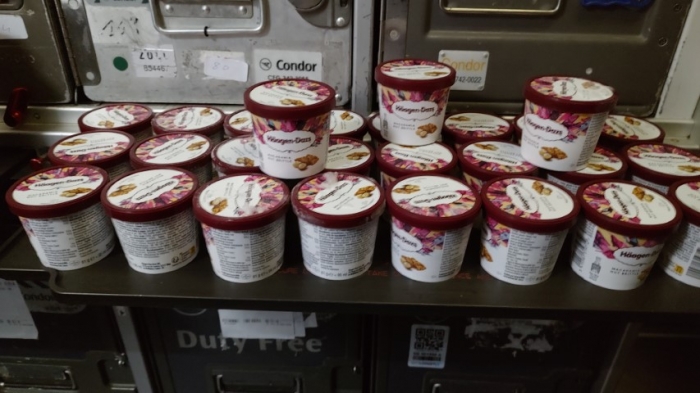 Snack basket.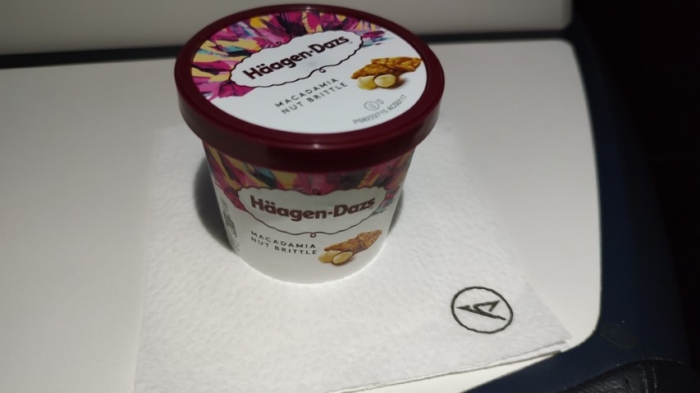 Good entertainment options.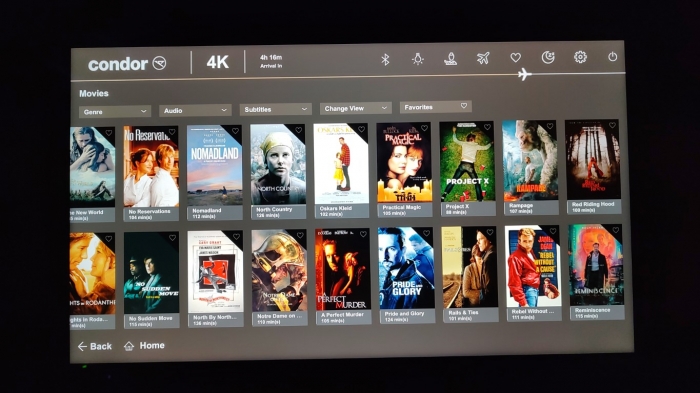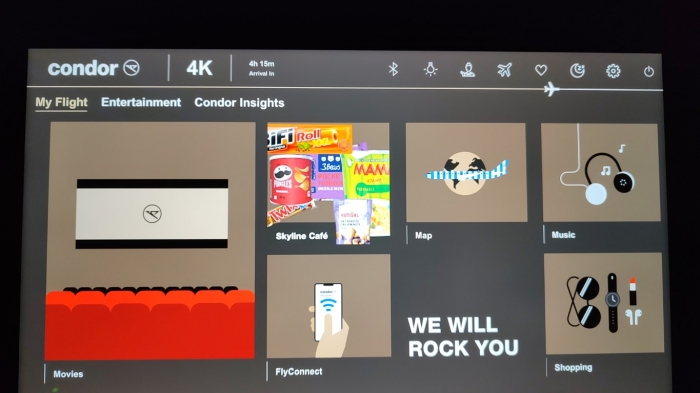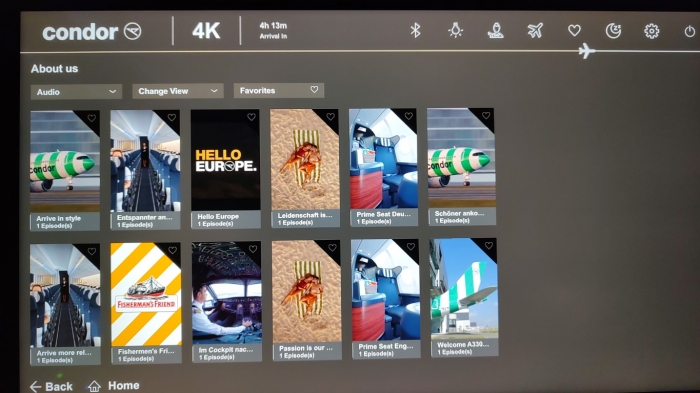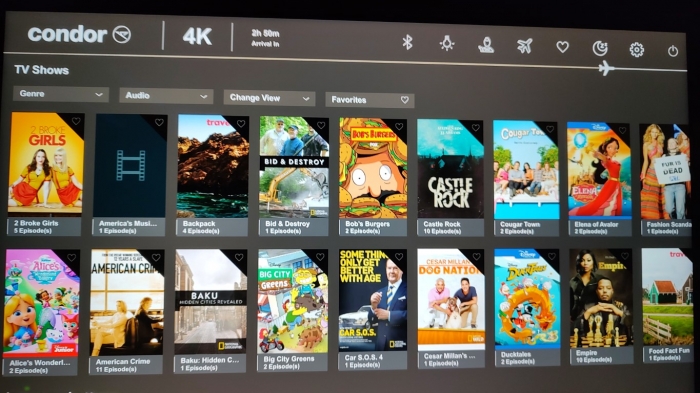 Second meal service about 1:30 hr before arrival.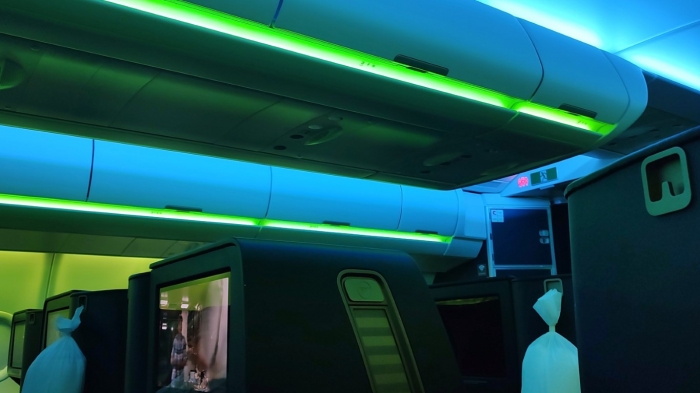 Hot towel.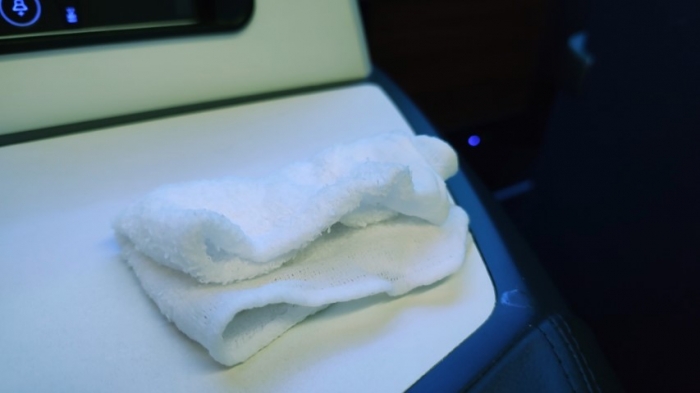 Chicken tikka masala with basmati rice salad and mango tartlet. Very good in my opinion although a second choice should be offered. Still better than LH's soup and salad combo before arrival.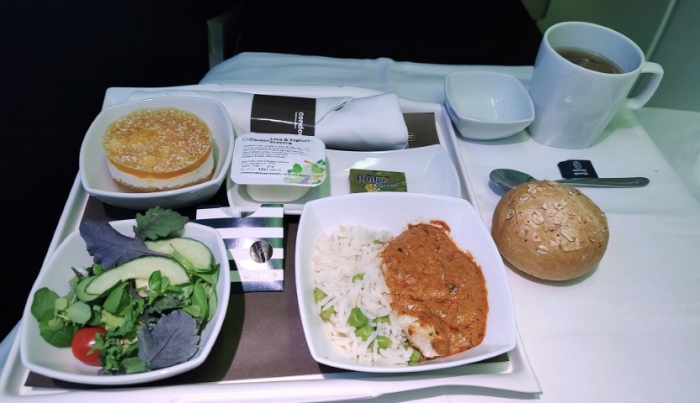 Approaching SFO.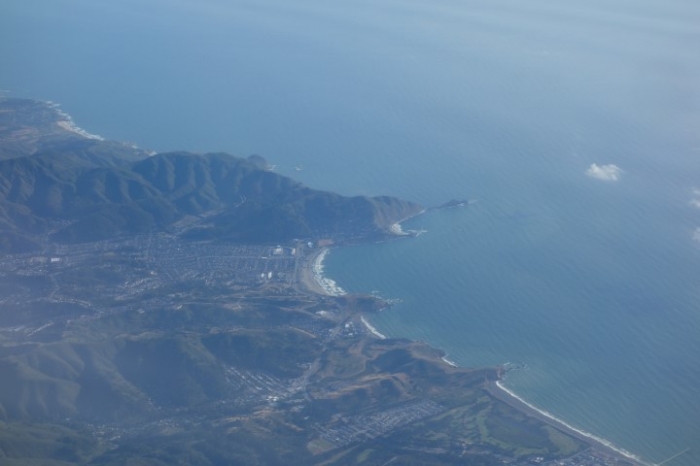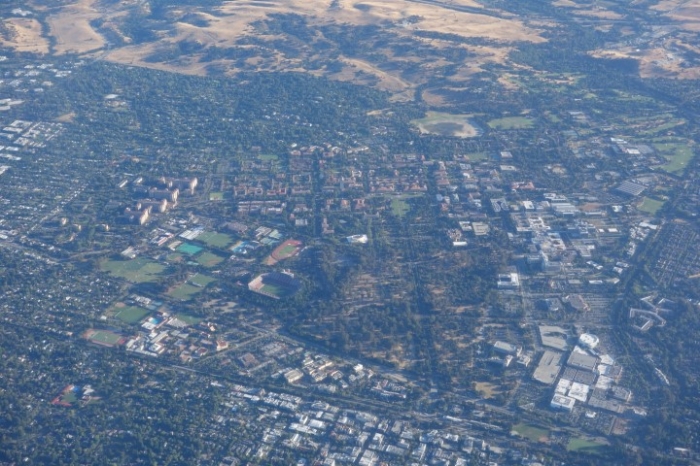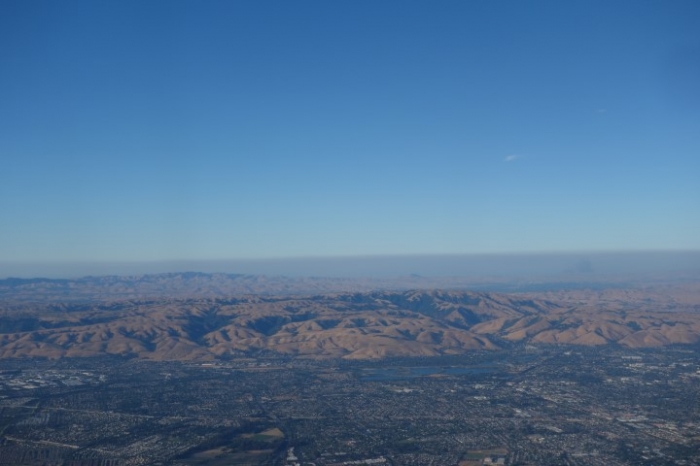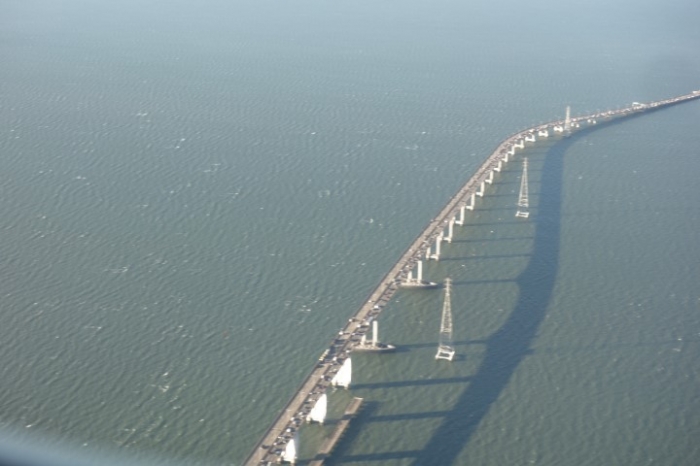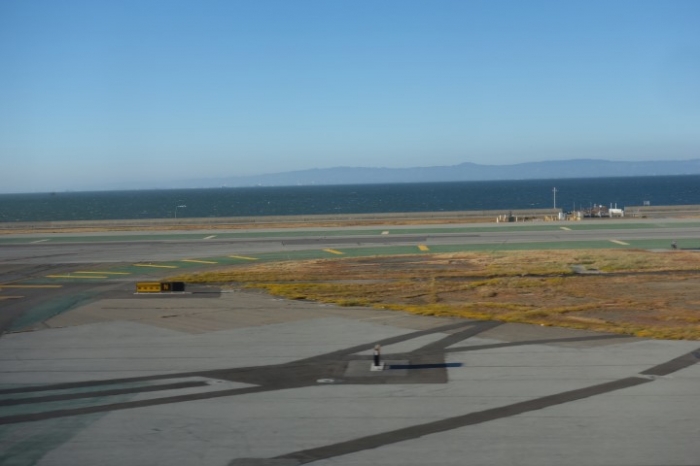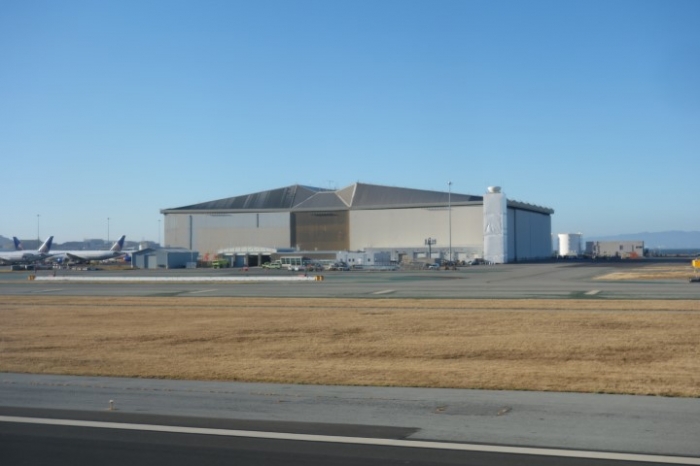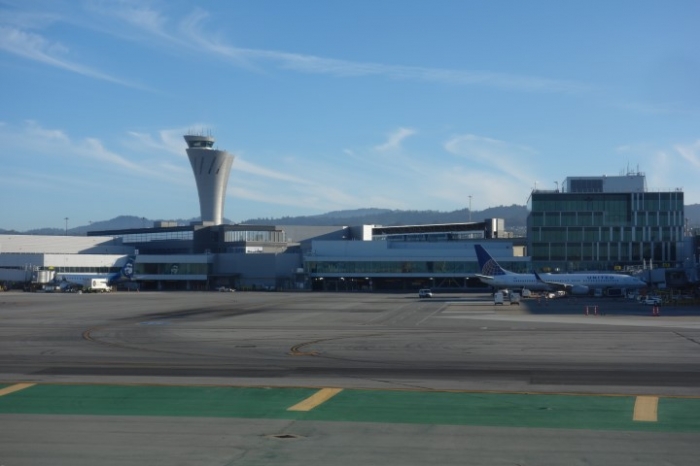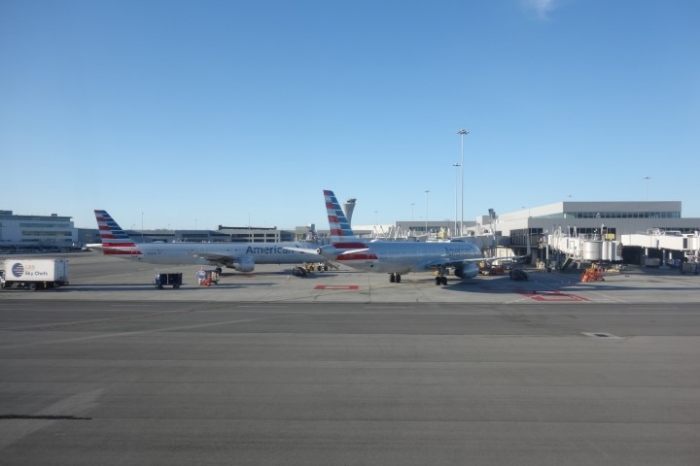 ========== Frankfurt Intl (FRA) - ==========
Security/Immigration efficiency:
8/10
Services and activities:
9/10
General cleanliness:
10/10
========== Lufthansa Business Lounge Gate B44-B48 ==========
========== Condor - Airline ==========
On-time performance:
7/10
Breakfast or light meal before arrival:
9/10
========== San Francisco Intl Arpt (SFO) - ==========
Security/Immigration efficiency:
10/10
Services and activities:
9/10
General cleanliness:
10/10
Summary:
It was exciting to experience Condor and see how they stack up to LH.

Despite our late departure we made time during the flight and arrived no more than 15 min. later which is great. In terms of ground service DE leaves a lot to be desired. Crowded check in and lengthy wait especially for premium pax is disappointing. There should be a designated agent at the start of the line to direct people and improve the flow of the lines by adding more agents and resources. Waiting for 30 min. to be checked in for J seems unacceptable.

The lack of announcements at the gate explaining the delay is another bad mark. There should be better accountability in that respect. I learned that the delay was due to cleaning later during the flight. It's not so hard to let pax know so that they get an idea instead of wondering if this is a mechanical issue.

Onboard the experience is a stark contrast to the ground experience. I encountered friendly, engaging and professional crew who were proactive and soliciting. It was a joy to fly with them and this has been one of the best crews that I had the pleasure to fly with. At one point when taking the meal ordered I noticed that the purser started from the other aisle and I was afraid that by the time they got to me I had to be asked for a second choice. To my surprise the purser told me that he had everything and that there would be no problem getting my first choice.

Catering was excellent in my opinion with frequent offering of drinks and breads. The second service had a small hot dish which is really appreciated. The only suggestion that I can offer would be to add a second choice for those that are vegetarian. I happen to love Indian food but having an Indian dish as the only option might not be for everyone.

In terms of onboard product DE has a very competitive product that can rival the legacy's inflight experience However on the ground there is room for improvement.