Prologue:
For Indian food lovers, London is one of the best cities in the world to indulge in this type of cuisine outside of its home country. The same can be said about Chinese food in Vancouver or Mexican food in LA.

It's hard to choose a restaurant out of so many worthy ones. I finally opted for Durbar out of convenience since it was within walking distance from where I was staying and its favorable reviews on different sites. I arrived towards closing time and the place was empty. Service was speedy and very attentive and the food was absolutely delicious.

I started with a dhokla appetizer which was steamed fermented batter made with rice and split chickpea and served with mustard seeds and fried chilies with a side of sweet and sour sauce (probably tamarind based). Then for main dish I chose the lamb shank Kashmiri cooked with yogurt, chillies, tomatoes, safrron and mace. The lamb was extremely tender and the sauce was perfectly balanced in its spiciness and richness.
Para los amantes de la comida india, Londres es una de las mejores ciudades del mundo para disfrutar de este tipo de cocina fuera de su país de origen. Lo mismo se puede decir sobre la comida china en Vancouver o la comida mexicana en Los Ángeles.

Es difícil elegir un restaurante entre tantos dignos. Finalmente opté por Durbar por conveniencia, ya que estaba a poca distancia de donde me hospedaba y sus comentarios favorables en diferentes sitios. Llegué hacia la hora de cierre y el lugar estaba vacío. El servicio era rápido y muy atento y la comida fue absolutamente deliciosa.

Comencé con un aperitivo de dhokla que era una masa fermentada al vapor hecha con arroz y garbanzos partidos y servida con semillas de mostaza y chiles fritos acompañado de una salsa agridulce (probablemente basada en tamarindo). Luego, para el plato principal, elegí el cordero Kashmiri cocinado con yogur, chiles, tomates, azafrán y maza. El cordero era extremadamente tierno y la salsa estaba perfectamente equilibrada en su uso de especias y sabor.
Exterior.
Exterior.
Dining room.
Comedor.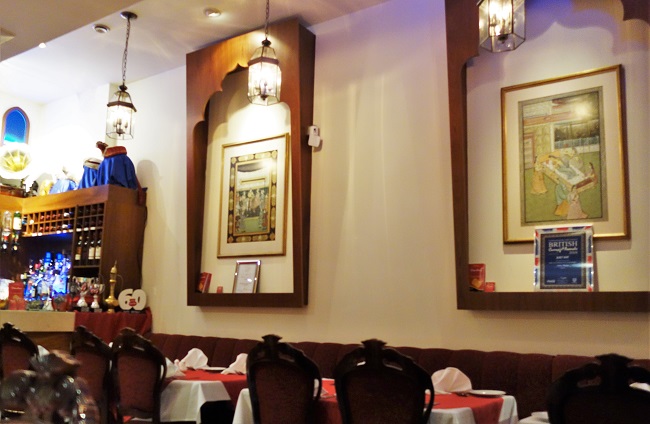 Tea with cream.
Té con crema.
Dhokla.
Dhokla.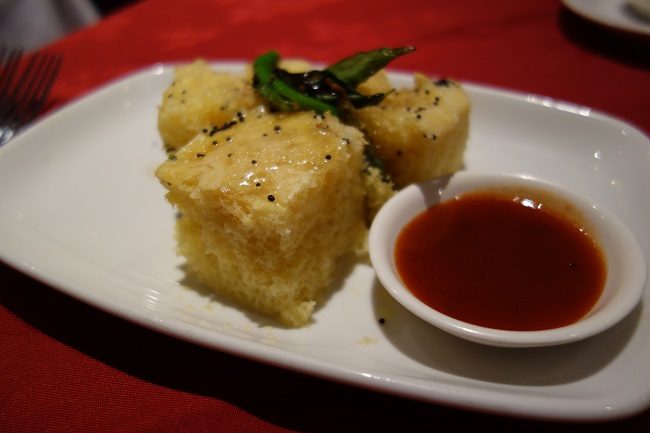 Lamb shank and naan.
Caña de cordero y naan.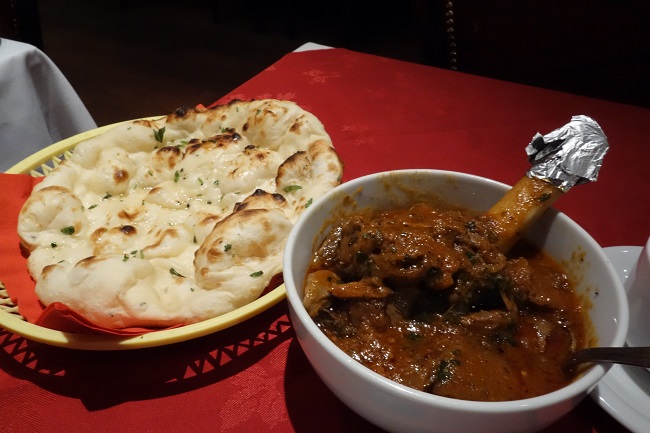 Lamb shank Kashmiri style.
Caña de cordero al estilo Kashmiri.
Chocolate at the end of the meal.
Chocolate al finalizar la comida.
========== Durbar ==========
Summary:
Durbar is a solid choice for Indian cuisine and the restaurant offers a good variety of regional dishes. My meal was excellent and I appreciated the opportunity to try "dhokla" for the first time. This dish is hardly available at similar restaurants in the US which attests to the authenticity of the Indian food found in London.
Durbar es una opción sólida para la cocina india y el restaurante ofrece una buena variedad de platos regionales. Mi comida fue excelente y aprecié la oportunidad de probar "dhokla" por primera vez. Este plato casi nunca está disponible en restaurantes similares en los Estados Unidos, lo cual demuestra la autenticidad de la comida india que se encuentra en Londres.